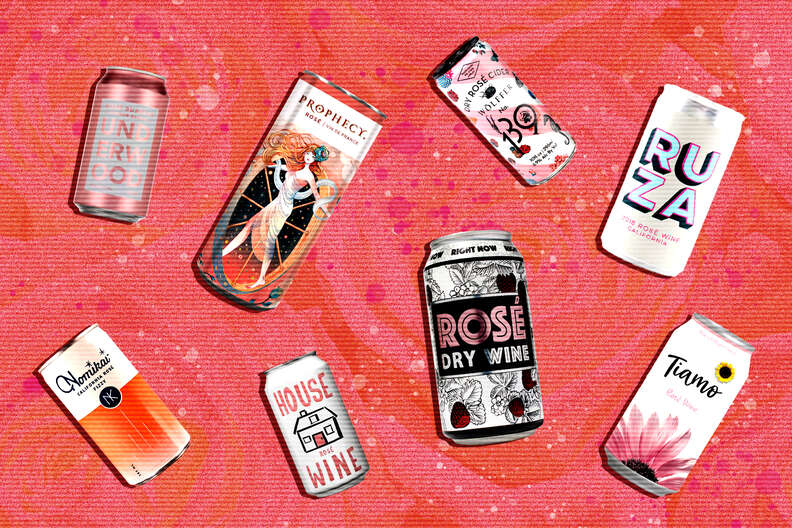 Frannie Jiranek/Thrillist
Frannie Jiranek/Thrillist
Another summer is in full swing -- which means if you're not glugging pink wine in the sunshine while constantly repeating hashtag-derived catch phrases, what are you even doing with your life?
Rosé wine has boomed in popularity over the past few years, and the #drinkpink trend is not going anywhere anytime soon. But whether you've learned this the hard way or not, uncorking a bottle while you're juggling Reidel glassware on the back of a swan pool float is damn near impossible.
Enter the trusty can: a fun, portable, and no-snobbery way to enjoy your favorite pink beverage. Alternative alcohol packaging is another trend that we're happy has caught on. According to Neilsen data, just last year, canned wine sales jumped 69% to more than $69 million. Another perk: recyclable cans leave less of a carbon footprint than big glass bottles while offering more accessibility and the same great tasting vino.
So put your pinkies down and raise your glass (er, can) to these 12 delicious canned rosés just waiting to fill your cooler.
Presto Sparkling Rosé ($12.99/4-pack)
This Italian rosé bubbly (which comes in very cute little cans, may we add) "features fresh, popping peach and watermelon aromas and flavors with a crisp, clean finish. It is perfect for the beach, the lake, the pool, the park, or anywhere else liquid refreshment needs to be portable," says Devon Broglie, Whole Foods Market master sommelier. Crack one open and enjoy it on its own. Or better yet, drink it or alongside some favorite summertime bites like grilled seafood, cheese and charcuterie, fresh veggies, and savory desserts (think monkey bread or dark chocolate brownies sprinkled with sea salt).
Pop + Fizz Sparkling Rosé ($3.99/can)
Hailing from Oregon's cool-climate Willamette Valley, this very unique blend of varietals (Pinot Gris, Chardonnay, Pinot Noir, Riesling, and Gewurztraminer) all come together to create this fun, fruity, and off-dry rosé bubbly. Each sip is definitely a sensory experience, with whiffs of cranberries, watermelon, and candied ginger, plus playful flavors of strawberry, bubble gum, lavender, kiwi, and white flowers on the weighty palate.
Prophecy Rosé ($13/2-pack)
Nothing quite says "summer water" like a classic pink wine from Southern France. Typical of the region, Prophecy's rosé (which just came out in cans this year) is a blend of Cinsault, Grenache, and Syrah grapes. You'll get soft flavors of strawberries, raspberries, and white peaches that roll into a crisp finish with refreshing acidity. The unique label illustrations are made to reflect the wine's complexity and character, but they also happen to look pretty eye-catching in your cooler bobbing next to the light beers.
14 Hands Rosé ($5.99/can)
Washington State's 14 Hands winery recently launched a line of canned wines, including their rosé which delivers lovely aromas of roses and rhubarb, plus flavors of strawberries and melon with a citrusy finish. Crack a can and pair it with light summery eats like fresh salads, salty cheeses, and grilled tuna steak. Preferably while playing cornhole. Or just, you know, being lazy in a lawn chair.
Underwood Rosé Bubbles ($28/4-pack)
Drinking a can of this pink sparkling wine is like wearing a tuxedo t-shirt: it says you're formal, yet ready to party anywhere, be it at a beach clambake or your distant cousin's stuffy wedding shower. Originating in Oregon, the Underwood brand was one of the canned wine OGs. Their bubbly rosé (88% Pinot Noir; the rest is Pinot Gris and Chardonnay) is a great value and does not disappoint with refreshing flavors of wild strawberry, fruit cocktail, and tart cherry.
Right Now Rosé Dry Wine ($24.99/4-pack)
What do we want? Rosé! When do we want it? Well, right now, obviously. This aptly named California rosé is a blend of Zinfandel, Syrah, Barbera, and Merlot coming together to form a lively wine that's far from one-dimensional. Each sip is an explosion of red fruit-forward flavors in your mouth, with hints of ripe darker fruit and herbs, all rounded out with zippy acidity and a textured mouthfeel. Also, one can is roughly two glasses of wine -- just sayin'.
Tiamo Organic Rosé ($4.99/can)
This versatile and elegant rosé is made from organic Montepulciano grapes grown at some of the top vineyards in Abruzzo, Italy; the resulting juice boasts a dry, fresh palate with a bouquet of strawberries and floral notes. Especially with its all-purpose yet attractive packaging, this wine pairs scrumptiously alongside grilled fish or fresh meat at your backyard BBQ, or as an aperitif as you're sailing through the harbor (note to self: find a friend with a boat, preferably near a harbor).
Nomikai California Rosé Fizzy ($18/4-pack)
Somewhere in between the sweet spot of still and sparkling, this fizzy rosé is ready to be enjoyed anytime, anywhere. Nomikai -- named for a Japanese drinking-oriented party with good camaraderie, also known as "a party" -- inspired this line of little canned wines that are perfect for throwing in your golf bag, sipping by the pool, or for doing away with the "camaraderie" part of the shindig and really leaning into your end-of-day "you" time. The wine itself showcases crisp grapefruit and lush cherry flavors with a refreshing bit of saltiness.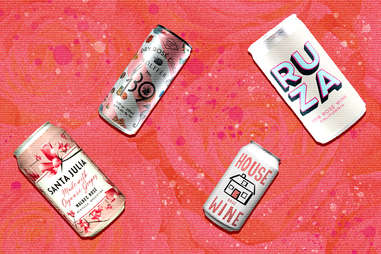 Santa Julia Organic Rosé ($6/can)
The lords blessed the Mendoza region of Argentina as the top Malbec producer in the world -- so sit (or sip) a spell with this Malbec-based canned rosé in hand. Made with organically grown grapes (AKA, agriculture and harvest practices coexist with the environment instead of harming it), this medium-pink wine features succulent aromas of sweet red fruits and berries, with a perfect balance of acidity and residual sugar in your mouth.
Wölffer No. 139 Dry Rosé Cider ($16/4-pack)
Okay, so not all of us have the luxury of having a Hampton's pool party moment, but with the right drink in hand, we can pretend. The infamous Wölffer Estate offers a little twist on the expected with their dry rosé cider, made exclusively from New York State dessert apples which makes for a more flavorful and aromatic beverage. This cider is not sickly sweet, but rather clean, lush, and fruit-forward with balanced acidity and an elegant, spritzy mouthfeel -- emphasis on "elegant," because this is the Hamptons, after all. Or at least you can pretend it is, even if you're just floating around in a kiddie pool in Newark.
House Wine Rosé ($5.99/can)
Great things clearly come in minimalistic packages, because this American-made rosé drinks far beyond its price point. Crisp and dry, yet also flavorful, you'll get flavors of watermelon and red berries on the palate plus citrusy aromas for the most delicious summertime sip. When the house wine is this good, there's no need to splurge on that $23 bottle of Whispering Angel.
2018 Ruza Rosé ($17.99/4-pack)
This light and drinkable California rosé is made with grapes that were picked early in the season and taken directly to press. The short amount of skin contact resulted in this juice with a gorgeous pale-pink color. With notes of watermelon, red berries, and citrus, Ruza boasts a dry finish and a little effervescence for an unexpected surprise. Plus, this wine's food pairing abilities run the gamut, as it complements a sushi spread just as well as late-night salty French fries.
Sign up here for our daily Thrillist email, get Eatmail for more food coverage, and subscribe here for our YouTube channel to get your fix of the best in food/drink/fun.
Brooke Sager is a contributing writer for Thrillist whose life motto is: "If it comes in pink, I'll take it" -- her canned wine included. Follow her rosé-fueled adventures on Instagram and Twitter.