The Vermouth Spritz Is a Canned Cocktail to Watch This Fall
Drinkers can now take aperitivo hour with them wherever they go.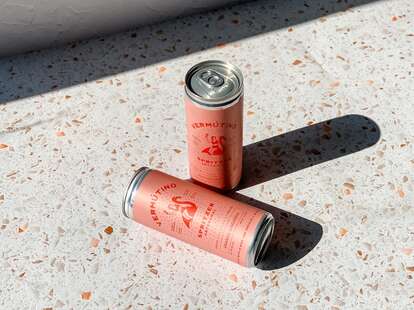 Orange Cinchona Vermútino from The Wine Collective

| Photo by Sarah Culver
Orange Cinchona Vermútino from The Wine Collective

| Photo by Sarah Culver
It's not often enough that Americans appreciate vermouth as a drink in its own right—as more than an ingredient in a martini or a rich pan sauce. Though, obviously, we couldn't live without it for those two purposes. The beauty of this aromatized, fortified wine is how many wonders it can work, in drinks and in cooking alike.
In Italy, France, and Spain, vermouth is more often elevated to the star of the show, especially when it's enjoyed as an aperitif. Drinkers frequent vermuterias (vermouth bars) before lunch, where they socialize over light snacks like olives, tinned fish, and cheese, and sip vermouth in many forms. That might be neat, over ice, as a spritz, with a splash of gin, or with soda. Think of the whole ritual as a better alternative to brunch.
Little to nothing is required to incorporate a bit of this lifestyle into your week, wherever you might live. Take this super simple vermouth spritz recipe in New York Times Cooking, which requires nothing but vermouth, soda water, and a citrus twist or olive.
As vermouth increases in popularity beyond Europe, winemakers and vendors are beginning to offer it in ready-to-drink formats.
This is part of the mission for Enrique Pallares, co-founder of The Wine Collective—a group of East Coast winemakers. The collective also has its own bar, where guests can try house-made wine, snacks and charcuterie, or vermouth on tap. Now, the Wine Collective has put out its own canned vermouth, and is planning to release other versions, as well.
"My purpose in life is to teach America how to drink vermouth," says Pallares with a laugh. "I've thought a lot about this. There's a renewed interest in the south European way of life. Like the health of the Mediterranean diet. And cultures that don't live to work, but work to live. More people are asking, well, why can't we do that here?"
One appeal of this canned cocktail is that high-quality, low-ABV beverages, which are on the rise, enable a style of drinking that is pleasurable and low-key but doesn't feel destructive to the body.
Another advantage of this up-and-coming beverage is its versatility. Sure, you can bring a ready-to-drink spritz to a party and drink it straight from the can, but you can also enjoy it in a glass with a shot of gin, or serve it on the rocks in a highball glass with a splash of Campari and an orange peel for an impromptu Americano.
These are some of the best canned vermouths that are coming out right now.
"We call it vermútino," Enrique says of the ready-to-drink vermouth spritz he has put out."Because it's, of course, like a little version of the vermouth." Count us already charmed. The Wine Collective describes this Vermútino spritz as "a ready-to-drink Spanish-style version of Aperol spritz—light, bubbly, and hopelessly refreshing." The low-ABV canned cocktail blends the Wine Collective's Vermú Rosé (which features citrus essence and quinine) with sparkling water.
Like the Wine Collective's take on ready-to-drink vermouth offers a taste of Spain, OENO offers a taste of the Golden State. Coming out of California, this off-dry vermouth spritz is sweetened with a small amount of beet sugar, aromatized with Ventura County lemon and orange zest, ​​and built around a 2018 Oeno Chardonnay base. The many in-state ingredients used—which also include herbaceous Chamomile flower, white sage, hyssop, and mugwort infusions—result in a fresh and zingy, yet earthy West Coast flavor.
The vermouths from Sprezza can be purchased in four-packs and in four-by-six packs, allowing you to be the hit of a party, or to keep your fridge stocked and ready for an aperitivo in a flash. Sprezza's vermouth spritzes are made in the Italian style. They're inspired by a forgotten moment in vermouth's history, in the 1950s, when amari-makers in northern Italy experimented bottling small batches of carbonated vermouth. Sprezza's Vermouth Bianco is made of Mancino Vermouth Bianco, Scrappy's orange bitters, and carbonated mineral water. They describe the beverage's vibe as having a "floral alpine palette," which tastes of angelica, chamomile, elderflower, genercia, and mint, with a bitter orange, pink grapefruit, and ginger finish.
Sprezza's Vermouth Rosso comprises the same parts as its Bianco, but with a warmer, sweeter, toastier aesthetic. It is made of Mancino Vermouth Rosso, Scrappy's orange bitters, and carbonated mineral water. Drinkers will taste in this spritz zesty citrus, a hint of caramel, oak, juniper, rhubarb, bitter orange, and an earthy root finish. This is ideal with a gin and amaro of your choice to make a negroni in under a minute.
Coming out of Riverland in South Australia, Delinquent Wine Co. is known for its natural wines (and stylish labels). The winery uses traditionally Southern Italian grapes, which require less water—such as Vermentino, Montepulciano, and Nero d'Avola—to make sustainable wine with little intervention. The winery is pushing the envelope with its own boxed wine and (what we're here for) its forthcoming Bizarro Aperitivo, a canned vermouth (with a certified organic, biodynamic vermentino wine base) infused with bitters made of local fruit and botanicals.
Alex Erdekian is a writer living in Brooklyn. Her food and travel journalism has been published in Thrillist, Condé Nast Traveler, and other publications. To read more from her, visit
alexerdekian.com
.