Photo by Cole Saladino for Thrillist
Photo by Cole Saladino for Thrillist
When it comes to celebrity-owned spirits, tequila is perhaps the most saturated market. We're so used to seeing grainy images of movie stars, clad in aviator sunglasses, walking amongst agave plants, endorsing a genuine love for the spirit. Given this homogeneity, it can be hard to parse through the good and the bad.
It was George Clooney who really set the celeb tequila trend in motion, founding Casamigos in 2013. He and business partner Rande Gerber sold the brand in 2017 to Diageo for $1 billion, making Clooney the world's highest paid actor in 2018, despite the fact that he hadn't appeared in a single film.
Following in Clooney's example, many other celebrities—Nick Jonas, Dwayne "The Rock" Johnson, Rita Ora—tapped into a rising tequila industry. In 2021, sales of super premium tequila spiked 46%, while high end tequila was up 33.8%, according to data released by the Distilled Spirits Council of the United States.
The celebrity tequila trend has its downsides. For one, every time a celebrity enters the scene, a smaller Mexican distiller might get displaced. Experts argue that the increasing popularity of tequila might also be contributing to an agave shortage in Mexico. And then there's the question of whether or not the celebrity actually cares about the spirit's connection to Mexican culture.
Perhaps to make up for these setbacks, celebrities like Kendall Jenner are working to give back to the rural Mexican communities that produce agave spirits. Jenner has partnered with Mexican nonprofit SACRED to start the 818 Bricks program, using 818's post-production agave fibers to create adobe bricks for a local school library and a tasting room for a family run distillery.
There are a lot of things to consider when choosing whether or not to support a celebrity tequila brand, but when it comes to the taste, we at Thrillist have already done the work. From Eva Longoria's Casa Del Sol to Bryan Cranston and Aaron Paul's Dos Hombres, we tested the most notable celebrity-backed bottles, narrowing down the best of the best.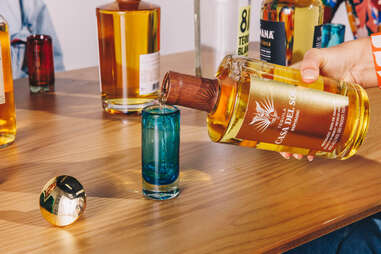 There aren't a lot of women in the tequila industry, and Eva Longoria is hoping to change that with her new line of luxury sipping tequilas. Whereas most tequila brands source whiskey barrels from the United States, Casa de Sol makes use of cognac barrels featuring French Limousin oak, resulting in an extra-distinct flavor.
We tried the brand's best-selling reposado, which, according to Longoria, is "best sipped at golden hour." The bottle resembles that of perfume, with an elegant gold topper. Upon smelling, Andrea Devoto, staff writer on Thrillist Commerce, noted a waxy, fruity smell that was reminiscent of Lip Smacker lip balm.
As for the taste, there were distinct notes of butterscotch. "It doesn't have a bite," commented Izzy Baskette, staff writer on Thrillist New York. But that lack of bite was precisely why Kerensa Cadenas, editorial director of Entertainment, didn't mind her sip. "I don't feel like I've ruined my liver," she says, noting that it would taste even better cold.
"If you're someone that's really into dessert, or you're very girly, get the Eva Longoria tequila," Devoto says. "It's gonna take you back to the '90s. It might even remind you of your tía's scent."
Dwayne "The Rock" Johnson's premium tequila company, Teremana, sold more than 600,000 cases in 2021, a record for first-year sales. The brand is aimed at a more health-conscious drinker, with a nutrition label that contains 0 grams of sugar, 96 calories per 1.5 ounces, and a gluten-free certification.
The añejo is citrusy on the nose, likely a result of the brand's signature brick oven roasting. "It smells carb-free to me," Cadenas jokes. We all agreed that this tequila had a distinct honey flavor, but Devoto noted that even still, it wasn't too overpowering. "It's a more neutral taste that can work in any cocktail," she says.
Jenner's tequila surprised us. "Oh, that's actually kind of good," Cadenas said immediately after tasting. "I'm mad, I kind of like it." This bottle is also on the sweeter side—a vanilla aroma, followed by a bright, citrusy taste—but not unpleasantly so. Baskette, however, did mention a slight aftertaste of rubbing alcohol.
Since this was the first tequila in our tasting lineup, we went ahead and tested it again at the end to screen for first impression bias, and it held up. We also appreciated the millennial-friendly, minimalistic bottle. "It stands out on the shelf," says Baskette. "If you look at the other ones on this table, they're all very masculine."
The story goes that Aaron Paul, a longtime fan of mezcal, introduced the spirit to his Breaking Bad co-star, Bryan Cranston. They road-tripped through Mexico, tasting a myriad of mezcals, until landing at their last spot, San Luis del Rio, where they met their future partner and third-generation mezcal maker, Gregorio Velasco.
"I love their friendship," says Cadenas. "It's so weird to think that Cranston was the Malcolm in the Middle guy for so long and that's just not true anymore. We love a rebrand." Made from six-year-old espadin agave, this mezcal offers up an immediate aroma of smokiness. "It's like you're drinking bacon," says Devoto, but in the best way possible. The taste even has a hint of freshness, which is said to be reminiscent of the local zapote fruit.
"This in a spicy margarita would be chef's kiss," says Baskette. For Devoto, this was the best of the bunch.
It's a tried-and-true classic for a reason. We tested Clooney and Gerber's favorite variety, the reposado, which they like to drink neat or on the rocks. "I can see why George likes this one on the rocks," says Baskette. "It's giving me whiskey vibes."
"This smells like something that's not just tequila," Cadenas adds. That unique flavor is most likely a result of an 80-hour fermentation process, compared to the average 48 hours. You get hints of caramel and cocoa on the nose, followed by a spicy oak flavor. We agreed it was exactly the kind of drink you'd want to hang out with, before or after dinner, to just sip on slowly.
Devoto appreciates how the label itself, with its lab-like listings, communicates a more unique tequila, while the blue agave symbol adds a personal touch that has become instantly recognizable. "George is a timeless man," Cadenas adds.