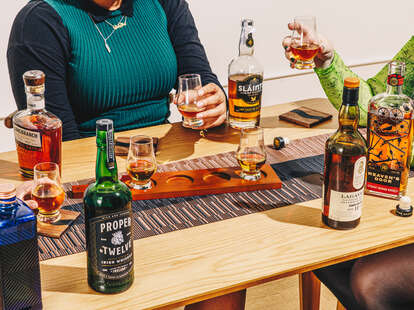 Photo by Cole Saladino for Thrillist
Photo by Cole Saladino for Thrillist
The sun is starting to set around 5 pm, which calls for the proverbial act of nursing an Old-Fashioned beside a roaring fire. Whiskey, which comes in many global varieties, also happens to be endorsed by every kind of (male) celebrity, from actors like Nick Offerman and Matthew McConaughey to mixed martial artist Conor McGregor.
Yes, we regret to report that there's not a single, female celebrity-owned whiskey brand out there. (Though, there are plenty who partake or rep certain brands.) So, in order to correct such wrongdoings, we filled our critics' table with women only. When I asked the group—senior designer Maggie Rossetti and producer Janae Price—which starlet they could see owning a whiskey brand, they both responded "Florence Pugh." "I see her in the commercial, sitting on a leather sofa, saying, 'Fuck yeah, it's whiskey,' in her deep, raspy voice," Price says. So, if you're reading this, Miss Flo, now's the time.
But for now, we'll let the men show us what they've got in the department of soul-warming spirits. We swished, gargled, and spit out all that malty stuff with the hopes of finding the best bottle to get you through dark and stormy days.
He can bend it, but can he pour it out? David Beckham's Clubman occupied a very distinct residence at the table. The modern indigo bottle, which looks more like a bottle of cologne, is very on brand for the former soccer player we're certain is the best-smelling man alive. Made at Cameronbridge distillery in Scotland, Clubman is a single-grain scotch matured exclusively in upcycled, American bourbon casks. It's "aimed at drinkers who have yet to be won over by whisky's charms," per the marketing copy.
The color of the whisky itself, which is a very light amber, also stands apart from the rest. Upon taking a whiff, we all detected a very pleasant smell. "I'm getting butterscotch—a little bit of that salty-sweet," Rossetti says. However, the finish was a bit too fiery for our taste. "Yeah, this is pure alcohol for me," Janae says, holding back a cough. We categorized this one as a whisky to be mixed, one that might even pair well with a simple Cola. It makes sense, then, that the brand recently announced a new line of canned cocktails. "I think this would go really nicely as part of a cocktail, because of the vanilla-y aftertaste—after all that burning has gone away," Rossetti says. Price, however, remained steadfast on the outs. "This is not going to get me into whisky," she says.
Sláinte, which launched last month, is the new kid on the celebrity-owned whiskey block. Co-founded by actor Liev Schreiber and drink industry expert Richard Davies, this Irish whiskey is aged in American bourbon oak barrels and finished in sherry casks. Sláinte, (pronounced slahn-cha), directly translates to "good health" and is used as a show of "cheers" in Ireland, but with a more genuine meaning of good wishes behind it.
We came to the conclusion that this whiskey, which went down pretty smoothly, features some rum-like qualities. There was a hint of caramel on the nose, and Price tasted notes of banana. "I feel like I can taste a fruit flavor," Rossetti says. "I don't know that banana is the fruit that I would pick out, but it has none of that typical, toasted wood flavoring." We envision this one in a banana-flavored Manhattan. And we give the brand's giveback program a seal of approval. Sláinte is allocating 100% of funds from their limited edition, 18-year single malt variety to BlueCheck Ukraine.
Inspired by his Southern roots, Matthew McConaughey teamed up with distiller Eddie Russell to launch a spirit that introduces Texas mesquite to small-batch Kentucky bourbon. To honor Mr. Alright Alright Alright, we conducted a dramatic reading of his original brand quote: "The sun never sets if your mind is on the horizon. And sometimes a 'What if' can become a 'That's it.' This is the Kentucky straight bourbon for that." Under the influence of alcohol, our brains broke. Rossetti says, "I could see that quote on a black and white photo of Matthew Mcconaughey posted on, like, an Instagram account called @dudesrock"
"I'm smelling a very spicy cinnamon," Price says of the aroma. Upon tasting, there was a bit of an acidic afterburn. "When you first swallow, there's nothing there, and it's actually kind of light," Price says. "Then it comes afterwards." Rossetti felt a burn more so in her nostrils. "I think this could be really nice in a citrusy cocktail because of that zippy taste," she says. We all agreed that what makes McConaughey's bottle special is its ability to be enjoyed both neat or in a cocktail. "She's got range," Rossetti says, "That's what you want when you're filling up a bar cart."
Heaven's Door is a very solid bourbon. It's distilled and aged in Tennessee, for a minimum of six years in new American oak barrels. We really appreciated the iron gate imagery showcased on the bottle, which was apparently inspired by Bob Dylan's metalworking shop, in which he makes art from found objects collected from farms and scrap yards across America.
"This smells very traditional to me," Price says, welcoming the arrival of a sweeter bourbon to the round-up. The bottle boasts notes of baked bread and buttered popcorn on the nose, followed by pumpernickel and light maple on the palate. While we couldn't quite locate those specific flavors, Price says, "There's that warmth in a very pleasant way. It's not a bad burn." Rossetti adds, "I would really enjoy this in a Hot Toddy—one of my favorite drinks to have during the winter."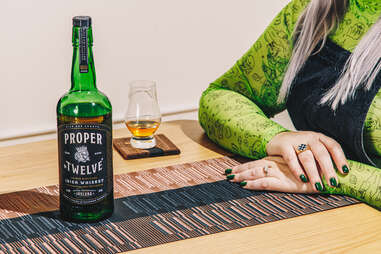 The Proper No. Twelve bottle is heavy on the Irish pub vibes. "I even like that it looks a little evil," Price says, noting its green, Slytherin-like appearance. The Irish whiskey is a blend of golden grain and single malt with hints of vanilla, honey-like sweetness, and toasted wood.
"Frankly, this smells like a candle that I would light in my apartment during the Fall," Price says. On the mouth, we definitely got toasted wood—if you could imagine what that tastes like—in the best possible way. We also experienced a super light finish, which falls in line with the bottle's tagline: "Smooth is fast." And at just $35 a bottle, it's easily accessible. "If we're talking about getting me into whiskey, then this is the one," Price says.
Nick Offerman's Charred Oak Cask was the most controversial bottle on our table. The new expression, which is now the third limited edition bottle Offerman has made in collaboration with Lagavulin, is a natural choice for an "aficionado of all things wood, steak, and scotch." Offerman's whisky is aged in American and European oak casks that are shaved down, then heavily re-charred. Rossetti guesses, "I think this one's gonna be very peat-y—like you're eating a smoked wood chip."
We thought the old-world sketch of Offerman's face on the bottle was a sweet touch and were excited to imagine pairing this drink with a ribeye. We all smelled hints of pine, campfire, and hickory-smoked bacon—which was both a good and bad thing, depending on who you asked. "It tastes like I just ate a piece of salty ham lunchmeat," Price says, to which Rossetti responds, "I think it could definitely pair really well with meat. I don't really like the woody part, but I will say that it was a really smooth drink." We agreed that, with such an intense flavor, this scotch is meant to be enjoyed neat.
I happened to love how unique this expression was compared to everything else we tried (Price joked, "Ham in a bottle is Jess' favorite"). "I liked Conor Mcgregor's more for its taste, but experience-wise, this one has been the most pleasant to drink," Rossetti adds. Whether or not you like your whisky to taste like barbecue, you have to admire Offerman for not pandering to the latest food and drink trends. "He's a meat and potatoes kind of guy," Rossetti says.