9 Restaurant Chains That Are Also Amazing Beer Bars
Courtesy of Mellow Mushroom
Courtesy of Mellow Mushroom
Many craft beer lovers in America remember a time when you'd sit down at a restaurant and be stoked if it carried Stone Brewingand Sam Adams beers. That used to be a legit coast-to-coast craft beer selection! Those days are (thankfully) long gone. Now even chains are one-upping one another with enormous tap lists, beer dinners, exclusive brews, and rewards programs that make getting a pint with dinner way more exciting than it used to be. Here are nine fantastic restaurant chains with crazy beer game -- so crazy in fact, that many are the best beer bar in multiple towns.
Despite the restaurant's psychedelic overtones in its branding (aka the mushroom mascot looks like it just took a dab and the art on the walls is trippy as hell), this Atlanta-born pizza chain is way more obsessed with legal ways of getting buzzed. To wit: the majority of its tap handles (35-plus on average, but often way more) are made up of local craft brews. The chain only requires its locations to carry six beers and lets it find the best stuff locally to fill in the rest. Mellow Mushroom also hosts plenty of beer dinners featuring area breweries, and on Thursday nights many of its locations have Pint Night where you buy a beer and get a free pint glass from a local brewery. Drinking all that beer means you should probably eat a little, and MM makes sure its servers are trained on which of its 10-plus specialty pies should be paired with which beer. Regardless of which beer you order, it'll go well with the garlic butter and Parmesan-dusted pretzel bites, which you must dip into the Pabst Blue Ribbon beer cheese dip.
This chain got its start with a single location in Fort Worth, Texas in the mid-'90s and has since expanded to 15 other locations across the South, including Arkansas, Missouri, and Tennessee. Walking into one, and you can't avoid the plates covering the walls and ceilings. Those are the restaurant's "Beer Knurds" -- people who've drank all 200 of its beers. The price of a few beers gets you into the club, and while you accumulate rewards along the way for drinking beer, the grand prize is that once you finish, you get your own plate on the wall and a $100 tab to celebrate making the elite cut. Choosing a beer at Flying Saucer is difficult -- not only because you have to decide between around 75-plus taps and over 100 bottles, but because sometimes you won't even know what the beer is. That's thanks to a program called Ghost Beer, where you can order and rate four secret beers. Sadly, it's not a program where Swayze lovingly holds you while you drink a beer. After a few weeks of rating, the top beers are revealed and featured on tap. Depending on the Ghost Beer you're poured, you might want to pair it with a toasted pretzel covered in Swiss, beer brats, and onions, or a prosciutto and arugula Saucer Pie.
Asheville, North Carolina is obviously full of good beer: drinking at Wicked Weed and Burial Beer alone could keep you pretty busy for a while. In 2000, Tupelo Honey's first Southern-fried outpost opened up there, and ever since then, they've added little touches to make any beer nerd weep with joy. A location recently opened in Denver with a Dogfish Head Randall -- a nifty gadget that attaches to a tapline and infuses beer with ingredients of their choice (in this case, a Sierra Nevada Ovila Abbey white ale with Rainier cherries, raspberries, mango, ginger, and red bell pepper!). Beer on tap is a mix of nationally beloved craft breweries (Sierra Nevada, Oskar Blues) and hard-to-find imports (lately: To Øl sours, a Mikkeller beet lambic). Ask for the rare beer list and you'll often find bombers like a Stone Enjoy After Brett IPA, bourbon barrel-aged stouts from Olde Hickory, and other beers long gone from bars and liquor stores. The exceptional fried chicken and other down-home goodies go great with its house-made sweet tea. No surprise that even that has a beer bent -- it's dry-hopped and served from a nitro tap. You might want to ask for a to-go cup.
Many beer-focused restaurants feel a lot like modern sports bars with a million TVs, digital tap lists, and a man-cave vibe. If you want to experience a bar like was back when things were more real, man, The Ginger Man your spot. It feels like an old-world pub, with dark woods and nary a fluorescent light bulb. While a selection of at least 50-plus taps and bottles are a given (including an enviable selection of Czech, German, and Belgian brews), it stands out with a feature you won't find much outside of actual old-world pubs: a cask engine. Two beers are typically available on cask, giving you the same sort of beer experience preferred by those in the UK. Pro tip: If you like your beer ice cold and carbonated, perhaps one of those other 100 beers on tap and in bottles will interest you. Regardless of your taste in beer, everyone can enjoy French dip sandwiches, Dogfish Head bratwurst flatbreads, and big-ass Bavarian sweet dough salted pretzels.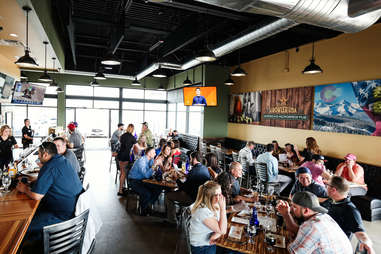 Bad news: not all Growler USA locations can actually fill growlers. The chain is currently operating in/about to open in over 20 states, but depending on your state's laws, they're not necessarily filling 'em up. Here's the good news: regardless of the silly laws, it's worth a trip. Take the 100ish craft beer taps lining the bar, where around half are local (there's also usually a few nitro taps, craft wines, and coffee). Can't figure out what to order? The bartenders are all Certified Beer Servers (or in the process of getting certified), so they can help you find the beer of your dreams. Or you can look up at the flat-screens on the wall displaying near-live Untappd reviews/info on the beers, and a ticker-like display of who checked into the social media service and what they drank. Don't skip the food -- not only is there a full menu of hearty pub eats (burgers, sliders, Philly pretzels), but breweries often team up with the chain to spice up the menu. This summer, it's a Stone Tangerine Express IPA-tinged brownie dessert.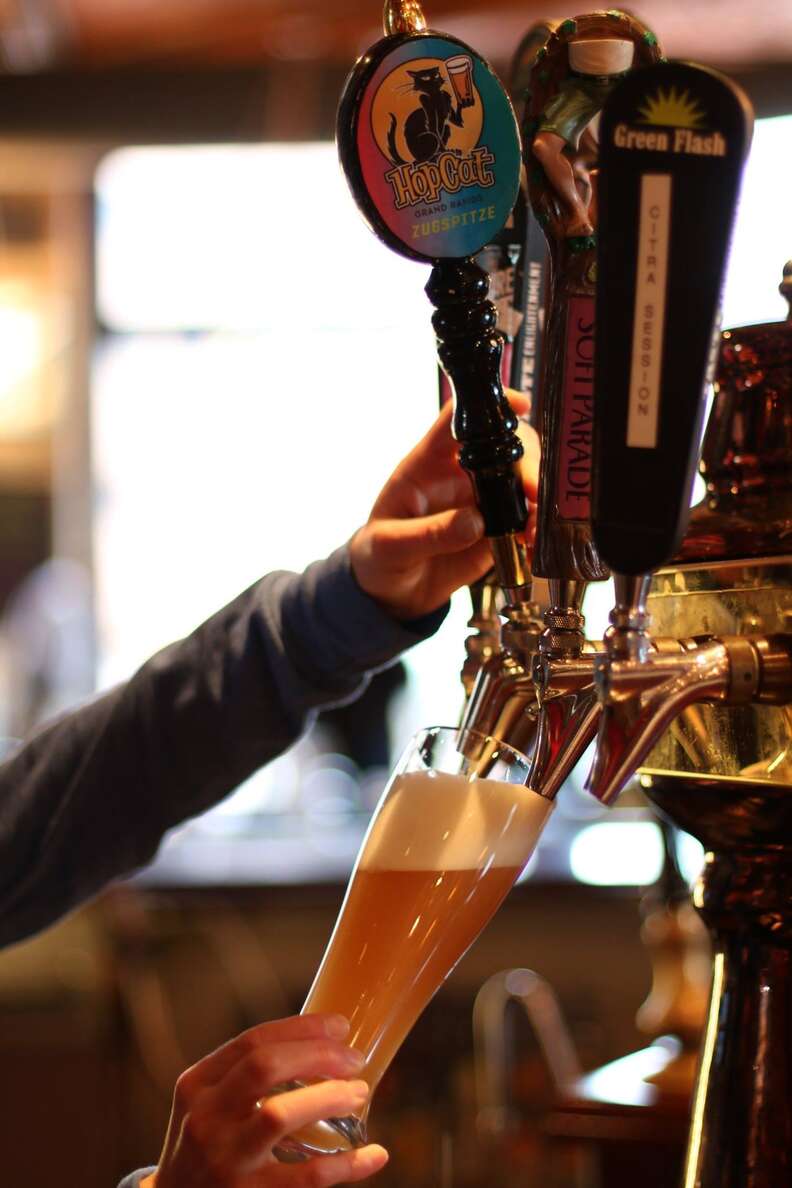 HopCat's kind of the reason we nixed chain operations from our annual list of the best beer bars in America. If we didn't disqualify them, things would get boring. We'd absolutely include the flagship location, which helped elevate Grand Rapids, Michigan, to one of the best beer towns in America. But we'd also likely include the Ann Arbor location. And East Lansing. And Chicago, St. Louis, and Louisville. Still, HopCat's special because each location is vastly different. Their commonality lies in their kickass food (don't sleep on the Crack Fries) and well-thought-out tap selections that reserve tons of space for local brewers and hard-to find rarities, with 50-80 taps constantly rotating and a few dozen year-round favorites on hand. If every chain operated with the singularity and commitment to great beer as HopCat, "chain" wouldn't be such a dirty word... and lists like ours would probably be very, very redundant.
Austin beers like Jester King and (512). If you're lucky enough to be in Tampa, you're definitely going to see Cigar City on tap, and even some rarities, like the Raspberry Halo imperial stout. Each franchise owner has a wide latitude to get creative with the beer selection. Some of the events you'll find at every franchise are activities like Beer Bingo -- a free night of old people-style good times sponsored by different breweries (Oskar Blues helped out recently). Except instead of money, you'll get plenty of brewery swag, and a big prize to be raffled off. If you're going to order food (and you should), make sure to keep an eye out for a "secret" menu on the wall somewhere -- it's where you can find even more varieties of half-pound Angus burgers, wings, and grilled cheese. The regular menu should have plenty to keep you happy too, what with tempura beer-battered chicken tenders, prime rib sliders, and beer-battered cod street tacos.
If you get a corporate vibe upon entering a Yard House, your spidey sense is very good -- it's owned by the same chain that runs Olive Garden. But its dedication to craft beer is legit. Its 68 locations featured over 1,800 different breweries beers just last year. Most Yard Houses have 130 taps (though if you're lucky enough to go to its Irvine, California location, you can drink from 200 of 'em), which tend to be a mix of local/regional craft beers and imports. The Chalkboard Series is especially noteworthy, in that five new craft breweries are featured each month, and roll out limited quantities of beers you'd be hard-pressed to find elsewhere. Also keep an eye out for tap takeovers, which often can feature local breweries bringing by goodies -- Modern Times did when they invaded the Mission Valley, California location with the blackberry/raspberry Berliner weisse named Rowing Needles. With all that beer, it's a good idea to keep the ole tum-tum full with food that'll stick to your ribs. Like, umm, actual St. Louis-style ribs, Nashville hot chicken, and beer-battered fish and chips.
Sure, World of Beer's has plenty of taps to choose from (50 on average), but if you don't at least glance at the 500-plus bottles/cans they have on hand, you're a damn fool. The beers are a mix of the best of the local and global beer scene -- everything from Almanac Beer Co. in San Francisco to Yo-Ho Brewing Co. in Tokyo. (Sorry, we couldn't find a brewery on the menu that started with "z.") And if you like the chain so much you'd like to work for them, they offer the best internship in the world, which pays you $12K to travel the country and document your beer consumption at breweries and festivals. Even if they don't give you the job, anyone can sign up for its new rewards program that comes with an Alegorithm, a Pandora-like recommendation engine that helps you find new beers you might love based on your preferences. What everyone should love regardless of their beer drinking habits are menu selections like the panko-crusted pork schnitzel, beer-brined crispy chicken sliders, and the Chimay burger, which is topped with Chimay Classique cheese from the Belgian brewery! Pair it with a tripel if you know what's good for you.
Sign up here for our daily Thrillist email and subscribe here for our YouTube channel to get your fix of the best in food/drink/fun.