The year is almost over, which means it's time to gather together and finally drink to a new year rather than to forget the current one. This holiday season, we're gifting you with the best sparkling wines—yeah, we call them "champagnes," but technically they're not from the right region—for under $15.
Take heed and stock up—bubbles are in demand and holiday markdowns are a beautiful thing. Retail competition is fierce in December, prices are slashed to attract the cut-rate-hopeful shopping masses, and they're even deeper when you buy by the case. Get into the holiday spirit and fill your glass with these bargain bubbles, because next year is going to be better...probably.
Price: $14.99
Ruffino's Prosecco boasts a fruity flavor profile that plays well with others, including mixers, added spirits, and even your awkward co-worker who came to the party uninvited. This crisp, celebratory sparkler offers affordable elegance, with intense apple and peach flavors, a clean bouquet, and light fizzy bubbles on the palate. It tastes great alone or as the base for a grapefruit spritz or French 77. And come 3 am, you'll be happy to know it pairs splendidly with pizza.
Price: $15
Need an affordable gift? This rosé cava is dressed to impress, no wrapping paper needed. The gorgeous bottle design is inspired by the famous mosaic works of Antoni Gaudí, paying homage to the winery's Barcelona heritage. The bubbly itself is made with Trepat (90%) and Pinot Noir (10%) grapes; it's intensely pink, bright, and floral, with notes of fresh raspberries and rose petals plus hints of candied lemon on the nose.
Price: $15
Organic wines have seriously grown in popularity, with healthier farming and eco-friendly practices appealing to consumers (some even claim the wines taste better). Tiamo Prosecco selects their grapes from eight certified organic farms around the Valdobbiadene area. After a first and second fermentation using the Charmat (Tank) Method, the final bubbly is ready for sippin'—it's well-balanced with inviting apple, pear, and citrus aromas that lure you in for a lusciously clean finish. Pair a glass with lighter fair and good conversation (no politics please, this is a clean wine).
Price: $14.99
Here's a sweet and versatile cava that's perfect for ringing in the new year. A well-balanced blend of Chardonnay (70%) and traditional cava varietals (Parellada, Xarel-lo, Macabeo), the sparkler presents mouth-watering spring fruit and peach flavors that allow you to skip the cocktail shaker and impress party guests with minimal effort: Just chill a few bottles of Anna Dulce, pour over ice, add orange slices, and boom—festive cocktails!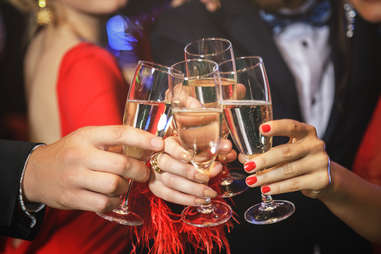 Price: $11.99
This playfully packaged beverage is convenient, cute, and seriously tasty. So raise your can and say "cheers" to being right on trend into next year. Lila's refreshing Italian sparkling features fresh peach and citrus aromas, flavors of orange peel and honeysuckle, plus frothy bubbles that roll into a creamy finish. A four-pack is ready for the party before you are.
Price: $10
If your palate leans sweeter, indulge your saccharine side with this 100% Moscato Rosa. The grapes undergo a short and cold maceration to ensure the extracted juice retains its freshness, aromatic complexity, and just the right amount of tannins; that's also when it develops that pale pink hue. On the palate, you'll taste notes of melon, peach, and red berries, plus a sweetly fragrant bouquet that's signature to Moscato. Delicious by itself, it also complements soft cheeses, antipasti, and berry-and-cream desserts.
Price: $14.99
An invigorating blend of Chardonnay, Pinot Bianco, and Müller-Thurgau grapes, this Italian glacial bubbly from the foot of the Dolomites has intense-yet-pleasant flavors of white peach, pineapple, and wild mountain rose that are perfect for enjoying on December 31...and the morning of January 1 with a splash of OJ and no more people in your house.
Price: $9.99
You've had the Freixenet brut cava from the matte black bottle—aka "Black Bottle Bubbly." Try something new at the exact same price, because in life, in general, it's important to try new things (says the girl who eats a PB&J for lunch every single day...and sometimes for dinner).
Price: $11.95
It's from France. It's made in méthode champenoise (the labor-intensive process used in making Champagne, where secondary fermentation happens inside the bottle and thus creates bubbles), from one of the three grapes allowed in Champagne. And it's easily, often mistaken for Champagne. If you're only going to buy one case, this is it.
Price: $12.99
I'd venture to say you've likely never had sparkling riesling, and you're definitely missing out. Riesling haters, don't knock it 'til you try it. (Also, this is another one of those "it's good to try new things" things.)
Price: $14.99
Another one of those bottles that's produced like Champagne, but without the high price tag. It's delicate, crisp, and goes exceptionally well with French fries—what else matters, really? Really.
Price: $12.99
This bottle has a special place in my cold heart; it was a house pour at the restaurant that sparked my studying of wine. Without Lamberti, would you even be reading this right now? It's light and gulpable—a great to start your night, or your day (not that I drink in the morning... often).
Price: $14.99
It's also made in méthode champenoise, which means that even though it's not technically Champagne, it's made in the same style, and your friends will be none the wiser. And they'll think you're rich enough to buy Champagne, so there's that.
Price: $14.99
If you didn't know, Francis Ford Coppola makes wine. Good wine. Sometimes, it comes in adorable pink cans, with straws. It's great to drink on the go, but also, on your couch.
Price: $14.99
It's red, it's sparkling, what more could you possibly want? Honestly. Plus, you get to impress your pals with a wine they (probably) haven't heard of, but are (probably) going to love.
Lisa Elbert is a former associate staff writer for Thrillist who recently found out her blood type is Champagne. Follow her on Twitter and Instagram.