Big liquor stores are overwhelming, both online and IRL. With hundreds of bottles to choose from, it's temping to just stick with what you know (what up, Californian pinot) or to pick the cheapest one with the coolest label. But that's the opposite of what you should be doing according to Amanda Smeltz, head sommelier at Bar Boulud and Boulud Sud in NYC. When it comes to budget bottles, you'll get the best quality by sticking to smaller producers and lesser-known wine regions, and ignoring the fancy label.
"If it's got a really cool, jazzy-looking label you should probably avoid it," says Smeltz. Too much emphasis on marketing often points to a bland product; better to look for grapes and wine regions that sound unfamiliar. "Steer for the stuff that looks confusing and scary," she says. "Those wines tend to be less expensive but that doesn't mean lower quality, it just means that nobody knows about wines from that place." To get you started, here are nine great red wines you can buy on Amazon for under $15 (plus one just over), selected by a real-deal sommelier.
"The price is a combination of a lesser-known region and a grape that has a lackluster reputation. A lot of young people in the US think merlot is going to be just a lousy red wine, but it's one of the two most important grapes in Bordeaux. It can give pretty fruit notes like dark berry and plum, so it's a really great fall-winter drink. And not a lot of Americans know that the Columbia Valley in Washington is a great region for red grapes. It's cool climate, like Bordeaux, so it has the capacity to produce a more balanced red wine."
"Southern Italy has been economically depressed for a long time, and its wine culture has been sort of forgotten in light of the country's more famous regions in the center and the north. That drives the prices way, way down. So you can drink some really cool stuff from the south of Italy for not a lot of money at all. Negroamaro is a unique grape, it gives really ripe, spicy, piquant notes. If you're a bitter digestif or amaro drinker you're likely to love this wine."
"Molise [mo-lee-say] is kind of like Salento which we mentioned before: It's a totally unknown Italian wine region. Even people in Italy don't drink from here. Chianti is made from Sangiovese, so if you know that you like Chianti this might be a cool thing for you to explore because it's the same grape, just from a different place. It will have a slightly different character to a regular Chianti because it's from this unique spot, maybe darker, medium-bodied, herbal. It will probably have some good acid and a little bit of tannin, so it'll be great with red meat or burgers."
"Most grapes have different names in other places. Shiraz is the same as syrah, and mourvedre [more-ved-dra] has like 50 different names. In California they call it mataro, in Spanish it's monastrell. This blend caught my eye because in the south of France, syrah and mourvedre are blended together constantly. But you'll get better value with a South African wine because the American market isn't very aware of them. There's just as much wine history in South Africa as in Australia but due to the happenstance of global marketing, people here don't know about it."
"There's a ton of red wine -- and beautiful whites -- all over Greece but it's the same story as Southern Italy. Between economic depression and really inadequate global marketing no one knows about their wines, which is a pity because they have a ton of indigenous grape varieties that are really unique and expressive. This is a great beginner Greek wine because only half of it is a native grape. It's blended with merlot which will soften out the spicy, herbal characteristics of the vradiano and make it more palatable to global drinkers."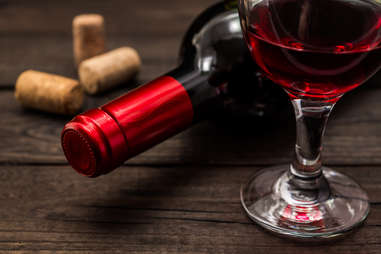 "Grenache is totally underrated in my opinion, both in the US and in Europe. I really like it because it's cheerful and gives a ton of fruit, it can be really pleasurable if you like a riper red wine. This one is from Santa Clara which is a lesser-known wine region in California. If you're trying to drink Sonoma grenache you're probably going to pay five times the price and that's just because of the relative fame of the region. So drinking from the lesser-known regions of California is a good way to get value."
"If you like cabernet and you only want to spend $15, you're probably not going to be able to drink it from California because it's too expensive. But Washington is super-underrated and their winemaking is great, so this is a good way to drink American cab without breaking the bank. American cabernets are big-bodied and have a ripe quality that comes from all the sun we get along the West Coast. It ripens the grapes so the tannins drop out and the fruit comes forward."
"Cotes du Rhone is a really good introduction to Rhone Valley in the southeast of France. In the US we learn by grape type -- I like pinot noir or I like cabernet -- but in Europe they think in terms of place and the way that impacts the wines. So when you say Cotes du Rhone, French people know exactly what that is and how it's likely to taste. Cotes du Rhone is usually an earthy but ripe blend of grenache and syrah. So if you're interested in French wine and you want a starting point, this is an inexpensive way to get a feel for the style in Southern France."
"If you like cabernet, Bordeaux is famous for big red blends and this is a great entry-level version. In New York City, if you open a wine list to the Bordeaux section you're likely to spend hundreds of dollars. But the price depends on how famous the vineyard is. If you're just a little guy who happens to be in the Bordeaux region, you can't fetch prices of $200 per bottle because no one knows who you are. But this is from the same region, it will be made with the same grapes, so it's a great, inexpensive way to be introduced to Bordeaux."
"Syrah is a grape that not that many Americans reach for, but there's a huge tradition for it in France and it can be very tasty. It's typically big, ripe, and earthy. When people say they like a big cabernet I'll often steer them towards a syrah. This one is certified organic which means they're not using any synthetic chemicals or pesticides in the vineyard. That's generally better for your body, better for the vines, and ultimately creates better-tasting wine."
Sign up here for our daily Thrillist email, and get your fix of the best in food/drink/fun.