9 Rums Under $35 Hand-Picked by a Tiki Master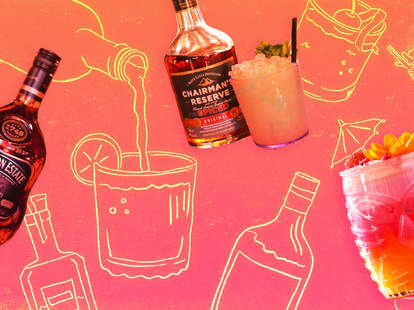 Emily Carpenter/Thrillist
Thanks to a growing lot of industry devotees, rum is finally breaking free from its syrupy past and popping up on respected backbars across the country, from funky tiki spots to refined cocktail lounges. Yet, as is so often the case in the land of plenty, navigating rum's vast and complicated waters is a much tougher feat than it used to be.
That's where Kevin Beary comes in. The decorated barkeep has spent the last few years as the beverage director for Chicago's Three Dots and a Dash, one of the Midwest's top tiki destinations, where he cultivated his rum fixation on a steady diet of expertly crafted cocktails and excursions to tropical distilleries. From there, Beary ratcheted things up a notch by opening the Bamboo Room, a specialty rum bar inside Three Dots that showcases hundreds of bottles spanning just about every make and model out there. Column-distilled, pot-distilled, Agricole, long-aged, or high ester Jamaican, this guy knows his way around a proper Mai Tai.
You might not be in a position to cop one of Beary's limited-release 20-year-aged Trinidadian rarities, but that doesn't mean you have to stick to plastic jugs and cartoon pirates. Here are nine expert-approved rums perfect for stocking your home bar without maxing out your MasterCard.
Price: $25
"This is a really nice pot-and-column blend from Barbados, which is aged and filtered," says Beary. Master distiller and rum legend Richard Seale is behind this Foursquare Distillery creation, skillfully combining sweet candied fruit notes with creamy vanilla and tingly spice for a markedly layered and well-balanced light option.
Price: $24
"Dark rum's a tricky one because the majority are un-aged rums that they just heavily color," Beary notes. "Unless you're using it for a very specific purpose, it's something you probably wouldn't even want to buy, but this is usually the one I go with."
Inexpensive dark rums like these are best reserved for tropical cocktails that call for a bold, assertive anchor like a Planter's Punch or a simple Dark 'n Stormy. When in need, reach for this St. Lucia pot- and column-still blend, aged for two to five years in ex-Bourbon casks and chock full of chocolate, hazelnut, and toffee overlay on top of cinnamon and tobacco.
Price: $28
"Spiced rum is not a category I generally screw with, but I really feel OK about this one because I've seen how they do it," says Beary. "It's truly spiced with actual ingredients like dried spices and fresh fruit, and it's probably one of a very, very, very small handful without artificial flavorings and essential oils. They have like 23 different vats that they age in the rum in -- not terribly large, maybe 100 or 200 gallons -- and they spice each individual flavor separately and then blend the whole thing together. It's pretty incredible."
This smooth, amber-hued expression packs a hodgepodge of cinnamon, coconut, vanilla, candied orange peel, and clove into every sip.
Price: $35
"I like dry, Cuban-style medium- to long-aged rums for daiquiris, so this one perfectly fits that bill," Beary says. Distilled in copper column stills and rested for eight years in ex-Bourbon barrels, this Panamanian frontrunner showcases maple, caramel, spiced nuts, oak, and juicy dates with a long, zesty finish.
Price: $32
Beary describes this 63% ABV Jamaican classic as "the most versatile" of its low-cost, high-proof brethren. It's got everything you need to jazz up a multi-faceted tiki drink: Ripe bananas and apple, heat, funk, and a grassiness at the finish that adds a nice elegance.
"It's just a little more delicate and floral than the Wray & Nephew," (see below) says the expert. "It's all pot still, whereas the Wray & Nephew is a blend of pot and column. They're both great, they're just a little bit different."
Price: $19
"I personally drink Wray & Nephew a fair bit," Beary says of this relatively inexpensive, tasty go-to. A hearty dose of overripe bananas and earthy molasses leads the way into this 126 proof Jamaican blend, with a wash of caramelized fruit, cloves, and candied nuts.
Price: $33
"If you want a Demerara rum, Lemon Hart is the one I'd recommend," says Beary. "It's that traditional dark 151 proof, but really spicy." At 75.5% ABV, this hard-hitting Guyanese export -- Demerara rum refers to a type of rum from the South American/culturally Caribbean country -- isn't for drinking on its own, but it can really make a tiki drink sing when used wisely. Unlike some of the other 151 options on the shelf, you can actually detect its well-rounded mix of brown sugar, baking spices, and fruity esters through the alcohol burn.
Price: $27
Beloved for its bright vegetal aroma and peppery minerality, Beary praises this Martinique original for its green, grassy profile. "This is one of the more character-forward Blanc Agricoles," he explains. "It's an incredibly rustic production process. They grow all their own sugarcane overlooking the ocean and it's all pressed onsite, fermented and distilled right away. This is just a really, really solid example of the style."
Price: $35
Beary is a big fan of this long-aged pot- and column-still blend from Jamaica, known for its measured complexity and bittersweet profile of brown sugar, orange peel, caramelized banana, chicory coffee, and toasted oak.
"Joy Spence, Appleton's master blender, has really been on the forefront of establishing Jamaican rum's reputation and she's adamant about not adding sugars or flavoring," he says. "If you're going to grab one bottle, this is a super, super solid choice."
Sign up here for our daily Thrillist email, get Eatmail for more food coverage, and subscribe here for our YouTube channel to get your fix of the best in food/drink/fun.