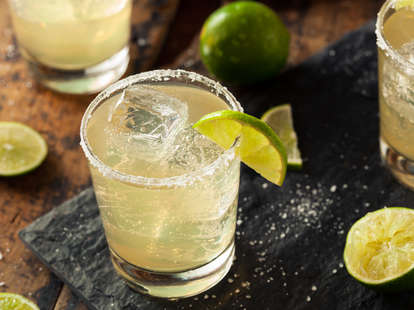 Brent Hofacker/Shutterstock
Brent Hofacker/Shutterstock
Tequila has quite the reputation. For some people, all it takes is one whiff of a bottom-shelf bottle and they're immediately transported back to "that night" in college, so now they won't touch the stuff. And some humans really enjoy drinking tequila, but think they can't afford to unless their Hinge date pays—because expensive tequila is the only kind that tastes good, right?
So much wrong! We asked some bartenders and industry gurus for their favorite wallet-friendly tequilas for sippin' straight or margarita mixin' and this list has something for everyone. Bonus points: Each one rings out at under $30 so you can keep the margaritas flowing. ¡Salud!
It's difficult to find a good quality, 100% blue agave silver tequila with a price tag that doesn't make your credit card start to cry, but here's one that totally fits the (not too high) bill. El Destilador is neither overly sweet nor too harsh, two flavor notes that tend to plague blanco/silver tequilas. Its rich agave notes stand up to other components you'd typically taste in a cocktail, allowing the tequila to shine without overpowering everything else.
Price: Starts at $26.31 for a 750ml bottle
Sometimes simple is better. Lunazul blanco is smooth, balanced, and unaged, allowing the pure agave flavor to lure you in on its own. There are pronounced flavors of agave, pepper, and vanilla in each sip. Think about it this way: For less than $30 for a bottle, the cost-per-ounce breakdown makes it a great value for making at-home cocktails for your friends or sipping on the rocks—or, you know, filling one-ounce shot glasses if you're planning on having "a night." We're always planning on having one of those.
Price: Starts at $20.89 for a 750ml bottle
Developed in 1922 in the Mexican community of Arandas (where it's still produced today), the small-batch Cazadores Reposado—which translates to "resting"—is made with 100% blue agave. It hangs out for up to a year in American oak barrels which provides it with its signature taste. The final product: fresh agave flavors mingling with vanilla and woody notes—otherwise known as a recipe for an excellent chilled sipping tequila. Enjoy.
Price: Starts at $27.99 for a 750ml bottle
Corralejo is one of the few tequilas produced in Guanajuato (Central Mexico), made with unique projection methods using only the finest agave. Master Distiller, Don Leonardo, nicknamed this spirit "the Truth," because it's intended to showcase the purest expression of agave flavor. "Corralejo Tequila is one of my favorite go-to tequilas," said Jason Rodriguez, bartender at Grand Banks in NYC. "It's smooth and velvety on the palate with bright fruit, honey, and a hint of peppercorn shining through." Basically, this tequila is begging you to sip it straight and chilled—ideally on the beach, but your sofa works, too.
Price: Starts at $29.69 for a 750ml bottle
Here's a 100% agave tequila that's aged for six months in oak, delivering its light amber color and the soft, subtle flavors of caramel and vanilla. If you're whipping up cocktails, the smoothness and dryness of the spirit allows you to control the drink's sweetness level—from a boozy fresh tequila tonic to a fruit-forward tequila sunrise.
Price: Starts at $27.49 for a 750ml bottle
Proudly marrying tradition with innovation, Mi Campo Reposado is a 100% blue agave tequila aged over a three-month period in California wine barrels. This novel process delivers a smoother and more complex profile that tastes far beyond its price point. It's a millennial's dream spirit, perfect for sipping or mixing up a paloma without bruising the wallet. "I love Mi Campo because it's amazingly smooth and a great tequila coupled with amazing value," Luis Morales, general manager of Baby Jane in Miami, Florida, shared. "It takes me back to my happiest life moments the second I take a sip." Additionally, the display-worthy bottle showcases striking artwork from Mexico City artist Raul Urias.
Price: Starts at $28.59 for a 1L bottle
This crystal-clear tequila is a labor of love. The seven- to ten-year-old agaves are harvested by hand before they're cooked, fermented, and double-distilled into this delicious spirit. "Tequila Bribón Blanco is complex and elegant at the same time," said Kyle Saliba, partner and bar director of Bar Verde in NYC. "You can find notes of butternut scotch and rose gold on the nose, which help to make it irresistible in cocktails."
Price: Starts at $21.99 for a 750ml bottle
This tequila hovers somewhere in between a blanco and a reposado. Made with 10-year-old agave from Jalisco, the spirit is aged for 28 days in new French Limousin oak barrels—not quite enough time to make it a reposado, hence it's plata ("silver") nomer despite its pale gold hue, but still enough to have delicious results. It's a young tequila with more depth and weight on the palate than you'd expect; upon sipping you'll find notes of tropical fruit, a slight smoky aroma, and a white pepper kick at the end.
Price: Starts at $29.99 for a 750ml bottle
Tres Agaves Blanco is an unaged and organic tequila made with 100% agave in the Tequila Valley, Mexico. It's one of the most awarded super-premium USDA-certified organic tequilas on the market, and it still costs less than your last impulse Amazon Prime order. The Blue Weber agave is grown and harvested by a single source, then fermented and distilled in the traditional fashion. It works perfectly in a traditional margarita with fresh lime juice, but feel free to add pressed ginger for a spicy kick.
Price: $29.99 for a 750ml bottle
Christopher Osburn is freelance food and drink writer who has way more bottles of alcohol than books in his apartment. Follow him to see how long it takes before his wife gets sick of all the unopened booze filling the closets: @ChrisOsburn.


Brooke Sager is a contributing writer for Thrillist who will take her margarita on the rocks with a salted rim, thanks so much, and keep 'em coming. Give her a follow on Instagram and Twitter.