The 10 Most Underrated Drinking Cities in America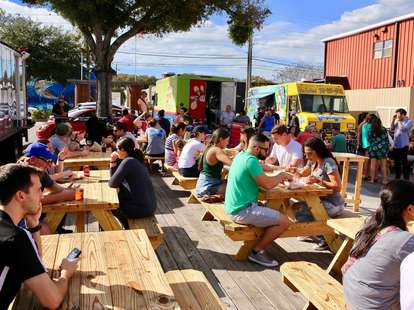 Look, any city can be a fantastic place to drink if you have a sunny day and enough money for a 40. But the fact of the matter is, some cities enjoy more prominent reputations as drinking destinations than others, whether you're talking about New York's aversion to sleep or New Orleans' legendary cocktail culture.
This is not about those cities. Instead, we're here to celebrate places that probably aren't always on your shortlist for a booze-augmented getaway, but should be. These cities boast navigable layouts, fantastic bar scenes, and beer and cocktail games that outpace their national reputation. But, more importantly, they're full of people who know how to enjoy themselves. Start updating your travel itinerary.
Anchorage, Alaska
Far too many Lower 48ers who visit Anchorage experience it in the same way: as a quick stopover or fly-through city before a long trek through the Alaskan wilderness. It's not surprising, then, that so few realize how much is actually happening these days when it comes to imbibing in the state's biggest city.
Sure, tourists and cruise shippers love their stops at the Moose's Tooth for pizza and beer, and yes, the friendly vibe and drink selection there are both memorably good. However, a truly great night out drinking in Anchorage involves several steps. Usually, a good first stop involves beer (we've already declared Alaska to be one of the best kept beer secrets in the USA), and beginning the night with world-class brews is shockingly easy when you have the likes of super-buzzed-about Anchorage Brewing Company or long-adored Midnight Sun within your reach. From there, you can pop over to the Bubbly Mermaid for oysters and one of Alaska's best wine lists (and if you can find a better shucking place open until 2am, please let us know). From there, it's an easy walk over to Blues Central (hidden inside Williwaw on Sixth Avenue). Even though cocktails in a speakeasy have veered well into common territory, it's not every day you get to experience a menu as well conceived as this, with a wide selection of in-state ingredients from the likes of Port Chilkoot (whose absinthe is a must-try) and Amalga.
However, that's just one night out. You could also find yourself perching up at F Street Station, a divey spot that's as randomly popular with pilots as it is with 20-somethings, where cold pints, well drinks, and butter clams go down easy as you rub elbows with locals. Or Darwin's Theory, a beloved everyman's bar with a Johnny Cash heavy jukebox, an impressive selection of Alaskan beers, and a book full of random butt Polaroids. Come to think of it, that whole "sun not going down in the summer" thing makes it all the more imperative you make all of these things happen. -- Zach Mack, contributing writer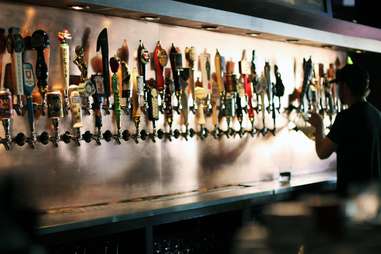 El Paso, Texas
This border town sits in the high desert of western Texas, and despite nearly 700,000 inhabitants, it still manages to maintain a small-town vibe nestled in the hills overlooking the possible future site of a certain much-discussed wall.
Most of the year, it's an ideal town to walk around in the evening hours. The summer's heat can be oppressive, but temps are still downright balmy at night -- and after a day of being cooped up in the AC, El Paso knows how to get out and party in a nocturnal-desert-creature kind of way.
We in the US don't always realize it, but really we've been largely hosed when it comes to tequila, largely limited to the whims of distributors. In El Paso, the taste for tequila is a bit more refined and much better educated. This used to be Mexico, after all. You'll be hard pressed to spend so much as a weekend drinking here without encountering multiple fantastic agave-based spirits that are wholly new to you.
Speaking of tequila, legendary patio bar the Hope & Anchor invites you to take in the Southwestern sun and savor Mexican-inspired flavors: such as a chili-infused margarita made with fresh juice. Meanwhile, Mas T'Kila Bar can offer you a tequila tour of the good stuff, right within its four walls. Order your precious agave nectar served in a shot glass molded from a fresh jalapeño. It's one of the finer things in life, and El Paso is the place to get it on this side of the border.
Slightly out of town you'll find legendary Rosa's Cantina, where you can live out your cowboy fantasies and pay homage to one of the best country-and-western songs ever penned. And while we all love our Lone Star sometimes you want to get crafty. In such inevitable circumstances, get yourself to the The Hoppy Monk, whose impressive beer selection is equaled only by the comfort of its welcoming patio.
If you're in need of some hair of the perro, you should hit up the Borracho Brunch on Sundays at Aceitunas Beer Garden, where you're bound to find just the elixir and sustenance you need to get yourself back on track from a wild weekend of wandering the hot streets of El Paso. -- Megan Frye, contributing writer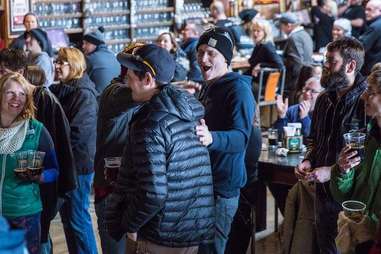 Grand Rapids, Michigan
To outsiders, Grand Rapids may not seem all that compelling -- a fairly homogenous, well-to-do Midwest city just hanging out in southwest Michigan not really bothering anyone. That is, unless you're someone who's bothered to try the beer, which is where the magic of Grand Rapids comes in. With more than 15 breweries in a city of less than 200,000, there's a reason it's a frequent destination for beer geek pilgrimages.
These are not your run-of-the-mill-let's-try-to-make-some-money-on-craft-beer places. No, no. Folks, this is no joke. Some of the best beer you'll ever have in your life is brewed in Grand Rapids. Founders is a national powerhouse, and one of the oldest operations in town with 20 years under its beer gut. Brewery Vivant is a communally seated stunner located in a refurbished funeral home. There's also cozy Harmony Brewing Company and the organic-suds slinging Grand Rapids Brewing Company.
Get silly around the town -- which is easily walkable, or you could take a ride on this thing -- with a solid brewery tour. As all good booze slingers know, it's imperative to feed their drinkers, and most of these breweries excel in that capacity as well, whether it's Founders' seriously impressive sandwich game or the duck confit nachos at Vivant, which taste like they were engineered to soak up beer in the most delicious way possible. Actually, the same goes for the crack fries at venerable beer bar HopCat, which has evolved into a mini craft beer empire but got its start in Grand Rapids.
Bonus: For the most part you can wander around this town in all manner of inebriation and not worry too much about your surroundings. Safe, beer friendly, and walkable. It all makes Grand Rapids a surprisingly ideal city destination for your next out-of-town bender. -- MF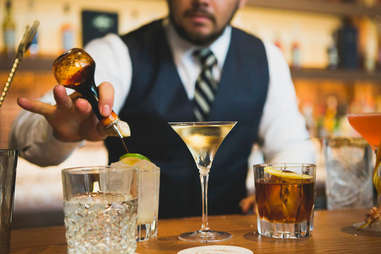 Honolulu, Hawaii
Drinking in Honolulu is generally synonymous with drinks the color of highlighter ink topped with Carmen Miranda's hat and a little straw umbrella. And, yes, if you want to go sit on the beach in Waikiki and live the American dream, you can do that. But drinking in this city is so much more than that tired old cliché.
Mixologists all over Oahu have figured out that the islands' abundance of fresh fruit is good for a lot more than just garnishes. A trip through the gritty streets of Chinatown finds a rotation of pop-up bars where some of the best mixologists in the country are trying things out for locals and tourists alike. Saddle up to the bar at Pig and the Lady, and in addition to Vietnamese food you'll find Matt Kua crafting stuff like the Cobra Commander with avocado mezcal, Sriracha ice, pamplemousse rose, and lime.
But Honolulu's surprisingly creative craft cocktail scene isn't limited to Chinatown. A few blocks away at Encore Saloon, Quinn Mears has curated one of the best collections of mezcals not just in the Islands, but in the entire country. And wander into the Topa Financial Center Downtown, and you'll stumble upon the hidden-in-plain-sight Bar Leather Apron, a 30-seat drinking den where you'll need a reservation to try their Hawaiian takes on prohibition classics.
You want dives? You don't even need to go to sketchy parts of town to find 'em. Arnold's in Waikiki has $4 drinks and some of the more colorful characters in the city. You want liquors? Hawaii does more than just rum – though a trip to Ko Hana's distillery is definitely worth it if you're in town. In addition, Island Distillers makes a 100-proof Hawaiian moonshine that's popular with many of the aforementioned mixologists. Add in a selection on Kona and Maui Brewing beers on draft pretty much everyone that you won't find on the mainland, and you'll realize that drinking in Honolulu is about a lot more than stereotypically accessorizing your tropical vacation. -- Matt Meltzer, contributing writer
Milwaukee, Wisconsin
You might be surprised to see Milwaukee on this list, as it is without a doubt a city with a known affinity for alcohol -- the baseball team is called the "Brewers" and multiple inexpensive beer brands invoke the city's name. But the depth and breadth of the Milwaukee drinking experience is far richer than just the tailgates and dive bars that dominate the city's popular perception.
Let's start with Bryant's, the timelessly cool cocktail bar that's been doing impeccably crafted cocktails longer than any of its patrons (or staff) has been alive. But there's also plenty of new action to uncover for the spirits-inclined, like Dock18 Cocktail Lab, a joint venture between the innovative minds behind Bittercube Bitters and Twisted Path Distillery. It's worth seeking out their slightly hidden warehouse location to spend an evening chatting up relentlessly creative bartenders happy to give you a sample of their latest infusion or innovation in progress.
And yes, you probably realized Milwaukee loves beer, but you may not have realized quite HOW much. Every time I visit (which is as often as possible) it seems like there's another public park that's been outfitted with a new beer garden, a bit of sound public policy more cities ought to get behind. Then there are bars like Burnhearts, which seamlessly blend the welcoming qualities of a neighborhood tavern with the "I can't believe how many of these beers I need to try" trappings of a seriously impressive craft beer bar. Every neighborhood in America should have one, but only the incredibly walkable and inviting Bay View does.
And if you're more comfortable crushing cans in a dark dive bar or losing your mind at a tailgate (yes, baseball involves tailgating here)? Those remain fantastic options! Quite simply, if you haven't been to Milwaukee there's a glaring hole in your drinking resume. -- Matt Lynch, Deputy features editor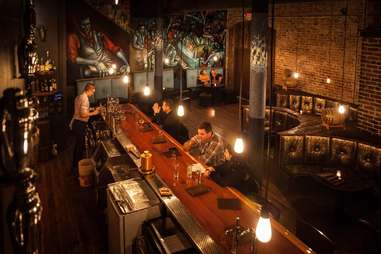 Omaha, Nebraska
I wanted to say that Omaha has a certain reputation on the coasts, but that's not even true. Omaha suffers from the indignity of not even being acknowledged, an insult by omission.
But the Gateway to the West is better off for it (until, of course, I ruin that by blowing up their spot right about... now). The clearest example is the quality of drinks available in the eateries. It's not enough that Dario's makes the best burger in the city, they've also got a ridiculously extensive list of Belgian beers and sours. Pitch Pizzeria has coal-fired pizza, but also an entire cocktail section focused on different takes on the Moscow Mule. The Grey Plume offers ridiculously ambitious fine dining plus cocktails featuring marjoram and charcoal, for god sakes.
But when you get to the actual bars, they don't mess around either. Berry & Rye throws around words like graham cracker-infused Koval Oat whiskey and chai spice-infused Diplomatico Exclusiva. And my favorite bar, Nite Owl (ask for Gunnar!) has a seasonal menu created entirely by the bartenders, a reserve list of new classics from around the country, plus a seasonal punch, slushy, G&Ts on tap, and a FREE JUKE BOX DURING SOME WEEKDAYS. Sorry, Omaha. The secret is now out. -- Kevin Alexander, national writer at large
Pittsburgh, Pittsburgh
If you think drinking in the 'Burgh is all about slamming IC Lights in the Heinz Field parking lot you... well, aren't totally wrong, as that is a prominent part of Yinzer boozing culture. But you are neglecting an entire Three Rivers' worth of opportune drinking! The first thing you need to know: Pittsburgh has more bars per capita than any other city in America. This is a town that loves to imbibe. In the bar-infested but mostly fratastic Southside, you can find a hoppy, dive-y oasis in Smokin' Joe's Saloon (featuring over 350 varieties of bottled beer), or in the surprisingly-not-awful speakeasy Acacia. If your vibe is more bougie than beer bong, you can always head North to Oakland for bespoke-as-shit bars like Le Mardi Gras, or the tiki-tastic Hidden Harbor -- both would fit hipster havens, à la Williamsburg, like an artisanal glove.
But, if you are the homegrown type, the Steel City has breweries like Voodoo, East End, and Church Brew Works (in an actual church!) that would rival almost any city's best craft offerings. But then again, if you want to experience drinking like a true Pittsburgher, you probably will want to crack open a tallboy in the Heinz Field parking lot. Preferably with a lukewarm Primantis. It's what Dan Rooney would have wanted. -- Wil Fulton, staff writer
Providence, Rhode Island
Even as a longtime getaway for Bostonians in-the-know looking for a killer meal, the biggest city in the country's smallest state still sits squarely below the national food and drink radar. In fact, one could even say that the only thing more criminal than the government of Providence in the '90s (ha, Buddy Cianci reference!) is how underrated their dining and drink scene is. Take beer, for example: After languishing well behind their New England neighbors for years, Providence has finally arrived on the brew scene, with white hot upstarts like Long Live Beerworks elevating the city after opening in early 2016.
Anyone looking for a wider variety can find something to love at E&O Tap, a dive bar with a rotating selection of solid brews and a solid contingent of locals, or Justine's, an understated-yet-intriguing cocktail bar with a laid-back vibe hidden behind a lingerie shop. The drink game really gets going at The Eddy, though, where the best versions of the classic cocktails you love run alongside carefully curated wine and beer (while still making room for 'Gansett and High Life cans) and, naturally, oysters.
But if you're looking to soak in that famous Little Rhody local pride, it's surprisingly hard to stumble into a local dive and not immediately find something to love. Maybe it's the low-key college town undertones, or the tried-and-true New England habit of loving where you were born and raised, or just a city that's sort of OK with the idea that they're off the beaten path for most Americans. Whatever it is, Providence excels at making most barstools feel just like the right version of home we're all looking for in a night out. -- ZM
St. Petersburg, Florida
When you talk about America's great beer cities, exactly none of them conjure up images of tanned people in shorts enjoying passionfruit wheat beers under palm trees. But beer culture means something different in Florida, and the sunshine state's beer city is sunny St. Pete. Yes, Florida's craft beer goliath sits across Tampa Bay at Cigar City. But when it comes to inventive small breweries, nobody beats St. Pete. The city's home to Three Daughters, Cycle Brewing, and St. Pete Brewing Company, and even boasts its own "Craft Beer Trail" now. Which, if you're not down for indoor baseball, is a great way to kill a day in St. Pete.
Just across the Sunshine Skyway in Sarasota you'll find J-Dubs, whose outdoor patio welcomes possibly every Sarasota resident under 65 on the weekends. And Bradenton is home to Darwin Brewing, the best spring training-adjacent brewery in America.
But it's not just all about the beers in St. Pete. The city has made its Downtown one of the best drinking destinations in the country with a two square-block area where you can hop from craft cocktails at Cask & Ale of Mandarin Hide. Then catch a show at Jannus Live. Then meander through MacDinton's or Mastry's and drink cheaper than you will in much of the rest of Florida.
Though the Ray's haven't been anything to get excited about in a few years, Ferg's near Tropicana Field has one of the best pre-game environments in baseball. On a good day, the bar could be straight out of a summer Friday in Wrigleyville, a packed-to-the-gills pregame full of fans who might not be as passionate as some other cities', but can drink with anyone.
And then, of course, there are Clearwater and St. Pete Beach, with classic beach bars like the Undertow where you can have a beer and play ring toss on the sand while you watch the sunset. -- MM
Salt Lake City, Utah
You probably wouldn't think it -- and honestly, given the fact that the city is nearly half Mormon and the state's residents put up with notoriously wonky liquor laws, we can't blame you – but Salt Lake City, Utah is one of America's most overlooked and underrated drinking cities. Easily dismissed as the Latter Day Bible Button of the West, Salt Lake isn't popping up on anyone's radar for its excellent breweries, distilleries, and craft beer/cocktail bars – though it should be. As the saying goes, it's the quiet ones you have to watch.
Let's start with Whiskey Street, a gastropub with an excellent craft beer and cocktail game and an extensive whiskey list as you might expect given the name. That name itself is actually an homage to SLC's history: before Main Street (where Whiskey Street is located) was Main Street, it was christened "Whiskey Street" by LDS leader Brigham Young, to allow a place for the "gentiles" to still drink and cavort. Thoughtful! Beerhive Pub is another great beer bar to include in your booze rounds, and The Bayou features more than 300 beers on its menu, making it the largest beer selection in the state. For exquisite cocktails, hit the Copper Onion (for lunch, weekend brunch, and dinner) or Copper Common next door (dinner only).
SLC's brewing scene is bangin', with excellent breweries like Uinta and Epic putting it on the national map. Wasatch Brewery's main brewhouse is actually in Park City, but there is a brewpub in Salt Lake City's Sugarhouse 'hood. There's also Squatters Brew Pub, a popular local brewpub chain with a Downtown SLC location in a renovated historic hotel. Also check out teeny-tiny operations like Avenues Proper -- the first brewery in the state to also offer beer from other local breweries -- and Roosters Brewing Company for $1 beer tasters and $2 brunch drinks. And there's also Red Rock Brewery, Desert Edge Brewery, and Bohemian Brewery, if you haven't quite had your local beer fill.
Salt Lake is also making advancements on the craft spirits side of things, with promising young distilleries like Sugar House and Dented Brick, as well as an outpost of Whisky Advocate's 2016 "Distiller of the Year" High West Distillery inside the SLC airport, which is a mighty fine way to start or end your visit.
Important bonus information: The place is STUPID cheap, and one of the most likely heirs to the Portland hipster throne. -- Nicole Rupersberg, contributing writer
Sign up here for our daily Thrillist email and subscribe here for our YouTube channel to get your fix of the best in food/drink/fun.