The 9 Best Coconut Waters on the Market Right Now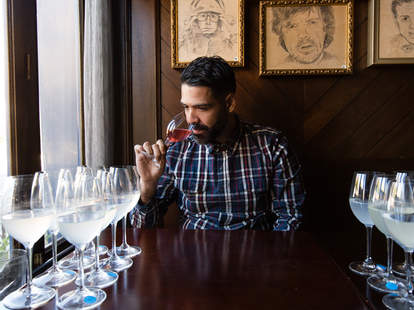 You love coconut water. We love coconut water. So we decided to compare a bunch of widely available brands in a blind taste-test. We gathered every different product we could find at Trader Joe's, Whole Foods, Target, and a bunch of health-food stores. There were 15, all told -- including the same brands in different packaging 'cause that shit matters -- and we asked a professional bartender to rate them. Why a bartender? Because barkeeps know three things: how to mix a drink, how to keep a secret, and how to cure a hangover.
"If you're a bartender and you don't include coconut water in your hangover regimen, you're failing," says Giuseppe Gonzalez, owner of the Suffolk Arms cocktail bar in NYC. He should know -- he's been working in the booze biz for more than two decades. But his love of coconut water goes beyond its being nature's electrolyte drink. Gonzalez is from Puerto Rico, where he says the national drink is not the piña colada, as tourists wrongly assume. Everyone on the island is actually drinking whiskey and coco. And he's such a devotee, he's putting it on his cocktail menu next month, in a drink he's dubbed the Sinner's Breakfast, made with nitro coffee cold-brewed with coconut water.
"Everything that's good about coconut comes out in that drink," he asserts. To illustrate his point, he pours coconut water over a Dewar's 12-year-old single malt on the rocks and hands it to me. It's more dilute than a Scotch and soda and ridiculously refreshing. "You can drink this all day on the beach without getting hammered. And you'll stay hydrated."
The man knows his coconut water. Here are the brands he determined to be the best of the bunch.
Cole Saladino/Thrillist
Pure Brazilian raw coconut water
Price: $4.19 for 13.5oz (31 cents per oz)
Score: 80/100
Tasting notes: "It tastes diluted and it has a sour finish at the end. But it looks great, it's filtered really clear. It's easily the most beautiful one out of all of these. And it's one of the few I would use for a cocktail. It's not too sweet so I could control the amount of sugar in the drink. And it's got the right mouthfeel, the consistency is just a bit lighter than whole milk."
Taste Nirvana coconut water (bottle)
Price: $1.99 for 9.5oz (21 cents per oz)
Score: 80/100
Tasting notes: "That's beautiful. Light, buttery, not sour at all. Coconut water oxidizes like apples, the longer you leave it exposed to air, the more sour it becomes. The liquid is cloudy which means they let it sit in the coconut flesh a bit too long before they filtered it, but it's all good."
Trader Joe's pure coconut water
Price: $2.99 for 33.8oz (nine cents per oz)
Score: 80/100
Tasting notes: "It's not great but it's good. It's a little diluted, I think they're cutting it with something. It's not sweet, and you know when you drink natural coconut water right out of the coconut, that sweetness is there. But if I was hungover and I just wanted something that mimics water without all the sugar and all the crap, this would be perfect. I'd probably use this one in a cocktail because it's neutral, it kind of appeals to everyone."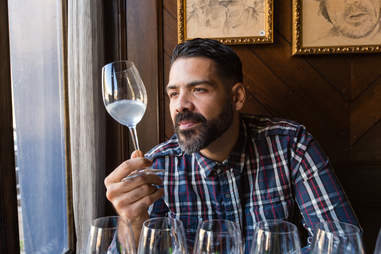 Cole Saladino/Thrillist
Whole Foods 365 coconut water
Price: $3.29 for 33.8oz (10 cents per oz)
Score: 85/100
Tasting notes: "This is the ugliest one. It still has specks in it from the coconut shells that didn't get filtered out properly. And that yellowing right there is oxidation. But it tastes freaking good, the oxidation hasn't hurt it in any way. The sweetness is perfect, it's the second-sweetest out of all of them. It's got that cool butteriness that I like, it's got the mouthfeel. The problem is it looks shitty. As a bartender, I would have to run it through another filter before I served it."
FOCO 100% pure coconut water
Price: $1.69 for 11.2oz (15 cents per oz)
Score: 89/100
Tasting notes: "This is gorgeous. The sweetness is there, the smell is there, it's clean, it has salinity. It's got a weird thing going on in the middle though, it does that artificial coconut thing -- like Malibu -- but then it goes away. My favorite thing about it is the mouthfeel, when I taste coconut water that sits heavy like this I'm like, OK, this is legit. It actually reminds me of home, like if you were to open up a coconut by the side of the road in Puerto Rico, this is what it would taste like."
Vita Coco pure coconut water
Price: $4.18 for 33.8oz (12 cents per oz)
Score: 90/100
Tasting notes: "The smell is the first thing that hits you, this has a freakin' delicate odor. Some coconut waters smell like suntan oil but that artificial flavor does not exist in real coconuts. This is bright, delicate, clean, easy to drink. And when you look at it, it's like total clarity. This has been filtered a certain way to be that clear. Elegant is the word I think I would use. This one is the most elegant."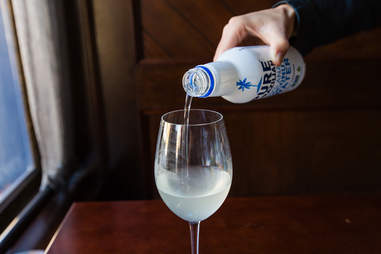 Cole Saladino/Thrillist
Taste Nirvana coconut water with pulp (can)
Price: $2.69 for 16.2oz (17 cents per oz)
Score: 90/100
Tasting notes: "It's rich, it's clean, it's got those beautiful pieces of coconut in there so you get that textural component. This is one of the Asian joints, they're the only ones who throw coconut chunks in there. The only bad thing about some of the Asian stuff is it comes in a can and sometimes you don't equate a can with high quality. It's filtered really clean even though it's got those chunks. And it's the butteriest -- that flavor sits the longest, it coats everything. I almost want some popcorn with this."
Coco Community organic coconut water
Price: $4.95 for 16.9oz (29 cents per oz). Currently only available at Target and Walmart.
Score: 90/100
Tasting notes: "This is the sweetest one, I'm almost tempted to say they added sugar. It's freakin' delicious. It tastes like a real coconut -- rich, nutty, smooth. When you smell it you get walnut and a weird sherry quality. The color is beautiful, it's a pale yellowish pink. That's the phenols in the coconut; it's a rare trait, you don't get that in all the bottles. To me that's a visual cue of quality. If I was going to use this in a cocktail it would be the simplest one possible, like a highball. No modifications, no shaking, nothing. Just add spirit and ice and call it a win."
Cole Saladino/Thrillist
Harmless Harvest organic coconut water
Price:
$4.99 for 16oz (31 cents per oz)
Score:
95/100
Tasting notes: "
That's perfect, that's the benchmark. It's clean and it's sweet as fuck. I know this is the Harmless. Even blind there are three things you can pick up off the bat. One, the odor. It smells like coconut. Two, the mouthfeel. It doesn't feel like water, it sits like milk. And three, the color. How many times in nature do you see pink water, you know? That's money. I don't know how many times I've looked through, like, 30 white ones for the pink one. One day when I'm rich and I have 10 Suffolk Arms, I will literally have deliveries of only the pink Harmless coconut waters."
The takeaway
Ballers can fill their fridge with Harmless Harvest, which scored the highest but was the most expensive on the list (along with Pure Brazilian). And that pink color that some of them have? It just means the coconut had naturally high levels of an enzyme called polyphenol oxidase, which turns rosy when exposed to light. If you're still waiting for Google to acquire your startup, your best bet is Vita Coco, which combines a high score with a low price point. And it turns out packaging really matters: Taste Nirvana scored higher in a can than in a glass bottle. Happy hydrating!
Sign up here for our daily Thrillist email, and get your fix of the best in food/drink/fun.
Sarah Theeboom is a freelance food, lifestyle, and travel writer. She'll reach for the coconut water with the pulp every time, but aloe vera juice is her real jam (you need to get on that if you're not already). Follow her on Instagram or Twitter.