Starbucks currently has 36 drinks on its ever-changing menu (and 50-plus food items), and infinite ways to customize them, but you've probably only had a fraction. Despite my embarrassing math SAT score, even I know a fraction of 50 isn't a lot, so to help you break the chains of habit, I've compiled this constantly updated ranking of every single drink on the Starbucks menu. Perhaps you'll read it and find something new you want to try. Or perhaps you'll think I'm wrong about everything. Let's find out together!
But first, a few ground rules:
While you might be able to order drinks not found here, please note that this is limited to items that specifically appear on the Starbucks menu. The list will be updated frequently to reflect menu changes.
I've included the hot and iced versions of drinks (such as the coffee) only when Starbucks lists both on its menu. Otherwise this ranking would be very long and very boring.
I didn't customize the drinks in any way, so that I could experience them as Starbucks intended.
All the drinks' nutritional info is based on a 16-ounce Grande size.
Make sense? Then grab an iced caramel macchiato, toss it in the trash immediately, order up a triple mocha Frappuccino instead, and check out this ranking.
Recommended Video
This Pizza Dip Lets You Throw a New Kind of Pizza Party
36. Strawberry Acai Starbucks Refreshers
Nutritional info: 90 calories, 20 grams sugar
I'm deathly allergic to strawberries, which is 99% of this drink. But I put aside my severe allergic reaction to strawberries and took a sip of this. It was great! Jaykay, I never tried it. If Superman were a skinny Jewish guy from Delaware, strawberries would be his kryptonite.
35. Teavana Shaken Strawberry Green Tea Infusion Lemonade
Nutritional info: 70 calories, 16 grams sugar
Yeah, this is a no-go too.
34. Salted Caramel Mocha
Nutritional info: 470 calories, 59 grams sugar
This one was such a big hit over the holidays last year that the Bucks brought it back, along with Pumpkin Spice. If you're into extremely sweet hot coffee drinks, this is your jam. But adding mocha and coffee to the salted caramel notes is a little too much for my tastebuds to handle.
33. Strawberry Banana Smoothie
Nutritional info: not available online
Do we have to go over this again?
32. Very Berry Hibiscus Starbucks Refreshers
Nutritional info: 70 calories, 15 grams sugar
I'm not saying I broke out into hives when I read the name of this drink, but I'm not saying I didn't either. I'm going to name the actual blackberries used in the making of it. It also has white grape juice concentrate and green coffee extract, if you're into that sort of thing!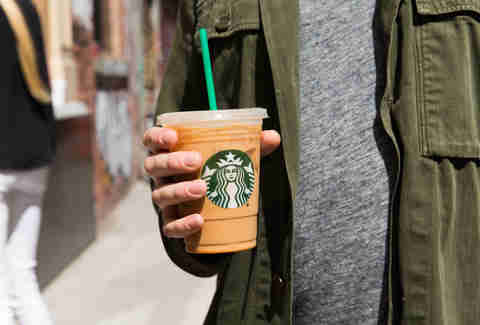 31. Iced Caramel Macchiato
Nutritional info: 250 calories, 34 grams sugar
The caramel drinks at the 'Bucks aren't my thing: the aftertaste gets to me. But there's an exception further down the list. Stay tuned, caramel fiends.
30. Matcha Green Tea Crème Frappuccino
Nutritional info: 430 calories, 65 grams sugar
I have no idea why this was made into a Frapp. Some flavors don't belong in this delicious pseudo-milkshake format, and green tea is one of them.
29. Mango Dragonfruit Starbucks Refreshers
Nutritional info: 90 calories, 19 grams sugar
This is not a drink so much as a beacon in a cup with ice and a straw. It says to everyone who walks by you, "I just bought a wine-colored drink from Starbucks that has fruit in it!" It begs to be Instagrammed. Oh, and there are seeds from the dragonfruit (and actual dragonfruit!) floating around in there. You can't miss them. The flavor is tropical as the look and name of the drink promises. Despite the fact that dragonfruit has its fruitprints all over this, mango is what lingers on your palate before fading away. But that photo you posted to Instagram? That, my friends, stays forever.
28. Caramel Iced Coffee
Nutritional info: 80 calories, 20 grams sugar
No!
27. Vanilla Iced Coffee
Nutritional info: 80 calories, 20 grams sugar
The vanilla syrup just wasn't working for me. I want iced coffee to taste like iced coffee OR be a milkshake (à la the Frappuccino). This appears to be neither.
26. Teavana Shaken Pineapple Black Tea Infusion Lemonade
Nutritional info: 45 calories, 11 grams sugar
This tastes exactly like the flavor of fluoride I got in my dentist's office when I was a kid. After this pineapple floods my mouth, I get flashbacks to fifth grade. Which is strange, because the flavors in the Teavana Kona Pineapple herbal tea is super tasty.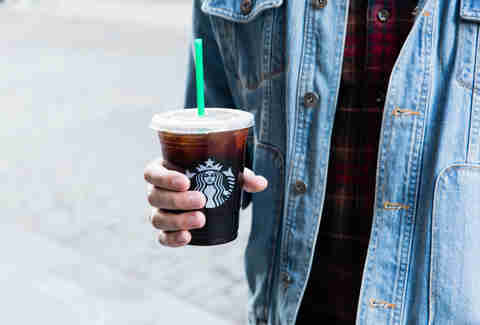 25. Nariño 70 Cold Brew
Nutritional info: 5 calories, 0 grams sugar
I drink cold brew at every coffee shop I go to. It's my drink. And this isn't quite doing it for me. I'll say that it's better than Starbucks' drip coffee over ice, which should be illegal since cold brew is so easy to make, but this cold brew isn't quite there for me yet. It lacks the fruity, rich complexity that makes top-notch cold brew so delicious. And if you can find the bottled Starbucks cold brew, do so.
24. Dark Roast
Nutritional info: 5 calories, 0 grams sugar
This roast changes over the course of the year. Right now it's a single-origin Papua New Guinea Highlands. But when I go into the 'Bucks, I'd rather have something like a flat white.
23. Blonde Roast
Nutritional info: 5 calories, 0 grams sugar
This roast is usually Veranda, although it too can change seasonally. It's tasty, but it makes me want a cold foam nitro.
22. Medium Roast
Nutritional info: 5 calories, 0 grams sugar
This roast is always reserved for Pike Place. This is my favorite of the drip coffees. Starbucks says it has "subtly rich flavors of cocoa and toasted nuts." It makes me want a triple mocha Frappuccino.
21. Vanilla Bean Crème Frappuccino
Nutritional info: 400 calories, 57 grams sugar
I think I used to be more of a vanilla person growing up, but now I'm squarely in the chocolate camp. Ten-year-old me would've lost his mind over this. Significantly older, current me (who has successfully gone through puberty!) thinks this is vanilla overload.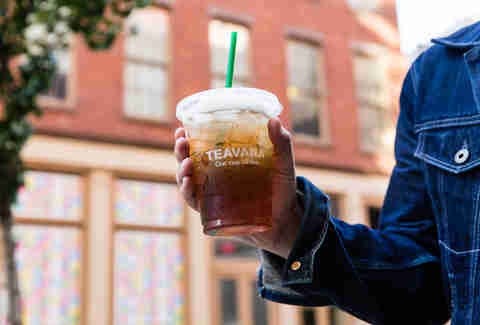 20. Teavana Shaken Peach Citrus White Tea Infusion Lemonade
Nutritional info: 70 calories, 16 grams sugar
You might not expect it from the name, but this tastes primarily like rose hips and lavender. It looks like it was created primarily to show off its pink-ish, rosy color on Instagram. And it certainly is eye-catching! Sadly it's lacking the peach and citrus flavors that it advertises.
19. Vanilla Sweet Cream Cold Brew
Nutritional info: 110 calories, 14 grams sugar
It's incredible what a little splash of Starbucks' sweet cream can do to elevate its regular cold brew. That sweetness cuts through the bitterness, but isn't overpowering. As an added bonus, it's pretty trippy to watch the cream spread out in the ultra-dark coffee.
18. White Chocolate Mocha
Nutritional info: 470 calories, 59 grams sugar
I want to love this. I do! But I can't force myself to. It's got plenty of sugar, plenty of cream, and plenty of coffee flavor, but the white mocha doesn't tie it together so much as try to overpower the coffee and cream flavors.
17. Teavana Shaken Peach Citrus White Tea Infusion
Nutritional info: 45 calories, 11 grams sugar
Unlike the Teavana Shaken Peach Citrus White Tea Infusion Lemonade (say that five times fast), this actually tastes like peach and citrus! Refreshing, citrusy, and you can even get a hint of its white tea backbone.
16. Classic Chai Tea Latte
Nutritional info: 240 calories, 42 grams sugar
I used to order this chai before I'd go in to work an early shift at Barnes and Noble. This was a decade ago, back when people were still reading books made out of paper. That chai gave me the energy to correctly alphabetize all the Margaret Atwood novels. The drink hasn't changed since then, and after drinking one, I'm pretty sure I could still remember to shelve Alias Grace before The Blind Assassin.
15. Caffè Latte
Nutritional info: 190 calories, 17 grams sugar
Steamed milk, espresso. You get a layer of foam on top. I love when the foam hits your top lip, supporting it like a little milk pillow as you draw warm espresso into your mouth. I'm a little shocked I liked this more than some of their flavored lattes, especially considering my well-documented child-like love for sugary flavors, but this simple drink delivers.
14. Pumpkin Spice Latte
Nutritional info: 380 calories, 50g sugar
It's back! Again! You've had this drink a million times, and at least 2 million times if you've ever used the hashtag "basic" on Instagram. I'm not judging, I've had it 3 million times, probably. It's one of the best pumpkin spice lattes in the game (and it has real pumpkin). Plus it comes with one of the most delicious coffee toppings in the game -- a mix of ground cinnamon, nutmeg, and clove atop a healthy dollop of whipped cream.
13. Cool Lime Starbucks Refreshers
Nutritional info: 60 calories, 14 grams sugar
I always like when a drink lives up to its name! You'll certainly feel refreshed after drinking this, as it's like a more intense Gatorade Lime (with actual lime slices to boot!). But what's really refreshing about this sucker is that it only has 14 grams of sugar! Holy moly that is low for Starbucks. If you're watching your sugar intake, you should consider ordering 'em over spring and summer.
12. Matcha Green Tea Latte
Nutritional info: 240 calories, 32 grams sugar
This is one soothing beverage. There's the earthy green tea essence mixed with the sweetness of the warm milk and a layer of foam, and I'm hooked. If you need a break from coffee and love green tea, this is a can't-miss.
11. Flat White
Nutritional info: 220 calories, 17 grams sugar
While this tastes like a glass of warm milk with coffee flavoring to me, it actually has plenty of espresso -- two ristretto shots and steamed whole milk. Whatever's in it, it's delicious. You also get a smooth and not-at-all bitter coffee finish, too. So much warm milk you'll want to go to bed after drinking this. Also, my colleague was shown how Starbucks makes these, which is pretty cool.
10. Lightly Sweet Chai Tea Latte
Nutritional info: 190 calories, 31g sugar
Lightly sweetened drinks are a fascinating proposition. They allow you to get the sugary flavors you love to drink even when you're trying to keep healthy. It's a win-win. And I'll say right off the bat that this tastes significantly less sugary than its regular chai. I don't think this loses any of the tasty cinnamon and clove notes of the original, either. But it does lose 11 grams of sugar. While the drink still has a steep sugar count (31 grams), at least now it has less of the sweet stuff than a can of Coke (39 grams). Small victories!
9. Iced Starbucks Blonde Cold Foam Cappuccino
Nutritional info: 60 calories, 8 grams sugar
Blonde is the lighter version of the espresso Starbucks has been pulling since its inception, and when it was released at the beginning of 2018, it was a big deal. I imagine that they're featuring it in a spring/summer drink to remind people they can remix their favorite iced coffee drinks with a new type of espresso. I'm also impressed that it only has a "splash of milk" (according to the company) and just 8 grams of sugar. The layer of cold foam is what takes this drink from "it's fine" to "YES, MORE NOW!" for me -- it's like coffee's version of the head on a beer. Starbucks describes it as "velvety and frothy," and my taste buds concur. But if you don't like the taste of the new blonde espresso, this is not for you. This is a drink for grown-up Starbucks fans. There should be a warning on it: you must love the taste of coffee to enjoy this. It's coffee-forward, which I usually enjoy. But the other cold foam drink is so vastly superior that it's tough for me to drink this without wishing I had something else.
8. Horchata Almondmilk Frappuccino
Nutritional info: 390 calories, 66 grams sugar
Remember the iced cinnamon almondmilk macchiato that was just on the menu? This is that, but with a different name and the baristas throw it in a blender. OL, now let's talk about the drink! I love almond milk. I use it to make oatmeal. I make smoothies with it. I'll even drink it in coffee. But I have one rule: If I even taste a little bit of that almond milk aftertaste, I will spit it out. Luckily, Starbucks covers up the aftertaste with loads of cinnamon and sugar. This is a liquid snickerdoodle cookie, and I am into it.
7. Ultra Caramel Frappuccino
Nutritional info: 420 calories, 55 grams sugar
This is strange. I've had caramel flavoring in many, many Starbucks drinks, and the aftertaste always turned me off. But here they turn the caramel up to 11 and I... love it? I'm as confused as you are. I love the dark caramel sauce on the whipped cream. I love the caramel syrup mixed into the drink. I don't know if they improved the caramel flavors or just found the perfect delivery system it, but this drink works for me.
6. Caffè Mocha
Nutritional info: 360 calories, 35 grams sugar
Ooo, adult hot chocolate! I want to fill my bathtub up with it, cover myself in marshmallows, and spend the day... sitting in the tub eating marshmallows. Is this drink a movie on Cinemax at 2am?
5. Java Chip Frappuccino
Nutritional info: 470 calories, 66 grams sugar
This is exactly the Double Chocolaty Chip Frapp you'll see later in the ranking, but with coffee. I'm a huge fan of coffee flavors, but here they just steal the spotlight away from all the chocolate flavors. It's a scene-stealer that coffee -- like Jonah Hill in that one scene in The 40-Year-Old Virgin, where he plays some random dude haggling with Catherine Keener at the eBay store. When I saw that I thought, "They should get that little dumpling of a man his own movie!" The coffee in here deserves its own movie.
4. Cold Foam Cascara Nitro
Nutritional info: 80 calories, 18 grams sugar
Fair warning: While this is on the menu at many Starbucks, it's not available in every Starbucks. That's because it requires that the location you go to has a nitro tap. Nitro is what makes the coffee creamy; infusing it with a dose of nitrogen makes every coffee tastes like Guinness. I'm a little obsessed with it. Because Starbucks doesn't do anything halfway, they supersize the foam, giving it two-to-three times what I would've expected. And it's glorious. I did have to spend time wiping the foam off my mustache, but it was worth it. It's a sweeter take on a nitro coffee you might get at a third-wave shop (thus, the 18 grams of sugar), but combine that with the smooth cold brew and the tidal wave of foam in each cup, and this is a gosh darn winner.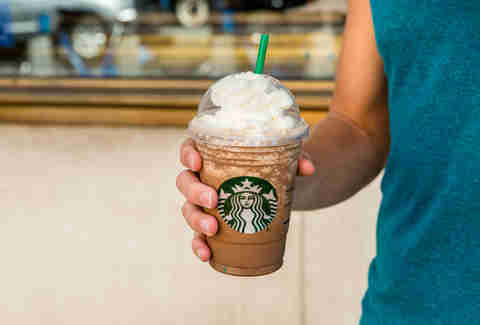 3. Double Chocolaty Chip Creme Frappuccino
Nutritional info: 420 calories, 52 grams sugar
This is the type of drink that doesn't even play around with coffee flavors. You know how I know? Because there is not a drop of coffee in this drink. And it doesn't need any. It's joyful sip after sip of chocolate and milk combined, except for it comes in a Starbucks cup, so no one will assume you're basically drinking a freshly made Yoo-hoo.
2. Coffee Frappuccino
Nutritional info: 240 calories, 50 grams sugar
For some reason, this classic Frapp was left off the menu for quite some time. But it's back! And now I'm reminding you that if you haven't had one in a while, it's one of the best drinks on the menu. Coffee, milk, and ice blended together for a sugary treat that'll snap you out of whatever funk you're in any time of the day.
1. Triple Mocha Frappuccino
Nutritional info: 400 calories, 51 grams sugar
This drink tests the limits of if something can have too much chocolate. After drinking this, I believe it cannot. Take a sip, and your taste buds will get hammered with wave after wave of chocolate. This drink means you'll never have to order the regular mocha Frapp again. Also, the mocha Frapp's not even on the menu anymore. That doesn't mean you can't order it -- the baristas will helpfully tell you that they can make a ton of drinks no longer on the menu -- but why the heck would you want to? This is the original mocha Frapp squared, multiplied by a thousand, and improved by a billion. Right now, it's the best thing on the menu at Starbucks. Until they release a Quadruple Mocha Frappuccino, of course.
Sign up here for our daily Thrillist email and subscribe here for our YouTube channel to get your fix of the best in food/drink/fun.