Here's the deal: Coffee is getting expensive. Not like, acai bowl expensive, but forfeiting $5 to a barista each morning still adds up. Fortunately, most coffee chains reward "irresponsible" spending habits by tossing freebies to their most loyal customers. Even more fortunately, most major coffee chains now have mobile apps that make earning rewards easier than ever. Read on and learn which of the nation's favorite coffee chains give you the best bang for your buck... because resorting to K-Cups just isn't worth the savings.
Nationwide (find the nearest store here)
The rewards: Starbucks has money, there's no doubt about it. And luckily for us, Lady Starbuck is willing to share, via Starbucks Rewards. Once you reach Gold Level status (which doesn't take too long if you're an ardent coffee drinker), you'll enter a world of handouts and sales. For every 125 "stars" that you collect, you get a free drink or food item. How do you collect stars? Each dollar you spend gets you two stars, which means that after spending $62.50 with your rewards account, you'll have earned enough stars for a free drink. Not the greatest-sounding ROI, I'll admit, but it's worth noting that few people actually spend that much to reach their star count. Starbucks hooks their members with in-app challenges, where you can earn extra stars by buying specific items within a designated time frame. Rewards members are also offered monthly double-star days, free refills on brewed coffee and tea, free birthday drinks, and, this year, they brought back Happy Hour, where you can get your afternoon fix at a deeply discounted price. Considering Starbucks' steep prices, these perks lead to quite a few dollars in savings.
The negatives: Starbucks starts all rewards members at the Green Level, where you're only privy to free birthday drinks, free refills on certain items, and some special promotions. If you collect 300 stars within a 12-month period, you'll be bumped up to the Gold Level, where your stars will start counting toward free menu items. Even at the Gold Level, your stars have an expiration date: If you don't use 'em within six months, they're history.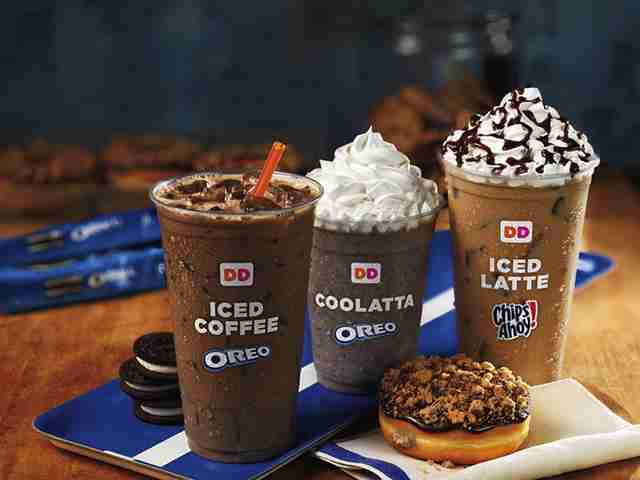 Locations span coast to coast, but are primarily in the East (find the nearest store here)
The rewards: Dunkin' may have trimmed down its name, but the Perks Program remains full as ever. Every dollar that members spend equals five points, and 200 points get you a free drink coupon -- this means that every $40 spent will lead to a free drink. This sounds like a better deal than with Starbucks Rewards, but remember that Dunkin's prices are all-around cheaper, so it will still take you a while to rack up 200 points. Members do get a free 200 points when they sign up, though, as well as a free drink for their birthday. Not the fanciest rewards program in the world, but free is free, so can we really complain?
The negatives: Remember when I said it was bad that Starbucks rewards expired after six months? Turns out that's pretty generous. Free drink coupons at Dunkin' expire after 90 days.
Nationwide (find the nearest store here)
The rewards: A burger place? In a list of coffee chains? Whether you like it or not, McDonald's has proved that it can do coffee, and the kind McCafé prices are reason enough to give in. There's no rewards program specifically for McCafé, but if you download the McDonald's app, you'll come across some coffee-related promotions. The app is basically just a digital collection of continually changing deals and coupons. For example, they've run a deal where after buying five McCafé beverages, you'll get one free. They've also offered a coupon for a 1-cent medium or large McCafé beverage with the purchase of a McCafé drink of equal or greater value. McD's doesn't have all the fancy offerings of a typical coffee chain, but considering their generosity, we'll applaud them anyway.
The negatives: All deals and coupons have expiration dates -- in the case of deals like the buy five, get one free, you may struggle to complete your purchases in the provided window of time. The pressure is on.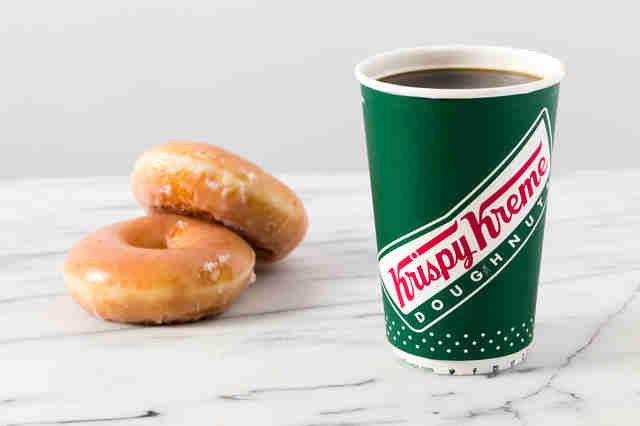 Nationwide (find the nearest store here)
The rewards: This one's complex, so bear with me. Krispy Kreme has four reward "tracks": dozens, singles, coffees, and specialty coffees. Any time you get 12 credits in a track, you earn a free item from that track. For example, if you buy a dozen donuts, one credit is added to your "dozens" track; if you buy a fancy coffee drink and two donuts, one credit is added to your "specialty coffees" track and two credits are added to your "singles" track; if you get 12 credits in your "coffees" track, you'll earn a free basic coffee drink. Picture each track sorta like a digital stamp card (remember those?). In addition to all of this, you'll get a free donut when you sign up for Krispy Kreme Rewards, and the company guarantees their members "exclusive access to deals and offers."
The negatives: The track system sounds fun, but in reality, it's pretty limiting. Your credits are split four different ways, making it more difficult to earn a free item -- and when you get a reward, it only applies to an item from the track that you completed. As if that weren't disappointing enough, rewards are automatically redeemed at the time of your next purchase, which means you can't save them for rainy days. Also, credits expire after 90 days.
Locations in eight states across the nation, plus DC (find the nearest store here)
The rewards: Peetnik Rewards are incredibly simple, and after trying to process Krispy Kreme Rewards, we can probably agree that simple's not a bad thing. Every time you "check in" (PR language for "make a purchase"), you'll receive a point. When you buy 1 pound of their coffee beans in-store, you'll receive triple points. Fifteen points gets you a free drink. You can also get a free drink just for signing up, and for celebrating a birthday.
The negatives: Peet's "Grocery & Club" and "Proudly Pouring" locations don't currently participate in Peetnik Rewards. Rewards expire only 30 days after they're sent to your app's inbox, so don't wait too long to indulge yourself with the most expensive drink on the menu.
Nationwide (find the nearest store here)
The rewards: Most of us equate Panera Bread with delicious salads (read: sourdough bread bowls), but their coffee selection isn't too shabby. The cafe chain's rewards program, MyPanera, is a bit of a mess, but one thing's for sure: You will, at some point, get something on their menu for free (in addition to the free sweet treat you get for signing up). Panera claims that the more you visit, the more rewards you get... but because they try to personalize their rewards, it's anyone's guess what you're going to be offered when the time comes.
The negatives: Aside from the fact that there's no explained metric for earning rewards, you really just don't know what you're working toward with MyPanera. If you're looking for coffee discounts, you better make sure the algorithm knows it… otherwise you'll end up with some lame reward like, I don't know, a free pecan roll. Rewards generally expire after 60 days.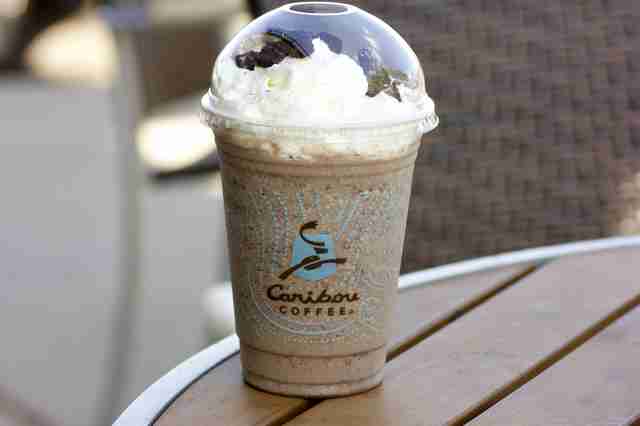 Locations in all Midwest states, plus six in the West and South (find the nearest store here)
The rewards: Every dollar you spend on drinks, food, beans, or merchandise equates to two points. When you round up 120 points (aka when you spend $60), you'll get a free drink of your choice. The Caribou Coffee app will also let you trade fewer amounts of points for things like brewed coffee, size upgrades, and food items. But it doesn't stop there: You get a free drink after your first registered visit and, go figure, a "Bouday" gift.
The negatives: Caribou doesn't have all the fancy specials that some other coffee chains do (i.e., Starbucks), but their program still saves you money. The biggest drawback? Rewards usually expire after 14 days. So… yeah. That's not very cool.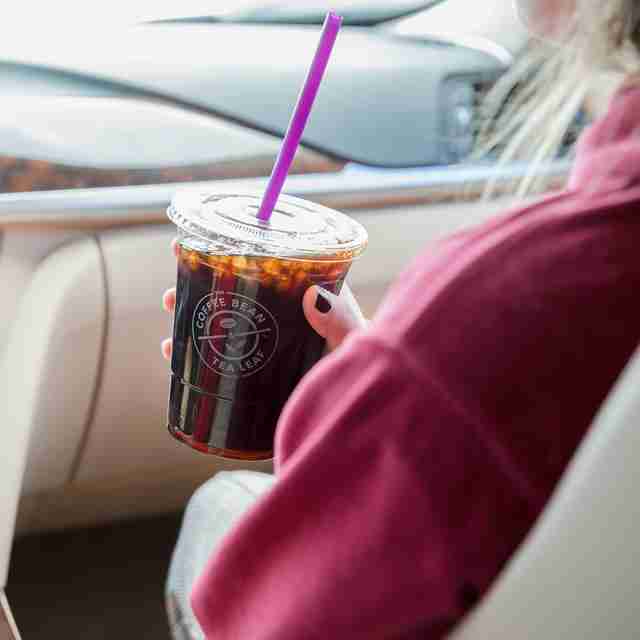 California-based, with various locations across the nation (find the nearest store here)
The rewards: Similar to Starbucks, The Coffee Bean & Tea Leaf has different levels of membership: the Purple Level, Platinum Level, and VIP Level. You start as a Purple member, where you get a free drink or food item for every 50 points you collect ($1 spent = one point). Once you've earned a total of 300 points, you're bumped up to Platinum. As a Platinum member, you get a free drink or food item for every 40 points you collect. Once you've earned a total of 540 points, you reach VIP status. As a VIP, you get the same perks as a Platinum member, plus special offers and a "special reward discount" at every 240-point mark. Still following along? Good, because there's more. Every member, regardless of their level, gets a "tasty birthday gift" and a free drink any time they successfully recruit a friend to the program. New members get a free 16-ounce brewed coffee or tea after their first in-app purchase, 20 bonus points if they make a purchase within the first week of signing up, and five bonus points for loading their card in the app for the first time. Not bad... not bad at all.
The negatives: Earned rewards expire after 30 days, and special offers can expire even sooner. In order to maintain your VIP or Platinum status, you're expected to collect at least 240 points per year -- if you don't meet the minimum point requirement, you'll be bumped down a level.
Drive-thrus in seven Western states (find the nearest stand here)
The rewards: If you haven't noticed by now, most large coffee chains have gone digital with their rewards programs -- but not Dutch Bros. While many locations now offer text specials (check in with your nearest stand and ask how to sign up), the chain relies primarily on the ol' stamp card method: Every drink you buy earns you one stamp, and once your card has all 10 stamps, you can trade it in for a free drink of any size. Sure, wallet-filling stamp cards can get frustrating, but the Dutch Mafia puts up with the paper-and-ink method because it creates room for subjectivity on the part of the Broistas. I had one employee habitually "slip" on the stamp card -- "accidentally" giving me more stamps than I deserved -- and another employee who was known to give me extra stamps simply because math really do be like that sometimes. As if those occasional bonuses aren't enough, legend has it that if you tell the Broista you're having a bad day, they'll give you your drink for free. Cue the tears. For a coffee chain that prides itself on making personal connections, it's only fitting that they'd leave the rewards more open-ended.
The negatives: The obvious drawback here is that the stamp card takes up physical space in people's wallets and purses. Also, it's much easier to forget to bring your stamp card on a coffee run than it is to forget your smartphone.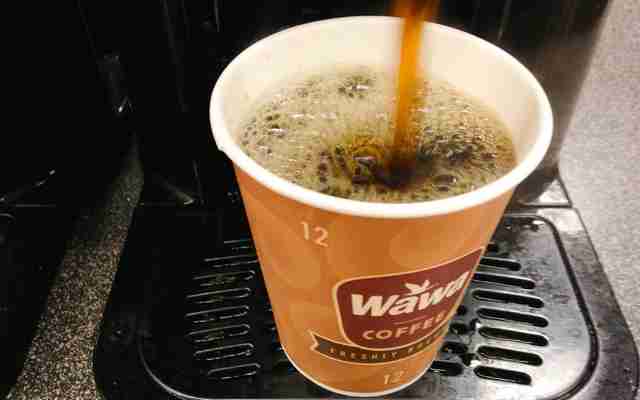 Locations in six Eastern states, plus DC (find the nearest store here)
The rewards: Before we get into the perks, it's worth noting that Wawa is no grander than a 7-Eleven and probably doesn't deserve to be on this list. That said, Wawa has established a cult following across the East and I'm not looking for trouble. As far as Wawa Rewards go, every time you spend $50 on your reloadable Wawa Gift Card (excluding money spent on gas, tobacco, alcohol, taxes, and several dairy items), you will be offered a choice between three coupons. Do those options usually include coffee discounts? Well I would hope so.
The negatives: You must select and redeem one of your three rewards options within 30 days. That's about it, mostly because there are no other elements of the program to pick apart.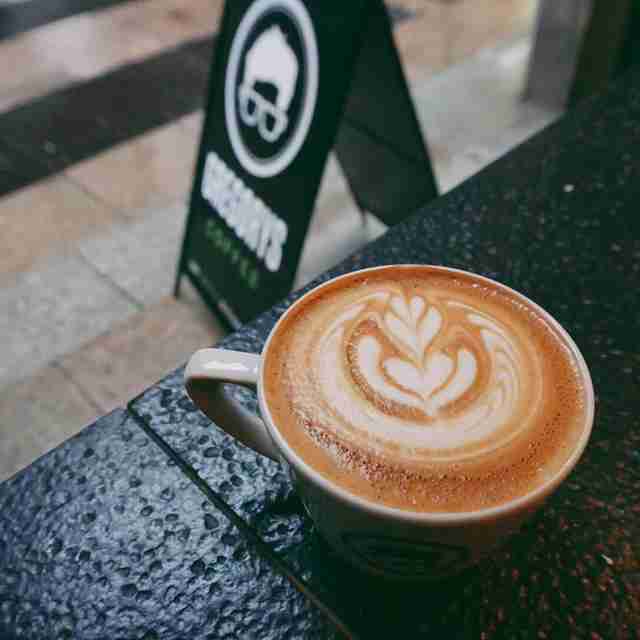 Locations in the New York metropolitan area & Washington, DC (find the nearest store here)
The rewards: "It pays to be a Gregular," the website claims. "It sure does," Gregulars confirm. At this NYC-based coffee chain, you fall into one of four tiers, each offering a different amount of rewards -- but, unlike at Starbucks, you can start working toward free drinks even at the lowest tier. As a Tier 1 Gregular, you get a $5 credit for every $50 you spend. You'll also receive special offers (fairly often), a free birthday drink, and a $5 credit any time you convince a friend to register. Once you've spent a total of $200 with your rewards account, you'll reach Tier 2, where you get everything previously mentioned, plus free in-store refills for drip coffee. Once you've spent $500, you get bumped to Tier 3, where you will also start getting a free $2.50 credit each month, just for existing. Finally, once you've spent $1,000, you arrive at your final destination: Tier 4. As a Tier 4 Gregular, you start getting a $3.50 credit each month ($1 more than the measly Tier 3s), plus a free Gregorys hat. You've peaked.
The negatives: Sometimes it's fun to redeem a coupon, ya know? With Gregorys' system, you don't really feel like you're earning rewards because the credits are added into your account so subtly. Also the tier system… for $1,000, that free hat better be Valentino, at least.
Locations in seven Western states, plus Texas, Missouri, and Ohio (find the nearest store here)
The rewards: Oh fun, another coffee chain with different rewards levels! Silver Level: Spend $55, earn $5 (there's probably a good reason why the company chose that number as the spending amount... right?); get $2 for referring a friend; earn double rewards on Wednesdays; and enjoy a free birthday drink. Gold Level (reached after 500 points): Earn the same rewards as the Silver Level, but with eligibility for special promotions and an additional $1 for referring a friend. Platinum Level (reached after 1,000 points): Earn the same rewards as the Gold Level, but with an additional $1 for every $55 spent and a free drink on your App Join Date Anniversary.
The negatives: You must have (and use) a smartphone to participate in the rewards program. Also, the rewards are, like, strangely specific and unnecessarily complicated. There are credits, dollar amounts, points, levels -- it's a lot to keep track of. But hey… we're the ones who asked for free coffee.
Some coffee chains without full-blown rewards programs still have deals! For max savings at all your go-to coffee joints, feel free to sign up for the Tim Hortons, Philz, Stumptown, and La Colombe email newsletters.
Sign up here for our daily Thrillist email and subscribe here for our YouTube channel to get your fix of the best in food/drink/fun.