The best college bar at every NCAA Top 25 football school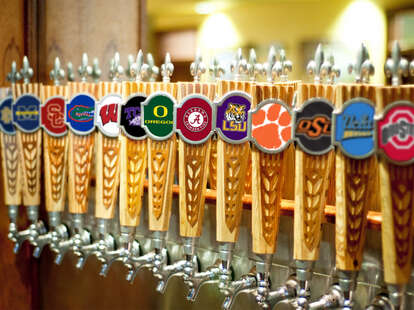 Picking a favorite bar in your college town is like picking a favorite Ninja Turtle. There's only one right answer, and it's Michelangelo. But when not one single preseason Top 25 school (we wrote this story last week, so what -- it took a while!) had a bar called "Michelangelo", we decided to move on to the best of the rest. And so now we present: the best college-town bars everywhere from College Station to Tuscaloosa. Commence loud, rum & Coke-fueled arguing.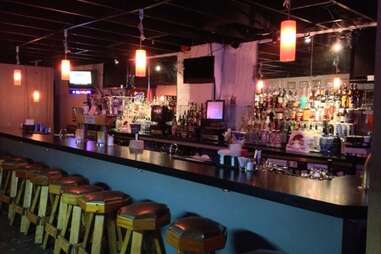 25. Oregon State
Best Bar: The Peacock
A legendary 84yr-old haunt, The 'Cock comes correct: $1 PBR pints, a gut-lining $2 breakfast available every morning, Big Buck Hunter, shuffleboard, and the distinct smell of Gary Payton.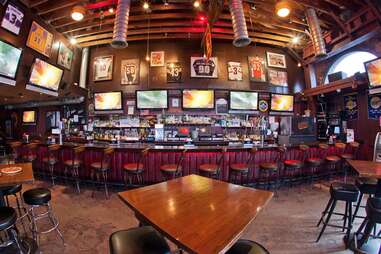 24. USC
Best Bar: 901 Bar (aka The 9-0)
The 9-0 is the only bar (that matters) within walking distance of USC, which luckily means you don't need to drive the 1996 Impala Lloyd Lake bought you to get there. Unluckily, it also means you're walking through South Central LA.
23. Wisconsin
Best Bar: Kollege Klub (aka KK)
It's basically an afterlife for jersey-chasers. There may be better places to actually watch the game (State Street Brats, any house on Breese with a three-story beer bong), but our editor who graduated from Madison saw Kirk Herbstreit do a Jager Bomb here, so that's that.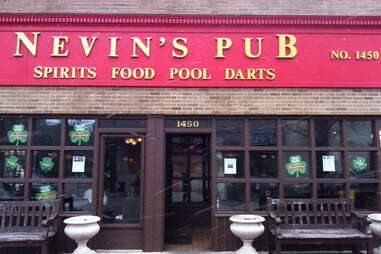 22. Northwestern
The Bar: Nevin's
Evanston may be the birthplace of the Woman's Christian Temperance Union (thanks for Prohibition, ladies), but you wouldn't know it by the way the pints and whiskey flow at this pub no one calls by its full name (Tommy Nevin's Pub). Watch out for flying darts.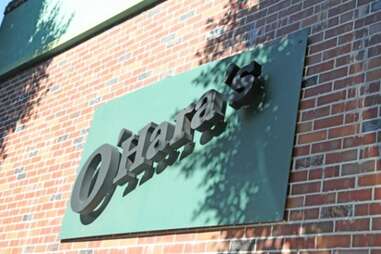 21. UCLA
Best Bar: O'Hara's (aka Maloney's)
If you like "Bruin Bombs" (blue shot and a beer), UCLA sorority girls, $4 liters of beer on Tuesdays, other UCLA sorority girls, an NFL Sunday-worthy TV setup (watch out for the dude who likes the Bills), and UCLA sorority girls who are totally different than those first two sets of UCLA sorority girls, this is your Westwood watering hole.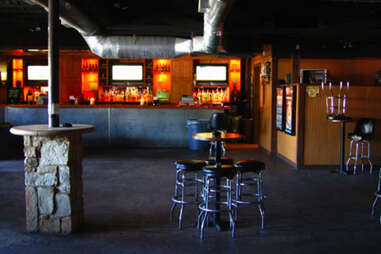 20. TCU
Best Bar: The Aardvark
Getting "'varked" is a thing at TCU. And it's a thing that only happens here, thanks to $2.50 Kamikaze shots poured out of a converted lemonade machine.
19. Boise State
Best Bar: Crescent "No Lawyers" Bar and Grill
And when they say "No Lawyers", they mean No Freaking Lawyers. Apparently some lawyer neighbors got in a legal dispute with the bar owners who were trying to put a pool in their backyard. Annnnnyway, yeah, lots of hate, from the sign out front ("No Lawyers!") to their "Lawyer Fries" (Rocky Mountain Oysters with Chinese hot mustard). Other things that aren't lawyers: 24 TVs (including four 10-footers), a sweet patio with horseshoe pits, and a free pool happy hour.
18. Nebraska
Best Bar: The Brass Rail
The only place in Lincoln where you can Railgate before a Huskers game, this 78yr-old dive once got a Playboy Best College Bar nod back in the day (that was literally the only article we ever read). Go-to's for Scarlet and Cream-lovers: Raildogs, Crushers, and Party Pitchers.
17. Michigan
Best Bar: Rick's
Apologies to Touchdown Cafe and The Brown Jug, but the place to go in Ann Arbor is Rick's. Why? Because A) they've got "shark bowls" (pro tip: get purple! They mix the red and blue! It tastes like mistakes and secrets!), B) there are three bars, and C) the dance floor is a sweaty mess of Chi O and Kappa girls twerking like Miley Cyrus. Bonus: We once saw David Terrell refer to himself in the third person three times in one sentence while at Rick's. That doesn't just happen everywhere.
16. Oklahoma
Best Bar: The Mont
Home to the cheapest, tastiest, and most alliterative drink in Norman (Sooner Swirl!), The Mont offers up OU-ville's end-all, be-all patio, plus does some damn good queso.
15. Texas
Best Bar: Posse East
Chill spot. Great patio. Walking distance from the stadium. $7 pitchers. And a burger made with taco meat, jalapenos, and queso. Many yesses.
14. Notre Dame
Best Bar: Linebacker Lounge
Opened by a former Notre Dame football player, The 'Backer is exactly the type of bar you'd want to take your imaginary girlfriend who is actually a guy, especially considering the 15 flatscreens, cheap food/beer ($1.50 Shock Top!), and stripper pole regular pole. Wait no, it's actually a stripper pole at Notre Dame.
13. Oklahoma State
Best Bar: Eskimo Joe's
This Stillwater institution sits in the shadows of Boone Pickens Stadium, has its own atrium (with a retractable glass roof they call the "Joe Dome"), and once had its cheese fries endorsed during a commencement speech by George H. W. Bush (!) and, later, George W. Bush [slanty face].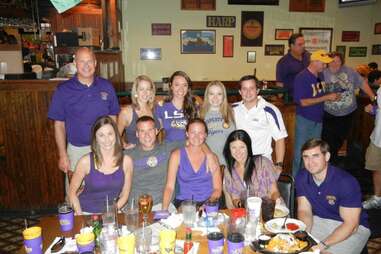 12. LSU
Best Bar: The Chimes
Nothing says awesome college bar like a crazy drinking challenge (drink 60 beers from at least 20 different countries on the beer menu) with some crappy prize like a T-shirt (a T-shirt). Oh, you don't have to do it all in one night.
11. Florida State
Best Bar: Potbelly's
This is where Jake Owen filmed the music video for his debut song "Yee Haw"!!!...??? Also: $4 pitchers.
10. Florida
Best Bar: The Swamp
Giant hanging alligator from the ceiling? Check. Awesome lawn and deck? Check. Signed Jesse Palmer jersey on the wall? No check!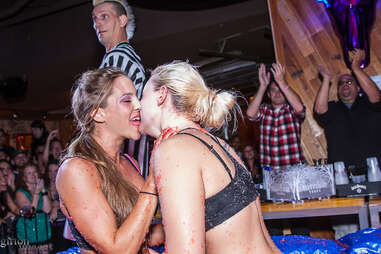 9. Louisville
Best Bar: PBR Louisville
This bar literally has "PBR" in its name. Do you really need anything else? Except whatever's happening in that photo, of course.
8. Clemson
Best Bar: The Esso Club
ESPN's top pick for college sports bars, the "oldest place to drink in Clemson" is the type of bar where you drink cheap ($1.25 beers on Thursdays), eat cheap (50-cent wings), and enjoy talking about how many people farted on the original cedar seating from Death Valley, which now lines the main bar.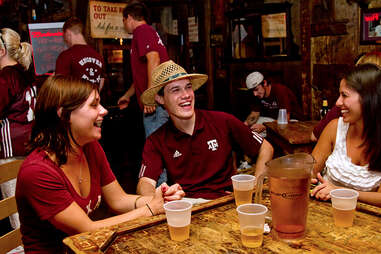 7. Texas A&M
Best Bar: Dixie Chicken
The oldest bar in College Station, Dixie Chicken 1) claims to serve the most beer per square foot of any bar in the United States, 2) has a live snake on premises, and 3) they don't need a #3.
6. South Carolina
Best Bar: Pavlov's
Named after the famous psychologist who called everyone "dog" even before Randy Jackson, or something, this is an all-time-great Greek hang with cheap beer, 50-cent shots, and a massive patio.
5. Georgia
Best Bar: The Globe
A block from North Campus, The Globe is the kinda place Shakespeare accccccctually would've wanted to hang out: brass bar, 14 taps, a ridiculous bottle list, rocking chairs, and... wait, rocking chairs???
4. Stanford
Best Bar: The Dutch Goose
Weirdly located in a suburban neighborhood with pretty much nothing around it, the Goose'll get you loose with cheap-ass pitchers and a backyard beer garden. This place is almost as famous for their deviled eggs as they are the insane number of carvings people've done in the tables and walls (Rocky + Emily = Forever! Good luck with that, kids...).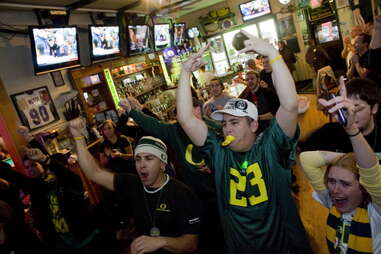 3. Oregon
Best Bar: Taylor's
Across from campus, this Greek magnet expanded into a next-door Taco Bell a few years back, turning an already great bar with cheap pitchers and a sweet back patio into a great-er bar with cheap pitchers and a sweet back patio and old chalupa-makers. And of course they've got a framed portrait of the Pope hung right next to a framed portrait of Phil Knight.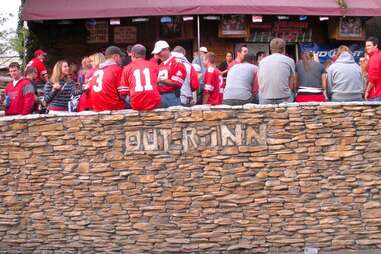 2. Ohio State
Best Bar: Out-R-Inn
The only thing better than watching replays of Chris Webber adorably trying to call timeouts he doesn't have? Watching replays of Chris Webber adorably trying to call timeouts he doesn't have... on Mug Night at Out-R-Inn! Buy one of their 22oz neon mugs and they'll refill it for you for $1.75 all. Night. Long.
1. Alabama
Best Bar: Egan's
T-town's most quintessential dive, this Strip-located watering hole opens at 8a on game days, has eight cheap beers on tap, and does $3 "half shots" designed for people who can't drink very much/went to Auburn.