Best College Bars in America of 2014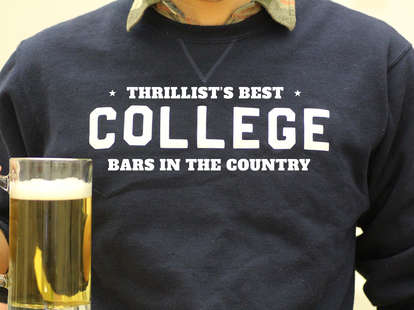 In honor of the fact that we are deep in the midst of March Madness, we figured it was only right to pay homage to the best places college students enjoy nine months of the year and where, for this special season, 43-year-old alumni feel totally comfortable camping out for every game their school's team is in, despite how obviously uncomfortable they make the rest of the bar. So without further ado/college loans, we present the 33 best college bars in America. Drink up: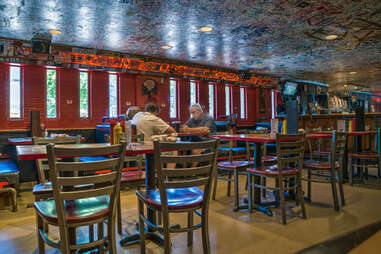 University of Colorado Boulder
The Sink (address and info)
The Sink in Boulder is notable for not only being an incredible college bar (pretty much every UC Boulder student has etched their name in Sharpie on the low-hanging ceiling, and quaffed awesome drink specials night after night), but it's also got some of the best bar food around. You can wash down any of their menu items, like the Texas Onion Straw Burger, with some incredible (Colorado-centric) draft selections that put most other places on this list to shame.

George Washington University
McFadden's (address and info)
Any night of the week, McFadden's is a paradise for GWU students. Occasional "celebrity" sightings aren't unusual at this Irish dive, where Wednesdays mean $1 beers and $5 Fireballs -- not to mention some of the most, uh, "socially lubricated" dancing in DC. A GWU rite of passage is staring down from its second-level bar onto the dance floor below; even on Tuesdays, widely acknowledged to be the most lethargic day of the week, there's something going on at McFadden's. And chances are it will be loud.

Duke
Shooters II (address and info)
Shooters II gained notoriety when it was featured in Karen Owen's PowerPoint presentation, but it wouldn't have been included in there if her "research" wasn't warranted -- Duke students know that Shooters is the place to go for lots of liquor, questionable decisions made on dance floors, and the occasional ride on the establishment's infamous mechanical bull. There're two floors on which to pound back plentiful shots, and maybe meet someone special of your very own.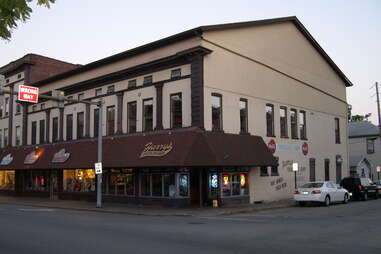 Purdue
Harry's Chocolate Shop (address and info)
Dating back to 1919 when it opened as a soda fountain (local legend has it that it also moved a fair bit of "soda" during Prohibition), Harry's (as it's more commonly called these days) doesn't move much in the way of chocolate anymore. What it does specialize in are the kind of strong, big, cheap mixed drinks that a budget-conscious college student will appreciate for life. Show up early in the morning on a football game day for Breakfast Club and you won't find Emilio Estevez. But you will find a bunch of friendly, costumed people ready to get after it. And you will have yourself quite a day.

University of Vermont
Manhattan Pizza & Pub (address and info)
Things can get pretty rowdy at this Burlington, VT institution, which often hosts raucous nights for UVM and Champlain students. They're famous for their "trashcan" cocktails, which are made by mixing all the bottom-shelf liquors together and adding an entire can of Red Bull (if UVM students didn't learn to share by now, they're in for a real lesson), and for their cheap pizza, which fuels many a football-backgrounded night spent greeting other students who inevitably walk through the door... often by trying to make out with them.

University of Delaware
Grotto Pizza (address and info)
Grotto Pizza is so much more than pizza -- this Newark spot, located in the middle of campus, is also a sports bar that serves the legendary Big Beer: a $3, 25oz brew that you can chug while letting the light of dozens of TVs wash over you. It gets absolutely packed at night, when students keep coming back to try their super-cheap shots. This place is Delaware's go-to for Homecoming, St. Paddy's, and pretty much every other holiday that can be used as an excuse to grab a beer with friends.
University of Minnesota
Stub & Herb's (address and info)
"After all -- your Grandpa drank here!" read the T-shirts at Stub & Herb's, and if he went to U of Minnesota, he probably did; the establishment has been open since 1939. But since then, a lot has changed, and the drink specials have gotten better and better ($7 all-you-can-drink Thursday?!) as this beer-centric pub was integrated into student life. Now, Gophers have a solid beer list to choose from, rowdy game-day events to attend, and a place where -- no matter what kind of night you're looking for, whether catching up with old friends or chugging during happy hour -- you always feel at home.

University of Texas-Austin
Cain & Abel's (address and info)
Abel's has the distinction of being an extremely kick-ass college bar that's legitimately difficult for minors to get into, so it maintains a cool, slightly-older-people scene. They have a second one in town now, which is nice, but the original is just a few doors down from Hardin House, the hottest private freshman girls dorm in America, which makes for a really perverted (yet wholesome because these are nice Texas girls) patio scene.

Rutgers
Olde Queens Tavern (address and info)
Serving the campus since 1933, the Olde Queens Tavern often gets so packed that there's a line of New Jerseyans jockeying to get in to eat their famous BlitzBurgers menu and experience the party scene within. Their cheap drink specials skew to the strong side, so even though you're not paying much, you're getting more than your money's worth. Add in poker tournaments every Wednesday night and live DJs almost every other day of the week, and you've got a place to where Rutgers students can't help but keep coming back.
Texas A&M
The Dixie Chicken (address and info)
The Dixie Chicken is a College Station institution and has been a local Northgate watering hole since 1974. It's a total country dive, with honky tonk music and a live rattlesnake... so, you know, Texas. The famous tradition of "ring dunking" happens here -- graduated Aggies drop their rings into their beers, get to the bottom of them, and proceed to drink many more.

University of Wisconsin
The Plaza Tavern (address and info)
Madison has bars. At least a billion and seven of them, by some counts. It also has burgers, including one you are legally required to eat on your birthday, at the Nitty Gritty. But nowhere is there a better burger/bar combo than The Plaza, the oddly well-lit, delightfully aged dive just off the famed consumption corridor that is State Street. Order a Plaza Burger, which represents everything today's sanctified grass-fed, farm-to-bun options are not (in the most delicious fashion possible), then have someone warn the pool cues, pinball machine, and jukebox that they're about to get the truly unique secret sauce -- which is made with mayo, sour cream, and literally only one person knows what else -- all over them.

Boston College
Mary Ann's (address and info)
Scary Ann's is not a bar, but an urban legend, a story that gets passed down from BC student to BC student. Everyone has their tale of MA's, from the comically long lines, to the now-harder-than-the-airport security bouncer ID scrutiny -- complete with signing your name, license number, and date of birth on a ledger -- to the bathrooms, which, well, yeah, you'll have to look for yourself. But it doesn't matter. None of it matters. Everyone who works here and everyone who comes here is a BC Eagle, a friend of an Eagle, or someone who weirdly wants to wear an Eagle's super-fan T-shirt but went to Emerson. It's an extension of the campus, and something you have to experience. Also, they have a pretty good deal on Busch Light.
University of Kansas
The Wagon Wheel (address and info)
The Wheel's got everything a Kansas student needs in one place: cheap drinks, lots of pizza, and tradition out the wazoo. Once you step in, the history hits you like a sock filled with the joyous memories of Kansans past, and it's obvious that the sense of community here is strong -- the divey bar will project Kansas games onto the walls of the patio when they're doing well, pretty much guaranteeing a ruckus. Try the Wang Burger. It's hilarious to order and absolutely delicious.

University of South Carolina
Pavlov's of Columbia (address and info)
Known as the self-proclaimed "most glorious dive bar on the planet," Pavlov's is a Columbia institution where frat guys in backwards hats and sorority girls do things that will eventually embarrass them when they recall them to their therapists later on in life. But therein lies the beauty of the bar, with its huge outdoor patio, live music, and oversized everything else. It's essentially a blank canvas, waiting for someone to knock over said canvas while grinding against it to "Keg in the Closet."

Tulane University
The Boot (address and info)
This list wouldn't be complete without mention of The Boot, Tulane students' shining beacon in good times and bad. Their drink specials are legendary -- think $.50 well drinks and $1 beers -- and love for their divey dance floor has been passed down through generations of Tulane and Loyola students since the place first opened its welcoming doors in 1967. Plus, it's so close to campus that going there is hard to avoid. Not that you'd want to avoid it.
University of California, Los Angeles
O'Hara's (Maloney's) (address and info)
O'Hara's (which is actually called Maloney's by those in the know), is one of the only bars in Westwood, but it's also one of the best places a college student can go to watch the game and participate in general dimly lit debauchery. The name may keep changing, but successive generations of UCLA students pass down the tradition of referring to it as "Maloney's" year after year, which separates those in the know from those who just aren't cool enough. This is California, after all.

Oklahoma State
The College Bar (address and info)
The name alone says it all: The College Bar in Stillwater is the bar destination for any student looking for super-cheap drink specials (two tequila shots for $4?!) and live music, the combination of which guarantees a good time. This smoke-filled dive is a little on the small side, but what it lacks in amount of space, it makes up for in sheer character -- and it also has the best beer selection in town.

University of Pittsburgh
Hemingway's Cafe (address and info)
Offering pitchers of shots and a huge beer selection with specials every night of the week (including $1.50 Miller Lite on draft ALWAYS), Hemingway's Cafe has a variety of amenities for Pitt students looking to party. It's adjacent to the Original Hot Dog Shop and across the street from Primanti Bros., so students who go there to drink certainly don't lack in late-night food options after a night spent celebrating a Pitt win... again, with pitchers of shots.
Indiana University
Kilroy's on Kirkwood (address and info)
Chances are, any night of the week, Kilroy's will be up to the ceiling in Indiana students -- it's the place where everyone ends up after a night out, and has extraordinarily inexpensive drink specials every night of the week, meaning there's a time for everyone's drink preference to shine. They've got a great patio, but the real focus here is on the bar and dance floor, which are saturated with people constantly -- game day or otherwise.

University of Alabama
Egan's Bar (address and info)
Located on "The Strip" right off campus, Egan's is a dive bar that pretty straightforwardly advertises the fact that it's filled with "thick smoke, dim lights, loud music," as well as huge crowds of college kids (along with local folks and eccentrics) who flock to the bar for its super-cheap drinks, pool tables, dart boards, and the opportunity to booze with their professors. Yeah, that's right -- this place is such a Tuscaloosa institution that nobody can avoid its gravitational pull. The Strip around it may change year after year, but Egan's will always be that place where you can get a shot of top-shelf vodka for $4.

University of Southern California
The 901 Bar and Grill (address and info)
"The Nine O," as it's affectionately called by USC students, is just as affectionate back to them -- it offers 25% discounts to Trojans from 11am-4pm (the perfect time for a venture out to this LA institution). It's the ideal place to sit down, gulp a pint, eat some bar food, and watch the game during the day -- but at night, it completely transforms from bar and grill to night club, meaning students flock to it from nearby Greek row for what is inevitably a good, memorable(?) time.
University of Iowa
The Union Bar (address and info)
It really speaks to the finite life of a college bar that Union opened in 1993 and is still "one of Iowa City's longest running establishments." But, with apologies to Brother's (we couldn't choose a bar with 17 other locations), Union is not only the biggest venue in the Big Ten conference, but it is also the place where everyone ends up when you just "feel like dancing" or "seeing Wiz Khalifa" or "making out with some random person from your Sports Management class who is wearing a neon tank top." Also, on birthdays, they have a "21 pitchers for $25" deal. THINK ABOUT THAT, FRIENDS.

University of Pennsylvania
Smokey Joe's (address and info)
The days when Gerald Ford lauded this UPenn watering hole (everyone calls it "the Pennstitution") might be gone, but its glory still remains -- including famous "Sink or Swim" nights on Wednesdays, "Kill the Keg" deals, and continuous performances by lounge singers and other eclectic artists. They sling $1 hot dogs every afternoon, and have an extensive bar-food menu that includes some of the best hoagies in Philadelphia. Stick around and you might learn a thing or two at this institution.

University of Hawaii
Manoa Gardens (address and info)
Inside Hemenway Hall on campus, the bar at Manoa Gardens is not much to look at (why are the lights so bright?!?!) and isn't open late or on weekends, so really, you may be asking, what is the point? Well, it doesn't matter, because MG is still one of the most classic, unique bars on any campus, serving up "big beers" (32oz drafts of Kona Longboard) for cheap prices to all sorts of people (where else do you find locals actually going into a college campus bar?). Most grads have stories of planning on just grabbing some pho and getting a beer before class on the sweet outdoor patio, but that turned into two or three, and, well, you're always going to have class again, right? Oh, and for the full MG experience, you probably need to get their infamous Long Island. You've been warned.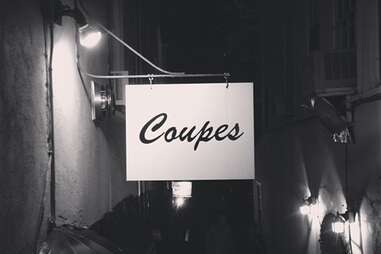 University of Virginia
Coupe's (address and info)
Whether you cross the tracks, pick your way down the stairs, or cruise Elliewood in a Wahooptie, all Charlottesville roads lead to this 30-year-old subterranean dive, and downing as many pitchers & dollar burgers (after 10pm most nights) possible before guitarist/local legend Bennie Dodd belts out "Wagon Wheel" to signal closing time. The bathrooms: frightening. The booths: surprisingly spacious. The original owner might be gone, but the back patio/cabana he built remains, so when the weather's nice, post up there to guzzle your house specialty "F*ckin' F*ck": lemon vodka, peach schnapps, Malibu, sour, and cranberry that's been expertly layered to taste like sweet Virginia magic. You drink it through a straw, or you don't come back.

Northeastern University
Conor Larkin's (address and info)
With the goal of establishing a public house where local students could gather, Boston's Conor Larkin's was founded back in 2002, and has been pouring sub-$10 pitchers for Northeasterners ever since. The staff turns a blind eye to drinking games in the booths, and spaces are available for any student groups or organizations who want to go out together, have a pitcher of Rolling Rock, and play some Big Buck Hunter. Or have a meeting or whatever. Nerds.

Syracuse
Chuck's (address and info)
Crawling with graffiti and stickier than a glue trap, Chuck's is not a nice bar by any stretch of the imagination. But it is a quintessential college dive with cheap beers and, at any given moment, a good third of the student body. This is one of those magical bars where you can walk in at 11 on a Friday night, have half a warm pitcher immediately thrust in your face, and be told you have until the chorus of "Jessie's Girl" to drink it. And you do, because that's the power of Chuck's.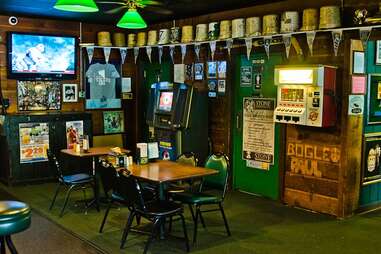 Michigan State
Crunchy's (address and info)
EL bars like The Riv and Rick's are great for the occasional night of sweat, dancing, and triple-kisses, but in East Lansing, Crunchy's is where students get their first taste of something very, very grown-up: becoming a regular at a kick-ass bar. They also get a taste of craft beer, as Crunchy's has one of the city's best tap selection, poured into pints, gigantic mugs, or mop buckets (seriously). Throw in one of the area's best burgers, pizza, super-cheap beer & burger deals, live music, karaoke, and a ton of screaming, and you've got the best damned bar in the city. And if you really want to sweat, dance, and engage in triple-kisses, well, nobody's going to stop you. So long as you don't spill our buckets of Oberon.

University of Illinois at Urbana-Champaign
Murphy's Pub (address and info)
They've nailed the whole "campus bar" schtick over at Murphy's Pub in Champaign, where students go to drink and socialize in a cavernous space festooned with Irish memorabilia, beer logos, and name-scrawled furniture of all shapes and sizes. On logo nights (Wednesdays), students can keep the beer glass they're first served with and get cheap refills for the entire night after they finish their inaugural pint. Also, get the Irish nachos.

University of Georgia
The Max Canada (address and info)
You'll never be bored at this chill Athens, GA dive bar staple, which features pool tables, Pac-Man, air hockey, pinball machines, and dart boards fueled by beer so cheap they might as well be giving it away. There's a huge adjacent patio where you can get away from it all ("it all" being the somewhat sticky floor), or you can stow yourself away on one of their couches on game day, when the Bulldogs get especially rowdy.
Penn State
The Phyrst (address and info)
There are more than a few bars to choose from at Penn State, but basement bar The Phyrst takes the top spot for its friendly bartenders, cheap drinks, and live music (including the Phyrst Phamly, which is a traditional bluegrass/country band that has been in existence since 1969). They have "Table Wars" every Saturday (and St. Patrick's Day), which is a sweet chanting/drinking game that involves the whole bar -- and it's a great place to spend your twenty-phyrst birthday. Chances are if you went to Penn State, you've partied at The Phyrst. And you may or may not remember it.

University of Nebraska
Duffy's Tavern (address and info)
$5 Bud Light pitchers. Live music. A fire pit. Giant fishbowl drinks. These are just some of the things you'll find at the Husker go-to Duffy's, an atmospheric spot just off campus where you can sip on $2 tallboys while listening to great music or celebrating while the big-screen plays the game. For a mellower night, check out their pinball machines and pool table, but you've pretty much gotta get one of their huge cocktails for sharing with friends. Or, you know, sharing with yourself.

University of Central Florida
Knight Library (address and info)
UCF's legendary Knight Library has been being included on college-bar lists for years, and with good reason: this place is a mecca for college kids looking to booze. It's got three full bars, a variety of games (darts, beer pong tables, even cornhole), a huge dance floor with DJ nights, and drink specials pretty much every day of the week. If you're looking to go HAM, there's nothing better than Liquor Pitcher Wednesdays, which are exactly what they sound like and make up for what they lack in alliteration with sheer poetic grandeur.
Adam Lapetina is a Food/Drink staff writer at Thrillist and graduated only a couple of years ago, so he's still cool. Read his musings on Twitter at @adamlapetina.