The Best Beer Bar in Every State
Maggie Rossetti/Thrillist
Maggie Rossetti/Thrillist
These are heady times for the American beer drinker (get it?!). But seriously, the quality AND quantity of suds in this country have never been better. Case in point: every state in the union now boasts at least one (and in most cases, many, many more than one) bar worthy of the title "beer bar." What does "beer bar" mean? If you said "a bar that serves beer" you'd be right, and yet also wrong. A true beer bar obsesses over beer and caters to those who do the same. It cares about stuff like clean lines and proper glassware. It generally has a bunch of interesting beers on tap, but doesn't cheapen quality in a chase for sheer quantity. So wherever you happen to be in this country, if you seek out one of these 50 fine establishments, you can rest easy knowing you'll be having a better time than anyone else in the state.
*Quick programming note: We love brewpubs. This is not an article about brewpubs. While a few of these establishments might dabble in making their own brew, their primary focus is giving you the opportunity to sample the best of what other breweries are doing. We also love it when places we love succeed, but have limited this list to spots that have one, maybe two, locations.
Alabama
The J. Clyde
Birmingham
With its cut-stone walls, sloping ceiling, and ye-olde vibe, The J. Clyde looks more like The Hobbit's backlot than Alabama's best gastropub, but rest assured, there's nothing outdated about this tavern's killer craft lineup. In fact, The J. Clyde has all the makings of a truly great beer bar -- the staff is on point, the burgers are little bastions of melt-in-your-mouth greatness, and it keeps its 60+ taps (including over a dozen local brews and tons of rare stuff) organized into six taste-related categories (i.e., Crisp, Roast, Hops), making menu navigation a total breeze. Also, Alabama-brewed pints are half off every Tuesday. That's like 8oz of free beer, y'all.
Alaska
Humpy's
Anchorage
We could talk all day about the boom in fantastic beers forged in the cold of Alaska, with wares from Midnight Sun, Glacier, Anchorage, and more transforming Anchorage into one of the most underrated beer towns in America. But when it comes to beer bars, the conversation starts and ends with Humpy's, in large part because it's the place to get all those beers without going in and out of the cold, plus dozens more classics and rarities from the States and beyond, served up with a side of live music. It's also the only place where you can get Humpy's Brewing Company exclusives, which are actually made for Humpy's by the likes of King Street and Denali. It's a little confusing. But the confusion is delicious, and this place is a classic, so who cares? It's warm, and there's beer and live music.
Arizona
Taste of Tops
Tempe
Unless you know what Tops is, it might be strange that this place wants to give you "a taste" of it. Luckily it's nothing creepy, as Tops Liquor is only one of the best beer shops in the country, and Taste of Tops lets you raid its stocks and drink to your heart's content in this next-door bar. If you're unsure what to drink, ask one of the Certified Cicerones behind the bar, or just pick one of the 30 rotating craft taps from standout newish breweries like Black Market and Hangar 24, or beloved legends like Founders and Stone. You'll likely go home happy, probably because it also provides growler fills.
Arkansas
Foster's Pint & Plate
Rogers
Walmart's headquarters is about 15 minutes from Foster's, likely making the beer bar the one business the superstore chain doesn't own in the region. In keeping with that independent spirit, Foster's brews five of its own beers (including the popular amber ale Red) to go along with 77 others on tap, many of which hail from the great state of Arkansas, including selections from Core, Fossil Cove, Bike Rack, and New Province. Drink 100 different beers on tap, and Foster's will reward you for your beer addiction with a special growler you can't buy anywhere (though you can only fill it up with Foster's beer because of some pesky laws). The best night to try and get started on the 100-beer journey is Tuesday, when pints go half-off from 6pm-close. Sip 'em by the fire pit on the outdoor patio for super-chill vibes.
California
Monk's Kettle
San Francisco
When Monk's Kettle started peddling upscale New American cuisine and fancy craft beer out of a former burger joint in San Francisco's Mission District, it was way, way ahead of the bougie, tech-driven curve. It was 2007, and the neighborhood had been dominated by dive bars and late-night taquerias for decades. And yet the people, charmed by friendly staff, farm-to-table eats, and an insane list of nearly local, imported, and impossible-to-find microbrews -- we're talking 29 rotating taps, 150+ bottles, and Pliny by the caseload -- soon grew to love the sunny gastropub. Sure, nabbing a table might be tough these days (Monk's has always been strictly first come, first served), but try not to hate on the wait -- once you elbow your way inside that warm, wood-paneled space, you'll for sure never want to leave.
Colorado
Falling Rock Tap House
Denver
The phrase "less is more" sometimes can apply to beer bars with a small, curated list of rare, specifically chosen beers, but in the case of Mile High's Falling Rock, more is more. It's not only one of Denver's more important bars, it's easily one of the country's, with ~30% of the 90 taps featuring CO beers, along with 100+ bottles from around the world. And when Denver is overtaken with breweries during the Great American Beer Fest, seemingly every top craft brewery in the nation (Cigar City, Bell's, New Belgium) stops by to pay its respects with a special tapping. It's the beer-industry version of kissing the ring.
Connecticut
Eli Cannon's Tap Room
Middletown
While more than a few shiny new beer bars have popped up across the Nutmeg State in recent years, not one has come even remotely close to the coolness that is Eli Cannon's Tap Room. The jam-packed Middletown institution has been unapologetically spreading the craft gospel since 1994, impressing locals with 37 absurdly fresh, constantly rotating taps, hangover-annihilating pub eats, a massive backyard patio/fake beach (seriously, with real sand), and a bizarre pawn-shop-meets-hoarder-house aesthetic that somehow really works. At Eli Cannon's, most pints run $6-$8 a pop and there's a full calendar of specialty events, tastings, and beer dinners to keep folks coming back for more (as if that whole adult-sandbox thing wasn't incentive enough).
Delaware
Pickled Pig Pub
Rehoboth Beach
Other than the beach, Rehoboth is comprised primarily of outlet malls and Dogfish Head-related businesses, and the Pickled Pig is next door to a slew of discounted clothing shops and a few minutes from the original Dogfish. That's some prime Rehoboth right there. So it shouldn't be a surprise that Dogfish always has a place on its 14 rotating weekly taps, including basically every seasonal and limited release (not to mention 30-50 rotating bottles). The Pub shows love to other DE-based brewers, throwing five to six pairing dinners with local breweries in the beach offseason, including Milford's Mispillion River Brewing. Stop by in April for its yearly anniversary celebrations, where all the taps are reserved for DE beers, like Stewart's Brewing Co. and Dewey Beer Co., with offerings typically never seen in the bar at any other time.
Florida
Riverside Market
Ft. Lauderdale
Lots of beer bars exist in buildings that used to be something else, whether it's a church or a train car or a shittier beer bar. Riverside Market? Well, it's more the latter. Except instead of a shittier beer bar, it was a shitty convenience store. The aesthetic has stayed the same, only now those fridges -- once home to questionable sandwiches and boring beer -- are filled with nearly 600 of the best and hardest-to-find (and some easy) beers available in the area, which you can crack open in the store or save for home while getting down on the 20+ expertly curated taps, which often get taken over by some of Florida's finest. RSM has recently taken over another nearby building with a homebrewing shop/nano oasis, and could keep expanding itself right off our list. But the original Market, so long as it keeps those fridges stocked, is already a classic.
Georgia
Brick Store Pub
Decatur
For the last two decades, buddies Dave Blanchard, Mike Gallagher, and Tom Moore have been supplying the fine folks of Decatur with more pickles, pimento cheese, fried grit cakes, and world-renowned craft beer than you can shake a stick at. Despite its laid-back Southern vibe, Brick Store does not mess around when it comes to beer, housing not one, but two completely separate beer bars. The historic building is centered around the main bar, a super-chill sunlit pub with soaring exposed brick, high-backed booths, and a massive horseshoe bar lined with 29 gorgeous taps. Upstairs there's the Belgian Bar, an intimate, eight-tap ode to the owners' life-altering trip to the sudsy motherland. And don't forget to peek into Brick Store's ridiculous upstairs beer cellar, where the guys have been casually aging nearly 900 different vintages. No big deal.
Hawaii
REAL a gastropub
Honolulu
Hawaii's great, but of all the oases contained on the islands, a craft beer oasis it is not (we love Kona and Maui, but we're not necessarily opposed to drinking anything fizzy when we're this relaxed). This is not beer-bar country (seriously, people consider the bars in Whole Foods beer bars). But that hasn't stopped REAL from digging in and doing it right. With 200+ bottles and a steady rotation of great beers heavy on the finest from Cali, Oregon, and Belgium, REAL would be a contender even if it wasn't in paradise. That'll happen when you stock your staff with cicerones, then put them in one of the greatest places on Earth with a stockpile of world-class beer.
Idaho
Bittercreek Alehouse
Boise
This year, Idaho's finest brewers -- including Crooked Fence, Edge, Sockeye, and Payette -- came out to celebrate Bittercreek's 20th anniversary of being the best damned beer bar in the state of Idaho, offering up everything from tart wheats to a honey & dandelion brown made in collaboration with the bar. That's some special stuff, and it's well deserved. There's a reason there's always a crowd at this joint, and it ain't the poutine (OK, the poutine's pretty fantastic, too). This isn't a bar with a bazillion taps or much of a gimmick. Just an expertly curated beer bar with offerings from coast to coast, with a tap list that updates daily. Hell, there's even something for the gluten-free drinker. And it ain't the poutine. OK, that's gluten-free, too. Seriously, it's amazing.
Illinois
Local Option
Chicago
You may have heard of Local Option -- as the years have gone by its self-labeled beers (brewed off-site in contract with other breweries) have enjoyed increasing fanfare and distribution. But Local Option remains, at its core, a beer bar that looks up to no one in a city deep with excellent ones. You absolutely can (and should!) sample one of the house drafts during your trip, but the rarity of the selections it pulls in from other breweries remains impressive. Also impressive: opening up a no-frills metal bar with kick-ass craft beer on a quiet tree-lined Lincoln Park street often crowded with strollers and French bulldogs. Also, also impressive: the tater tots.
Indiana
The Heorot
Muncie
Apologies to Ball State and all, but Muncie isn't exactly the first spot you think of as a mecca of culture -- after all, the fact that Jerry/Larry/Garry Gergich had a timeshare there was met with much derision on Parks & Rec. Then again, Jerry WAS married to Christie Brinkley, so he probably knows about some things, and perhaps one of those things was The Heorot. It takes its name from the mead hall described in Beowulf. It has prices on beer and pizza that'll make people visiting from more populous parts of the country flip out. It has a tap selection that trumps any other bar in Indiana and an encyclopedic reserve of bottles that manages to be even more impressive. So yeah, go to Muncie and drink here.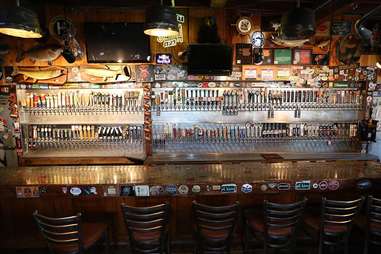 Iowa
El Bait Shop
Des Moines
As craft beer's become more of a "thing" in recent years, there's often a race to be the next bar in town with the most taps, and that's not always a good thing -- some establishments don't take the care and forethought required to offer more than 100 taps and manage them well. With 180-plus beers on tap, El Bait Shop is definitively NOT one of those places. Instead, it couples a delightfully divey roadhouse atmosphere with a massive yet well-maintained beer program (make sure you take advantage of any Toppling Goliath you find on tap), an impossibly friendly staff (this is Iowa, after all), and perfect beer-pairing bites like the crispy broasted chicken and Velvet Elvis dip (just get it, don't ask questions).
Kansas
The Anchor
Wichita
This Old Town Wichita favorite does a little bit of everything, mixing in some coffee shop elements by day and running a full-on butcher shop next door. But first and foremost it does beer, and it does it really well (58 meticulously selected taps well, to be exact). You'll find a solid representation of Kansas' finest along with plenty from elsewhere. You'll find frequent special events and tap takeovers. You'lll also find a damn fine steakburger -- did we mention there's a butcher shop next door?
Kentucky
Sergio's World Beers
Louisville
Most cities would be lucky to have just ONE beer bar as simultaneously unique and excellent as Sergio's, but Louisville also happens to be blessed with Holy Grale, appropriately housed in an old church and boasting a Belgian-heavy beer list that might make you say, "Holy shit!" So yeah, that was a tough place to pass up here, but Louisville also has Sergio's. Imagine if you had an uncle with some hoarding tendencies who was traveling the world buying up interesting and rare beers before that was something anyone really thought about doing. Then imagine if that uncle opened up his basement to the general public. That's basically what Sergio's feels like (and isn't TOO far off from how it came to be). Two guarantees: you'll find something you're incredibly excited to drink, and you'll never be in another bar quite like it.
Louisiana
The Avenue Pub
New Orleans
We once called New Orleans the greatest drinking city in the whole damn country. But that wasn't because of its craft beer, alas. Yet the fact that The Avenue still manages to stand out among the famed cocktaileries of the city is a testament to its greatness, and a strong argument in favor of the 24-hour beer bar. The tap list is heavy on one-and-done offerings with enough rarities to keep the nerds at bay, while the bottle list is about as thick as a small-town phonebook, offering up everything from Belgian farmhouses to Italian goses to all-American IPAs, all of which taste considerably better while perched on the balcony overlooking St. Charles and paired with the famous pork/béchamel/au jus-soaked Dump Truck fries.
Maine
Novare Res Bier Cafe
Portland
Since opening in 2007, Portland's Novare Res has joined the ranks of legendary Maine beer bars like the more lauded Ebenezer's Pub and The Great Lost Bear by scouring the globe in search of the world's finest brews. Inside this cavernous back-alley beer mecca, map-clutching pilgrims rub elbows with local fisherman and be-flanneled artists sniffing out the latest addition to the uber-impressive collection of 25 taps, two casks, and over 300 bottles while eclectic snacks like crab rangoon grilled cheese and a "fancy Slim Jim" made from smoked German sausage provide support for those long bouts of dedicated imbibing. Spend a few hours at one of Novare Res' long communal tables and you're guaranteed to reemerge with a whole new appreciation for the good drink.
Maryland
Max's Taphouse
Baltimore
Looking at the beers available at Max's might temporarily trick you into thinking you're in the UK -- ignoring the fact that everyone in there is a bigger fan of the Ravens than of Man U or whatever strange, made-up nonsense the British name their soccer teams. That's because it typically has a handful of cask ales from breweries like Harviestoun available, which is noteworthy, since warm beers from across the pond don't often make their way to the US. Speaking of noteworthy, 150 taps are spread across three different bars from local faves like Brewer's Art, Stillwater, and Flying Dog, which join top picks from the other coast like The Bruery and Ninkasi, all of which makes for an incredible lineup. Oh, and there are 1,000+ bottles from around the world. Like we said, incredible. Or, as our friends across the pond say, "brilliant."
Massachusetts
Lord Hobo
Cambridge
Lord Hobo (great name, right?) is one of said establishments that has taken to brewing its own quite respectable beer (albeit off-site), but LH remains, at its core, a standout beer bar in a state with some other excellent ones (Sunset Grill & Tap, Meadhall, etc.). The 40 taps offer everything from the best New England breweries have to offer to interesting Euro selections -- when was the last time you had a craft beer from Norway? Hey, no cheating, people from Norway! It takes the food just as seriously as the beer -- think charred octopus with pickled bok choy -- because you aren't just some hobo, you are LORD Hobo.
Michigan
7 Monks Taproom
Traverse City
Truth be told, idyllic Michigan resort town Traverse City's much more renowned for wine (and cherries) than its beer culture, although this being Michigan there are assuredly some fine local breweries in the area. And, also, there is 7 Monks Taproom. The 46 taps and robust bottle selection lean heavily on mitten-based brews, though there's also strong Belgian representation, as is obligatory whenever a bar has "monk" in the name. Talk up the bartender, because many of the taps will be draft-only Michigan releases that won't be around long, then settle in for the long haul with one of the fantastic wood-fired pizzas to keep you company.
Minnesota
The Happy Gnome
St. Paul
Despite the diminutive name, you'll want to arrive here with a giant-sized appetite, because not only is the 70-strong draft list (helpfully broken down into categories like "hoppy" or "sessionable") deep on Midwest favorites reliably on point, but the burgers are also not to be missed -- try the one with the short rib braised in Surly Coffee Bender. Better yet -- have that burger and beer (or let's be real, beers) on the patio when the Minnesota weather permits, because let's be honest, there's no better state to be in between Memorial Day and Labor Day.
Mississippi
Mahogany Bar
Hattiesburg
For a state that only legalized the sale of beer above 5% in 2012 -- you read that right, two thousand and twelve AD -- it's got a helluva beer bar in Mahogany. Forty-five rotating taps are there to quench MS beer lovers' thirst, and about half of those brews are either one-offs or sold in super-limited quantities before they're swapped out with something else equally delicious. Southern Prohibition, Lazy Magnolia, and Slow Boat are almost always on tap, all of which should pair nicely with the house-made andouille sausage and hand-cut fries. And despite its location far from Belgium, an enviable selection of bombers full of sours, krieks, and Belgian strongs is available. Damn, Mississippi! Way to catch up.
Missouri
Bier Station
Kansas City
This hybrid bottle shop and beer bar might feel a little clean and modern for those who like their beer bars dark and divey, what with its digital menu and is that... natural light? But once you peruse said glowing menu, start tackling the pleasantly diverse tap list (with 4oz taster pours available on every beer if you're decision-challenged or looking to cover a lot of ground), you'll find yourself settling in for the long haul, particularly if it's a nice day and you've snagged yourself a spot on the patio upstairs. Also, it's always a plus when you happen upon a new beer you like and have the opportunity to immediately purchase more of it to take home with you right there on the spot.
Montana
Montana Ale Works
Bozeman
Missoula might have Bozeman beat when it comes to incredible breweries, but Missoula doesn't lay claim to Montana Ale Works, a converted former railroad freighthouse that now basically plays like a fancy/rustic museum of all the great beer that has made Montana a powerhouse. Of the 40 taps pouring from the centerpiece wraparound bar, the majority hail from Big Sky country -- Bozeman Brewing, Madison River, Draught Works, Red Lodge, Cabinet Mountain, Bayern, Lone Peak, you name it, it has a place on the tap lines. Throw in a juicy bison burger and a warm summer night, and you've got yourself the best Montana experience that doesn't come with a suggested sidearm of bear spray.
Nebraska
Krug Park
Omaha
A callback to a bygone Omaha amusement park of the same name (that actually started as a beer garden as well) Krug Park's new iteration continues to dish out the amusement, although this time it comes almost exclusively in lager and ale form. Its 50 taps are divvied into American craft (the bulk of the action), Belgian (the next bulkiest), and German (a respectable handful of bulk). And if you happen to be there a little too early for a beer (not that there IS such a thing), it also has a dozen-plus variations on the Bloody Mary. Don't worry, you can still get a beer back.
Nevada
Aces & Ales
Las Vegas
Any serious beer collector has big, beautiful whales sitting in the cellar, until that special day when they're cracked open. Aces & Ales is the rare beer bar that's also a serious beer collector, hoarding beauties like a 2006 Stone Vertical Epic Ale and Firestone Walker's Parabola. And both of its Vegas locations are beer snob-approved, partly because there aren't that many beer bars open 24/7. Only in Vegas (and NOLA). Pro tip: the Tenaya spot has 30 more beers on tap than the Nellis one, and a much wider bottle selection.
New Hampshire
Thirsty Moose Tap House
Portsmouth
If this Portsmouth bar was a person, it'd be the non-snobby craft lover who doesn't judge people who are just getting into beer. In fact, out of the 115 taps, the owner says many of them are beers that help introduce people's palates so that one day they can enjoy an IPA with a billion IBUs. The taps feature standout NH breweries in the area, like Stoneface (don't pass up its IPA), Smuttynose, and Throwback. And to further the whole non-snob thing, the most non-snobby of bar foods, the chicken wings, are cooked in a giant smoker, fried, or grilled to order, and then served next to whatever rare NH-made craft beer you fancy. Or, you know, a macrobrew. No judgments here.
New Jersey
Cloverleaf Tavern
Caldwell
No one reading this article was likely born in 1933, mostly because Thrillist doesn't currently have a large-print edition. But as it turns out, Cloverleaf was opened in '33 by one of the current owners' grandpa. His dad ran the bar as well, and famously banned a well-known macrobrewer's products in the late '70s to ensure a wide selection of beers at the bar. These days, the craft beer love continues, as 15-20 new beers are rotated onto tap lines a week, and if you're not sure which one to order, every single server is a Certified Beer Server and has gone through beer training. Cloverleaf also considers education a top priority for its customers, as its MBA program (that's Master of Beer Appreciation) encourages you to order specific beers to help further your palate, and then rewards anyone who drinks 15 "credits" with a $15 gift card! Drink 45 "credits," and you get your name on the wall. This is perhaps the best continuing education program we've ever heard of.
New Mexico
B2B2 Tap Room
Albuquerque
When you're in Albuquerque, the first thing to do is visit Walter White's house. The second is to go to Nob Hill to see if it has Founders KBS on tap, which it does from time to time (it did on April 25th, 2016!). The third is to hit up the newly opened, New Mexico-obsessed B2B2 Tap Room, as it offers 60 taps of solely NM beer, including 48 craft brews made in-state and 12 house beers, like a coconut porter made with organic 'nuts, and an oak-aged IPA. B2B2's secret sauce is in the fact that it pours beers that not many beer bars can -- a NM law states that breweries can serve beer from other local breweries that currently don't have distribution, like Turtle Mountain. Beer bars that don't brew their own are out of luck. It's a convenient way to try the next best thing in New Mexico brewing.
New York
Blind Tiger Ale House
New York City
For the last 20 years, through booms and busts, through Giuliani and gentrification, the West Village's Blind Tiger has managed to maintain its status as New York City's best beer bar. Why? Because it's timeless. In a city like New York, reliability is tough to come by, and Blind Tiger is nothing if not reliable. The vibe is divey and approachable (battered wood fixtures, stone fireplace), the barkeeps exude just the right mix of attitude and charm, and the food menu is teeming with tasty comfort classics. In the mood for a rare vintage Belgian Trappist ale? This place has you covered. Looking for Other Half's latest hop-bomb? No problem. Chalked up old school-style above the bar, the draft list is a thing of sheer beauty, with 30 crystal-clean taps pouring everything from obscure imports to local gems. Stay gold, Blind Tiger, the city needs you.
North Carolina
Thirsty Monk Pub & Brewery
Asheville
Usually the basement is only good for finding your dad's crappy vinyl records (why was he so into bands named after major American cities!?). But in the case of Thirsty Monk, expect some real treasures down below in the form of 16 Belgian and Belgian-style beers. Up on street level, a bar with 20 taps and 50+ bottles/cans feature the best of Western NC's beer scene (Hi-Wire, Green Man, Pisgah) and national favorites (Evil Twin, Founders, Prairie). Don't skip Thirsty Monk's house beers either, which are brewed in its Biltmore Park location. In the wintertime, few things are more comforting than a CocoNorm, brewed with toasted organic coconut.
North Dakota
Wurst Bier Hall
Fargo
Look, we tease North Dakota a lot because of lutefisk and wood chippers and being kind of boring. But Wurst is something we can absolutely get behind and celebrate, and not just because it's a great beer hall that makes you forget you're in Fargo. German beer's the highlight here, with hef, heller bock, and weizen flowing freely and offerings from craft purveyors like Grand Teton, Fargo Brewing, and Green Flash playing American diplomats. And, of course, there's a Das Boot challenge, in which you must chug the titular glass mega-slipper while following a six-tiered set of rules, then scream "Prost" to the fact that, yes, you can have fun in North Dakota, despite what snarky websites say.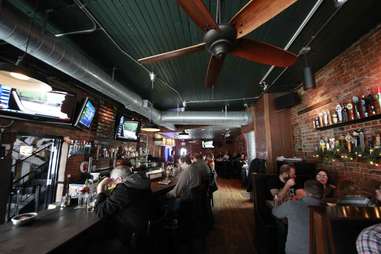 Ohio
The Tremont Tap House
Cleveland
This perpetually bustling Cleveland pub (forgive it for continuing to trot out "gastropub," though truth be told, the food is damn good) has won a loyal following based primarily on the strength of a carefully maintained draft list deep with rarities, Ohio favorites, and rare Ohio offerings. Exciting kegs will often kick fairly quickly, but fear not, there's usually something equally interesting on deck -- also, this place is generally pretty cool about letting you know what's on deck.
Oklahoma
TapWerks Ale House
Oklahoma City
With two floors and 200-plus taps, you could get lost in this place, and you could also get lost in the menu -- though it's helpfully divided by style to prevent such a calamity. It's not all necessarily stuff you've never tried before, but any place you can reliably find yourself drinking Prairie Bomb on tap is a good place to be drinking. You can enjoy your beer with live music (second floor) on some nights, and the weekday happy hour offers $1 off brews and half-price appetizers like poutine with Old Rasputin gravy.
Oregon
Horse Brass Pub
Portland
Even if Oregon's beer scene was limited to Portland (and with cities like Bend and Hood River in the mix, it very certainly isn't), Oregon's a tough call, with high-tech beer bars like Bailey's Taproom and Apex getting flashy, hybrid bottle shops like Belmont Station and Saraveza bringing the take-home thunder, and the new Loyal Legion bringing 99 all-Portland taps. But Horse Brass, well, Horse Brass is special. It's the kind of beer bar where 70 or so taps rotate so often, the menu of special weekly beers is always rife with selections crossed off by hand. It's a place where the best Portland brewers first ship their new experiments, and where visiting brewers will host secret guest taps for true believers. It's a place that has been doing craft beer since 1976 -- when the late Don Younger became a craft beer superhero -- and has never not been great. It's the best British pub outside of Britain, right down to the halibut fish & chips. You'll often hear a Portland beer snob gripe that it's "not the same as it used to be." No, my friend. The Horse Brass hasn't changed. You have. And, if you've been there for more than five minutes, at least two kegs have, too.
Pennsylvania
Monk's Cafe
Philadelphia
It feels limiting to call Monk's an exemplary spot to drink beer from Belgium when it's clearly so much more. For one: like the Phanatic, it's a Philly institution, both for its food and exceptional pub fare (pulled pork slow-cooked in a Belgian brown ale, anyone?). For two: along with a nearly jaw-dropping selection of Belgian beers on tap and in bottles (of which there are 300+), there's also plenty of beers on tap and in bottles from top stateside breweries like Lost Abbey, Tired Hands, Port Brewing, and NC's Wicked Weed. That's enough to make any beer nerd exclaim, "Jean-Claude Van DAYUM!" (Sorry. We had to.)
Rhode Island
Julian's
Providence
From the outside -- with its classic striped awning and brick walls -- Julian's looks like your run-of-the-mill Providence diner. But inside, something's a little... off. There are trippy portraits all over those brick walls. A wall of Pez dispensers stares blankly at you from one side, while enough Star Wars action figures to fill the Death Star stare from the other. And then there's the beer, a carefully selected selection of 20 taps lit in neon that offer up everything from Belgium's Draak to a 2011 Sierra Bigfoot. And bottles ranging from Dogfish 2010 World Wide, to Orkney's 2012 Dark Island Reserve, to Brooklyn's Black Ops. These guys are collectors all right. But unlike most, they're willing to share. That, in and of itself, is also a little odd. Everything here is. And that's what makes it Rhode Island's finest.
South Carolina
Craft Conundrum
Charleston
We love you, Edmund's Oast. And we also love the fact that you're now a full-blown brewery, which frees up a space for a spunky new comer like Craft Conundrum, a place that from the outside looks like it could house anything from a dentist's office to a Hallmark, but instead hosts 150 or so taps available in pints or growlers to go. The whole thing's curated by folks who used to select the beer for a Piggly Wiggly, which would be hilarious if it didn't make us start wondering whether Piggly Wiggly might actually be a killer bottle shop, what with CC offering everything from Michigan's Jolly Pumpkin to Lexington's Kentucky Bourbon Barrel Ale, Maine's Tiny Beautiful Something, and even hard-to-find Belgian imports. Oh, and considering the place is in a strip mall near a grocery store (that was also once a Piggly Wiggly), there's ample room for food carts to park outside.
South Dakota
Independent Ale House
Rapid City
From the outside, Independent Ale House might look like an old-timey brick saloon on the old-timey drag of Rapid... mainly because you're in Rapid, and most places look like/are that. But that Wild West aesthetic is augmented by a new-timey attitude toward beer, with a constantly rotating 40-deep tap selection that's got a surprisingly versatile and thoughtful array of big hitters, with recent offerings including Deschutes' elusive Abyss right alongside local favorite Crow Peak, served up with one of the best pizzas in the Black Hills. For South Dakotans, it's worth a pilgrimage just to get in on the action. Luckily, the keg volume is available online, so you can check before you make the two-hour trek from the nearest town. And yes, smart-ass, they have the internet in South Dakota.
Tennessee
Hops & Crafts
Nashville
Nashville has been blowing up! Tennessee's beer scene has been blowing up! Hops & Crafts reflects both of these trends, a 36-tap, wonderfully welcoming beer bar and growler-filling station devoted heavily to Tennessee brews and other regional favorites from neighboring states. On the off chance the beer wasn't already filling you with Southern pride, a helping of Daddy Bob's pimento cheese should do the trick just fine. Additional important local-pride note: Tennessee pints are half price on Tuesdays.
Texas
Craft Pride
Austin
Few states (OK, zero states) have as much local pride as Texas, so it's fitting that the pick here devotes all of its 50-plus taps (plus a couple of casks) to Lone Star brews (no, not like, 50-plus taps of literally just Lone Star -- that would be crazy). The Texas beer scene is booming, which made this a tough decision, given other excellent options like Hay Merchant in Houston, Craft & Growler in Dallas, and Banger's right there in Craft Pride's backyard, but something about going all in on Texas for this just felt right. Of course it doesn't hurt that Craft Pride also happens to be a reliably welcoming and wonderful bar steady with release parties and other special events. If you're in from out of town (or in town) and looking for something to take home, it also runs a fantastic bottle shop (ahem... shoppe) in the back.
Utah
Beer Bar
Salt Lake City
A sibling to SLC craft cocktail godfather Bar-X, Beer Bar compensates for what it may lack in innovative nomenclature with, well, beer. Specifically, a heavy emphasis on Utah breweries, which, despite the state's complicated relationship with beverages of an alcoholic nature and the places that make and sell them, continue to turn out increasingly fine work. To keep your beer company it's also doing wonderful things with encased meats (kimchee bratwurst) and Belgian-style frites.
Vermont
The Farmhouse Tap & Grill
Burlington
When you think of Vermont's finest brews, one beer likely comes to mind, and it rhymes with Heady Topper. And Farmhouse has it! When it's not sold out. But if you're lucky enough, you'll go on a night when it's in stock, along with Alchemist's almost-equally praised Focal Banger. But if you're not lucky enough to score either, you're still pretty damn lucky, as you can select from 30 taps at all three of its bars filled with exceptional VT beers from Lawson's, 14th Star, and Hill Farmstead. And if you're in a sour mood (not the kind that annoys everyone around you -- the kind where you're in the mood to drink a specific type of beer), there's plenty of bottled goodies from Rodenbach, Allagash, and Jolly Pumpkin. Can't believe we got through this entire blurb without mentioning Phish! Ah, shit.
Virginia
Mekong
Richmond
For the tens of thousands of beer bars in America that pair brews and pizza (and we are eternally grateful for each and every one of them), there is exactly one that successfully pairs beer with pho. And that's the beauty of Mekong, which offers up a serious helping of pho and all manner of Vietnamese comfort food alongside a curated beer list. Selecting just which dish to order might be the toughest part of visiting outside of selecting a beer, many of which are from Richmond's The Andall. Not coincidentally, it brews a beer called Good Nightmare Mekong, an imperial stout with Vietnamese coffee beans. VA-based favorites like Strangeways and South Street also make appearances in glasses and bottles.
Washington
The Pine Box
Seattle
OK, so the name referencing this Seattle institution's digs in an old funeral home (where Bruce Lee's funeral went down, no less) is simultaneously cool and a bit creepy, but such novelty only gets you so far. Having a bar crafted from the old shelves of the crematorium is fun and all, but what's coming from behind said bar is even MORE fun (specifically, 30-plus taps of extremely well-curated, West Coast-heavy brews). Tack on a pizza (smoked wild boar, anyone?) and it'll be like you've died and gone to heaven, but only in the most happy and figurative of senses.
Washington, DC
ChurchKey
Washington, DC
Yes, DC is not technically a state (which is another argument for another time), but truth be told you could put ChurchKey anywhere in the world and it'd instantly be on the short list of the best places to enjoy a beer, with 55 draft lines and 500-plus bottles that manage to deliver on the utmost quality in addition to quantity. In addition to the expected lineup of domestic limited releases and collabs one would expect from a top-flight beer bar, ChurchKey particularly excels at having its finger on the pulse of what's happening craft-wise overseas as well, allowing you to one-up your friends by saying things like, "I've really been impressed by what's happening in Estonia's beer scene lately" with complete seriousness.
West Virginia
Apothecary Ale House & Café
Morgantown
We're not going to say that Apothecary's the only beer bar in West Virginia, but it's very much the better of the two beer bars in West Virginia. We kid, we kid. But in a state that's not exactly a craft beer haven, having one decent tap's reason to celebrate. Apothecary has a dozen such reasons to celebrate, ranging from barrel-aged goodness from Bridge Brew Works to Chimay and Sierra, plus 150 bottles that each offer up a counterargument to people who insist it's nothing but moonshine in WV.
Wisconsin
Burnhearts
Milwaukee
At the very best beer bars, the beer itself is simultaneously fantastic and somehow not the best thing about the bar. This is very much the case at Burnhearts, where you'll find a thoughtful, just-right-sized tap list heavy on Wisconsin and Michigan's finest, plus a deep selection of rare bottles (ask about Carl's Secret Stash). But somehow even more importantly, Burnhearts is impossibly welcoming, devoid of pretension, and the kind of bar where you can feel like you've been a lifelong regular in one afternoon (which will likely end up bleeding into the evening), whether you're playing game after game of shuffleboard in back or chatting up the friendly staff up front. Come February, the (outdoor!) charity-minded Mitten Fest brings in people from all over to enjoy some rare beer, live music, and the fact that Wisconsinites refuse to let winter spoil a good time.
Wyoming
Sidewinders American Grill
Jackson Hole
Fifteen minutes from the Jackson Hole ski area, a new Grand Adventure Park is opening in June, which will feature a ropes course and mountain biking. But why exert yourself physically when it's so much easier to sit on a barstool and drink beers at Sidewinders, which carries organic brews from nearby Snake River Brewing, plus other WY brews from Roadhouse and Wind River. Keeping with the town's sporty vibe are the 30 TVs typically tuned to the night's games, and carb-laden cuisine designed to fill you up after a long day on the slopes, with dishes like BBQ spare ribs, cowboy mac & cheese, and a chicken pot pie recently featured on Guy Fieri's Diners, Drive-Ins and Dives. Which is to say, your mom really wants to go here with you. And for once, there's incentive to join her beyond knowing she'll pick up the bill and drive you back to the hotel before you hit Grand Adventure.
Sign up here for our daily Thrillist email, and get your fix of the best in food/drink/fun.
Lee Breslouer is a contributing writer for Thrillist, and wants to open a beer bar in his basement. Follow him to business dreams @LeeBreslouer.