Brewers Name the One Beer That's Always in Their Fridge
The one thing you always have in your fridge is Chinese takeout, and that's because that carton of fried rice has been hiding behind a bottle of ketchup since 1997. You should really clean out your fridge. Our nation's brewmasters, however, always have beer on hand. But which ones do they always make sure to stock? We asked brewers from around the country about the bottles they always have at the ready.
California common, 4.9%
San Francisco, CA
"This is my 'go-to' beer because it's always consistent, and it's a unique style. It wasn't invented by master brewer and visionary Fritz Maytag, but it was relaunched by the entrepreneur. Fritz took a huge financial risk to reopen and reinvigorate a failed regional brewery in the Bay Area (SF) to become the USA's first true microbrewery -- beating the next to open by almost 15 years. This beer is the benchmark, and defines the style." -- Peter McFarlane, Pedernales Brewing Co. (Fredericksburg, TX)
Pale ale, 5.6%
Chico, CA
"I would say 90% of the time you're going to open the refrigerator and find Sierra Nevada Pale Ale. It's one of those beers I can buy on the way home from work at about 13 different places, and it's a great after-work beer. The other 10% of the time my refrigerator is stocked with beers brought to the brewery as gifts from other brewers touring our facility. A win-win either way from my standpoint." -- Tomme Arthur, Port Brewing and The Lost Abbey (San Marcos, CA)
"While my fridge currently has no beer in it (sad, but true!), Sierra Nevada Pale Ale would be my first choice to fill my cooler for a camping or fishing trip." -- Ted Briggs, The Fermentorium (Cedarburg, WI)
"It's already blazing hot here, so Sierra Nevada is in the fridge until I can't find it anymore. It's just so well made, perfectly hoppy, and refreshing. Great with yard work and all kinds of spicy food." -- Bert Boyce, Santa Fe Brewing Co. (Santa Fe, NM)
"This beer delivers on so many fronts. Not only is it exceptionally well made, but the flavor profile is so well balanced, with no rough edges or any singular attribute that calls for more attention than another. And the brewery has such an awesome culture: the people are fantastic, their concerns and values resonate with me, and they have proven their desire to stay independent of ownership by any one of the large mega-conglomerated breweries out there." -- Tom Flores, Brewer's Alley and Monocacy Brewing (Frederick, MD)
Pilsner, 4.9%
Houston, TX
"I always have Saint Arnold's Summer Pils in my fridge most of the year even though its only seasonal. In my opinion, it's one of the best Munich-style helles available nationwide. I am a huge fan of real-tasting, authentic German beers. Summer Pils is clean, and full of authentic German malt flavor that this style should exude. When it's around, I buy many cases. Over the past five years I haven't gone to the store to buy beer that much, but I make an exception for this." -- Alex Daigrepont, Tin Roof Brewing Co. (Baton Rouge, LA)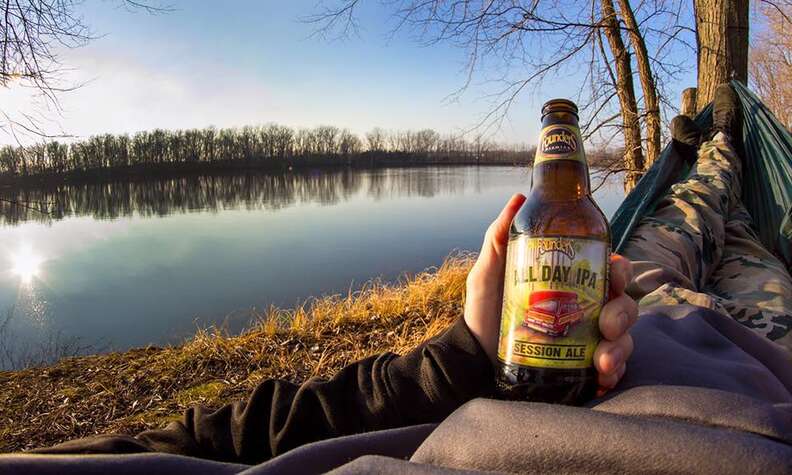 IPA, 4.7%
Grand Rapids, MI
"It's very rare that I don't have a cold brewer's dozen (or less) of Founders All Day IPA in the fridge at home, or at the brewery. I never get tired of crushing cans of this aromatic IPA, and equally as important, it's stable, super consistent, and widely available. A classic beer." -- Michael McManus, Industrial Arts Brewing Co. (Garnerville, NY)
Belgian pale ale, 6.2%
Villers-devant-Orval, Belgium
"It's not always in my fridge (more likely it's in my cellar), but Orval is a beer that I revere deeply. A couple of years ago, you would be hard-pressed to get a straight answer out of me. But recently I think I've settled on Orval as my favorite/bucket-list beer." -- Blake Horsburgh, Fifty West Brewing Co. (Cincinnati, OH)
Munich helles lager, 5.6%
Munich, Germany
"Helles lager is one of my favorite styles of beer for its drinkability and simple complexity. I believe that Augustiner's is one of the best available in the US." -- Chris Davison, Wolf's Ridge Brewing (Columbus, OH)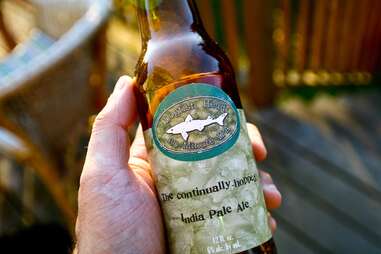 IPA, 6%
Milton, DE
"I'm a Delaware native with a love for balanced, drinkable IPAs, and even though I love keeping it local, I can [always] drink the Dogfish Head 60 Minute. It truly reminds me of back home when I'm homesick." -- Stephanie Harper, Islamorada Beer Co. (Islamorada, FL)
Fruit beer, 4%
New Glarus, WI
"While I'm a pretty seasonal beer drinker and don't have a go-to beer, I pretty much always have a fruit beer from New Glarus Brewing Co. in my fridge. Wisconsin Belgian Red being my favorite. In my opinion, no one does fruit beers better than Dan [Carey] and company. Even if Minnesota allowed Sunday liquor sales, I'd still be driving to Wisconsin to stock up!" -- Josh Bischoff, Indeed Brewing Co. (Minneapolis, MN)
Tripel, 9%
Quebec, Canada
"La Fin du Monde from Unibroue and any Sierra Nevada beer finds its way into my fridge regularly. They are two classic, high-quality breweries, and once in a while you just need to purchase one of their great products to remind yourself how great and diverse beer can be." -- Greg Ouellette, Martha's Exchange Brewing Co. (Nashua, NH)
Sign up here for our daily Thrillist email, and get your fix of the best in food/drink/fun.