The Best Breweries Near America's Most Beautiful Places
Relaxing in the great outdoors is one of life's ultimate pleasures -- and relaxing with a freshly brewed craft beer in hand? That's somehow stacking bliss on bliss.
Gear up for an epic camping season with this guide to must-visit breweries within a reasonable distance of breathtaking national parks and other sprawling natural regions. Remember -- these places are HUGE, so be sure to GPS the brewery's address before taking off on your adventure for the most accurate time and distance estimations. Because the only thing that can make America's best idea better is America's best beer.
Rocky Mountain National Park, Colorado
There's not a square foot of Rocky Mountain National Park that isn't unspeakably stunning, balancing mind-melting mountainside majesty with a laid-back, effortlessly cool cowboy ethos and some of the best hiking in the country. While the park offers tons of places to lay your head, the beer-thirsty should scope out the scene around the eastern edge, where tent, cabin, and car camping spots near Estes Park put you right in the thick of both the brewing and nature-loving action.
Lumpy Ridge Brewing Co.
531 Saint Vrain Ave, Estes Park, CO 80517
What happens when two talented brewers buy an old gas station with soaring views of the Rocky Mountains? They install a used 15-barrel brewhouse, put up a fence made of old skis, and begin hawking delicious beer to devoted thirsty locals and thirsty park-goers alike. Lumpy Ridge Brewing has occupied the quirky Estes Park outpost since 2015, making it a centrally located no-brainer for campers staying in or around the area's many campgrounds. Wander over, grab a spot on the sunny patio, and enjoy a crisp Corner Pump pale ale or a crowd-pleasing OGG's FM altbier for a true taste of the Rockies.
Rock Cut Brewing Company
390 W Riverside Dr, Estes Park, CO 80517
Estes Park is also home to Rock Cut Brewing Company, making it another convenient stop for nearby campers. Opened by a couple of local brewers in 2015, this modest microbrewery is stocked with a top-of-the-line brewhouse which you can check out from your perch at the taproom's gorgeous U-shaped bar, outfitted in smooth inlaid wood. Sample a few of Rock Cut's interesting-yet-accessible brews, including a strong, nutty Black IPA spiked with locally roasted KIND coffee and a piney, citrusy IPA teeming with juicy Mosaic hops. No food here yet, but you're welcome to BYO snacks so don't forget that giant bag of GORP.
Oskar Blues Grill & Brew
303 Main St, Lyons, CO 80540
Any beer geek worth their salt is going to want to make the 20-minute journey down from Estes Park to visit the Oskar Blues brewpub, the one and only birthplace of the craft can revolution that opened way back in 1997. Bask in the glow of this lasting legend while wolfing down some spicy Southern Creole and Cajun food and then cut the grease with a few pints of the freshest Dale's Pale Ale in existence. And if the beer's not enough of a draw, there's plenty of live music, food, and beer specials, plus a truly bizarre array of esoteric knickknacks to keep you entertained.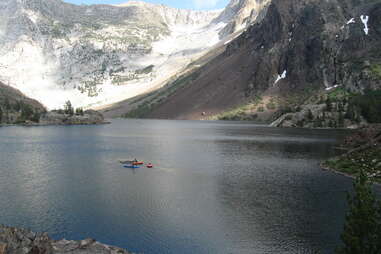 Yosemite National Park, California
California's gargantuan Yosemite National Park stretches from the Stanislaus National Forest to the north all the way down to the Sierra National Forest and its vast mountainous landscape contains enough natural wonder to leave a person's jaw permanently unhinged. The grounds around Eastern Yosemite's Tioga Pass entrance is a prime spot for camping, hiking, climbing, river rafting, swimming, and, of course, drinking beer.
Mammoth Brewing Company
18 Lake Mary Rd, Mammoth Lakes, CA 93546
Mammoth Brewing Company, located about 45 minutes southeast of Yosemite's Tioga Pass entrance, is arguably the most well-known brewery in the area. While the 20+ year-old craft brewery is no small trip, surrounding attractions like hiking, climbing, lake swimming, and -- ahem -- hot springs make it the perfect place to unwind after an adventurous day trip. In terms of beer, Mammoth's got just about everything -- big, hoppy IPAs, lagers, fruit-infused sours, and even house-made root beer for the kiddos (or designated drivers). The adjacent Eatery by Bleu serves creative bistro fare inspired by Mammoth's brewing prowess.
South Gate Brewing Company
40233 Enterprise Dr, Oakhurst, CA 93644
If you've decided to pitch your tent near Yosemite's southernmost tip and are suddenly struck with a strong desire for a tasty handcrafted beer, drive down through the park's south entrance and due south about 14 miles until you reach Oakhurst. This adorable mountain town is home to South Gate Brewing Company, a ruggedly hip brewpub specializing in West Coast hop bombs and seasonally inspired bar food like wood-fired pizzas and beer-battered fish & chips. It's not fancy, for sure, but with food and drink this good, you might want to leave the hiking boots and sweaty bandana behind.
Grand Teton National Park, Wyoming
Wyoming's Grand Teton National Park has it all: over 200 spectacular miles of groomed hiking trails, ridiculous alpine views, heavenly crystal-clear bodies of fresh water, and, if all that wasn't enough, a centrally located valley brimming with excellent craft breweries and some mighty fine campgrounds. Grand Teton's perimeter also butts right up against Yellowstone National Park -- that's like two vacations in one!
Snake River Brewing
265 S Milward St, Jackson, WY 83001
Jackson Hole is one of the unsung heroes in the craft beer world, and Snake River is a shining example of the area's brewing greatness. Wyoming's oldest brewery, Snake River dubs itself "Jackson's living room," and for good reason -- a quick trip 20 minutes south of Teton Village lies one of the coziest, most relaxing brewpubs around. The former Coca-Cola warehouse is outfitted with a wood-burning oven, quality eats, arcade and parlor games, insane mountainside views -- oh, and two separate bars pouring an endlessly creative array of award-winning brews. Just go.
Thai Me Up/Melvin Brewing
75 E Pearl Ave, Jackson, WY 83001
Thai Me Up is one of those places you literally have to see to believe. Wyoming's only -- hell, maybe the world's only -- Thai restaurant-nanobrewery hybrid not only serves up crazy-delicious authentic Thai cuisine, it also manages to brew a ton of spice-fighting beers like hopped-up IPAs and malty brown ales out of a tiny space a mere 20-minute drive from Teton Village. A strange business model, sure, but judging by its bevy of nationally recognized awards, it seems to be working.
Grand Teton Brewing Company
430 Old Jackson Hwy, Victor, ID 83455
Grand Teton has been churning out reliable, balanced ales and lagers just over the Idaho border from the base of the Tetons since 1988. The 11,000sqft production facility and taproom offers free daily tours of its 30-barrel brewhouse, weekly pub specials, a seasonal food cart and even some small-batch sodas for good measure. And seriously, don't get me started on the view -- it's a wonder anyone ever leaves.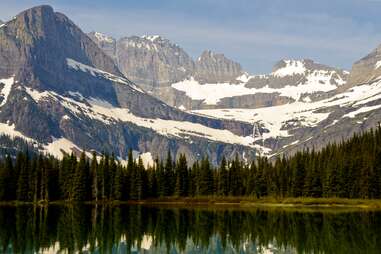 Glacier National Park, Montana
Exploring Montana's Glacier National Park is like stepping back in time -- miles and miles of untouched wilderness and rugged, wildlife-lined backwoods trails are broken up by ornate turn-of-the-century mountain resorts and picturesque Western towns that instantly cure even the most stubborn cases of curmudgeonly citified-ness. And beer! Montanans love their beer and they're pretty good at making it, too, especially in the towns laying just outside the palatial park's westernmost entrance.
Backslope Brewing
1107 9th St W, Columbia Falls, MT 59912
Backslope Brewing is about as close as it gets -- only a six-minute drive from the park's West Glacier entrance and about 20 minutes from Lake McDonald. The Columbia Falls taproom and kitchen is simple in design, but what it lacks in flair it makes up for with its surprisingly diverse draft list and similarly wide-ranging menu -- where else can you get jerk chicken, fried pickles, and gnocchi all in one meal? Aside from the solid bill of primarily malt-forward drafts like the richly layered, pitch-black Sun Cut stout and the eternally fortifying, whiskey barrel-aged Huntsman Scotch ale, the real star of Backslope's show is, of course, the panoramic mountain views. Nothing -- not even great beer -- can beat those.
The Great Northern Brewing Company
2 Central Ave #1, Whitefish, MT 59937
Continue on about 15 minutes northwest of Backslope Brewing and you'll stumble upon The Great Northern Brewing Company in neighboring Whitefish, MT. The airy three-story brewery building (the tallest in Whitefish, believe it or not) has housed Great Northern's 20-barrel brewhouse and cozy Draught House pub since 1995 and taking a tour of the fascinating retro gravity-brewing system is highly recommended. Come for the easy-drinking, approachable ales and lagers and mouthwatering sandwiches, and stay for -- yep, you guessed it -- the devastatingly spectacular views.
Shenandoah National Park, Virginia
Just a few hours' drive from most Eastern Seaboard cities, Shenandoah National Park is 200,000+ acres of serenity. Roll through Skyline Dr to get a panoramic view of the park's magnificent layout, which includes countless hiking trails, campgrounds, thunderous waterfalls, and vistas that look like they jumped right out of a Thomas Kinkade painting. Shenandoah's scenic southern tip provides the best access for sudsy day trips.
Blue Mountain Brewery
9519 Critzers Shop Rd, Afton, VA 22920
A 30-minute drive due south of Shenandoah gets you to the aptly named Blue Mountain Brewery's Afton brewpub, Nelson County's very first brewery back when it opened in 2007. The modest farmhouse space cranks out straightforward brews with an emphasis on traditional German lagers, which are exactly what you'll want to be drinking after a warm summer night outdoors. Fresh pub food, free brewery tours, growler fills, live music and Sunday brunch make this reliable old-timer a must-stop for any beer-loving park visitor.
Starr Hill Brewery
5391 Three Notched Rd, Crozet, VA 22932
If balanced fruit beers are your thing, Starr Hill Brewery, with its Hook grapefruit session IPA, Boxcarr pumpkin porter, and Shakedown imperial chocolate cherry stout, has you good and covered. The award-winning brewery (we're talking 21 GABF, World Beer Cup, and Great British Beer Festival medals here) and sunny taproom sits about 40 minutes southeast of the park and is definitely worthy of a day trip. Look around the massive 50,000-barrel brewhouse, order up a taproom-exclusive pilot beer, check out the rotating cast of food trucks, and make sure to pick up some bottles for some late-night fireside action.
Pro Re Nata Farm Brewery
6135 Rockfish Gap Turnpike, Crozet, VA 22932
Located about a half-hour drive from Shenandoah's southernmost tip, Pro Re Nata Farm Brewery has been quietly crushing Virginia's craft beer game since 2015. Run by San Diego native and seasoned brewer Brad Hulewicz, the tiny nanobrewery offers a small fleet of beers including a popular coffee stout and a summer-ready cream ale. There's also a fancy food truck permanently parked on the property, where you can get quality comfort food prepared by a classically trained chef. You're going to want to get your visit in before this quiet little hideaway completely blows up.
Denali National Park & Preserve, Alaska
Denali (FKA Mt McKinley) National Park & Preserve is BIG -- like, Alaska big. No less than 6 million acres of snow-capped peaks, heavily wooded forests, and epic tundras make up this wilder than wild piece of geographical gold. Not to mention it's home to our continent's tallest mountain, no big deal or anything. All that wonder got you thirsty? Hit up two of the area's best craft breweries, each within driving distance of a park entrance.
Denali Brewing Company & Denali Brewpub
37083 Talkeetna Spur Rd, Talkeetna, AK 99676
Denali Brewing Company's production facility and brewpub have called nearby Talkeetna home since 2009 (OK, it's about an hour south of the park entrance -- that's nearby for Alaska). Brave the journey for a huge list of carefully crafted ales and lagers, from hopped-up double IPAs to smooth Belgian-style goldens. For standard pub fare and a rustic, chilled-out bar vibe, hit up the brewpub, where you can sample all of Denali's offerings and lounge on the sunny porch. To see where the magic happens, hop over to the brewery and tasting room to sip on a flight and snack on some delicious food truck eats. Either way, you can't lose.
49th State Brewing Company
Mile 248.4 George Parks Hwy, Healy, AK 99743
Nationally respected 49th State Brewing Co. operates this scenic brewpub on the northeastern edge of Denali National Park and Preserve, about a 10-minute drive from the park entrance (it even offers a shuttle service back and forth for car-free adventurers). Classic ski lodge decor -- repurposed boulders, shiny wood tables, a central fire pit, a stuffed buck head above the bar -- sets the tone while giant burgers and fall-off-the-bone BBQ, super-fresh, European-influenced craft beers brewed on site, and backyard games like bocce and Frisbee golf seal the deal. Oh, and a star-studded outdoor concert series doesn't hurt, either.
Columbia River Gorge National Scenic Area
A favorite spot for kite surfers, Lewis & Clark aficionados, hikers, campers, and members of your Oregon Trail family that survived dysentery, the Gorge is about as Pacific Northwest as it gets outside of sporting an Elliott Smith tattoo and complaining about brunch lines. It's a roaring river separating Oregon and Washington, with towering cliff faces on either side leading into expansive wilderness. While you're here, definitely stop in Hood River, one of the best small beer towns in the US, but even without that little haven there's still plenty to drink

Thunder Island Brewing Co.
515 SW Portage Rd, Cascade Locks, OR 97014
Hearty sandwiches, fresh-from-the-farm seasonal salads, and "beer brewed with adventure" is the name of the game over at Thunder Island Brewing Co., a 2.5-year-old nanobrewery and tasting room about 10 minutes due east of Columbia River Gorge's camper-friendly Eagle Creek Trail. Unlike so many of its hop-dominant West Coast contemporaries, Thunder Island's bill runs the gamut from a strong, puckery sour brown to a biscuity, eminently crushable 4.8% kolsch, each of which is lovingly brewed and best enjoyed at one of the brewery's gorge-side picnic tables. In the mood for something danker? Never fear -- the guys behind the taps keep more than a few outstanding IPAs on rotation for hophead hikers in need of a bitter fix.
Walking Man Brewing
240 1st St, Stevenson, WA 98648
Washington State's Walking Man Brewing is a mere 15-minute drive from Eagle Creek, down Hwy 30 and over the loftily named (and incredibly beautiful) Columbia River-spanning Bridge of the Gods, which co-starred with Reese Witherspoon and a fox in Wild. Walking Man has called Stevenson home since 2000, when the 17-barrel brewpub began serving artisanal pizza and hopped-up, house-brewed pints to area loggers, local craft hounds, and curious backpackers to great acclaim. Though an exceptional lot of IPAs, pales, and imperials steal the show, creamy stouts, malty Scotch ales, and a particularly exciting barleywine are also worth a taste. And don't miss the backyard -- the dog-friendly beer garden is as lush and green as whole-cone Cascade hops and twice as intoxicating.
Backwoods Brewing Company
1162 B Wind River Hwy, Carson, WA 98610
Keep traveling east on Washington's scenic Wind River Hwy to Carson, a ridiculously charming logging town that could easily double for Mayberry -- except with enough punch-packing craft beer to send those teetotaling Taylors packing. Backwoods Brewing Co., opened in 2012, is 100% Carson-born and raised, as firmly committed to its community as it is to making great beer. An homage to Northwest hops, big, robust IPAs, pales, reds, and imperials are standard fare here, accompanied by mellow, food-friendly ambers and browns, plus a potent 10% ABV bourbon barrel-aged stout for the chillier months. It also sells a line of beer-infused soaps, balms, and candles made with locally grown hops, all of which might come in handy during the requisite post-brewpub visit to Carson's illustrious geothermal steam bath.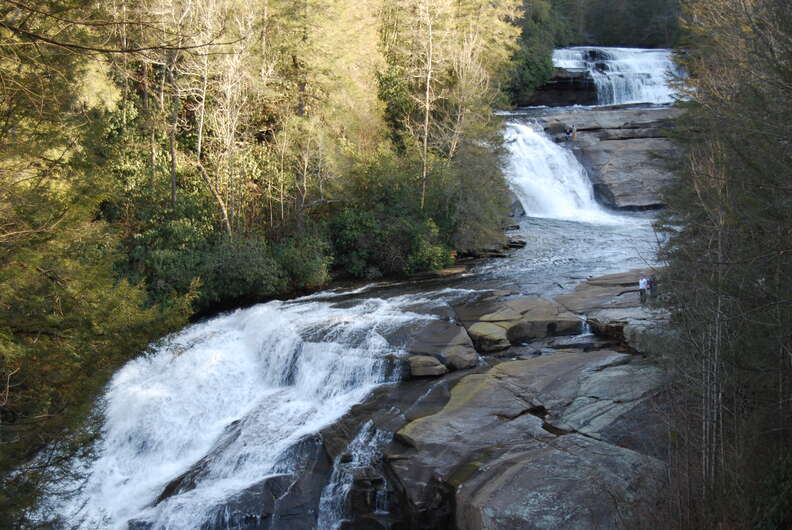 Pisgah National Forest, North Carolina
The 500,000+ acre Pisgah National Forest is nestled within the Appalachian Mountains of Western North Carolina, a short drive from both the Great Smoky Mountains and Asheville's bustling food, beer, and music scene. Adventurous Southerners have been flocking to the serene year-round forest for decades, soaking up the area's many hiking, whitewater rafting, sightseeing, climbing, and camping -- and drinking -- options. For optimal brewery (and greater Asheville) positioning, pitch your tent beside Pisgah's deliriously captivating Catawba Falls.
Pisgah Brewing Company
150 Eastside Dr, Black Mountain, NC 28711
Black Mountain's Pisgah Brewing Company pays homage to its stunning national forest neighbor, where the Blue Ridge and Appalachian Mountains come together in gorgeous harmony. The 100% organic craft brewery is just a 20-minute drive down I-40 from the Catawba Falls campground (a primo spot for RV, car, cabin, and tent camping) and offers free tours every Saturday afternoon. The beers range in style from a richly complex Belgian-influenced porter to a mellow and refreshing German Pils, with a sizable selection of year-round brews as well as seasonals and one-offs. And, of course, it wouldn't be Asheville without a constant stream of quality live music, each performance paired with a different onsite food truck.
Lookout Brewing Company
103 S Ridgeway Ave, Ste 1, Black Mountain, NC 28711
There's nothing better than kicking back with a beer after a long hike and if Lookout Brewing's "Boldly going nowhere, living the porch life since 2013" motto is any indication, this is just the place to rest those tired bones. Located 11 miles due east of Catawba Falls, Lookout's rotating lineup revolves around malt-forward, easy-drinking, and supremely crushable beers -- the perfect antidote to those steamy Carolina summers. It's also got sports on the TV (if you're sick of the outdoors), bargain pitchers, and live music.
Highland Brewing Company
12 Old Charlotte Hwy, Ste 200, Asheville, NC 28803
Anybody who knows anything about craft beer knows that Asheville is rife with world-famous breweries, and Highland Brewing Company, which sits just 13 miles from Pisgah Forest's Bent Creek entrance, is no exception. The OG craft outlet has been wowing Southern palates since 1994, further attracting pilgrimaging beer geeks by adding on a tasting room in 2010 and an outdoor events stage in 2012. At the bar, eccentric one-offs rub elbows with skillfully crafted European classic, each representing Highland's fine-tuned brewing approach and impressive reach. This is absolutely must-see territory. Pro tip: reserve your brewery tour ahead of time, since they do tend to sell out during the busier seasons.
Sign up here for our daily Thrillist email, and get your fix of the best in food/drink/fun.
Meredith Heil
is a staff writer for Thrillist. Declarin' she's free, bumpin 'Pac and the Outlawz, she's flyer than all outdoors, she balls out hard. Try to keep up at @mereditto.