A lot has changed over the past decade in drinking culture, from the macro ambitions of microbrewing to the rise and fall of Four Loko. But the rise of craft cider has been perhaps the most unexpected delight. What was once a candy-sweet can filled with apple concentrate and high-fructose corn syrup has exploded into a world of well-made, delicious, refreshing beverages that have a wider appeal than most die-hard wine drinkers or beer fans are willing to admit. This is all very, very good news. Especially during summer.
Because sometimes the idea of opening a bottle of red wine or whiskey feels insane in 97-degree heat, we've put together a list of some of the best ciders on the market for cutting through the hot, muggy months to come. It doesn't matter if you're a novice or an expert: these should all come in handy the next time you're packing your cooler for the beach or fridge for a party. Consider this list your summer starter kit, and let us know what we're missing out on in the comments.
5.5%
Vergennes, Vermont
There are a lot of items that have been added to the list of "things Vermont does well" lately, but it's safe to say that cider has long been there. And while they may not have been around the longest, Shacksbury has quickly become one of the state's leading respected producers with a diverse set of offerings. All of their releases are made strictly using 100% pressed juice, calling upon obscure, rustic apples that were traditionally grown for cider making, not eating. This makes their job slightly more difficult, but it is we the customers who reap the benefits of their hard work. Take their Dry Cider, which uses a heavy dose of Dabinett apples to achieve a gloriously bright beverage with a slightly tannic backbone, creating a perfectly balanced throwback to British ciders viewed through a uniquely refreshing American lens. Pack some cans for the perfect mid-hike refreshment or post-outdoor-activity rehydration.
6%
Ergué-Gabéric, France
Keeping up with all of the new domestic ciders that have been released in the past decade would be hard. That's why you might've missed a few foreign gems that have slipped into the market, including Aval. Hailing from Brittany, France (aka one of the most storied apple-growing regions of the world) and named after the local Breton language word for "apple," this import plays like a greatest hits of its home country. Approachably earthy with fine carbonation and a bright, fruity finish that is crisp on the palate, this cider is the perfect gateway drink for anyone who might still be dubious on how balanced a beverage it can be.
6.9%
Newburgh, NY
Kyle Sherrer has been a name in the cider world since he helped found the wildly popular Millstone brand half a decade ago. But a few years back, he decided to pack up shop, move to the Hudson Valley, and launch his own venture with the help of his sister, Sara. Today, Graft has become one of the hottest names in the industry, where their innovative takes on styles puts them firmly on the "cutting edge" side of things. Their wide lineup takes inspiration from the craft beer world, including their Cloud City line (which uses lactose, similar to milkshake IPAs), fruited sour styles, barrel aged releases, and perhaps the most craft beer of all, collaboration ciders with popular brewers. Maybe that's why core offerings like Lost Tropic read almost like a kettle sour, dubbed a "hop mimosa cider" made with orange zest, organic orange extract, Citra hops, and fermented with a house wild Brett yeast strain. Graft's distribution footprint has exploded in the past few years, so don't worry too much about being able to find some in your area.
6.1%
Burlington, VT
Now that we've reached peak "rosé acceptance" as a society, you'll probably notice more of your friends drinking pink wine throughout the summer. This is an entirely good thing for everyone, and there's an entire book you could write about why, but that's not the point here. The point is that Citizen has managed to produce a cider that tastes so much like a Provence-style rosé it's almost scary, made with blueberries and tart apples that come together to bring around a crisp body with minerality. Citizen also recently made the wise decision of not only making this cider year round, but also releasing it in canned form. It's the perfect beverage for hot weather, and it's also the perfect beverage for eating seafood at your friend's clam bake.
6.9%
Brooklyn, NY
One of the greatest developments of the cider resurgence in the United States is the newfound appreciation for Basque-style of fermented apple juice. Brooklyn Cider House's Raw has everything you'd be looking for from the Old World, including tart acidity, subtle funkiness, and a carbonation that only peaks out on the first sips of a proper pour. This cider serves as a perfect accompaniment to summery dishes like fish or grilled chicken, but it's also just great to sip by itself on a beach (especially since it comes in cans now).
6.9%
Washington, D.C.
Washington, D.C. is known for many things, such as chili bowls, Go-go music, and career ambitions that lack self awareness just to name a few. But it wasn't until recently that you could add "cider" to that esteemed list, thanks largely to the hard work of ANXO Cider. Their entire line up is made using zero adjuncts and a combination of wine and native yeasts, resulting in ciders that actually taste like the apples used to produce them. While there are no low points in their impressive lineup, Cidre Blanc works as a great starting off point, with flavors of peach, kiwi, and white grape buoyed by soft, petillant carbonation (i.e. very, very slight...feel free to tuck that term into your back pocket for your next cocktail party!), a light body, and a crisp, dry finish. If you happen to be in the District and you're in the mood to get to know them better, it's definitely worth stopping by their pintxos bar and tasting room.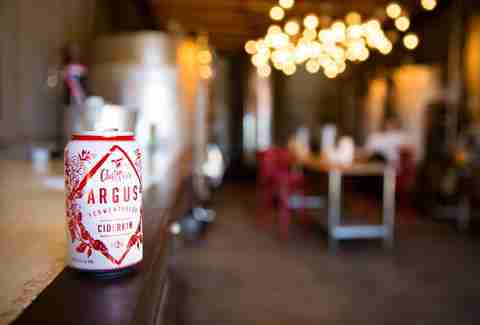 4.5%
Austin, TX
Ciderkins by definition are a lighter version of cider, originally made by soaking the leftover crushed apple pomace from cider production in water and letting it ferment. It's perfect then that Argus' version is light-bodied with a beautifully fruity aroma, has lively carbonation with Champagne-like qualities, and features a dry, somewhat tannic finish. It's refreshing in the way lemonade is, and with the lower ABV, it's almost as approachable. Keeping the bottles on ice and serving it as cold as possible will win you some friends.
6%
Getaria, Spain
The ciders of French and Spanish Basque country are legendarily good, but because of their short shelf life, finding fresh bottles usually meant hopping a flight across the Atlantic. This is no longer the case, thanks to the sudden availability of bottles like Barrika. Made by a family who've been producing cider since the late 19th century, this beverage is as traditional as it gets, aged in chestnut barrels and shipped off in small batches so that it's consumed as fresh as possible. Expect all the usual Basque characteristics of barely present carbonation, bright fruit, tart acidity, and subtle, earthy barnyard that combine to create it uniquely drinkable and refreshing. If you're big on natural wines, this will totally be your thing. Bonus points if you can nail your Asturian high pour to bring out those bubbles.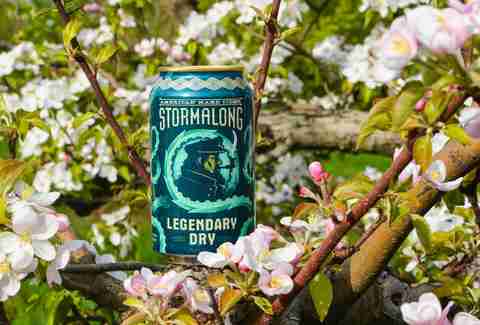 6.9%
Sherborn, MA
Some of the greatest hits of the cider world have come from the use of old world apples to achieve dryness that wasn't typical hard apple juice just a few short years ago. Stormalong is one such cidery who seems to have perfected this, using a blend of British bittersweet apples and heirloom varieties to create their wares. Legendary Dry is aptly named for this reason, bringing both a bright fruitiness and a dry finish to the finished product, making it endlessly refreshing with or without food.
5.5%
Quimper, France
Branching into import ciders has long been a way to understand the versatility of the beverage, but few places of origin can teach as much as quickly as Brittany, France. Settled by Celts emigrating from Great Britain and bringing their cider traditions with them, apple cultivation has thrived here since at least Roman times and is inextricably linked with local food and beverage culture. While most of the best stuff never leaves France, Manoir du Kinkiz is a notable exception: Their "Cornouaille" stands as a remarkable example of tradition, with lively carbonation, a rich mouthfeel, and balanced fruitiness with just a hint of earthy barnyard notes. This should be your go-to dinner bottle when visiting any cider fan's house for a meal.
6.5%
Santa Paula, California
Lest you doubt the cred of the rosé on the label, Anna's beautifully pink, highly effervescent cider is made by an actual winemaker. And lest you forget to add an accent to the é in rosé, you're in luck: This rosé-inspired cider actually incorporates rose petals, which add floral notes to a subtle-yet-layered flavor profile wrought by slightly sweet, fresh-pressed apples and a little cranberry, just in case the highly refreshing cider wasn't pink enough on its own.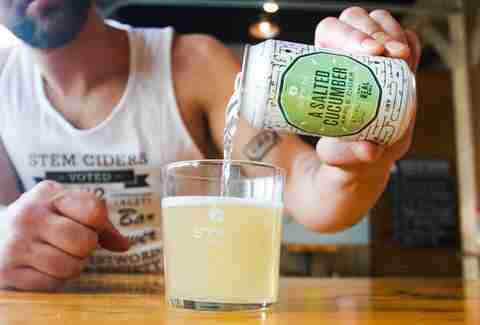 6.7%
Denver, Colorado
Stem does a remarkable job imparting unexpected flavors into its crisp, refreshing ciders: Its portfolio includes a belly-warming Chile Guava variety with guajillo peppers and a session variety kicked up with hibiscus tea. But when the sun's out, the A Salted Cucumber Cider's the one you should be reaching for. The flavor profile -- dry and saline with a kick of cukes courtesy of The Real Dill pickle company -- toes the line between a cider and a nice gose, helped along by the hops that are incorporated into the apples harvested from the Pacific Northwest. It's a cider/beer hybrid that would function beautifully in either category. 
6.9%
Sonoma County, California
As brut IPAs continue to make a play to stand out in a crowded field of IPA styles dominated, at least for now, by hazy juive bombs, Golden State's Brut takes the concept of an English-style dry cider and amps it up with the addition of Champagne yeast. This is a remarkably fresh, ultra-dry cider with barely a hint of sweetness. Plus, it's unfiltered, leaving little dots of yeast and pulp floating in its hazy pour, which should satisfy folks looking for a gluten-free alternative to hazy IPAs and brut-beer aficionados. 
6.9%
Portland, Oregon
About an hour east of Portland, in the Columbia River Gorge at the foothills of Mt. Hood, lies a massive swath of orchards called the Fruit Loop, home to countless purveyors of artisan ciders. The Good Reverend Nat might not be located in a hamlet like Hood River -- unless you count the industrial area of North Portland as a hamlet, weirdo -- but he's taken a cue from those cidermakers, as well as those of Belgium, to craft his namesake ciders. And, of course, it's also where he gets the apples. Except, of course, the pineapples in this signature summer stunner, which kicks things up with a distinctively sweet caribbean flair without losing any of the tart apple properties. More importantly, unlike the Fruit Loop orchards' wares, Nat's can be found across multiple states. Consider his an evangelical take on the endless possibilities of crushed apples. 
4.5%
Flushing, Michigan
Crafted by the folks from Almar Orchard -- located outside a tiny mid-Michigan suburb of Flint known for its Rockwellian streets and some of the greatest hot dogs known to man (at least according to our senior editor, a native of the town) -- JK's has become something of a white whale for domestic cider lovers. It's tough to find, but when you come across it -- which you can, nationwide --  buy in bulk. The organic apples in this summer varietal are impossibly crisp, kicked up with a hint of coriander and raisin and clocking in at a relatively low 4.5%, meaning it's perfect for the beach, campfires, or griil-side. 
Sign up here for our daily Thrillist email, get Eatmail for more food coverage, and subscribe here for our YouTube channel to get your fix of the best in food/drink/fun.