A lot has changed over the past decade in drinking culture, from the macro ambitions of microbrewing to the rise and fall of Four Loko. But the rise of craft cider has been perhaps the most unexpected delight. What was once a candy-sweet can filled with apple concentrate and high-fructose corn syrup has exploded into a world of well-made, delicious, refreshing beverages that have a wider appeal than most die-hard wine drinkers or beer fans are willing to admit. This is all very, very good news. Especially during summer.
Because sometimes the idea of opening a bottle of red wine or whiskey feels insane in 97-degree heat, we've put together a list of some of the best ciders on the market for cutting through the hot, muggy months to come. It doesn't matter if you're a novice or an expert: these should all come in handy the next time you're packing your cooler for the beach or fridge for a party. Consider this list your summer starter kit, and let us know what we're missing out on in the comments.
Recommended Video
Top Things You Do That Annoy Baristas
5%
Boston, MA
Have you ever had something that was in liquid form but still tasted so much like you were eating fruit you had to double-check that you weren't having some kind of stroke? Unlike a lot of the other ciders on this list, this one is richly fruit-forward and as appley as can be, but still incredibly refreshing and full-bodied thanks to being unfiltered. Consider this one a huge crowd-pleaser that ranks high on the repeat-drinkability scale.
 
4.5%
Austin, TX
Ciderkins by definition are a lighter version of cider, originally made by soaking the leftover crushed apple pomace from cider production in water and letting it ferment. It's perfect then that Argus' version is light-bodied with a beautifully fruity aroma, has lively carbonation with Champagne-like qualities, and features a dry, somewhat tannic finish. It's refreshing in the way lemonade is, and with the lower ABV, it's almost as approachable. Keeping the bottles on ice and serving it as cold as possible will win you some friends.
 
6.1%
Burlington, VT
Now that we're reaching peak "rosé acceptance" as a society, you'll probably notice more of your friends drinking pink wine throughout the summer. This is an entirely good thing for everyone, and there's an entire book you could write about why, but that's not the point here. The point is that this cider tastes so much like a Provence-style rosé it's almost scary, made with blueberries and tart apples that come together to bring around a crisp body with minerality. It is the perfect beverage for hot weather, and it's also the perfect beverage for eating seafood at your friend's clam bake.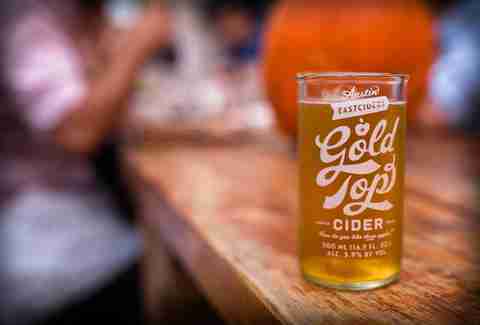 5%
Austin, TX
The first time I drank this cider, my friend turned to me and said, "The thing about pineapple is that when there's too much pineapple, it tastes like a pineapple. Except fake. This isn't like that at all!" Those are beautifully vivid words, to be sure, but they're also accurate. This is a deliciously fruity cider that doesn't toe the soda-sweet line like you might expect. Instead, it's tropical, bright, and breezy on the palate without being too aromatic or heavy on the sugar.
 
6.2%
Cincinnati, OH
Most cider drinkers who are cider drinkers because they don't want to drink beer usually give little chance to hopped ciders. That's too bad for them, because Rhinegeist's take on the style is a knockout on any level. Unlike beer, where boiled hops become resinous and bitter, this cider exhibits all of the floral and aromatic traits that the plant has to offer, rounding out the sweetness so that a nice tart finish remains.
 
8%
Monkton, MD
Millstone is starting to become well known for its wide range of high-end ciders, and is a leader in putting America back on the upscale cider-production map. Millstone, its entry-level bone-dry cider, is a perfect example of why. There's no question about it: with 0% residual sugar and zero carbonation, this cider is incredibly tart, drinking more like a white wine than sugary fermented apple juice. And just like wine, it's also aged in oak barrels. You might as well go ahead and swap out the sauvignon blanc for this at your next summer dinner party.
6.5%
St. Johns, MI
At some point this summer, you'll very likely be standing on a beach or a hiking trail or some other equally scenic seasonal locale and you'll wish you had packed something lightweight and refreshing to quench your thirst. That's also the point where you'll wish you had packed a can of this cider. It's downright easy-drinking and simple, with a nice green-apple, fruit-forward, medium body that is nowhere near cloyingly sweet. You might call it a gateway cider of sorts.
 
6%
Ascain, France
The first time someone picks up a this French Basque cider, their response is usually one of surprise. There's way more tartness and acidity than the ciders Americans have grown used to, and fizziness here gives way to a mostly still product that smells like a barnyard. It has the zippiness of a natural white wine or kombucha and the well-earned wide appeal that comes along with anything that tastes like tangy apples. Also, for an import of such high quality, it's incredibly well priced!
 
5.8%
Blessington, Co. Wicklow, Ireland
Irish cider has had a majorly bum rap for years thanks to the insanely sweet mass-produced ciders that have dominated the market there for decades. But few people realize that Ireland has a centuries-old history of doing great things with fermented apple juice, and much like the beer scene there, cider has begun to take off in a beautiful way. Craigies is a perfect example of where things are headed on the Emerald Isle while still being a good indicator of its homeland. It has a similar finish to the drier French ciders you get from Brittany, but stops short from being as barnyardy or funky. It's a porch-drinkin' masterpiece if there ever was one.
Sign up here for our daily Thrillist email, and get your fix of the best in food/drink/fun.
Zach Mack is Thrillist's contributing beer writer, the owner of Alphabet City Beer Co. in NYC, a newly minted Certified Cicerone, and nothing else. Follow him: @zmack.