The best craft distillers in America, as voted by a spirited panel of liquor writers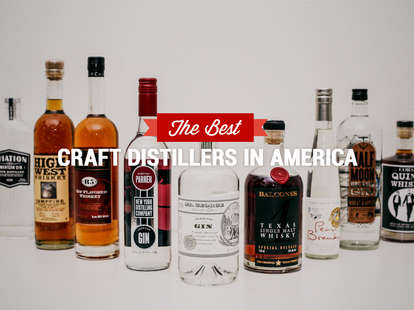 Dan Gentile
Dan Gentile
The spirit world can be a terrifying place. But amongst bottom of the barrel wells, powerful multi-national conglomerates you had no idea existed, and really scary ghosts, there stand a few crafty heroes whose passionate dedication to delicious liquor serves as an inspiration to all. These are the craft distillers.
Admittedly there's no firm definition for "craft". It's kind of like pornography -- you just know it when... you hear your buddies talk about it. So to spotlight the best distillers in America, we asked 15 of our distinguished cocktail writer buddies to pick their 10 favorites and explain why they belong on your shelf.
10. Corsair Distillery
Location: Nashville, TN and Bowling Green, KY
The spirits: Corsair Gin, Triple Smoke Malt Whiskey, Quinoa Whiskey, Red Absinthe, Spiced Rum
The distillery: Helmed by a distiller who's got degrees from Bruichladdich Distilling Academy in Scotland and Siebel Institute of Technology in Chicago (the oldest brewery school in the states!), Corsair specializes in "booze for badasses" and won awards for Craft Distiller of the Year and Whiskey Brand Innovator of the Year from Whisky Magazine.
From the judges: "Corsair is playing with whiskey like Jester King and Prairie play with farmhouse ale. Their small-batch offerings are fun, experimental, and not for everyone. They make quinoa whiskey, for goodness' sake. The triple smoke is a big hit, as is the artisan gin. The limited releases are also worth watching for." - Tom Thornton, Austinist
9. Leopold Bros.
Location: Denver, CO
The spirits: Silver Tree Vodka, Leopold's Gin, New York Apple Whiskey
The distillery: Unfiltered and without any preservatives, Denver's Leopold Bros. suggest consuming their liquors within a month of opening, which shouldn't be much of a problem.
From the judges: "A great range of small-batch whiskeys and, especially, liqueurs. The Rocky Mountain Peach Whiskey is after dinner heaven." - Bill Norris, Alamo Drafthouse
8. House Spirits Distillery
Location: Portland, OR
The spirits: Aviation American Gin, Volstead Vodka, Westward Oregon Straight Malt Whiskey, Krogstad Festlig Aquavit
The distillery: The shining star of Portland's distillery row, House Spirits prides itself on the ethical sourcing of ingredients, and probably on alternative modes of transit.
From the judges: "The hallmark brand of this Portland distillery is Aviation Gin, melding floral notes like lavender with spicy notes like cardamom that goes well in a martini. But there are so many other surprises in Christian Krogstad's House Spirits portfolio, such as an aquavit that goes down easily, an unaged white whiskey devoid of harsh burn, and an addictive coffee liqueur I've drizzled over ice cream more times than I'd like to admit." - Alia Akkam, Edible Queens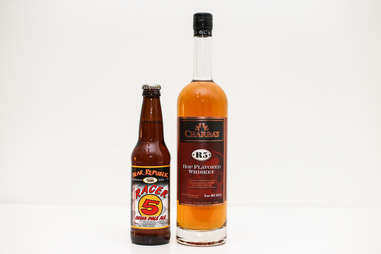 7. Charbay Distillery and Winery
Location: St. Helena, CA
The spirits: Clear Vodka, Charbay Tequila, R5 Whiskey, Alambic Pot Still Rum
The distiller: Charbay has had roots in Napa for 30 years and makes everything from hopped-up whiskeys to blood orange vodka to pomegranate dessert wine.
From the judges: You want something different? I'll give you something different, and that something is Charbay. Eschewing the standard for 'what ifs', 13th generation master distiller Marko Karakasevic is known for distilling bottled beer into whiskey and finishing spirits in former Chardonnay casks. No matter what you think of this unorthodox approach, you can't deny it's been popular with retailers." - Francine Cohen, Inside F & B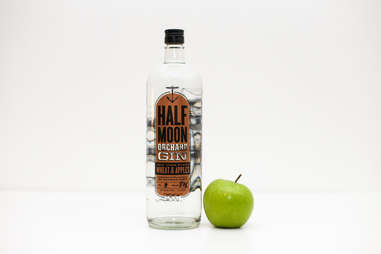 6. Tuthilltown Spirits
Location: Gardiner, NY
The spirits: Hudson Whiskey, Indigenous Vodka, Half Moon Orchard Gin
The distillery: Tuthilltown operates out of a 220yr old mill that they converted into a micro-distillery to process local fruit and grains into some of the world's best liquors.
From the judges: "I am a huge fan of the whiskeys produced in this distillery. They are putting out an array of products that consistently knock it out of the park (a single grain Baby Bourbon, a Single Malt Whiskey, a Rye) despite being a small, young producer. I have a hard time getting past the size and cost of the bottles, but that's not to say I won't buy a bottle for myself or as a gift (or graciously accept it as one)." - Nick Bennett, Booker & Dax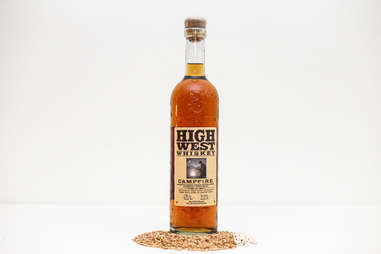 5. High West Distillery
Location: Park City, UT
The spirits: Rendezvous Rye, Bourye blend, High West Whiskey Campfire
The distillery: The only ski-in distillery in the world just happens to be in Utah.
From the judges: It seems counter-intuitive to have an innovative small distiller in Utah, which is known for its strict liquor laws, dry counties, and high population of non-imbibing Mormons. In fact, distilleries were outlawed there from 1870 right up until High West started making booze there once again in 2007. Among the most popular of their spirits is the Bourye -- a blend of both bourbon and rye whiskeys, providing a richly smooth sip with a touch of spice. - Natalie Bovis, The Liquid Muse
4. Clear Creek Distillery
Location: Portland, OR
The spirits: Williams Pear Brandy, Grappa Moscato, McCarthy's Oregon Single Malt Whiskey
The distiller: Famous for fermenting Oregon fruit into some of the most delectable brandies known to man, Clear Creek's been doing it for 20+ years and was also a pioneer in the field of American Single Malts.
From the judges: "It was nearly 20 years ago when I smelled a still running while wandering through Portland, Oregon, and my nose literally lead me to the door of Clear Creek. Inside, Steve McCarthy was in the midst of making his cut of some brandy. He had a few experiments with whiskey in barrels, which emerged many years later as a superb single malt. Steve just has a remarkable ability to distill the very best from Oregon's many grapes, berries, and grain and was at the forefront of the urban micro-distillery." Jeffery Lindenmuth, Beverage Media
3. Balcones Distilling
Location: Waco, TX
The spirits: Texas Single Malt Whisky, True Blue, Brimstone, Rumble
The distiller: In stills they welded themselves, the dudes from Balcones have been cranking out some of the best whiskeys in the world according to folks like Whisky Magazine and international competitions like Wizards of Whisky.
From the judges: "Chip Tate is a whiskey nerd. And only a real whiskey nerd would attempt the things he is doing and do it so well. The products are bold and flavorful, with excellent attention to detail. Nothing is rushed out to make a buck." - Amanda Schuster, Alcohol Professor

2. New York Distilling Company
Location: Brooklyn, NY
The spirits: Perry's Tot Navy Strength Gin, Dorothy Parker American Gin, Chief Gowanus New-Netherland Gin
The distiller: Co-founded by one of the guys behind Brooklyn Brewery, NYDC's been cranking out next-level gins within a stone's throw of McCarren Park since 2011. They're available in retailers in NY, through online distributors, and for tasting at their attached Shanty bar.
From the judges: "The Dorothy Parker American Gin is a favorite. Its botanical mix, which includes cinnamon and hibiscus, makes mixing easy. You can get a little more creative at the bar depending on what flavors you want to highlight in the gin. Or in a simple gin and tonic, in which you can detect the cinnamon. Fabulous in a Gibson or a Negroni with Punt e Mes." - Paul Zablocki and Steve Schul, Cocktail Buzz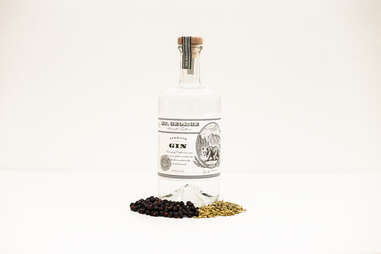 1. St. George Spirits
Location: Alameda, CA
The spirits: Terrior Gin, Absinthe Verte, B&E Bourbon, Single Malt Whiskey, California Agricole Rum, Hangar One Vodka (sold in 2010), brandies, and liqueurs
The distiller: One of the old school distillers on the list, St. George started in 1982 and paved the way, pioneering seldom-seen American versions of classic European spirits.
From the judges: "One of the pioneers of the craft spirits industry, St. George produces a range of excellent spirits and is led by master distiller Lance Winters who used to be, no joke, a US Navy nuclear engineer." - Noah Rothbaum, Liquor.com
Special thanks to our judges:
Bill Norris (Alamo Drafthouse), Nick Bennett (Booker and Dax), Tom Thornton (Austinist), Paul Zablocki and Steve Schul (Cocktail Buzz), Leslie Pariseau (PUNCH), Natalie Bovis (The Liquid Muse), Amanda Schuster (Alcohol Professor), Jeffery Lindenmuth (Beverage Media), Francine Cohen (InsideFandB.com), Warren Bobrow (The Cocktail Whisperer), Noah Rothbaum (Liquor.com), Paul Clarke (Imbibe Magazine), Alia Akkam (Edible Queens), Nico Martini (Cocktail Enthusiast), and David Alan (Tipsy Texan).
Dan Gentile is a staff writer on Thrillist's national food/drink team who recently purchased a very nice toaster oven and is excited about exploring the world of crispy reheated food. He also enjoys hating mustard. Follow him to pots of gold/Twitter at @Dannosphere.