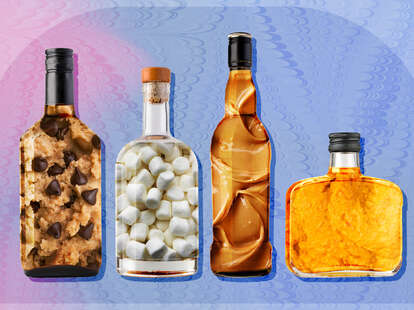 There (in whiskies) be dragons (dessert flavors).

| Design by Maggie Rossetti for Thrillist
There (in whiskies) be dragons (dessert flavors).

| Design by Maggie Rossetti for Thrillist
Whiskey is a complicated corner of the drinks world, rich with history and regional regulations. Lately, however, bottles flavored with everything from chocolate to peanut butter to cookie dough have arrived from established distillers and startup brands alike, bringing sweet flavors and a lot of playfulness to a typically traditional corner of the drinks world.
This "dessertification" of whiskey is corresponds with other market trends, too, including the rise of other flavored spirits and the ubiquity of hard seltzer. While purists might dismiss a birthday cake-flavored bourbon, others believe these bottles can open whiskey up to new drinkers, including those otherwise unfamiliar with or alienated by the category.
Writer and author Kara Newman believes flavored whiskeys are following a similar trajectory to other popular spirits. "When I look back at the '90s and '00s, flavored vodkas started with fruit flavors to please the vodka-soda crowd," she says. As time marched on, flavors became "more over the top," giving us cinnamon, vanilla, and even s'mores vodkas. These sorts of bottles can help brands reach younger consumers, Newman says. "Sweet, dessert-like flavors can help draw in a group accustomed to candy flavors in vaping, fruity hard seltzer, sweetened cocktails, etc…and they're not so far from nostalgic childhood flavors."
Of course, whiskey and vodka are different spirits. Whereas vodka is neutral by design, caramel, maple, vanilla, and other flavors we associate with sweetness are often found in certain whiskeys due to the time they spend aging in wood barrels. While drinks writer Millie Milliken stresses the importance of educating consumers on the differences between these naturally occurring characteristics versus artificial infusions, she does understand the appeal of flavored whiskey. "I can't talk for drinkers, but I can see this as being the perfect way to make the [whiskey] category more compelling and fun for newcomers," she says.
It's off to a running start. According to NielsenIQ data released in October 2022, the flavored whiskey category is up 14.6% over the last two years, outpacing the 8.4% growth of the whiskey market overall. Plus, Milliken says, drinks market analysts IWSR "has released some pretty promising figures for this side of the whiskey industry."
It's perhaps unsurprising, then, that flavored whiskeys are debuting at record pace. Offerings from legacy brands include Jim Beam Apple, which debuted in 2015, and Jack Daniel's Tennessee Honey, sweetening your glass since 2011. There are also dedicated labels like Skrewball, whose peanut butter whiskey was introduced in 2018, and Dough Ball cookie dough whiskey, bottled since 2021.
Small and craft distillers are also getting in on the action. Kentucky's Bird Dog Whiskey launched a blackberry flavor in 2010 because it was inspired by the success of flavored vodka, and has since added varieties like apple, black cherry, gingerbread, and salted caramel. Nathan Arnone, the distillery director of western New York's Southern Tier Distilling Co., says he got the idea to create Pumking pumpkin-flavored whiskey after he transferred to spirits from Southern Tier Brewing, where a pumpkin imperial ale was among the best known beers. Similarly, in 2019, Hotel Tango Distillery in Indianapolis turned its tasting room's most popular cocktail, a s'mores-flavored Old Fashioned called Flip Mode, into what's now a popular flavored whiskey, 'Shmallow.
While purists might dismiss a birthday cake-flavored bourbon, others believe these bottles can open whiskey up to new drinkers.
For alcohol brands, the category to beat is hard seltzer in all its flavored glory. Referred to as "phenomenal" by NielsenIQ in 2020, hard seltzer's revenue in the United States reached $16.36 billion in 2022 according to Statista, and is expected to grow annually by 31.68%.
Makers of flavored whiskey often face a familiar refrain echoed throughout the alcohol space, be they from beer fans about hard seltzer or bourbon snobs about birthday cake whiskey. Some drinks professionals and self-proclaimed aficionados claim that once you take a beverage and blend in a flavor, even if it's "natural," it's no longer really that beverage.
"I get why the hardcore bourbon drinkers feel that way," says Trevor Barnes, CEO and Founder of Hotel Tango Distillery. "But you can't just offer straight bourbon to everybody. You have to be able to provide choices, especially to get people to that level where they do want to try bourbon or an Old Fashioned."
Barnes and Arnone say they've seen flavored whiskeys successfully bring new drinkers into the fold, and believe longtime connoisseurs can find space for them on their bar carts as well. "While drinking the product neat or on the rocks is wonderful, the cocktail creations that can be made from flavored whiskey are amazing," says Jon Holecz, Bird Dog's vice president of marketing. Barnes notes 'Shmallow is great in hot chocolate and coffee.
Holdouts may as well remember that drinks are supposed to be fun, after all. Go ahead and give a peanut butter cup whiskey a try—it will never replace traditional whiskey, but perhaps it can simply exist alongside it, like that friend who never takes themselves too seriously and knows how to party. There's room for everyone at the bar, including those whose sweet tooth outpaces their thirst.
Want more Thrillist? Follow us on Instagram, Twitter, Pinterest, YouTube, TikTok, and Snapchat.
Courtney Iseman is a writer covering everything from heavy metal to ghosts to 18th-century art, but mostly craft beer. She lives in Brooklyn with her pug, Darby. You can find both of them on Instagram at @highwaytohops.