In many cities and for certain kinds of folks (our kind of folks, really), bar hopping is more than an excuse to drink more: it offers a window into the city's culture itself, serving as something of a wobbly guided tour of neighborhoods while letting you sample local wares, graze on bar food, meet locals, and fully immerse yourself into the scene via dive bars, cocktail joints, dens of sin, adult playgrounds, live music, and everything in between. When you bar crawl, you can do it all. Except, you know, drive. 
That last part was pretty crucial in our choices for the best cities for bar crawling, actually. For our purposes, we looked at the overall bar-hopping quality of a city, not just the presence of one or two cool neighborhoods. That's why our beloved Detroit missed the mark: despite the presence of Corktown, Ferndale, and Hamtramck, everything's just too spaced out. Ditto for LA, SF, and, well, pretty much all of big-city California, where you can find a neighborhood spot to hit a few bars, sure, but whose lack of walkability and easy public transit means you're looking at hefty ride-share bills or, even worse, a potential ticket for taking a Bird on the highway. Walkability is huge. Having enough great bars with a wide diversity of experiences is even bigger. And having all those things be citywide qualities rather than oases amid concrete jungles is essential.
With all that in mind and drinks in the able hands of some of our most stalwart writers/imbibers from throughout the country, here are the 10 best cities in America for bar hopping, with recommendations for a quick mini crawl should you need a primer before hitting the streets. -- Andy Kryza
Recommended Video
Thrillist's Best (and the Rest): What's the Perfect Fast Food Meal?
Atlanta, Georgia
Why it's great: It took a while, but Georgia's long journey to tear down archaic beer laws and emerge as a force in the craft beer world is over. That's set Atlanta up to add "great beer scene" to a drinker's resume that also includes legendary dive bars, clubs and cocktail lounges. That beer muscle is flexing courtesy of inside-the-perimeter beer bars (Porter, Argosy, Ormsbys, Midway, Brick Store) and brewpubs Wrecking Bar, Hopstix, Max Lagers). Then there are the breweries. New Realm and Orpheus -- plus top-tier beer bar Ladybird -- are slowly transforming the Beltline. The West End's loosely termed "Malt Disney" sector counts Monday Night, Wild Heaven, Boxcar, and Best End Brewpub among its attractions. The proudly notorious Scofflaw is making waves, and SweetWater is the 15th largest indie brewer in the country. Hell, even Ludacris has a brew-themed eatery called Chicken + Beer in Hartsfield-Jackson, offering solid local beer the minute you step off into the world's busiest airport. Welcome you to Atlanta, where the players play. And drink.
The best neighborhood for bar hopping: This city is great thanks to all its music, the diverse culinary scene, numerous corporate headquarters, and respectable sports base. But for real, Atlanta's traffic sucks -- so does the train system, which is limited to a plus-shaped track configuration; the city needs an asterix for ease. So the city needs an asterix for ease of bar-hopping at least. But the ice pack to this black eye is Downtown Decatur, the gem of the ATL metro area. The aforementioned Brick Store Pub is world-class status, plus bars like Square Pub, Twain's, Taco Mac, Mac Magee Irish Pub, and Leon's Full Service are literally steps away from each other. The annual Decatur Beer Fest in the center Square is arguably the city's best. A four-minute Uber/Lyft ride away, hit up the phenomenal Belgian-inspired brewery Three Taverns, followed by the added bonus of Avondale Estates, where the original Wild Heaven headquarters reside. A block further from the latter is the beer geek-meets-comic book collector gastropub, My Parents Basement, pouring ales and lagers in high demand from 32 taps. So yes, Atlanta's got its shit together with beer. -- Ale Sharpton
Asheville, North Carolina
Why it's great: Whether it was the majestic Blue Ridge Mountains, high quality of living, surrounding water sources, or simply getting a change of pace from Charlotte's skyscraper-dominant dwellings, Oscar Wong went west and took the small-town route with Asheville to launch Highland Brewing Company in '94. Since then, this charming locale garnered praise and a constant bum rush from beer enthusiasts worldwide to confirm its multiple crowning as "Beer City USA" due to its nation-leading per-capita volume of breweries. Factor in the brewpubs, bars, and eclectic dining destinations contributing to the plethora of ales and lagers poured throughout the city from the likes of Thirsty Monk, UpCountry, Wedge, Bhramari, and White Labs, and the praise remains confirmed. Don't sleep on the River Arts District for eye candy and extra cool points. 
The best neighborhood for bar hopping: While you can make it an entire afternoon at outposts from independent giants New Belgium along the French Broad River or Sierra Nevada's stunning campus in Mills River 15 minutes away via Uber, hitting up an extensive collective of brew destinations by foot makes South Slope the sound choice. It's just below downtown (and still within walking distance) and seasoned with an industrial-meets-chic edge. We're talking Catawba, Green Man, Burial, Asheville Brewing Company, Wicked Weed's Funkatorium, Twin Leaf, Eurisko, and Hi-Wire virtually separated by crosswalks. Remarkably, they maintain their own personality and interpretations of what a good-ass brew is in several varietals, while still solidified by the pride of representing the city. It's quite amazing. Oh, and don't sleep on the Chemist craft distillery, plus some of America's best BBQ and cocktails at Buxton Hall. -- AS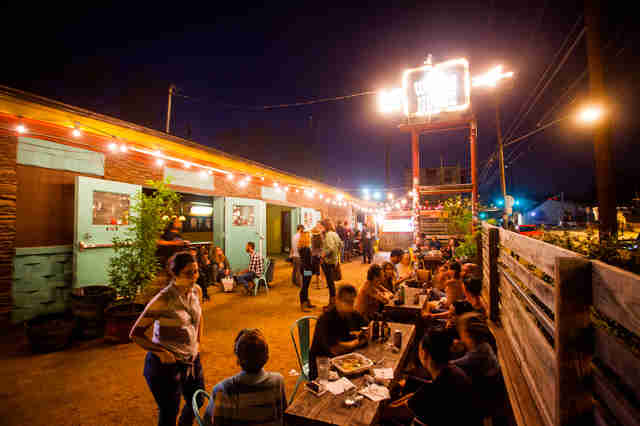 Austin, Texas
Why it's great: A whopping 55,000 move to Austin each year. Luckily this city has embraced the insane growth and elevated itself into an epicenter for tech, food, and, of course, booze. The city is home to some seriously impressive bars and bartenders, breweries, distilleries, and wineries. And because Austin's best watering holes are all found within a few miles of downtown, it's typical to see bar hoppers on foot, filing in and out of ride shares, and whizzing by on scooters and bikes.
 
The best neighborhood for bar hopping: Austin's Eastside is its fastest-growing hood, most obvious when you notice 12-story condos oddly nestled against comparatively tiny original buildings. East 6th Street -- not to be confused with "Dirty 6th" which lies west of highway I-35 -- is the area's main barhopping strip with a little over a mile of drinking establishments that run the gamut from "holy shit, this daiquiri is $14" to "was that a horse??" Start with tacos and a michelada on La Holly's patio, then grab cocktails at tropical-inspired Last Straw or Whisler's, which has a killer patio and secret mezcal bar upstairs, Mezcalería Tobalá. Is beer more your speed? Check out Lazarus Brewing or Zilker Brewing Company: both breweries offer a large selection of refreshing hot-weather beers (necessary in Austin) as well as funky seasonals. Hungry again? Food truck Spicy Boys serves bomb-ass fried chicken sandwiches and wings (get the Szechuan sauce). Now that your mouth is numb, you'll be needing a dirt-cheap, ice-cold beer at honky-tonk dive and music venue The White Horse. Still going? These neighborhood hangs are all a 3-minute Lyft ride away: Nickel City for $2 Coors and chili dogs, retro Palm Springs-inspired Kitty Cohen's for frozen cocktails, and King Bee for cocktails (or a Topo Chico) and the Eastside's best damn pizza. -- Anastacia Uriegas
Chicago, Illinois
Why it's great: As a professional imbiber, avid traveler, and newly-minted Chicagoan, I can confidently say Chicago is hands-down the best drinking city. Like, ever. There are breweries and distilleries coming out of our weary eyeballs and our bar offerings range from the seediest dives and windowless "slashies" (liquor store/ bar hybrids that fill up before the morning paper drops) to high-falutin' rare spirits lounges, molecular gastronomy joints, and one of America's freshest tiki scenes. And that's just scratching the surface. There are so many quality outposts, in fact, you could easily get sated in any number of esteemed 'hoods, all of which are suitable for walking or, come wintertime, navigating via a quick ride on the L train (or, let's face it, a $4 Uber ride because your frostbitten toes deserve door-to-door service).
The best neighborhood for hopping: Choosing a single stretch to represent Chicago's never-ending moveable liquid feast is tantamount to picking a favorite child. So we're combining two stunners -- Logan Square and Bucktown -- into one epic yet achievable action plan. Ease into your journey at Lost Lake, a tropical oasis near the Logan Square Blue Line stop, for the exquisitely balanced Bunny's Banana Daiquiri topped with an adorable banana dolphin. Then mosey on down to the inimitable Billy Sunday, famous for their mile-long vintage amaro list, before popping next door for a colorful coupe at the ever-inventive Young American. Next up is Estereo, a Milwaukee Ave hideaway where sophisticated sippers nurse mezcal creations around a sleek triangular poured-concrete bar. Hungry? Grab some slices from Paulee Gee's and tote them over to the Whistler's chill cocktail-lined back yard. Trek south to Lonesome Rose for a hip swig of tequila (and a pretty little taco if desired), then meander east to Bucktown, refueling at hole-in-the-wall classics like Floyd's, Gallery Cabaret, and Ed & Jean's Tavern until reaching the Charleston, a heartwarming watering hole with tasty drinks, stellar barkeeps, and a killer photo booth. Finally, leave it all on the dance floor at Danny's, an old-school, beer-soaked house-music hub stashed in what appears to be an actual house and one of the city's most cherished institutions. -- Meredith Heil
Memphis, Tennessee
Why it's great: With respect to Nashville, Memphis is Tennessee's most vibrant and diverse hub for culture. A huge part of that culture is wrapped around the three Bs (which we definitely just made up): beer, BBQ, and the blues. Those three are everywhere, whether they're your sole reason for visiting or just stop-offs while you tick places like Graceland and Sun Studio off your tourist list. It's the city they claim invented rock and perfected the blues, which, again with respect to Nashville, are way more fun to drink along to than country. The city hums with live music and clanking glasses, and if you don't like what you're hearing or drinking, your next unforgettable (or, more likely, very hazily remembered) bar experience is probably just down the street. For real. That old Marc Cohn song "Walking in Memphis" probably wasn't intended as a rallying cry for bar hoppers, but it definitely works as one. 
The best neighborhood for bar hopping: Look, we know it's a very touristy thing to say, but we're also guessing locals aren't exactly clamoring for us to tell them where to drink in their own town (it's Overton Square, in case said locals ARE for some reason coming to us for this right now). So we're just going to say it: Go to Beale Street. It's one of the most hedonistic places on this list, but the liberal open-container policy isn't the only reason Beale boasts a rep as the most visited strip in all of Tennessee. Music lovers can pay tribute at B.B. King's Blues Club or at the Jerry Lee Lewis' Cafe, but at any given time you're just as likely to hear a revelatory solo at a hole-in-the-wall bar or even a makeshift alley stage. Admittedly, you might end up with the same replaceable cover band, but the pours are strong enough and the history deep enough to forgive a half-baked rendition of "Ain't No Sunshine." It's the type of street you want to roll deep on, especially when confronting massive challenges like Silky O'Sullivan's rum-fueled Diver Bucket or a neon daiquiri from Wet Willie's. But since we are adults after all, we suggest ending the evening with a civilized absinthe cocktail at the King's Palace Cafe's Absinthe Room or trekking a block north to the Blind Bear. -- Dan Gentile/AK
New Orleans, Louisiana
Why it's great: It's not just because boozing is as embedded in the city's soul as jazz and vampire lore. Or because it's the birthplace of the Grasshopper, Sazerac, and Ramos Gin Fizz, making the epicenter of American cocktail culture. Or the fact that said incredible cocktails can be gotten at jazz clubs, white-tablecloth dining houses, and legendary dives. Or that you can wander the city with drinks in hand thanks to the lack of open container laws, turning even a simple site-seeing jaunt into a bipedal booze cruise (just be sure to use plastic). It's all those things, coupled with the fact that New Orleans is infinitely walkable, thronged with bars, and represents one of the most vibrant and singular destinations in the south. 
The best neighborhood for bar hopping: We're not saying to skip the French Quarter. Definitely hit the French Quarter. Maybe keep a journal so you maybe remember the 900 very-well-known bars you went to, so you can compare notes with literally everybody else who has done time in the booziest tourist destination in America. But also maybe head to the Central Business District (and the neighboring Warehouse District). This rectangular chunk of Downtown is known for its hotels and, more importantly, incredible hotel bars. Behold the best of the best: the Catahoula Hotel's sleekly designed Catahoula Pisco Bar; the Roosevelt Hotel's epically historic Sazerac Bar and live music-fueled, wine-focused Fountain Lounge; Monkey Board, the Troubadour Hotel's graffiti-strewn hipster haven in the sky; and Top Chef alum Nina Compton's Caribbean charmer Compere Lapin, stationed inside the Old No. 77 Hotel. Beyond the boutique, there's Seaworthy, where delectable seafood meets inventive tiki-leaning cocktails; NOSH (aka New Orleans Social House) for music and real-deal daiquiris; Sac-a-Lait, an oyster bar with a bangin' happy hour and a talented, whiskey-savvy staff; and Maypop, where the cocktails mirror the so-crazy-it-just-might-work Southeast Asian-Cajun fusion cuisine. Still thirsty? If all else fails, Circle Bar is the area's top dive bar, and sure to cure what ails you (especially if that ailment is sobriety). -- AK/MH
New York, New York
Why it's great: New York, it has been said, is a hell of a town. And maybe that description is the most fitting for a city that is so wildly diverse in its offerings and experiences. But besides being the city that ignites passions, attracting millions of tourists and hopeful residents and Taylor Swifts, it's also the same place that also, it has been said, doesn't sleep. Bar hopping in Gotham is as much a local pastime as cursing the MTA (more on that in a minute) and wondering why the Knicks can't get their act together: Bars here open early, stay open late, and tend to form in clusters that make picking the perfect one a group effort. Getting around, while not always for the faint of heart, is easy and cheap thanks to the luxury of a subway system that operates 24/7. If (and more often when) the L train does decide to go down for maintenance, hitching a ride in a yellow cab is as easy as standing on the curb and sticking up your hand. This basically means that if you have friends meeting in Gowanus and you're in Greenwich Village, you can still make it with minimal effort.
The best neighborhood for bar hopping: There may be no place bar-hopping locale in the country than the East Village and adjacent Lower East Side. Simply put: No matter what you're looking for, you can find it here. Start down on the lower part of the LES below Delancey, where you can find high-minded cocktails from the crew at Attaboy, or natural wines at Ten Bells, or even just a truly enjoyable dive experience at 169 Bar. This allows you to pass right by Scarr's for perhaps the best slice of pizza in the city as you inch your way toward Houston, where Bar Goto's delicious cocktails, Marshall Stack's low-key top-tier beer selection, and Nitecap's not-quite-a-speakeasy vibes await along the way. From there, you're practically steps from some of the most storied bars in the entire world. Some are literally historic, like sawdust-covered McSorley's (which has been at it since pre-Civil War days). But mostly, it's bars like the mother of all "secret bars you enter through a phone booth" PDT, or industry darling Death & Co., or cocktail sanctuary Pouring Ribbons, or any number of other living-legend watering holes you've read so much about. There's still a good chance, though, that you'll end up nursing perfectly fine pints of beer at Sophie's, Josie's, or Vazac's "7B" Horseshoe Bar until the bartender does last call at the ripe hour of 4am and you call your ride home. New York would expect nothing less of you. -- Zach Mack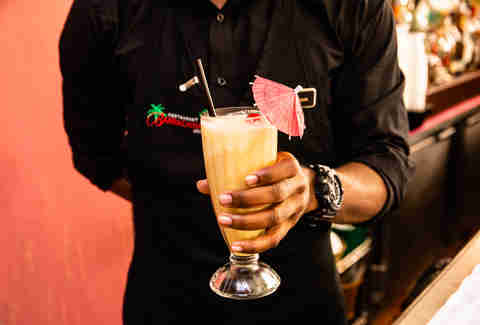 San Juan, Puerto Rico
Why it's great: Mainlanders might be quick to dismiss our island sister as a mere tourist draw rife with cruise ships and all-inclusive resorts peddling watered-down frozen daiquiris, but come nightfall this passport-free Caribbean escape transforms into a roving, booze-fueled wonderland for raucous visitors and locals alike. Dive bars, gay bars, fancy-pants cocktail dens, dance clubs, Spring break-style beer blasts, swanky hotel bars, hipster hangouts, and serious rum bars -- you want to drink it, San Juan's got it in droves. And no matter where you start your evening, you can rest assured that a heaping plate of luscious, hangover-demolishing mofongo is never more than a few bucks away.
The best neighborhood for bar hopping: There's nothing wrong with lazing about beachy hotels and crushing fruity concoctions poolside -- if that's your bag, slurp a piña colada from its (somewhat disputed) birthplace, the luxe Caribe Hilton -- but trust that the real party happens amid Old San Juan's pedestrian-friendly cobblestone streets. Kick things off with a deep dive into the island's beloved sugarcane spirit at Rums of Puerto Rico inside Princesa Gastrobar, an airy restaurant and rum shack combo on the neighborhood's southern edge, then cleanse your palate with a creamy piña colada at nearby Barrachina, a charming hideaway that also lays claim to the drink's invention. Next, head to La Taberna Lúpulo, a laid-back craft beer spot where a hop-savvy staff mans a whopping 50 taps. Afterward, wash down some belly-warming mofongo with a crispy Medaillon at Cafe Teatro Hermanas Rivera, a curious little pub with toilets and wooden swings for chairs (just go with it) before jumping across the street to La Sombrilla Rosa for a taste of San Juan's LGBTQ ultra-chill nightlife by way of whipped cream-topped Jello shots. Admiring El Batey's hallowed graffiti-strewn walls over rum and Cokes is a must for any dive bar enthusiast, and there's no better place the end the evening than La Factoria. The world-famous outpost houses several different themed rooms, including a top-notch cocktail bar, an intimate wine and tapas spot, and finally Shing-A-Ling, a raucous rear dancehall where live salsa keeps the crowd bumping well into the night. -- MH
Pittsburgh, Pennsylvania
Why it's great: You might think the Steel City is an exemplary bar city because it's cold as shit, everyone is miserable, and there's nothing to do. Well, you're right: it is cold as shit, and the Steelers sometimes make Sunday miserable. But Pittsburgh is having a(nother) resurgence. The city's now packed with college students, filmmakers, young professionals, blue collar workers, and tech bros -- for the uninformed, that's pretty much a roll call of "people who like to drink." And Pittsburgh is their paradise. There are endless bars for your inner Greek life enthusiast scattered all over, but for the folks who grew up but still drink like a pledge, you can post up on one of the many great rooftop bars like Sienna Mercato and watch revelry in the streets from on high. This is also one of the dive bar capitals of the world. There's one serving cheap Iron City on every bank of the three rivers. As long as you like to keep drinking -- and hate Cleveland -- you'll fit right in. Go to legendary dive Gooski's and try it out yourself.
The best neighborhood for bar crawling: The words "South Side" will inherently elicit one of two reactions from any given Yinzer: shrieks of youthful, woo-girl excitement or concerns about errant frat boy vomit ruining their shoes. The South Side of Pittsburgh, mainly E Carson Street, has been a go-to destination for the youths of Pittsburgh to throw down for more than two decades. Think bachelorette parties, college kids, street brawls... you know, Pittsburgh stuff. There is perhaps no place in Pennsylvania -- or possibly even America, outside of Bourbon Street -- where booze is a more integral part of the neighborhood culture. And if you can sift through the stumbling masses, there are some truly great bars awash in the seas of pubs and clubs. The hipsterific -- and shockingly chill -- Acacia features some of the city's finest cocktails, as does the Butcher and Rye. For classic dives, there are mainstays like Mario's and the Library. And if you want to see some live music (that doesn't suck), the Smiling Moose and Excuses are requisite stops for dulcet tones alongside your I.C. Lights. And for something completely different, try the aptly named Tiki Lounge, which does, in fact, smell like chlorine... due to its many indoor waterfalls. But when you are in the South Side, that's the least worrying odor a bar can have. It's almost soothing, really. -- Wil Fulton
Portland, Oregon
Why it's great: Portland is still just as quirky as you've heard, despite its transition from undiscovered darling to mainstream destination. It has an embarrassment of riches when it comes to bars, breweries, distilleries, wineries, venues, and (extremely normalized) strip clubs. Each of its neighborhoods has the look and feel of a different small town, complete with said riches. Oh, and it's one of the most highly walkable cities in America: you can spend the day wandering from bar to bar and neighborhood to neighborhood without hopping on a scooter, in a cab (pedi or motorized, naturally), or using its seamless easy public transit. But if you do want to get on some wheels, most things are a scant 15 minute ride away. That means you could spend the whole day bouncing around and feel like you've experienced the city's full potential, likely in a haze.
The best neighborhood for hopping: Downtown's finally cool again. Division's a food-lover's dream, and the newly (kind of stupidly) re-named Goat Blocks are vibrant. But for sheer walkability + far too many bars, it's hard to beat North/Northeast, where the teeming Mississippi/Williams streets and Alberta Arts District come together, all but demanding to combine into a daylong crawl. Start on the hugely popular Mississippi Ave stretch, the collision of new and old Portland, where breweries like Ecliptic and Stormbreaker pair their wares with great outdoor seating, then transition over for German beer at Prost!'s beer garden or patio cocktails at ultra-hip Victoria. From there, it's a short walk or ride to Alberta, home of a raucous Last Thursday street fair and patient zero for Portland's first-wave of food/drink hipsterfication (and, yes, its first gentrification vortex). Once there, there are dozens upon dozens of bars and restaurants crammed into 15 blocks, ranging from the hazy IPA destination Great Notion to fireside cocktails at The Knock Back and neighborhood hang Binks. If you're new to town, hit up Kennedy School, an elementary converted into a hotel/brewery/restaurant/living museum that locals will tell you is way too touristy, which is a good sign that it's actually pretty cool in newcomer-averse PDX . Along the way, expect to see endless food carts, street art, and people on goofy tall bikes. Of note: Oregon law dictates that all bars with liquor have to have full kitchen, and competition is fierce, meaning you'll have some of the best food, period, at bars and some of the best drinks at restaurants. It's truly magical. -- AK
Sign up here for our daily Thrillist email, get Eatmail for more food coverage, and subscribe here for our YouTube channel to get your fix of the best in food/drink/fun.