Every city has at least a few solid bars these days, but the mark of a truly great drinking city goes well beyond simply having ample cocktail, beer, and wine options. Great drinking cities treat imbibing as a way of life, a rallying cry that can be heard at tailgates, festivals, concerts, and on the wayward Tuesday night. They're cities that pack a wealth of different kinds of drinking experiences into a space that's easily navigable and endlessly explorable. America's packed solid with excellent towns for folks who take their adventure with a dram, or a shot, or a boot. So much so that in coming up with the top 10, many of the biggest party towns didn't make the cut. These are the 10 best drinking cities right now. 
10. Las Vegas, Nevada
You know that old saying that's not actually very old (or cool), "What happens in Vegas stays in Vegas?" Well, it's bullshit. Because your hangover's coming with you. This is a city where people literally bring you free drinks just for mindlessly pumping pennies into a machine, a psychedelic dreamscape/nightmare where you can drink all day and night at casinos, fake circuses, pools, wedding chapels, rooftops, cocktail bars, down-and-dirty dives, old-school Rat Pack haunts, strangers' hotel rooms, buffet restaurants, diners, elaborate theatrical performances, theme bars, "da club," and strip clubs… all while being tempted to empty your entire bank account. It's like this 24/7, 365 days a year, and has been for decades. Some say it's heaven. Some say it's an endless amateur hour. Either way, it's one of the most ridiculous places on Earth. Embrace it. And make sure to take a couple days off after.
9. Austin, Texas
Austin has been keeping shit weird since Portland was still trying to escape its reputation as Seattle's hippie little brother. It's the BBQ capital of the world. It's one of the best places to cram into big concert halls or tiny dive bars to hear live music (often by the same acts), and we're not just talking during SXSW. It's hot as Hades. All those things make people very, very thirsty, and Austin increasingly does its part to sate dehydration (or, more likely contribute to it) with its collection of outstanding breweries and beer bars -- Jester King and Craft Pride are best in show, respectively -- booming distillery scene (Tito's, Treaty Oak), and a massive number of bars both fancy and, more abundantly, charmingly divey. And while Rainey Street has become to go-to for out-of-town lushes thanks to its classics (like beer garden Banger's and cocktail oasis Half Step), the city's reputation as a drinking town has expanded, with areas like Cesar Chavez drawing crowd thanks to bars like the dives Stay Gold and Drinks Lounge rubbing elbows with classier joints like Craftsman. You will drink. You will hear live music and eat BBQ. Then you'll drink some more. And likely end up meeting a horse. Austin's good like that.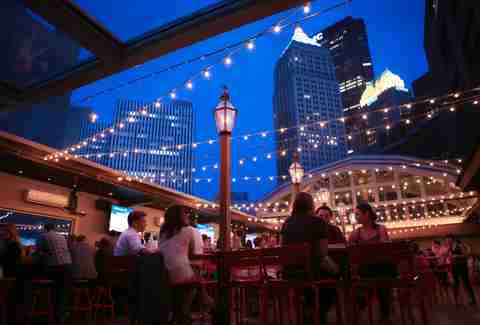 8. Pittsburgh, Pennsylvania
You might think the Steel City is an exemplary drinking city because it's cold as shit, everyone is miserable, and there's nothing to do. Well, you're right, it is cold as shit (and depending on how the Steelers played on Sunday, they also might be miserable, too). Pittsburgh is a recently thriving city (that used to be thriving, too), full of college students, filmmakers, young professionals, blue collar workers, and tech bros -- for the uninformed, that's pretty much a roll call of "people who like to heavily drink." And Pittsburgh is their paradise. If you want to embrace your inner Greek life enthusiast, you can swing by the Southside for a bar crawl worthy of Bourbon Street. If you want to order craft cocktails, close your eyes, and pretend you're in Brooklyn, go to Shadyside or Lawrenceville (try Butterjoin or Spirit, specifically). You can post up on one of the many great rooftop bars like Sienna Mercato and watch revelry in the streets from on high. Or, if you just want to go somewhere free of pretension -- sans BS and full of people who love to drink, eat, and be merry (usually in that order) -- you can stop in nearly any dive bar on every bank of the three rivers, to grab an Iron City Light and embrace your inner yinzer. As long as you like to keep drinking -- and hate Cleveland -- you'll fit right in. Go to Gooski's, and try it out yourself.
7. Portland, Oregon
It's not just the beer that makes Portland one of America's best drinking cities, though Portland is arguably the best beer city in America thanks to its wealth of must-visit breweries -- Breakside, Cascade, Great Notion -- and some of America's best beer bars, period. Hell, most of the city's iconic strip clubs have beer selections that would give other cities' best beer bars a run for their money. And it's not just that the cocktail bars are low-key among the nation's best, with innovative spots like Clyde Common and the Multnomah Whiskey Library elevating a scene where a good cocktail is easier to find than a bad one. This is a city where the best restaurants are often bars, where you can wander into a dive bar and find the best fried chicken you've ever had, then venture to an urban winery down the street. And it's that quality -- the extreme walkability of one of America's loveliest cities -- that makes Portland really shine, even when it's dumping rain. You can experience every kind of drinking without setting foot in a car, or taking a cab more than 15 minutes to hit up one of the best bars you've ever been to, which is right next door to the second best.
6. Milwaukee, Wisconsin
It's easy to think of Milwaukee as the place you go to down cheap beer in corner taverns and at tailgates and then follow up said cheap beers with a brat that's been simmering in cheap beer. And to be sure, those simple pleasures are most certainly a part of Milwaukee's overall drinking prowess, particularly the fact that you are never more than seven steps from a bar. But the breadth of drinking pleasures available here is constantly undersold. Milwaukee's always been a city with a deep appreciation for the art of the cocktail. Bryant's was an elite craft cocktail bar way before anyone started using that phrase, and places like Boone & Crockett and Dock18 have carried that boozy torch into present day, which is appropriate for a state that has its own personal take on the Old Fashioned. Of course, beer remains Milwaukee's greatest love -- in fact, if you're in a public park in Milwaukee and you haven't found the beer garden yet, try harder. Throw in the unfettered access you'll have to all that New Glarus that Wisconsin keeps hoarding (not to mention Milwaukee's many other fine local breweries) and it's easy to see why this paragraph didn't even have room for a lame cheese joke. Whoops.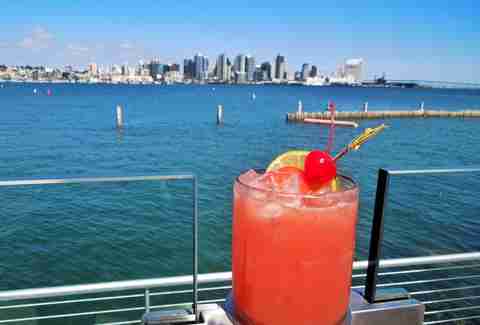 5. San Diego, California
Most of that great stuff we said up top about Portland applies to San Diego, too (except maybe that easy walkability part): The city volleys with Portland for title of the best beer town on the west coast (and probably the country) thanks to the power of breweries like Pizza Port, Coronado, and Green Flash, plus beer bars like Tiger!Tiger! and Toronado (we recommend beer tours, which cover the city and the massive county, which is full of riches). There are ample bars like the ultra hip/weird Bar Pink, skyline-framing oceanfront spot Coasterra, tequila-heavy La Puerta, tiki oasis False Idol, and mixology-crazed Lion's Share. But unlike Portland, San Diego's possibly the best city in America to drink outside, all year, whether you're at a seaside bar or stopping off for a fish taco or California burrito en route to your next oasis. It might take a long time to hit all the best spots via cab or Lyft, but honestly, if you want to check the best bars in a certain area then stick to it, well, the "pretty OK" bars here are also pretty great. Those ocean breezes tend to make everything better.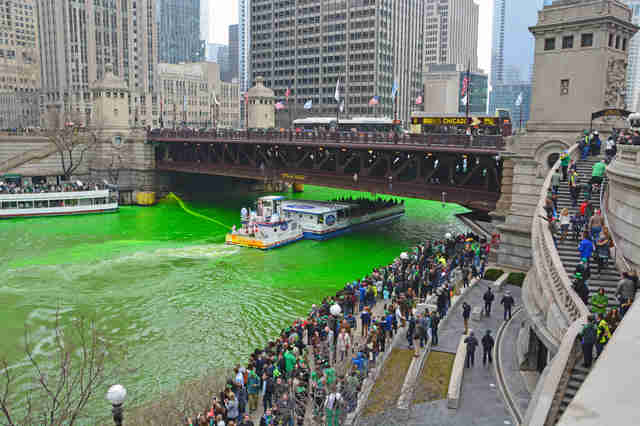 4. Chicago, Illinois
If you live in Chicago and you've entertained out of town guests, you've (probably) seen that look of fear mixed with admiration when you wake up on a midsummer Saturday after closing down a 4am bar and inform them it's time to get moving and secure a good day-drinking spot on the patio. People go hard here, whether they're hunkered down in a slashie in mid-February trying to self-medicate their way through winter with a mix of Hamm's and Malort, or trying to cram a nearly impossible combination of street fests, house parties, and rooftop drinks into a single summer Saturday. But it's not merely an exercise in excess here. From Paul McGee's tiki wizardry at Lost Lake to the avante garde artistry at The Aviary, Chicago takes a backseat to absolutely no one when it comes to thoughtful cocktail culture. The craft beer scene has come a long, long way since Goose Island was basically the only game in town. Your mileage on Wrigleyville may vary depending on your baseball preferences, but there's no denying that having a baseball stadium that has been referred to as "the world's largest outdoor beer garden" is a reflection of a city that likes to have a good time. There's a reason St. Patrick's Day celebrations here span an entire week and come with a celebratory aquatic dye job. Do your best to keep up.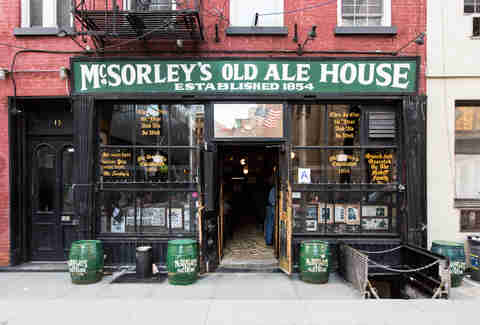 3. New York, New York
Are you serious? You actually need convincing as to why New York, New York (the city so nice, they named it after Old York) is one of the greatest drinking cities in America? You need someone to come in here, on the internet, and explain that the bars are open till 4am -- and the dollar slice joints are open ever later -- to cater to overworked yuppies and ironic-clad hipsters alike? You want us to sit here and elaborate that New York has an Irish pub so old that Lincoln drank there, a world-class speakeasy inside of a phone booth inside of a hot dog joint, and a Soviet Russia-themed literary hotspot all in just one neighborhood, in just one of NY's five bar-infested boroughs? That doesn't even scratch the surface of New York's bar scene. It's like the end of Men in Black, when we find out our universe is actually just a marble in an a colossal, interstellar outerverse. In every pocket of the city, in every corner of Gotham, there's a bar that -- anywhere else in America -- would be the coolest place to grab a drink in 40 square miles. Listen: You should be telling us why there should even be any other cities on this list, really. Because this whole thing would just piss any real New Yorker off, and make them want a stiff drink. See? That's exactly our point.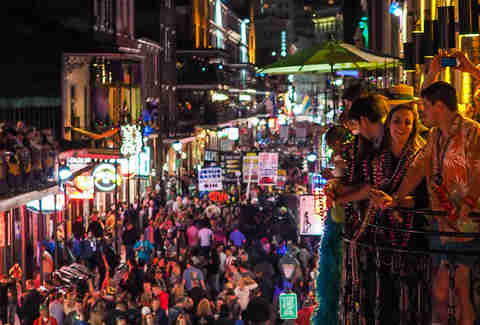 2. New Orleans, Louisiana
Craft cocktails aren't really anything to get all futzed up about in New Orleans. Well, they are: This is a city whose cocktail game is as on-point as its po-boys, which is really saying something. It's just that, as the city that created the Grasshopper, Sazerac, Ramos Gin Fizz, and any number of game-changing cocktails, they're just kind of the norm. Wander into a bar like Arnaud's French 75 or Sazerac Bar and you'll be in places where these cocktails have been served since well before some mustachioed mixologist in Seattle claimed to have "rediscovered" them during the cocktail boom. Hell, wander into most any bar and you're gonna get a good cocktail. Because there was no craft cocktail boom here. It's just been the way of life for decades. But moreover, NOLA is like a choose-your-own-adventure book for people who love booze. Want to get rowdy? The French Quarter is there for you. Love music? Wander into any number of jazz clubs that grab your attention. A more hipster mixology experience? Downtown's CBD/Warehouse District is the new epicenter of boutique hotels with upscale bars. Want to hear dark secrets and tall tales? You'll get them over bourbon and dim Christmas lights at legendary dive Snake & Jake's. Or maybe you just want to wander around looking at the city's rich history while imbibing. Luckily, there are no open container laws here, so go right ahead (just make sure the cups are plastic). Around every bend there's a new experience. The only thing to expect is the unexpected… and a nice gin fizz or 13.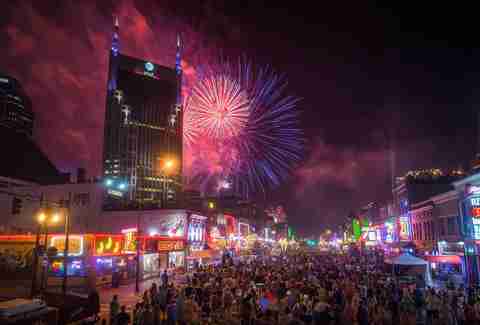 1. Nashville, Tennessee
Nashville takes many of the elements that define previous entries on this list and straight-up amplifies them into the stratosphere. Austin's live music scene? Music City's not just a nickname here, it's a way of life, and every honky-tonk, dive bar, saloon, and tavern (there are many, many of them) hums with music from somebody who could either be the world's next great country singer, somebody who already rose to that level then fell back to Earth, or somebody in between. Broadway's lit up like the Strip, with enough bars and venues to populate seven cities and give each of them for a run on the top 10 music and booze destinations in America. Some are free, and drinks are shockingly cheap for a major city. Lots has changed in Nashville -- fancy cocktail bars like Gertie's and Union Common now sit comfortably alongside legendary dives like Springwater, Twin Kegs, and immortal double-wide karaoke Mecca Santa's Pub -- but that's the beauty of Nashville: It's a city that's constantly evolving while allowing its eccentricities to shine and its music to soar. And, as a bonus, there's nothing that'll snap you out of a boozy haze like some incendiary hot chicken, which will leave you sweaty, thirsty, and ready to go again.
Sign up here for our daily Thrillist email and subscribe here for our YouTube channel to get your fix of the best in food/drink/fun.