The Best Eggnog Is Made With Soymilk: Prove Me Wrong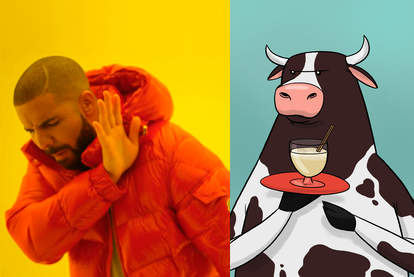 Eggnog holds a special place in my soul. The December-time libation is the end-of-year liquid pause that keeps me grounded in all things sublime and wholesome. When the time came for me to ditch making homemade eggnog, I had three criteria: easy to buy, high-ish-quality ingredients, and craveability. 
Ronnybrook Farm Eggnog is what I recommend to nog lovers in the tri-state area (New York, New Jersey, and Connecticut). It's a third-generation operation based in New York's lush Hudson Valley region. I discovered the sturdy glass jar with the green plastic top at the Fort Greene Park Greenmarket in Brooklyn. The Columbia County homestead reminds me of visits to the University of Georgia's Conner Hall, once the home of a creamery selling ice cream, party punch, and eggnog.
Let me be honest; in previous years I've ignored all the non-dairy Christmas nog. Why should I care? I digest lactose fine and have zero allergies. But this time of year holiday parties are more than milestones and lighting candles -- people want a wizardly potion to sip. One must provide variety to your loved ones. So, when the Silk Soy Nog Original showed up at the office, I tasted it along with a few other plant-based brands. (You can find Silk products nationwide in your local store.)
Dare I say it? Soy Nog reigns supreme. Let me tell you why.
Jason Hoffman/Thrillist
Ease of transport
But first, I know this is not the most important thing, but a quick note on how these two are packaged. Ronnybrook's standard quart size comes in a glass jar (the 12-ounce version is in a convenient plastic bottle). The glass is easy on the environment and makes an excellent vessel for storing pre-made smoothies. However, the clanking glass, especially when loaded into a paper bag, has always been a nightmare for transporting back from the store. Silk's carton is lighter and easier to carry.
Ingredients
It took me a long time to read the back of the Silk box, but -- surprise! No artificial colors or flavors. Both brands use annatto, a natural coloring achieved through grinding a tropical seed. Rum, sugar, and undisclosed natural flavors are present in your serving. Ronnybrook and Silk Nog use guar gum or locust bean gum to thicken the drink. At this point, both are on equal playing fields after the main components are listed.
Taste
No weird aftertaste or fake sugar residue on the back of your tongue is a win for me. Silk's mouthfeel isn't as thick as Ronnybrook's (which has a heavy, melted custard ice cream consistency), yet it's every bit as velvety. Although the local farm brand's warming spices are more pronounced than Silk's, that makes for an opportunity to shave fresh nutmeg over your punch bowl. Hands down, it was the best-tasting plant-based eggnog I tried.
Give me more
Eggnog season tends to have a short window. When the spiked creamy drink craving hits, you want a ready supply on the supermarket shelves. Ronnybrook has a handy dandy location tab on their website, and chances are, your city has a family-owned dairy that sells eggnog, too. My ethos is to support local first. However, when you need nog fast and quick -- Silk wins.
Sign up here for our daily Thrillist email, get Eatmail for more food coverage, and subscribe here for our YouTube channel to get your fix of the best in food/drink/fun.