Why Pumpkin Isn't the Only Fall Food For Delicious Beer
From North Carolina sweet potatoes to Missouri beets to New York carrots.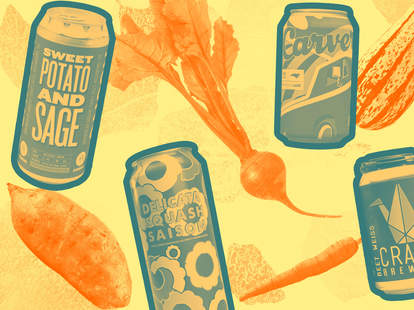 Image by Grace Han for Thrillist
"Carver returns!" reads a bold red and white heading at the center of Fullsteam Brewery's polished website. The Durham, North Carolina brewery is right to give such prominent placement to its latest release—between multiple U.S. Beer Open medals and a steadfast consumer following, the sweet potato Vienna Lager has become one of its most celebrated beers. And in an era where blustery October weather has become synonymous with all things pumpkin spice, Carver, a malty lager brewed with real, unseasoned sweet potatoes, is one fall favorite you might not expect.
"I call that the tilt of the head, like when a dog tilts their head slightly, kind of like huh?" says Fullsteam CEO Sean Lilly Wilson, describing some newcomers' puzzled reactions to Carver. "From the get-go, the whole idea was to make a good beer from sweet potatoes instead of a novelty. There are a lot of pumpkin beers out there, and some of them are pretty good, but plenty aren't even made with real pumpkins. Part of the original genius was to not have any of those spices, let it be a lager, and let the natural nuances of the sweet potatoes carry the day."
A trip down any half-decent American beer aisle will assure you that the pumpkin spice craze is far from over. Yet each year, more and more craft brewers are shying away from the expected sugary sweet, nutmeg-laced flavor profile and turning to alternative fall vegetables. This shift oftentimes results in a seasonal product that actually fits more organically into their roster. And for an outspokenly farm-to-pint brewery like Fullsteam, the decision to pour more than 200 pounds of sweet potatoes into Carver's mash was truly a no-brainer.
"We try to use a fair amount of local agriculture and we keep tabs on what's coming out of the fields when," says Erik Myers, Fullsteam's director of brewing operations. Pumpkins aren't ready until later in the year and North Carolina is the number one source of sweet potatoes in the U.S. (who knew!), so it's an easy crop to come by. "Everything comes from this really great company called Yamco. They make what's essentially an aseptic sweet potato slurry for us so we don't have to worry about anything else being introduced into the recipe."
From North Carolina sweet potatoes to Missouri beets, New York carrots, and Maine-grown potatoes, making good use of available agriculture plays a central role in the development of many non-pumpkin vegetable beers. As Black Hog Brewing head brewer Tyler Jones explains, that symbiotic relationship dates back to the very birth of American brewing.
"The reason pumpkin beers even exist is because back in the day, brewers were having to pay taxes on the malted barley they were getting from England," Jones says. "They were like, 'How do I get more beer out of what's growing around me? Let's take these local vegetables, use the enzymes to convert the starch into fermentable sugars, and make beer with them.'"
With this history as inspiration, Jones sought out neighboring farms in Southwestern Connecticut to fuel Black Hog's fall seasonal release. The end result? A tongue-tingling homage to fall beers of yore dubbed Delicata Squash Saison.
"We had a farmer here, DeFrancesco Farm, that was growing delicata squash and they have really high sugar content, which is great for brewing," he continues. "We'll come and fill up the back of my truck with them, bring them out back, hose them down to get all the dirt off, cut them up, and throw them right in. Using that much of the gourd, you get a lot of complex fermentable and unfermentable sugars that help add body."
Sticking to their roots, so to speak, and brewing a good, honest beer showcasing area resources was important to Jones and the rest of the Black Hog crew. But so was attracting customers, especially those customers looking forward to downing pints of liquid pie as soon as the leaves turned orange. So Jones and his team uses a Saison yeast with spicy characteristics, throws in some cinnamon and white peppercorns, and a bolder flavor is born.
Poured into a glass, the brew's frothy white heads exude a bouquet enticing autumnal aromas. But left uncracked, a sixer of magenta and yellow tallboys proudly declaring themselves Delicata Squash Saison still elicits that "tilt of the head" response. "It gives our beertenders an opportunity to interact with our guests and educate them about what pumpkin beer used to be," Jones notes.
Back in North Carolina, Myers applies a similar logic to Carver. Instead of beefing up the spicy side of things, though, they went with a more delicate, crisp lager yeast alongside a robust malt bill designed to further enhance some of the sweet potato's more subtle attributes.
"Malt can bring in so many characteristics whether they're really there or not, like chocolate or coffee," he says. "When they play together, they heighten the base rather than relying on the sweet potatoes alone or dumping on the spices. You're sort of building the beer to support the sweet potato, and then the sweet potato brings all kinds of color into it and makes it really beautiful."
Despite these obvious successes, these brewers can all agree that making beer with freshly harvested and minimally processed vegetables is a real labor of love.
"I will say that I like being the director on this one because, man, it's a mess," laughs Fullsteam's Myers. "Dumping 500 pounds of sweet potato into the mash tun? My brewers are not always happy when that's going on, but it sure makes a delicious beer."
Consider sidestepping the boozy PSL this season and try one of these ultra-tasty, veggie-packed sippers instead.
Durham, North Carolina
A whole boatload of local sweet potatoes plus toasty German lager malt and a fortifying dose of Crystal and Magnum hops for balance is all it takes to make this Fullsteam award-winner. And at 5.2% ABV, this is one seasonal pick you can safely crush all day long (AKA pairs well with Sunday football and comfy pants).
Oxford, Connecticut
Skin-on delicata squash, a few dashes of cinnamon and white peppercorns, and zesty Saison yeast give this Connecticut original its signature zip, gorgeous color, and dreamy, velvety body. Caution: In classic Saison style, this 7% ABV charmer packs a heftier punch than its graceful exterior suggests, so you might want to tread lightly.
Biddeford, Maine
Maine's own Banded Brewing is behind this easy-peasy 4.1% ABV IPA stocked with locally harvested potatoes, flaked wheat, and oats for a supremely light and fluffy mouthfeel, eye-pleasing hazy tinge, and lip-smackingly dry finish. Citra hops, ever bright and aromatic, chime in to keep things lively.
Raytown, Missouri
Loads of vitamin-rich beets provide a handsome, distinctly piquant yet resoundingly grounded base for this Missouri craft outpost's puckery German-style sour. Pouring ruby red with a vibrant white head, it's also pretty as a prayer book and sweet as an apple on Christmas day (or something like that).
Owego, New York
Western New York's Finger Lakes region is rife with creative, eco-minded wineries, distilleries, cideries, and breweries, and this Tioga County operation is no exception. The majority of their ingredients, from barley to hops, are New York-born and -bred and they even house their own maltery onsite. This farm-fresh harvest brew, with its sunny tangerine sheen, lacy foam cap, bright grassy aroma, and semi-dry biscuity finish, brilliantly harnesses the humble taproot's finest qualities.
Richmond, Virginia
This craftily-conceived Saison is teeming with the unmistakable fragrance of Virginia-grown sage, a mix of earthy musk and elegant, playful herbaceousness. Silky sweet potatoes and a sturdy malt base lurk just beneath the surface, providing a strapping framework for the sage's lush floral eminence. Consider it a restorative smudge for your insides.
Ava, Illinois
To call this Southern Illinois microbrewery's vast and ultra-creative fleet hyperlocal would be a grave understatement. The malt hails from family-run Sugar Creek Malt in nearby Boone County, Indiana, the hops were raised and harvested instate, and the chanterelle mushrooms that give the crisp and quaffable Belgian stunner its curiously fruity edge were forested right there on the property.
Riverhead, New York
Butternut squash from Long Island's own Schmitt's Farm gets the royal treatment in this lauded seasonal release, hand-roasted by North Fork's skillful brewers for optimal caramelization and a warm, roasty nose. A moderate dusting of spices and a substantial malt backbone finishes the job.
Sign up here for our daily Thrillist email and subscribe here for our YouTube channel to get your fix of the best in food/drink/fun.