The Best Fall Beers for Pumpkin Haters
Fall is a special season. You finally get to pack away all clothes that reveal your actual body shape and your perennially disappointing NFL team is back to add a sense of crushing defeat to your Sunday night scaries. But on top of all of that? New beer. Lots of delicious, glorious new beers.
And while there are many, many pumpkin-based options out there this year, you won't find any here. These are the best pumpkin-free beers for the fall, from the best breweries in America.
Oktoberfest, 5.7%
Framingham, MA
Who do you turn to when you're looking for one of the best American-made options for a stein-appropriate lager? One of the best lager-only breweries in the country, of course! Copper Legend already fits the Oktoberfest vibes by coming in larger 16oz cans, but that's just a bonus: it also happens to be a super easy-drinking festbier, with subtle biscuity notes, medium body, and a dry finish that make it the perfect brew for everyone's favorite German holiday.
Andy Kryza/Thrillist
Oktoberfest, 5.8%
Aying, Germany
It may be a bold statement to make, but we'll make it anyway: this is probably the best German-made Oktoberfest beer available on the American market… and it's technically not even allowed to be called "Oktoberfest" due to Germany's extremely rigid naming guidelines. There are some floral hops on the nose, but the palate is malt-driven with a medium body that's balanced perfectly by a nice dry finish. Like an episode of Rick and Morty, it's complex enough to give you pause, but also so refreshing that it will keep you coming back for more. Your co-workers will thank you for bringing this to the office Oktoberfest party. If, you know, that's the kind of office you work in.
Red rye IPA, 6.7%
San Diego, CA
The idea of an acceptable fall beer coming out of San Diego could make many people laugh. But somehow, a brewery in a city where autumn is nothing more than a human construct was able to concoct a complex rye IPA that perfectly encapsulates the season. The nose is bombastically dank, before giving way to an assertive West Coast-style smack to the palate that is tempered by a smack of spicy rye. Sure, your hophead friends will clearly love it, but even those who are slowly toeing the IPA waters will find something to like in the balance that's struck here.
Andy Kryza/Thrillist
Sour wheat, 4.5%
Tulsa, OK
A standout among Oklahoma's up-and-coming brewing scene, Prairie has become one of the most surprisingly inventive breweries in the Corn Belt. That's thanks in large part to its fearlessness in putting out complex beers (a dry-hopped farmhouse here, a brandy barrel-aged stout there) that would be at home in some of America's most adventurous breweries. The Prairie Weisse is one of those beers, one that perfectly combines wheat beer sensibilities with a tart, lemon-forward sour that, at a mere 4.5%, might just be one of the most infinitely drinkable sour variations you'll find this fall. If you're looking to turn somebody on to sours, this should be on your roster. That's provided you'll want to share, though.
Saison, 5.7%
Walland, TN
This recipe is basically fall in a glass, minus football flavoring. The addition of rye to the bill brings things into "spicy in an autumn kind of way" territory, with flavors of vanilla and toffee that bring to mind graham crackers, and its vibrant carbonation (thanks to in-bottle re-fermentation) works well with the full-bodied texture. This should be a go-to bottle for you to bring to any dinner party this season.
Belgian tripel, 8.5%
Chicago, IL
There's a very good chance that as you reach for your favorite hoodie for the first time this season, you'll start craving a really solid Belgian tripel. Go for a Sibling Rivalry. Expect all of the fruit-forward flavors you get with Belgian yeast, but with a non-traditional (and well-integrated) hop presence thanks to the use of Nugget and Sorachi Ace hops in the recipe. It's enough to warm your bones and get the blood flowing without being over the top.
Andy Kryza/Thrillist
Helles lager, 5.5%
Salt Lake City, Utah
A low-impact standout from Utah's notoriously high-ABV purveyors of big heavy beers, the Fest Helles is a nice alternative to the Oktoberfest go-tos, with grassy notes balancing the lower hops profile. This is a clean, down-to-earth beer that basically defines easy-drinking, best enjoyed on those late-summer days when the sun tries to trick you into thinking it's not quite autumn. Which is to say, this is a great sunshine-and-sweaters beer.
Dunkel 5.2%
St. Louis, MO
In case you hadn't noticed, October tends to be a popular time for breweries to release a sea of Oktoberfest beers, which is a very good thing. But if you're looking for a break from tradition that's still rooted in German origins, this medium-bodied dunkel is a safe bet. It's malt-driven like a festbier, but with more roasted and biscuity flavors to spice things up a bit on the palate without overpowering the senses. Keep it on hand for any tailgates, too, as it goes really well with pretty much anything made on the grill.
Andy Kryza/Thrillist
Autumn IPA, 7%
Bend, OR
One of Oregon's best brewers basically does a remix of the Oktoberfest style, mating it with IPA in one of the best mash-ups of German and American ingenuity this side of the Iowa pork tenderloin sandwich. You get that malty/toasty flavor you've come to expect from schnitzel's favorite beer, but with a healthy, citrusy boost of hops that define the American IPA. That, friends, is how you do beer diplomacy. And also how you create a fall IPA, which isn't exactly the most common variation of American craft's go-to beer.
Dunkel, 5.2%
Croydon, PA
If fall weather isn't perfect for drinking dunkelweizen, nothing is. Neshaminy Creek's seasonal take on the style is next level, bringing the comforting (yet balanced) flavors of banana and clove with a full-bodied mouthfeel and dark bready notes. In fact, most would say that the full flavor experience borders on banana bread, which is a potentially dangerous but not incorrect observation. It's also a great replacement for post-dinner coffee, if you're into that sort of thing.
Wild ale, 9.5%
Downingtown, PA
Just because beach weather is starting to wind down doesn't mean that you should stop drinking delicious sour beers. Sour monkey is one of Victory's most cherished seasonals, and for good reason. It has tart fruit flavors of lemon and apple that illuminate the palate, shrouded with a subtle funkiness and a kiss of grain on the finish. It's the complete flavor package, not unlike biting into a lemon square or piece of Key lime pie, and stands out nicely in a season of dark, brooding beers. Just be careful: this beer hides its high alcohol content super well.
Porter, 6.2%
Baltimore, MD
First off, can we all agree that it was just a matter of time before someone named a beer this way? OK, great. Now about the beer: sweet baby Jesus, this is good! Don't let the words "peanut butter" and "chocolate" on the label scare you: this beer is medium-bodied and dry from beginning to end, with a focus on roastiness rather than a confectionary assault on the tongue. And yes, it would be a perfect companion beverage alongside Reese's Pieces (or Peanut Butter Cups, but I'm playing favorites here). And if you're feeling adventurous, you can try the caramel or banana versions that the brewery releases, too!
Andy Kryza/Thrillist
Imperial Mexican lager, 7.3%
Portland, OR
Sure, this limited release came out in July, but rarely has a beer translated so well between seasons. Also, it's just super weird: it takes the concept of a Mexican lager -- crisp, infinitely drinkable on a summer day -- and treats it as an imperial, amping up the fruit and spice and clocking in at a whopping 7.3%. It's the perfect beer for when the sun's shining but the wind's blowing, a combination of summer session and winter warmer. Next year, the brewery's promising it in tequila barrel-aged form. We say bring it on. Just maybe save a bottle for the fall.
Cream ale, 5%
Columbus, OH
One of the best parts about fall is that things that bring you comfort -- like blankets, warm drinks, or the news of a Jumanji reboot -- become the norm. That's why cream ales, specifically one made with coffee and vanilla, should have a spot on your fall drinking roster. Wolf's Ridge has won awards for this inviting brew, which has a velvety mouthfeel and bready notes that balance the vanilla and roasty coffee flavors. It's a refreshing take on a style that very rarely gets innovative tweaks, which shows as much in the awards it has won as it will on the face of anyone you pour a glass for.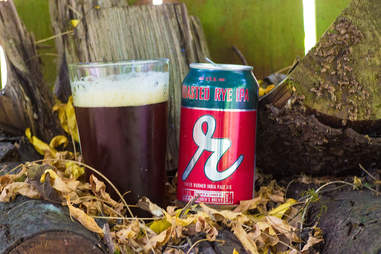 Andy Kryza/Thrillist
Winter warmer IPA, 7%
Seattle, WA
A standout flagship from Seattle's ever-expanding Reuben's, the Roasted Rye combines the bitter hop bite of a West Coast IPA (at 80 IBU, it's no slouch in that department) with the characteristics of a winter warmer. That means toasty malt flavor with a little bit of chocolate, a little caramel, and, considering it's unfiltered, a belly-warming fullness. This is a mutant IPA at its finest, and one more reason to get excited about Reuben's expansion.
Porter, 6.5%
Longmont, CO
Sometimes, you come across a beer so uniquely and unabashedly different that it almost becomes impossible to do it justice in writing. Such is the case with Death By Coconut, a porter whose name does not lie: this beer straight-up tastes like Samoa Girl Scout Cookies in liquid form, with a slightly sweet body that hugs the palate with each sip. Sure, this beer may not be for everyone or for all situations, but in a select few -- say, after a delicious dinner or while watching Stranger Things in front of a fire after a long day -- it is pretty damn perfect. Pro tip: if you can get your hands on the bourbon barrel-aged version of this beer, you're in for a treat.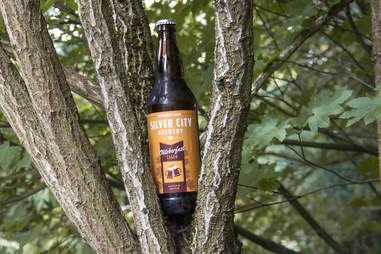 Andy Kryza/Thrillist
Oktoberfest, 6.3%
Bremerton, WA
Silver City's been around in the small town of Bremerton on the Puget Sound since 1996, but we're only just seeing it show up around the region. Seems like it's just been chilling up north, perfecting beers like its series of seasonal lagers, Belgian-influenced whoppers like the Liquid Sunshine tripel, and this pitch-perfect Oktoberfest. It's one of the more authentic takes on the brew available: malty and sweet, and with very little of the hop bite that defines the region's output. The spice of the hops, though, makes its presence known. It's sold in 22oz bottles. So grab two and pour them in a boot, then cross your fingers that Silver City makes a play beyond its region… this is a brewery to watch, even if you've been keeping your eyes on it for 20 years already.
Pale ale, 8.5%
Milton, DE
How do you describe a beer that's like getting a hug from a friendly lumberjack who's just come back in from a day of work? Probably just like that. But it's important to note that this beer was made in collaboration with Woolrich clothing company, whose employees spent days harvesting spruce tips in the woods surrounding their mill in central Pennsylvania. Their work clearly paid off, because the result is a beautifully citrusy, resinous pale ale with a solid malt backbone to round everything out before a clean, dry finish. Last year's batch sold out so quickly that Dogfish Head doubled production to meet demand, but it's safe to assume that this release is approaching cult status. Pairs well with flannel shirts-and-scarf weather.
Sign up here for our daily Thrillist email, and get your fix of the best in food/drink/fun.
Thrillist senior editor Andy Kryza contributed to this list.
Zach Mack is Thrillist's contributing beer writer, the owner of Alphabet City Beer Co. in NYC, a newly minted Certified Cicerone, and nothing else. Follow him @zmack.