No matter whether a drive-thru is peddling McMuffins, chicken biscuits, or donuts, the cornerstone of any respectable fast-food breakfast is a cup of coffee you try not to spill on yourself as you're driving. And because we want you to order only the best morning joe, we put six of the biggest fast-food brands' coffees to a taste-test.
Recommended Video
Acquired Taste: Blood Rice Cakes With Timothy DeLaGhetto and Justina Valentine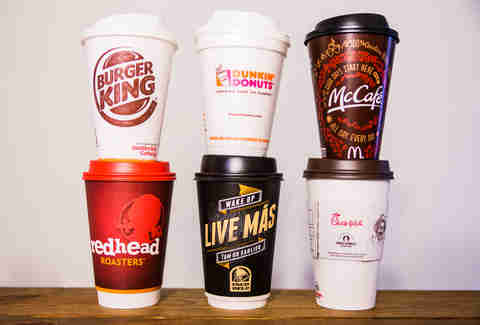 How we judged every chain's coffee
For this test, we visited Taco Bell, Burger King, McDonald's, Wendy's, Dunkin' Donuts, and Chick-fil-A. Starbucks and the like were left off this test because they're coffee-focused chains, rather than just fast-food establishments. Dunkin' Donuts was on the fence, but since breakfast food is their primary offering (and people love their coffee), we decided to let them compete.
Each coffee was ordered during traditional breakfast hours to ensure relative freshness and drank black, without milk and sugar. Those additives might have made the coffee more palatable, but we went without it in order to get the clearest impression of the flavors.
Although I'm far from a certified coffee judge, I tried to use the same descriptors as the pros by consulting the Specialty Coffee Association's flavor wheel (so language like "mineral oil" and "cucumber" isn't just me being fancy). Read on to find out which of these coffees deserves to be more than just a vessel for waking up.
6. Taco Bell
As one might expect, Taco Bell's "Live Más" mindset also applies to their coffee. It has más body than anything on this list, but is also más bitter. Mucho más bitter. The back of my throat contracted in protest. It is a little chocolatey, but the richness is overwhelmed by astringency and woodiness. The aftertaste is a sourness that I usually associate with the type of mega-sweet sugar substitutes that (***vague spoiler alert!***) killed that woman in that TV show about drugs on AMC.
The beans: "Premium Rainforest Alliance certified coffee made with 100% Arabica beans"
The price: $1.49
5. Burger King
The BK employee was excited to tell me that this was Seattle's Best, but sadly there's nothing best about this. Maybe they messed up the brew ratios? It's got a hard texture that makes me think of gas station hot plates and/or mineral oil. There was also something savory in there that reminded me of the mushrooms you find on cheap frozen pizzas.
The beans: "Our Smooth Roast Coffee from Seattle's Best Coffee® is a 100% Latin American Arabica blend characterized by sweet, nutty and chocolaty notes that delivers a balanced mild flavor and pairs perfectly with both sweet and savory menu items."
The price: $1.39
4. McDonald's
Removing the lid made me think of entering an attic, because I was hit with a strong whiff of nostalgia, dust, and a pronounced lack of action figures (although that's my fault for not ordering a Happy Meal). You get a quick hint of roasted hazelnut, but not without a seriously skunky wet soil note. It's the most watery brew on this list, but still manages to maintain a strong ashy flavor profile that's immediately recognizable, for better or worse.
The beans: "Made with 100% Arabica beans and freshly brewed every 30 minutes."
The price: $1.29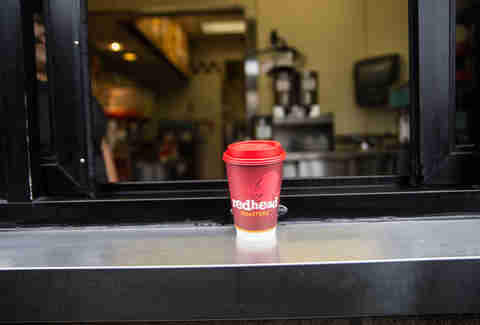 3. Wendy's
The smell is pleasant and on first sip this seems like a real winner. It's very tart and you're getting nice cocoa flavors and even a bit of fruit (... blueberry?) but what kills this is the aftertaste. It sinks like the Titanic, if the Titanic hit a giant car battery instead of an iceberg. It quickly becomes saccharine and acidic, and then dries out your mouth and causes your tongue to curl up as if you'd just bit into a bar of soap.
The beans: "100% Arabica coffee beans roasted with high-intensity heat that seals in the very best flavor, aroma, and color."
The price: $.99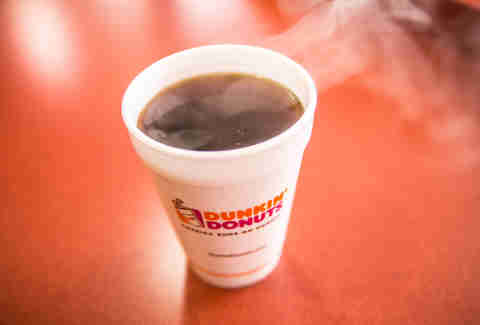 2. Dunkin' Donuts
The amount of steam coming off of this coffee verged on supernatural. For nearly five whole minutes a tornado of heat hovered above the cup. People swear by Dunkin', and on first sip I was ready to send this to the bottom of the list. I was getting all sorts of weird flavors (... goat cheese?), but after it cooled, the funkiness subsided and revealed a pretty tasty cup of coffee. Even without cream or sugar it was very sweet, but there's some subtle savory notes like cucumber, rice, walnuts, and maple syrup. I'd drink this again with no complaints.
The beans: "Our coffee is made with 100% Arabica coffee beans grown, picked, and graded to our rigorous Dunkin' Donuts Quality (DDQ) specifications."
The price: $1.79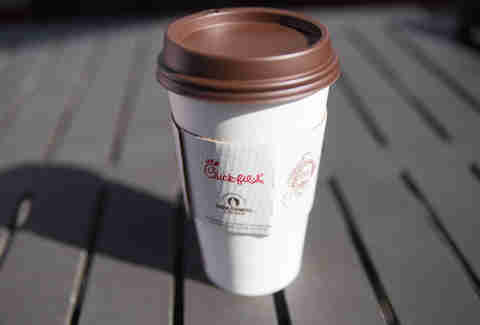 1. Chick-fil-A
The Chick-fil-A employee told me that they'd recently switched to better beans and that people were ordering it much more. Immediately I was blown away. This was a very good cup of coffee. There was sweetness, acidity, a nice tang, and plenty of honey. There were big lemony notes that don't take a coffee PhD to enjoy, and a nice earthiness that keeps this in the wheelhouse of the average drive-thru drinker. It turned a bit acrid as it cooled, but if I walked into a random coffee shop I would be completely satisfied with this cup.
I hadn't looked into Chick's coffee before my visit, but it turns out that they've made a big investment in specialty-grade coffee and built out a separate website designed to introduce the concept to their customers, complete with profiles on their farmers and a series of coffee-for-dummies videos starring some of the most charismatic "random people off the street" ever. It's great to see a big company actually aiming for quality and making a serious play at selling their customers on it, but the coffee is so good you don't need to swallow the marketing to enjoy it. Drive-thru or not, this is just good coffee.
The beans: "With creamy notes of caramel and cocoa with a light citrus finish, Chick‑fil‑A coffee is uniquely crafted to pair with our breakfast menu and is sustainably sourced by THRIVE Farmers, a farmer-direct coffee company that enriches the lives and communities of those who grow it."
The price: $1.95
Dan Gentile is a staff writer on Thrillist's National Food and Drink team. He has complicated feelings about Chick-fil-A's politics, but not about their chicken sandwiches or their coffee (he has lustful feelings for both). Follow him to nuggets of guilt at @Dannosphere.