The Best Fast Food Coffees, Ranked
Where can you turn when you need a good cup of coffee on the fly? We found out.
Image by Maitane Romagosa and Chineme Elobuike for Thrillist
Image by Maitane Romagosa and Chineme Elobuike for Thrillist
Welcome to The Fasties, Thrillist's third-annual fast food awards! The awards feature more than a dozen categories celebrating all the best foods that came out of drive-thru windows over the past year—from the Best Coffee Nuggets to the Best Spicy Chicken Sandwich, and many more. Check out the full list of categories and winners.
Not long ago, if you wanted a drink at a fast food place, you ordered a fountain soda or water. Or you asked for a water cup and then poured in a fountain soda when no one was looking. But ever since fast food chains started serving full breakfast menus, offering coffee has been a top priority. After all, can you even enjoy a bacon, egg, and cheese if you don't have a hot coffee to go with it? Can you even imagine scarfing down a breakfast burrito without a big cup of cold brew? (The answer to both is no.)
That's why we stopped by nearly every major fast food chain in America to taste its freshly brewed coffee, then ranked them. We ordered a hot, black coffee at each chain to experience the full suite of flavors from each brew and used this handy Coffee Taster's Flavor Wheel to help us describe each cup of joe. This is the best fast food coffee in America.
Note that we purposely excluded coffee-focused chains like Dunkin', Starbucks, Caribou, Time Hortons, and others as well as convenience stores like 7-Eleven, because they're in leagues of their own. The focus here is strictly fast food joints.
11. In-N-Out Burger: Coffee
You should go to In-N-Out Burger for a Double-Double or some Animal Style Fries, but you shouldn't go there for a cup of coffee unless you absolutely must. Even the worst fast food coffees taste like something. Sure, that something can often be only slightly better than tar. But In-N-Out's coffee is confounding in another way. It smells like coffee, but the second a drop hits your mouth, all flavor disappears into nothingness. The chain prides itself on high-quality ingredients, so we know it's not just heating up water and dropping food coloring in it. But that's what it tastes like.
10. Taco Bell: Premium Hot Coffee
There are so many distinct flavor notes in this cup. Unfortunately, they're rubber flavor notes. The taste of cardboard is also unmistakable. We want to drink a gallon of T-Bell's delicious nacho cheese sauce to wash this coffee away. Forget about this coffee option and instead opt for the sweet, but very much pleasing, Cinnabon Delights Coffee.
9. Burger King: BK Café
If you want to get the feeling of smoking a pipe tobacco without ever needing to light an actual pipe filled with tobacco, then this is the fast food coffee for you. There is an intense amount of smoke and tobacco flavors in every sip, and it needs creamer in the worst way to cover it up. Luckily, you are not bound by any Thrillist Taste-Test Laws to order it black, so pour in at least two lil cups of cream and three packs of sugar before indulging.
8. Carl's Jr.: 100% Arabica Coffee
Carl's Jr.'s coffee is the scotch of fast food coffee. It's so roasty and smoky that you have to sip on it like a whiskey. Carl's Jr. bills this coffee as a "dark roast blend," and it is certainly not kidding. If you love ultra-dark roasts, then this may be your jam. If not, then keep reading.
7. White Castle: Signature Coffee
Sometimes coffee smells better than it tastes, and White Castle's brew falls squarely in that camp. That said, there's some grain, smoke, and wood notes that are fairly pleasant, and an equally fairly smooth finish. Sure, it's a bummer that it smells fantastic and doesn't quite deliver, but it's also good enough that you'll wonder, Am I really drinking this in a White Castle?
6. Jack in the Box: High Mountain Arabica Coffee
Our expectations for finding a decent cup of coffee here were low. What are the odds that the same chain that serves Loaded Tiny Tacos and Jumbo Egg Rolls pays any attention to the quality of the coffee? But it does! Jack in the Box uses 100% Arabica beans, which is a step above the Robusta varietal used in supermarket instant coffee, though in all fairness, 100% Arabica beans are standard in fast food. Now for the bad news: There are unavoidable green/vegetative notes. And it was hard to ignore the smoky, burnt flavors in the finish, but we were pleasantly surprised by its roasty, cereal notes. Would we pair this with a totally over-the-top Loaded Breakfast Sandwich? Yes. Yes, we would.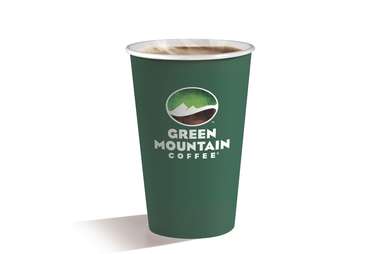 5. Sonic Drive-In: Green Mountain Coffee
American's Favorite Drive-In sells Green Mountain Coffee. Yeah, that same brand you know from the Keurig machine in your kitchen. So you won't be surprised to learn that it tastes quite similar to its already familiar coffee. Here's the difference: Sonic actually brews it. It's not coming from a Keurig, and to us, it tastes marginally fresher than our preconceived notions of Green Mountain. Cocoa and wood are the two primary flavors here, and while it's not something we'd ever spit out, there are other fast food joints at which we'd rather order coffee.
4. Wendy's: Fresh Brewed Coffee
Wendy's has the best overall breakfast menu in fast food right now, but it doesn't quite offer the best coffee. That's fine. A big Breakfast Baconator will easily make up for that. But it's worth pointing out as an area of improvement for the pigtailed chain.
Wendy's claims that its coffee is "medium-roasted to bring out all the best flavors," but detected mostly burnt flavors and some meaty notes. If you think "meaty" is not a word that can be used to describe coffee, I'll direct your attention once again to the flavor wheel.
Bottom line: Go with the delightful a vanilla or chocolate Frosty-ccino—iced coffee that's flavored like a Frosty—on your next Wendy's breakfast run.
3. McDonald's: McCafé Premium Roast Coffee
We're always charmed by the McCafé branding on coffee cups at Mickey D's. Like us, you probably associate the chain with childhood chicken nugget memories and eating piles of fries after high school, so to the chain commit to using a very fancy French accent mark on its cups is cute.
The coffee is worthy of that accent mark, as there's a host of cocoa notes, and not an overwhelming burnt flavor (though there are some cardboard notes, unfortunately). The finish isn't too bitter, either. It's obvious how with a splash of cream and a couple sugar packets, this is a fine coffee option to pair with a McMuffin or McGriddle.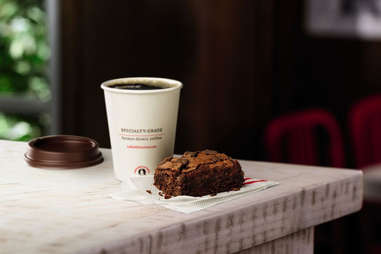 2. Chick-fil-A: Coffee
The Georgia-based chain wins major points for brewing specialty, sustainably sourced beans from Thrive Farmers. Chick-fil-A claims each cup has notes of "smooth caramel and a nutty finish," which isn't quite what we tasted. That said, we got plenty of nuttiness and cocoa notes up front, and unlike many of the other coffees we tried, it doesn't finish too bitter (though we can't seem to find those caramel notes). Overall, it's a rich, fine cup of coffee worthy of being served at a coffee shop, let alone a fast food chicken chain.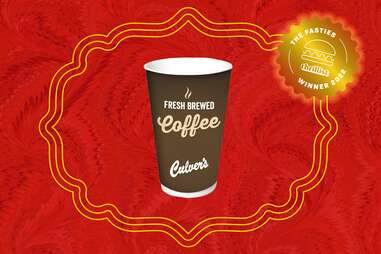 1. Culver's: Blue Spoon Blend
Ask anyone from the Midwest what their go-to fast food place is and chances are they'll direct you to this Wisconsin-based chain. That's because Culver's—with its fried cheese curds, frozen custard, and even beef pot roast—is extremely delicious. Especially its burgers. Even its coffee. Especially its coffee.
Here are the pertinent facts: Culver's dubs its coffee Blue Spoon Blend (named after the slightly more upscale restaurant concept Culver's used to operate in Prairie du Sac, Wisconsin), and it's roasted by Sheboygan's Torke Coffee. The coffee is Rainforest Alliance certified and incorporates beans from a Pacific island mountain region and Latin America.
The cup invites you to taste smoke, cocoa, berry, and fruit. While we do get a little berry and some burnt notes common to every single cup of fast food coffee on planet Earth, the overall freshness is what's immediately notable. Perhaps it's because this coffee is roasted in smaller batches than most coffee from fast food chains. No matter, this is the best-tasting cup of coffee in fast food. It's a full bodied, smooth, delicious cup that features smoke and tobacco notes up front, and a satisfying, pleasant finish.
Fast Food Coffee FAQ
Which fast food chains serve iced coffee?
True iced coffee fans know that it's a year-round beverage. And with a full year, that means you'll have plenty of time to test out the iced coffee served at fast food chains. You can get iced coffee from Taco Bell, McDonald's, Wendy's, Jack in the Box, Burger King, Chick-fil-A, and Sonic Dive-In.
What kind of coffee does McDonald's use?
McDonald's uses 100% Arabica coffee beans in all of its coffee products, according to the company. The plant that these beans are sourced from is believed to have originated from Ethiopia.
When is National Coffee Day 2022?
National Coffee Day 2022 will be on September 29. International Coffee Day is October 1.
Which fast food chain has the best breakfast?
This is a tough question. But we took it upon ourselves to provide the world with a clear answer. After all, we got to eat a ton of fast food breakfasts in the process. Here's our definitive ranking of the best fast food breakfast menus.