The 12 Best Beer Apps for iPhone and Android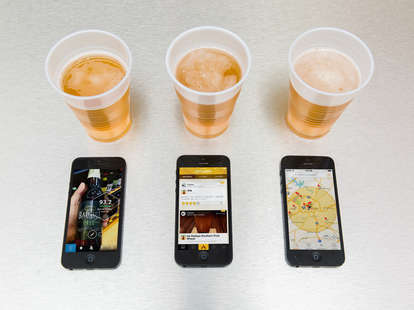 Drew Swantak & Sean Cowie
Drew Swantak & Sean Cowie
Most beer apps are dreadful, because most beer apps are made by people who have recently drank a bunch of beer. Guard your dashboard against the digital scourge of useless suds software, and instead download one/several of these 12 brew-centric iPhone & Android apps, each of which actually enhances your drinking experience.
I took these applications for a test-drive over the course of several long, swill-filled weekends, and hereby report that any (or all!) are worthy of any beer-drinker's bandwidth. Crack a brew, turn on your WiFi, and get you some.

The price: Free
The pitch: It remembers the numbers so you don't have to.
Alright, Any Beer probably doesn't know any beer, but it does have about 7,700 ABVs logged in its searchable database, which was enough that I couldn't stump it in five minutes of moderate beer-geek effort. It's deadly simple, really -- all you get is the ABV, and an option to post that info to social media -- but if you're the type of guy/gal who seeks the most booze-bang for your beer-buck, this'll help. (It's also weirdly fun to quiz yourself with, if you're a moderate beer geek.)

The price: Free
The pitch: Like Yo, but for beer.
Do you want to pester your friends with an endless stream of push-notifications that say "Beer?!" in a funny voice that sort of sounds like Homer Simpson, if Homer Simpson was trapped inside a can of soup? Yes. Yes, you do. Which is great, because that's literally the only thing this app can do.

The price: Free
The pitch: Like the site, with less mobile browser-induced agony.
It's not a particularly sexy piece of software, but then again, neither is BeerAdvocate.com. As goes the website, so goes the app. But it's relatively clean/sleek, and besides, who cares what the app looks like when it's seamlessly delivering the site's comprehensive reviews & forums to your mobile device, along with a massive index of crowd-pleasing beer bars sortable by geolocation? No one. That's who.
The price: $3.99
The pitch: An interactive beer-tinerary for the best road trip of your life.
They say "half the fun is getting there," but they are stupid, and ugly, and probably drink wine. Don't be like them; enjoy 100% of your beery journey with a customized brewery road-trip itinerary. Plug in your location and your destination, and this nifty software uses crowdsourced map data to help you hit every brewery between here and there. May as well start looking for a designated driver now.

The price: Free
The pitch: A sexy Yelp feed for individual drinks instead of establishments.
Far & away the slickest app on this list, Elixr wows with a waterfall photo feed and easy-to-scroll listings. The app is organized around specific drinks, so instead of seeing a user check in at a beer bar, you're going to see them "check-in" with whatever beer they're drinking. That said, the app's got a geolocating map of nearby bars for those who are looking. See someone sipping a brew you want to take down? Add it to your in-app "to-do list" and tackle it when you next get the chance. Elixr is actually for all sorts of drinks (wine & cocktails occasionally crop up on your feed), but its beer-focused user base is strong enough to make it worth your time.

The price: Uh, free.
The pitch: This app probably belongs on an iPhone 3, which is exactly why it belongs on your iPhone 6.
Remember back when apps were just goofy bits of gag software that made fart noises, pump-action shotgun noises, and other hilarious noises? This app hails from that bygone era. It renders a foamy golden beer on your screen that "sloshes" around when you tilt your phone back in a drinking motion. Of course there are fizzy sound effects -- this is gag software, dammit! (iBeer's also got a slew of other vaguely monetized features that were completely unintelligible to me; ignore those.)
The price: Free
The pitch: A heads-up display for your next drinking mission.
One of just a few apps I tested whose scanning function actually worked, this program makes ordering recommendations (for your... next... glass) after "reading" the label of the beer you're drinking at the moment. Like Netflix, it's great for people who are lonely! Also like Netflix, NG figures out your taste over time and uses that information to find new beers that will delight your voracious palate.

The price: $3.99 each
The pitch: Access all of RateBeer's info in one place. Er, one of two places.
I bought both of these apps under the impression that they were different, but after knocking around on both, I'm almost positive they're operationally the same. Both pull from RateBeer's data, and the features menus -- including a sometimes-functional barcode scanner! -- are identical. (Someone tell me I'm wrong in the comments, otherwise this is staying.) As paid downloads RB & BB are a bit steep, but if you're serious about your brew -- and if you've spent this much time reading about beer apps, you probably are -- RateBeer's database can be a nice thing to have at your fingertips.

The price: Free
The pitch: Your beer's barcode is a trove of information.
There are a lot of beer apps that promise label-scanning ability, but only Next Glass and this one really delivered consistent accuracy & a user-friendly experience. In this case, just line up the barcode on the side of the bottle and wait a half-second. Once it figures out what you're drinking via magic, SipSnapp serves up all the information RateBeer has on that particular drink -- reviews, ABV, ratings, and so forth. Plus, you can share from within the app, which is a welcome convenience.
The price: Free
The pitch: An alert system for freshly tapped (wh)ales.
TapHunter helps you track coveted kegs like Ahab did Moby Dick, except more quickly, less dangerously, and not fictitiously. Alright, that was a reach. But say you wanted to find, like, an Allagash Curieux on draft right now. TH can help, triangulating your ZIP code with its database of bars and those bars' constantly rotating lines to reveal whether any spot in your 'hood has the same impeccable taste in brew as you. The app also shows you when that Curieux (or another beer; it works for those, too) got tapped -- a plus for beer aficionados hunting pours fresh from the brewery.

The price: Free
The pitch: The gold standard of social beer apps.
It's easy to get the sense that "everyone" is using Untappd, because it's one of the most popular apps across the beer-drinking populace. The reasons for this vibe are several -- it's got a clean, appealing design; it's pretty easy to figure out; and, well, everyone is using it, so you sorta wind up feeling like you should, too. Circular logic aside, Untappd is a strong addition to your mobile arsenal thanks to specific-beverage check-ins, a robust rating community, a badging/achievement structure, and its solid suggestion engine. If you're only going to download one of the apps on this list, it should probably be this one.

Conclusion
iTunes & Google Play are both littered with more beer-focused apps than Applebee's at happy hour. Hell, I downloaded 23 for this story, and as it turns out, most suck more than, um, Applebee's at happy hour. The dozen apps I've reviewed above, however, have the potential to actually improve your beer-drinking experience instead of superfluously co-opting it. Download one or all 12 and start drinking beer better.
Dave Infante is a senior writer for Thrillist Food & Drink. He's still on the family plan, but he pays his parents for his portion because it's The Right Thing to Do™. Follow @dinfontay on Twitter, Instagram, and Snapchat.