9 Easy Frozen Cocktails to Help You Survive the Summer
The scenario: it's mid-August, you and your buddies are sweating it out under a brutal late-summer sun, and your drink seems to be growing warmer by the minute. Keep your cool with these nine frozen cocktail recipes from top mixologists around the country. No matter what you're into -- rum, tequila, obscure liqueurs, even wine -- you'll find sweet, sweet solace in any one of these blended joints. Also, frozé (aka frozen rosé, aka warm weather's newest BFF) is just plain fun to say.
All that's needed to transform your living room into a sun-kissed island cabana is a blender, some ice, and a whole lot of liquor (or, you know, a moderate, v responsible amount). Short on electronic kitchen gadgets? I see you, fam. We stocked some analog recipes just for you. From Negronis to coladas, we've got your slushie needs covered.
Sandy Noto
Here's the easiest route from mundane rosé to fun-time frozé
At New Orleans'
Willa Jean Cafe
, folks go bananas over co-owner Chef Kelly Fields' crazy simple, crazy delicious Frosé recipe. Crisp, clean, and dangerously drinkable, this classy blended bev combats the bayou's swampy heat with the utmost elegance.
Frozé Y'all
Serves two
6oz rosé
2oz simple syrup
4 cups ice
Add all ingredients to a blender and blend until smooth. Pour into a glass of your choosing and serve with a straw.
... and here's how to kick it up a notch
Chicago's
Publican Quality Meats
whips up this zesty frozen rosé, which gets its zing from the addition of citrus, bitter Aperol, and fruity Pimm's.
Frozé
Serves four
1 bottle sparkling rosé (like Chandon)
3oz simple syrup
2oz lemon juice
2oz Aperol
1oz Pimm's
Ice to fill
Mix all ingredients in a large pitcher and refrigerate until well chilled. Once cold, add ice to a blender and pulsate until smooth in batches, using a 1:2 ice to rosé mixture ratio for each batch.
This pre-mixed frozen Manhattan packs a potent, shivery punch
Unlike its blender-powered brethren,
Prizefighter's
Jon Santer icy classic can be mixed, chilled, and stored hours ahead of time without losing its teeth-chattering texture. You'll definitely want to sip this one slowly since this method condenses the alcohol and significantly ups the booze factor.
4th Regiment
Serves four-plus
1 750ml bottle of rye whiskey
7oz sweet vermouth (like Cinzano 1757)
14 dashes Orange Bitters
7 dashes Celery Bitters (or similar)
Fill a liter bottle with all ingredients, stir, and store in the freezer for several hours. Add four thick-walled glasses to the freezer and leave until thoroughly chilled. After liter is frosty throughout, pour icy mixture into frozen glasses and serve.
Courtesy of Drink
No blender? No sweat -- just take this arctic herbal elixir out for a spin
Award-winning
Boston bar Drink
takes an old-school approach to slushy magic, preferring to freeze their frosties using only the brisk stir of a swizzle stick. Aromatic Chartreuse leads the charge here, pleasantly cut by the tropical powers of pineapple and lime. Note: because each cocktail is prepared manually, this recipe makes just one serving (but feel free to keep 'em coming).
Monk's Swizzle
Serves one
1.5oz green Chartreuse
1.5oz pineapple juice
.74oz Velvet Falernum (or simple syrup)
.5oz fresh lime juice
Crushed ice to fill
Fresh mint sprig and powdered sugar (for garnish)
Combine all liquid ingredients in the bottom of a highball glass. Place a long swizzle stick in the glass and top with crushed ice. Swizzle to combine ingredients and ice. Top with crushed ice to fill, garnish with mint sprig, and top with powdered sugar.
Looking to turn your go-to classic cocktail into a refined adult Slurpee?
Brooklyn barkeep Jeremy Oertel of
Donna
came up with this fruity, chilly take on the Italian mainstay. It's part sweet, part bitter, and all boozy -- the perfect defense to late summer dog days.
Strawberry Negroni
Serves four-plus
4oz London Dry Gin (like Bulldog)
4oz Campari
4oz sweet vermouth (like Cinzano 1757)
3oz orange juice
2oz simple syrup
12 fresh strawberries, stems and leaves removed + extra for garnish
2-3 handfuls of ice
Orange slices (for garnish)
Add all ingredients to a blender and blend until smooth. Add ice until the desired consistency and temperature is achieved. Pour into a glass and serve garnished with an orange slice and strawberry.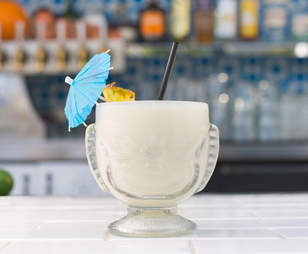 Courtesy of Fairweather
If you like piña coladas, and gettin' caught with a slush
Inspired by the classic piña colada, Fairweather's tropical cocktail master Anthony Schmidt came up with this sophisticated take on the poolside staple. Buttery creme de cacao and rich overripe bananas make this the booziest sugar-fix in San Diego.
Monkey's Junk
Serves four
3oz blended dark rum (like Coruba)
1.25oz creme de cacao (like Tempus Fugit)
3oz Coco Lopez
3oz pineapple Juice
2 overripe bananas
3 cups crushed ice
Grated nutmeg and cinnamon (for garnish)
Combine all ingredients in a conventional blender and blend until the consistency of a smoothie. Pour into large glasses and finish with a dusting of grated nutmeg and cinnamon.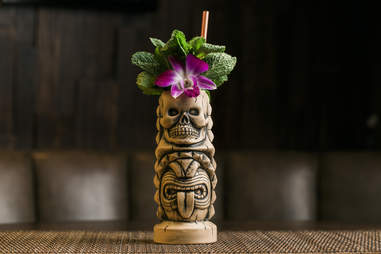 Courtesy of Three Dots & a Dash
Or maybe the feel of the ocean and the taste of peach-ade?
The Aloha Felicia is the famed
Chicago tiki bar Three Dots and a Dash's
seasonal play on every Club Med-er's favorite pineapple-coconut cooler. Barkeep Julian Cox's version is prepared with quality rum, juicy peaches, fresh pineapple, coconut cream, and heaping tablespoon of unadulterated whimsy.
Aloha Felicia, Summer Edition
Serves two
2.5oz aged Jamaican rum (like Appleton Estate)
1.5oz Coco Lopez
2oz fresh pineapple juice
.75oz allspice dram (like St. Elizabeth)
4 large pieces of ripe peach + extra for garnish
1.5 cups ice
Fresh mint sprig and powdered cinnamon (for garnish)
Combine all ingredients in a blender and blend on high for 30 seconds. Pour into a tiki mug (or a regular ol' American glass), garnish with a mint sprig and a fresh peach wedge and top with powdered cinnamon.
As the old adage goes, nothing says "Texas Forever" like a snowy summer shandy (or something)
At Houston's
Eight Row Flint
, Morgan Weber's modern icehouse, guests slurp this
slushy shandy
(that's lemonade + beer, btw) by the boot-full. Weber gussies up this number with Peruvian pisco, Aperol, and lots of fresh citrus, and, in true Texas fashion, a splash of good old Lone Star beer.
Based on the Lula May Shandy
Serves 3-4
3oz pisco
1.5oz Aperol
1.5oz fresh lemon juice
3oz fresh grapefruit juice
4oz Lone Star beer (or a similar light lager)
.75oz simple syrup
.25oz tamarind paste
6 dashes Peychaud's bitters (or similar)
Ice to fill
Combine ingredients in a blender, fill with ice, and blend until smooth. Store in the freezer until ready to serve.
Courtesy of The Knock Back
Here's how to make the average margarita fan lose their damn mind
The
The Knock Back's
Nic Nye composed this tequila-based number, which gets its spicy, smoky kick from
mezcal
, fresh ginger, and rich blackberries. Seem like an odd mix? Welcome to Portland, where keeping weird is always in your favor.
Telly Monster
Serves 3-4
3oz reposado tequila
1oz mezcal
.5oz agave
1.25oz fresh lime juice
4 thick slices of peeled ginger
4 cups fresh blackberries + extra for garnish (or a similar ripe berry)
4 handfuls of ice
Fresh mint sprigs (for garnish)
Add all ingredients to a blender and blend until smooth. Garnish with large bouquet of fresh mint and a few whole berries.
Sign up here for our daily Thrillist email, and get your fix of the best in food/drink/fun.
Meredith Heil is a staff writer for Thrillist. She likes South Beach but she's in San Tropez. Y'all drink Dom but not frozé. Get frosty with @mereditto.