Jason Hoffman/Thrillist
Jason Hoffman/Thrillist
Shopping for a beer geek seems like it'd be as simple of scoring a nice sixer, struggling to wrap it, then calling it a day. Which... well, yeah. We're sure they'd appreciate a nice selection of IPAs or rare stouts. But they'd also probably like something less obvious, like gadgets and accessories. And probably some beer to go with them. With that in mind, we collected a handful of great beer gifts for under $50, plus a splurge option, just in case that beer snob in your life is extra special. And who knows, maybe they'll be so bowled over that they'll share that bottle of Dark Lord they've been keeping in their cellar for two years. But probably not. Unless you spring for that splurge gift.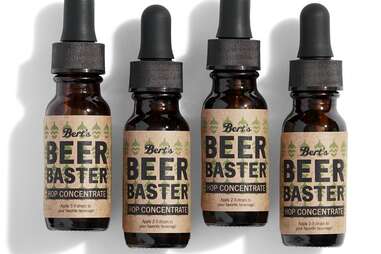 Bert's Beer Baster Hop Concentrate
Price: $10
Do you have a loved one so into IPAs that they wax poetic about their favorite hops? You know, the person who goes to the pub, ignores the tap list, then immediately asks what double IPAs are on tap? Bert's Beer Baster Hop Concentrate is for them. This nifty bitters-style eyedropper bottle is a terrific showcase of the hop. The concentrated oil has all the flavor and aroma of hops without the sharp bitterness. You can add a drop or two to anything from your breakfast cereal to a tallboy of cheap beer for a punch of hops. We even recommend trying a drop or two in a cocktail (gin & tonic for the win!). This hop concentrate uses the same method of naturally capturing fresh hops oils that Sierra Nevada Brewing uses for their Hop Hunter IPA. Portland, Oregon-based 33 Books Co. sells a variety of tasting notebooks and kits, as well as single-hop concentrates in four different varieties, so that you can really tell what each hops unique properties are. You can score bottles for $10 a pop, or an entire Hop Exploration Kit for $75.
Price: $14.99
Sometimes we have stupid-seeming ideas. Oftentimes they involve power tools. Hell, Home Improvement ran for eight seasons on the very premise. And if that show taught us anything, it's that the results are usually hilariously bad, like when Tim attached a rocket engine to a lawnmower, or when Fox saved Last Man Standing from cancelation. But sometimes miracles happen. Case in point: The Spinchill, which has been around for a while, but only keeps gaining prevalence. It sounds silly: It's basically a modified power drill that you mount your beer on, dunk into ice-water, then spin for a minute until it's ice cold. But, hey, the founders came up with the idea as part of a life-hack competition, and used their interest in acceleration to come up with the idea. Even better, it's basically just a modified drill bit that works with any drill (there's also a handheld, self-contained model for $24.99, but it's sold out). Just… put the drill away when you're done. You've been drinking.
Price: $15.99
Koozies can have mixed results. Sometimes they keep your drink cold, sometimes they don't. But they almost never serve the dual function of allowing you to clandestinely drink an ice-cold beer while strolling down a boardwalk, taking a romantic winter walk through the park, or sitting in church. This beautiful little number nails both. As a koozie it's ace, using suspension to help insulate the beer, which keeps it from getting warm in the summer or making your hands extra cold in the winter. Just slide the beer in, pull the apparatus up, and it looks like you're drinking a shitty bodega coffee from a styrofoam cup, not a DIPA while you're walking to a show. And since it collapses, you can just shove it in your pocket instead of looking like a hoarder of styrofoam.
Price: $29.95
Sure, you can always just strap a beer to a power drill and jam it into an ice bath to cool it down (see above), but once it's open, it's a slow countdown to warm beer. The Chillsner is the solution got slow-sippers who still want ice cold beer. It's basically a stake that you throw in the freezer, then drop into a bottle to keep it cold as you go. "But internet writer, why wouldn't I just do the same thing with a tent spike or some other random metal rod I happen to have in my very weird house?" you ask. Well, one, tent spikes are dirty. Two, what other random metal rods do you have laying around (not that I'm judging, I just want to trade)? And three, the Chillsner is customized so you can actually drink through it without jamming said metal into your teeth. Cold beer and reduced risk of dental trauma? Sign us up!
Price: $34.99
The Beer Caramelizer from 1571F scratches the dual urges to play with your beer and indulge in a little pyromania. The Beer Caramelizer is inspired by historic methods of frothing or "flipping" your beer, grog, or mead with a red hot poker from a fire. The process causes the beverage to foam over, instantly hitting a boiling point before quickly cooling down but carmelizing the malt sugars in the process and altering the composition and flavor of the drink. Updating the process to make it classy and safe, the Beer Caramelizer is a steel wand with wooden handle that screws off to become a tap handle. At the end of the poker is a gumdrop-shaped tip that's designed to capture heat and react with the sugars in beer for a rich caramelization. The Beer Caramelizer is the perfect accompaniment for nights by the campfire or home fire pit. Just be careful with that tip, you'll burn your eye out, kid.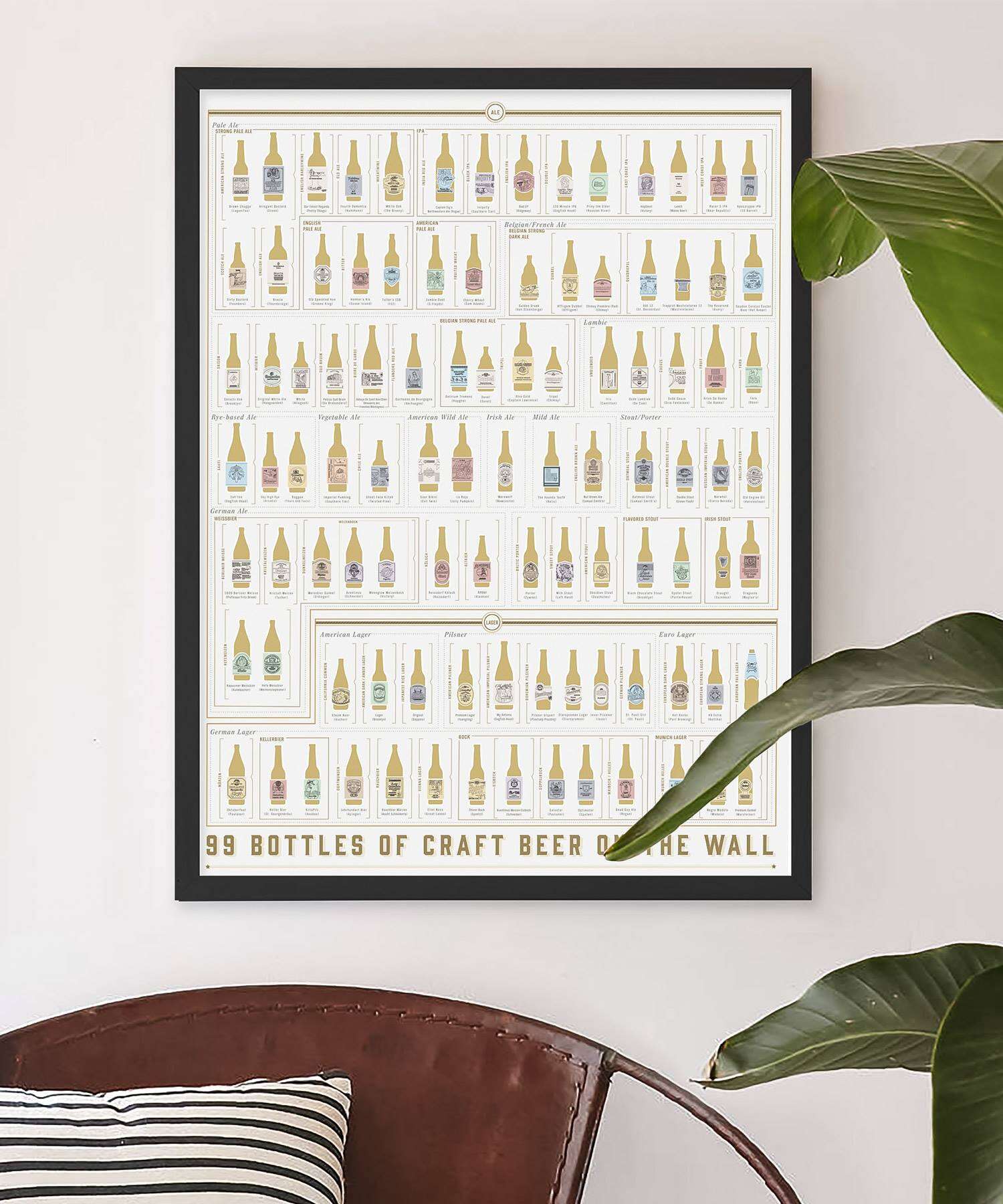 Price: $35
For true beer lovers, travelers, and completists, the new 99 Bottles of Craft Beer on the Wall print from Pop Lab makes a great gift and a handy bucket list. Rather than just gifting a poster that's going to sit framed in a corner somewhere, this print is a scratch-off chart of great beers you should try. The chart splits beer into categories of ale and lager, and then sub-categories like American lager, German lager, pale ale, and even vegetable beer. A specific beer is depicted (with its proper label) in a gold bottle scratch-off to represent each style, and presents the challenge of trying them all, then scratching them off the chart as you go. The chart is a thick, semi-glossy 18 x 24" print perfect for hanging, and nice enough that you may not even want to scratch off it's 99 bottles as you go about your quest.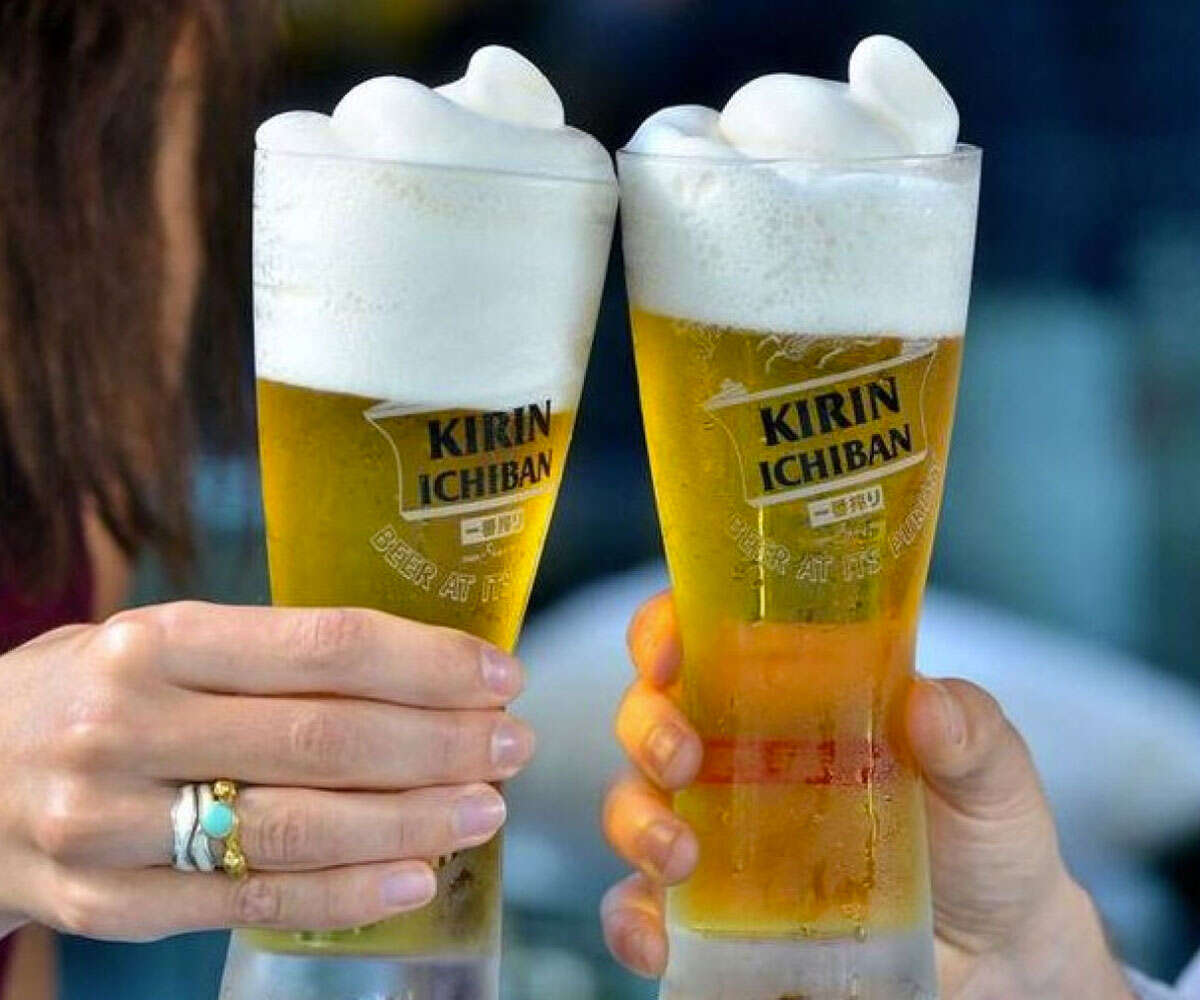 Price: $37.70
With craft beer geeks' current obsession with candy and pastry-themed milkshake beers and stouts, the time is now for Kirin's Frozen Beer Slushy Maker. Not since 7-Eleven introduced the diabetes machine known as Slurpee has frozen beverages had this kind of a renaissance. Japanese brewer Kirin first experimented with frozen beers at a Tokyo beer festival in 2012, and the concept was so popular they introduced a home countertop beer slushy machine a few years later. The Kirin Frozen Beer Slushy Maker is a little bit misleading: It does not turn the entire beer into soft-churned ice, but serves it super cold and with a whipped frozen-beer head on top.That head is basically a creamy, icy foam with a soft-serve consistency that floats on top of your glass like the polar ice caps before global warming. They're huge in Japan. And luckily, now that you can buy anything on Amazon, it can, and should, be in that little convenience store you call home.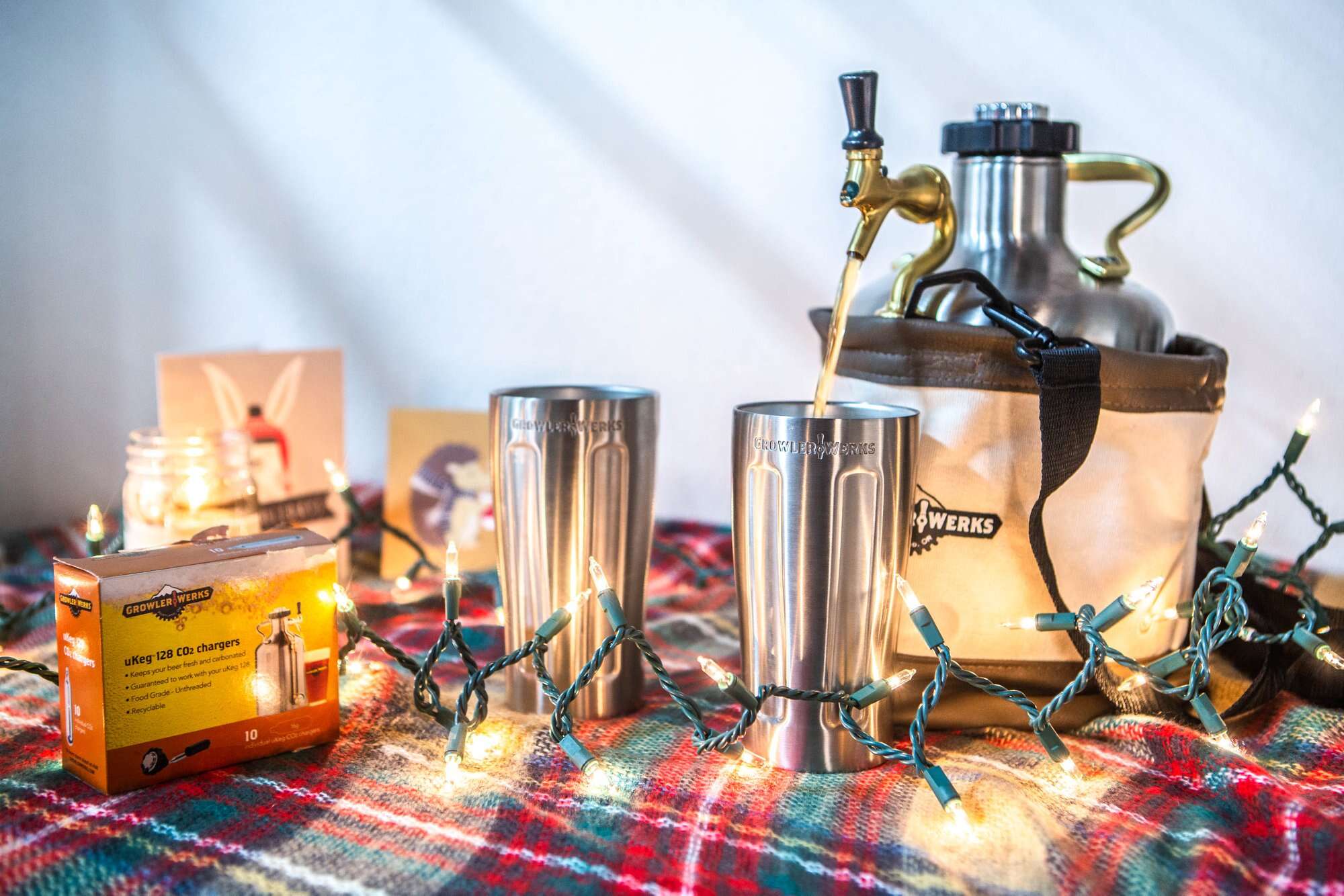 Price: $259
Every beer geek worth his IBUs owns at least one growler, in all likelihood some cheap, generic model emblazoned with the logo of some far-flung brewery they'll never visit again. And the beer inside generally goes flat in about a day. But the GrowlerWerks UKeg is a different beast. The thing looks like it sprung out of a Steampunk comic for beer nerds, with a pressure-gauged valve in place to keep beer fresh for weeks and a CO2-powered tap that allows it to pour as it would at the bar. The keg alone is a must have (they have them in all different sizes and colors separately), but the package also comes with two vacuum-insulated uPints to keep beers extra cold, plus extra CO2 cartridges and a nifty little carrying bag for the growler just in case you're worried about getting mugged by some shifty neckbeard after getting a fill up.