Folks with gluten intolerances and Celiac have to deal with a lot of crap, not the least of which is explaining that they're not one of the many people who think that going "gluten-free" is a fad diet rather than a serious medical issue. One thing they no longer have to deal with: shitty beer.
In the past few years, tremendous strides have been made in crafting gluten-free beers that don't skimp on flavor. For beer lovers with gluten issues, that means all the great flavor of beer can now be had without a chaser of crippling illness. Drink up, and help us bolster our shopping lists in the comments section.
Editor's Note: Some of the beers on this list fall into the reduced-gluten category and are not 100% free of gluten trace. Still, the gluten content is immeasurable because it's so low, so most people should be good. Just be sure to double check that label if there's a concern. 
Recommended Video
Timothy DeLaGhetto and David So Light Up Houston's Hops n' Hot Sauce Festival
IPA, 7.7%
Escondido, California
Leave it to Stone -- one of craft beer's earliest (and reigning) powerhouses of hoppy brews -- to develop a "crafted to reduce gluten" beer that is remarkable as an IPA even before you consider that it has a place on a gluten-free list. Using (tellingly named) Lemondrop and El Dorado hops, this beer is straight-up bright, citrusy, and boldly hoppy with a dry, bitter finish, easily filling any voids for hopheads who have to be gluten abstinent. This is the only gluten-free beer I've ever served to friends who had no idea it was in that category through the entire bottle. Considering that, you should probably check this beer out even if you're not gluten intolerant!
Gose, 4.5%
Montreal, Quebec, Canada
With the boom in popularity of sour beers, it's surprising how little progress has been made in the way of gluten-free options. Apparently, Glutenberg is down to challenge this by putting out a gose that is every bit as solid as its full-grain counterparts. This beer is bright and lemony (almost floral), with sea salt and tartness through the finish that never goes over the top. Perfectly refreshing in the summer or before a huge holiday meal... or just because it's 7pm and you just got home from work. It all works!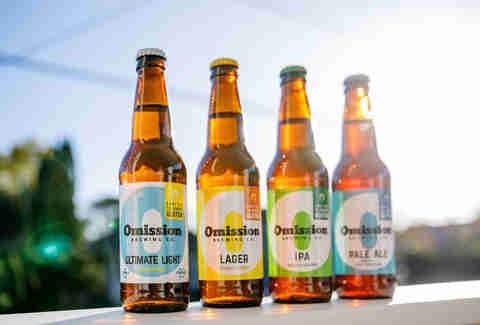 Lager, 4.6%
Portland, Oregon
How's this for heartwarming: Widmer's Omission line of beers was forged when the brewer's wife was diagnosed with Celiac. Rather than doom his favorite drinking partner-in-life to an eternity of disappointing beers, he launched Omission with three solid offerings, among them a nicely hopped IPA and a more mellow pale. But for folks seeking a smooth, clean lager that's actually fermented with grains before the gluten's sucked out, Omission's a standout. If you're gluten-averse but love you a great lawnmower beer, this is your jam. Bonus? It's one of the most widely distributed GF craft options in the country.
Pale ale, 5%
Bellaire, Michigan
The folks at beloved Michigan lake-town brewery Short's have been doing gluten-free since way before it became a mainstream practice, with Space Rock representing one of the flagship beers of the hippie-friendly operation. The gluten in Space Rock is removed post brewing, but the bitter notes of dandelion and citrus remain. It's a funky-yet-approachable offering from a brewery that's become legendary for taking expectations and twisting them into something slightly off-kilter. 
IPA, 4%
Salt Lake City, Utah
Uinta's a brewery that's spent nearly a quarter century defying expectation, pulling back the Zion curtain to show that, yup, SLC beers are among the nation's best -- and they're not all 3.2% cans you have to drink secretly in a basement. But the new gluten-free offering, Free Form, takes the GF IPA to exciting new levels, offering up perhaps the finest grain-free session IPA on offer in the US. It's got a nice hoppy bitterness thanks to 63 IBUs' worth of Citra and Ella hops, plus a little tropical kick you'd expect from a much bigger IPA. For those who are looking for a GF beer they can drink all day without sacrificing the hops, look no further.
Tripel, 8%
Rongy, Belgium
Up until very recently, it felt like the world of Belgian-style gluten-free beers was a very dark, scary place filled with weak imitations that had most drinkers muttering "why bother" within a few sips. So when you pour yourself your first bottle of this and get dark fruit, spices, candi sugar, and a mouthfeel that's surprisingly on the fuller side of medium-bodied, you'll probably have a hard time believing what you're drinking doesn't have any barley in it. If all that's not enough, overachieving Brunehaut -- not content to just be a kick-ass gluten-free beer -- decided to go all out and score a certified organic status as well. Show-off!
Pale ale, 6%
Fort Collins, Colorado
Oh, sure, New Belgium isn't making any gluten-free cookie dough to go with the Ben & Jerry's beer the brewery put out a couple years back. But that doesn't mean that the grain-averse aren't being attended to. Glutiny packs a wallop of hoppy flavor you'd expect from New Belgium -- Cascade, Chinook, Crystal, and Equinox all factor in here -- but not an intense bitterness. Still, take note: This one is more recommended for the gluten-averse than the Celiac crowd. The beer's brewed with enzymes designed to neutralize the gluten. If you're the kind of person who sometimes sneaks a bite of a cookie (but not a cookie beer), you're gonna be just fine. Hell, if you're highly intolerant you're likely gonna be fine. But fair warning!
Pilsner, 5.1%
Milwaukee, Wisconsin
Lakefront's nothing short of a brewing pioneer. Back in 1996, they made the first certified-organic beer, leading a charge for more sustainable suds. And with New Grist, they were the first to score a certified gluten free label, ditching malt for sorghum and rice and emerging with an outstanding session beer. Making it more impressive, it's done in the style pilsner, a deceptively difficult type of beer that doesn't leave a lot of room to screw up. They didn't. That's just how pioneers roll.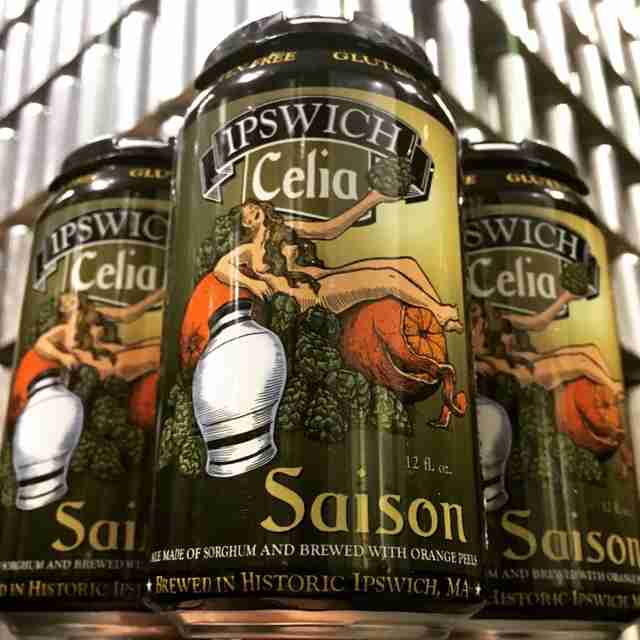 Saison, 6.5%
Ipswich, Massachusetts
Even though this recipe was originally developed by The Alchemist (you know, the brewery responsible for that little beer known as Heady Topper), it's since changed ownership to the able hands of Ipswich Ale Brewery. You would never know it: Everything that has made this sorghum-based beer a solid gluten-free option from day one is still there. Nice, subtly spicy Belgian yeast notes with white pepper are right at home alongside citrusy flavors of orange peel (which is actually used as an ingredient) and herbaceous Celeia hops (oh hey, that's the name!). It's the perfect "gateway" gluten-free option for people who were turned off by the bland, boring lagers that dominated the market until recently.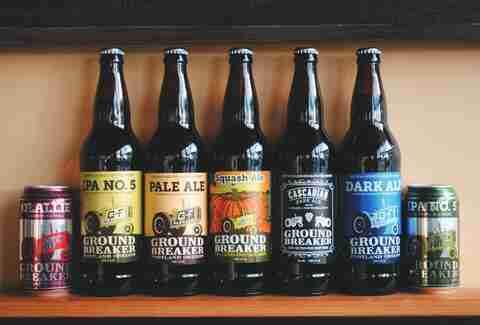 Dark ale, 5.5%
Portland, Oregon
Lentils and roasted chestnuts sound like ingredients you'd find at a fancy vegan restaurant. But you'll also find them replacing malt and barley in this offering from Portland's Ground Breaker. The beer itself is like a hybrid of English styles, a dark ale that evokes a nut brown thanks to those Bing Crosby-approved nuts. Ground Breaker is a rarity in that the entire brewery is fully dedicated to brewing gluten-free wares, and the Dark Ale is one of the finest offerings you can get in bottles year-round... though if you see the fall Squash Ale or the tapioca-brewed Fresh Hop, grab one of those, too.
Stout, 6%
Albany, New York
Being the first to do something is usually a big deal, whether it's walking on the moon, swimming across the English Channel, or bottling the first gluten-free stout in America. OK, so some of those are bigger than others, but in the world of beer the latter is pretty huge! Steadfast roasts certified gluten-free oats to make a style of beer that is hugely underrepresented in the category: Flavors of roasted coffee, chocolate, and a medium-full body with a creamy mouthfeel make this a godsend for any late-in-life gluten allergy sufferers who really, really miss drinking the dark stuff. It's also perfect for anyone really missing their dessert beer pairings, because stout and sweet chocolate dishes were made for each other.
Sign up here for our daily Thrillist email, and get your fix of the best in food/drink/fun.