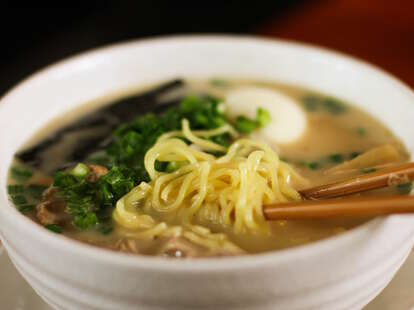 Sebastian Davis/Thrillist
Hangovers know no mercy. These sadistic barbarians don't care about 10am PowerPoint presentations, looming deadlines, or Mother's Day brunches. Nope, they only want one thing: to chart a path of destruction through the human body so devastating that worthless, dehydrated souls fall to their knees like the scummy sinners they are, swearing to never even look at another flaming Dr Pepper shot again for the rest of their mortal lives -- or, you know, for at least the next few hours.
But if you're going to party -- and duh, you're going to party -- there's no other choice but to accept that wretched morning-after fate and face the day with whatever dignity wasn't left at the bar with your debit card. To help ease you through these difficult times, we rounded up a group of bartenders and grilled them on their best, most trusted hangover fixes. As bona fide drinking experts, these pros are THE authority when it comes to balancing night after night of after-hours debauchery with next-day productivity -- it's literally their job.
Coffee and avocado
"Avocado toast and an iced almond milk latte whenever you wake up. Later on, a glass of red wine with an early dinner of spaghetti and meatballs!" -- Rebecca Flynn, beverage assistant & server, O Ya, New York, NY

Eat your vitamins
"Oh man, I have a whole ritual. So if I've been drinking a lot, I'll take a milk thistle vitamin before I go to sleep with a pint of water and a Vita Coco if I have it. In the morning, if I'm feeling decent, I'll take an ibuprofen and have a hearty breakfast of grains, protein, and veggies. If I'm feeling bruised, full of regret, and really need to rally -- especially if I'm looking at another day of drinking -- I'll have spicy ramen (miso is my favorite) and sip on a Pilsner or Japanese lager. Water is constantly on hand either way." -- Maggie Eckl, bartender, Dead Rabbit NYC, New York, NY

Just run through it
"Running and lots of water! A good six-mile jog kills hangovers." -- Rachel Broaddus, bartender, High Dive & Five Star Bar, Chicago, IL
Don't be afraid to get a little Bloody
"My usual go-to is saltines then bitters and ginger ale. I've also dabbled in Bloodys made with various stouts which somehow seems to help." -- Margeaux Reed, general manager, Ambassador, Appleton, WI

The more beverages the better
"The 'hangover flight' does the trick every time. One glass of each: Bloody Mary, beer back, sparkling water, coffee, Gatorade." -- Dave Stach, venue manager, Subterranean & Beat Kitchen, Chicago, IL
Rise and (dimly) shine
"Coconut water, good Texas toast, and eggs -- scrambled or over medium, though, don't risk over easy." -- Hayley Karl, bartender, Mugs Ale House, Brooklyn, NY

Wait, does the bacon go IN the drink?
"Mix soda water, lemon juice, bitters, and salt -- oh, and bacon." -- Aimee Chenal, bartender, Indian Creek Tavern, Frederic, WI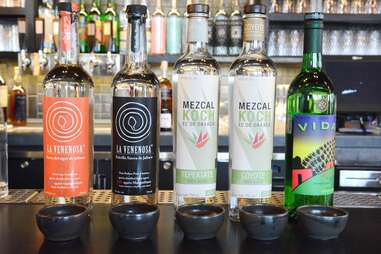 Just keep drinking
"I believe in the restorative qualities of tequila and mezcal. A small shot of either Partida or Del Maguey settles the Hangover Evils every time." -- Jacques Bezuidenhout, beverage director/partner, Wildhawk, Forgery & Verso, San Francisco, CA

The cure-all cocktail
"My go-to hangover cure is a cocktail called the Corpse Grinder -- it's a play on a Corpse Reviver with a few ingredients swapped out. Mine has gin, Combier, Cocchi Americano, grapefruit juice, and absinthe. It reminds you of all the best parts of the night before without the end-of-the-night haze." -- Jon Lewis, bar director of soon-to-open Rue, Portland, OR

The other kind of White Russian
"A Russian dude I used to work with would shake vodka with salt and shoot it." -- Deb Leal, bartender, Madrone Art Bar, San Francisco, CA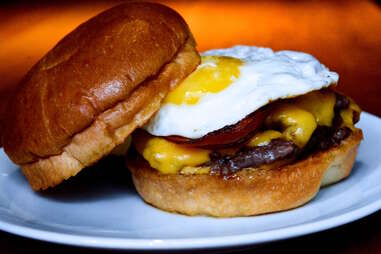 All the essential food groups
"A red eye (drip coffee with a shot of espresso), kombucha, and a burger with a sunny-side-up egg. All your essential food groups!" -- Tyler Ott, beverage director, Ox & Son, Santa Monica, CA

Grease and grease and grease
"I'm a traditionalist, so grease and grease and grease. I avoid hair of the dog -- don't wanna go full wet. I'd like it in print that I don't want to be a wet-brain drunk so my parents might believe me." -- James Case, beverage operations manager, Threes Brewing, Brooklyn, NY
Beer in bed
"Stay in bed with a michelada -- fresh lime, salt, Tecate, and a lot of Tapatio, over ice." -- Elizabeth Montana, bar manager, Forgery, San Francisco, CA

Call a medic
"Make friends with a doctor/nurse/paramedic and have them hook you up to an IV while you sleep. If you don't have the ability to make friends, try an at-home remedy. Mine is French fries, two glasses of water, two antacids, a low-ABV beer, and a couple slices of pizza (Hot Pockets if I'm desperate)." -- Michael Avakian, beverage director and bartender, Jasper's Corner Tap & Kitchen, San Francisco, CA
Sign up here for our daily Thrillist email, and get your fix of the best in food/drink/fun.
Meredith Heil is a staff writer for Thrillist. She's hungover from Hennessy with a menace intendancy. More of the same at @mereditto.