It's a universally accepted fact that you will ruin Thanksgiving by going way, way, way too hard at your hometown bar the night before. What's less universally accepted is the best way to cope with the hangover fallout. Dietitians will tell you to eat this or drink that, but everyone has their own personal tricks, including the Thrillist editors. 
So rather then upset your mother for the 11th year in a row by spending the whole day sleeping and not watching the Macy's Thanksgiving Day Parade and making pie with her, try our tried-and-true hangover cures. Please threaten us in the comment section if they don't work for you!
Recommended Video
Thrillist's Best (and the Rest): What's the Perfect Fast Food Meal?
White Castle and Swayze
"A short hike followed by six frozen White Castles, grocery store chicken nuggets, a half-gallon of milk, and a bedside screening of Point Break." -- Andy Kryza, senior editor
 
Mostly just cry
"Emergen-C in a shot of water, cry, four Tylenol Extra Strength, lay on my back with a T-shirt over my eyes, pour sips of seltzer into my mouth, sit up, think the worst is over, sit in the shower-made-steam room crying for 30 minutes, partially dress, sip seltzer, lay back down, eat four salt-less saltines, realize that was a mistake, army crawl to bathroom and vomit until I have two black eyes, sleep there for a bit, Netflix on mute, another Emergen-C and shot of water, sleep for four hours, wake up refreshed, have big dinner and a cocktail with friends, cry." -- Nick Caruso, JackThreads editorial director
Breakfast sandwich
"Wander outside mole-eyed like a newborn baby on a beach in search of a bacon, egg, and cheese. The vitamin D gives you enough vitality to reach the provisions, which you have to immediately carry back to your cave of an apartment and consume, preferably in bed. If you forget ketchup, you're fucked. You can't make two pilgrimages, one is the limit." -- Sarah Anderson, editorial production assistant
 
Bitters, no alcohol
"During the night of drinking, slam a shooter of seltzer mixed with bitters to ward off some of the ill effects of the hangover, like nausea and head-pounding." -- Sean Cooley, senior cities editor
Athletics and athletic drinks
"I ran track in college and spent four years shaking off hangovers with 10+ mile Sunday morning long runs at mandatory team practice. It hurt more than the actual hangover, but meant that I was back to being a mostly functional human before noon. I've since learned that a big bottle of red Gatorade paired with a ketchup-smothered bodega sausage, egg, and cheese works just as well." -- Emily Singer, writer
 
Breakfast burrito and rehydration 'roids
"Aspirin, breakfast burrito -- preferably sausage, but bacon will suffice -- sub out potatoes for extra avocado and cheese, and a Mexican Coke. After that, grab a DripDrop. It's the military-grade rehydration solution featured on trusted websites like Thrillist.com." -- Alex Robinson, cities editor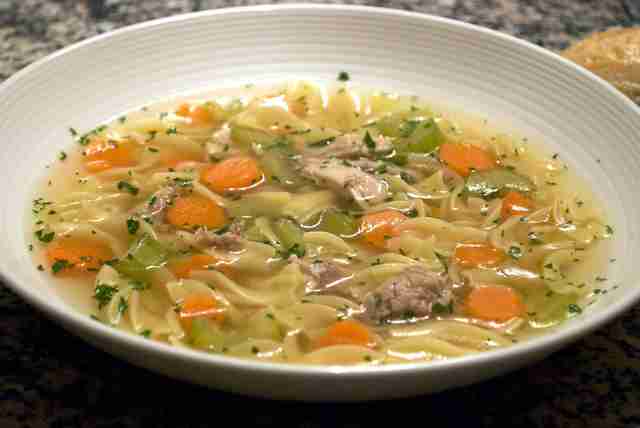 Soup and hair of the dog
"Chicken noodle soup, Advil, big coffee. Exercise if possible, day drinking if not." -- Tyler Beckwith, editorial project manager
 
Apples and Diet Coke
"Advil the night before, Granny Smith apple, and a Diet Coke in a can the next morning. Also, insert more alcohol wherever possible. -- Laura Reilly, editorial production assistant
Netflix and nap... and chill?
"Water, multivitamins, bacon, egg & cheese sandwich, Netflix, nap. If all else fails then I swipe around for a Tinder date to take me out for a boozy brunch." -- Jennifer Bui, editorial graphic designer
 
The five-pronged attack
"My five-step process: Gatorade, soup, grilled cheese, shit, shower. LET'S GO." -- Bison Messink, managing editor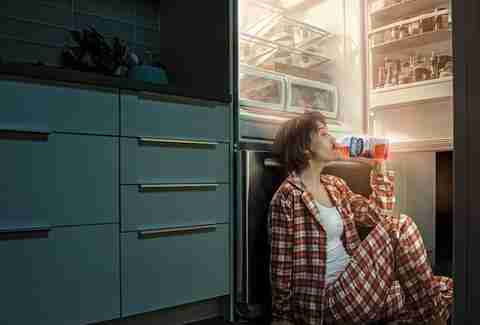 Pedialyte
"Pedialyte is the SHIT. When I worked for the ballet, all the dancers used to use it for hangovers -- that and cigarettes -- and they got me into it. Weird as I felt walking into the children's medicine section at Walgreens looking like death, one of those and a long run and I'm pretty much back to 100%. And Advil. If I'm too hungover to make it to a drugstore, vitaminwater Revive is a pretty decent second place." -- Matt Meltzer, staff writer
 
Hallucinate
"After I wake, I take a brisk walk to the Land of Enchantment. There, I climb the tallest mountain, where, growing only at the very peak, I find a small flower of brilliant purple. With at least three of these flowers, I head back down the opposite side, and barter with the notoriously duplicitous ferryman for a trip across the River of Souls. Setting foot on the opposite bank, I find the nearest Tree of the Ancients, where, if it is the right time of year, I can pluck a bottle of iced tea and some potato chips from the branches and then slowly realize that I *might* still be drunk." -- Jason Allen, senior cities editor
Sign up here for our daily Thrillist email, and get your fix of the best in food/drink/fun.
Kristin Hunt is a staff writer for Thrillist, and mostly just cries, too. Follow her to the bodega for breakfast sandwiches at @kristin_hunt.
Carrie Dennis is Thrillist's National Food and Drink editor and eats a banana before bed. Follow her on Twitter: @carrriedennnis.