These Are the Hard Coffee Drinks We're Excited About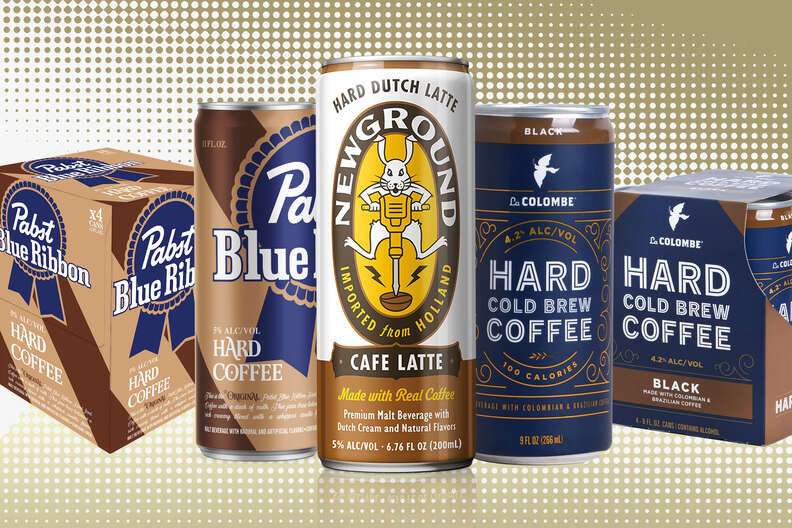 Remember Four Loko? Back in the early '10s, they sold more than $150 million dollars worth of highly caffeinated, highly boozy cans, before an epidemic of injuries and blackouts moved the FDA to issue the company a warning letter. Four Loko pivoted, removing the caffeine from their drinks.
Combining caffeine and alcohol has not always been a great idea.
Sure, people drink Red Bull Vodka and Irish coffee. But since Four Loko, there hasn't been an uber-popular, pre-made caffeine-and-alcohol drink in stores. But that's about to change. Hard coffee is about to be everywhere, and I'm going to tell you why, how it's made, and the brands to look out for.
Canned cocktails and ready-to-drink coffee
The popularity of canned, boozy coffee is the natural combination of a few popular trends. Not only are we drinking more coffee, how and when we're drinking coffee is also changing. According to Nielsen data, retail sales of canned, prepared cocktails are up 95.3% from November 2018 to 2019. Sales of ready-to-drink coffee are also continuing to grow, with retail sales hitting over $3 billion.
"Historically, we view coffee as a functional beverage we drink in the morning for a pick-me-up," said Darren Seifer, Food & Beverage Industry Analyst for The NPD Group. "More recently, we've noticed consumers are having coffee not just for functional reasons, but for enjoyment. It seems to be opening up a world of companions that'd go along with it." Enter: canned coffee drinks with alcohol.
How hard coffee is made
It's tempting to believe canned hard coffee is manufactured the same way you'd make it at home: prepare hot coffee or cold brew and pour in a liqueur like Baileys. But that's not exactly how it works. Many of the canned cocktails on shelves today are labeled as a malt beverage.
"It's the same as beer," explains John Newhouse, who helped develop PBR's Hard Coffee as the company's Brand Manager of Product. "You take malt and you ferment it into beer with hops. The difference with a malt beverage is that we create a neutral malt base. You brew the malt and ferment it. But you strip out all the color and flavor that the hops and malt produce." Depending on the flavors you add to the malt base, you can end up with White Claw or the aforementioned PBR Hard Coffee, which Newhouse says sold six months' worth of inventory in just two weeks during its 2019 test market launch.
Why you'll be drinking hard coffee in 2020
Hard coffee is like a pair of sneakers that go with your entire wardrobe -- it's versatile. "Sometimes after work you want a drink and a coffee because you're tired," says Phil Rooney, CEO of Fundamental Beverages, which produces the Newground Hard Nitro Cafe Latte. "Or it's morning and you're hungover on vacation, and you're going skiing all day and you want a little hair of the dog to get you going." Ski bums aren't the only ones who could benefit from a buzz and a boost. "Maybe tailgates! Maybe brunch!" said Newhouse. "Or early afternoon when you're trying to get ready for a fun night out."
Now that you know how it's made and when to drink it, we'll tell you the major brands to look out for when you go to the supermarket or liquor store.
5% ABV
Thanks to the overwhelmingly positive response to its test market launch, PBR Hard Coffee plans to do its national launch in early 2020, with at least one flavor variant due later this year. Their flagship coffee drink tries its best to resemble a White Chocolate Mocha (albeit one with 14 pumps of syrup), and should hit the mark for Starbucks lovers.
4.2% ABV
Fans of corporate synergy will love this collab between MillerCoors and the Philly coffee roaster. Because it's created in part by coffee nerds, they tout the fact that the coffee beans are from Colombia and Brazil. Unsurprisingly, the coffee blend in the Black can is worth multiple sips, but to truly cover up the unpleasant aftertaste of the malt base, we'd recommend adding a coffee creamer or non-dairy milk. The vanilla flavoring is a bit too reminiscent of a protein shake for us to get past, but you can avoid that with the Black.
5% ABV
Hey look, it's a hard coffee not made by a beer brand! Despite a retail price point in line with the other offerings (~$10 for a four-pack), Newground uses premium ingredients imported from Holland, including a proprietary malt base and cream from Dutch farms. The quality is evident from the first sip -- it's the creamiest of all the brand offerings. The nitro lends a feeling of drinking a boozy coffee milkshake, though the coffee flavor could be stronger. Add a dash of cold brew from your fridge if you want a stronger kick.
Sign up here for our daily Thrillist email, get Eatmail for more food coverage, and subscribe here for our YouTube channel to get your fix of the best in food/drink/fun.