It's About to Be the Summer of Hard Seltzer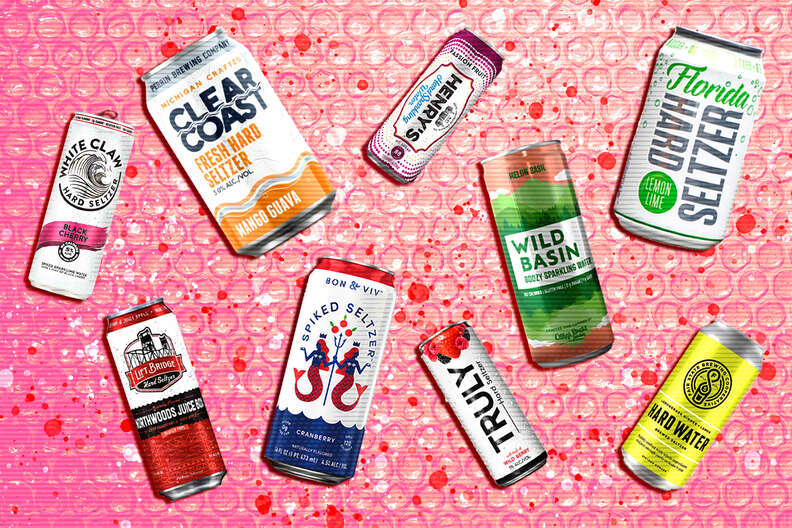 Frannie Jiranek/Thrillist
Frannie Jiranek/Thrillist
Mike's Hard Lemonade. Not Your Father's Root Beer. Hard Soda. Smirnoff Ice. Four Loko. There have been a lot of attempts at disrupting the $119 billion beer industry with beer-adjacent alternatives that can lure in drinkers who may not normally drink beer. Most of these have been little more than a flash in the pan. Even Leinie's Summer Shandy, following a record 2017, saw a decline in case volume of 17.5% last year, according to data from market research firm Nielsen. But hard seltzer… well, hard seltzer is going to be different.
At least, that's what many inside the industry believe. Over the course of just a few years, boozy LaCroix has grown from something you didn't know existed to the drink of the summer. Sales grew 165.7% in 2018, according to Nielsen, and pretty much everyone has taken notice. That means, this summer, it will be more inescapable than fidget spinners, Pokémon Go, and Hammer pants combined.
Why the sudden demand for alcohol-spiked water?
Hard seltzer quickly appealed to the health-conscious. The drinks are frequently sugar- and gluten-free, with around 100 calories or less. It's made White Claw and Truly the go-to for many drinkers who prioritize well-being, but don't want to stop drinking altogether. They want to have their Pamplemousse and drink it too.
Moreover, big beer has broken down the door, allowing for rapid growth. Many of the seltzers that were early to market are made by big beer companies or were purchased by big beer. Anheuser-Busch bought Spiked Seltzer and rebranded it Bon & Viv Spiked Seltzer. MillerCoors has Henry's Hard Sparkling Water. Boston Beer, makers of Sam Adams, have Truly Spiked & Sparkling. Smirnoff has Smirnoff Spiked Seltzer. White Claw is made by Mark Anthony Brands, the same folks behind Mike's Hard Lemonade.
"The national plays have already been made," says Christian McMahan, president of Wachusett Brewing Company, which makes Nauti seltzers. They lay claim to being the second hard seltzer to be released. "They help, right? They get chain authorizations. They're doing national advertising. They're creating a halo effect on the category. As long as you have a good product, it's one of those situations where a rising tide can lift all boats."
Westminster, Massachusetts-based Wachusett was early to the game, but it took a while for craft breweries to follow in their footsteps. However, it's happening in a big way this year. Craft breweries are releasing hard water en masse, whether that's in taprooms or Colorado powerhouse Oskar Blues releasing the first nationally distributed hard seltzer from a craft brand.
In Minnesota, for instance, you would have been hard-pressed to dig up a locally made seltzer a year ago. Now, you have cans available or soon to be available from Lift Bridge, Fair State, and Fulton, and others have confirmed to Thrillist off the record that they're exploring it as an option already. Brad Glynn, vice president of marketing and co-founder of Lift Bridge, even said the brewery has had to delay the release of cans because the demand for the familiar tall thin cans has been so great that their order has been delayed for months.
Is hard water a trend or the new normal?
"People discovered [hard soda], and then we called it the five-pack," says McMahan, who worked with Smirnoff on the release of Smirnoff Ice. "You'd buy one six-pack, try one, and the other five would sit in your fridge for a very long time."
Brewers say the growth of hard seltzer has been faster than with other comparable ready-to-drink alcoholic beverages.
"I think seltzer is a completely different game," says McMahan. "I think when you have products that are light, sessionable, and drinkable, it's very different from all the predecessors that were generally high sugar and high in calories. We're seeing a faster adoption rate with these than probably anything since the launch of Smirnoff Ice. It's a pretty crazy situation."
"Not Your Father's Root Beer, that was on a skyrocket trajectory and kind of went down just as fast," says Leigh Harting, owner of 3 Daughters Brewing in St. Petersburg, Florida. "Honestly, I don't see that happening with seltzer. People drink LaCroix religiously. They drink the non-alcoholic water and I think this is a natural extension to that. I don't think it's going to have the volatility that some of the other products have."
The numbers and confidence could look awfully circumstantial if the bottom falls out in a year or two, but there's a zealous conviction that this isn't like those other times. One thing that has certainly changed from examples of the past is the proliferation of craft breweries. With more than 7,000 in the country, according to the Brewers Association, there are potentially more ready to take their shot and see if it sticks.
"I think we're still very well in the early stages of the category and people understanding it," says McMahan. "Some people are predicting it could be 2-3% of beer within the next couple of years."
Is it worth trying?
There's seasonality built into the wave of hard seltzer hitting store shelves. It's a summer drink for a hot day. If you want to drink a jet-black, heavy Deschutes Abyss on the beach, you're probably not going to be swayed. However, if you're open to other alcoholic beverages, you can do much worse than a hard seltzer in the sun.
If you're ready to dive head first into the world of hard seltzer, here are a few good places to start.
Fair State Lemongrass, Ginger + Lemon Hard Water
The Midwest brewery known for its sours and bold IPAs is getting into hard seltzers. Its two flavors have a smaller distribution footprint than the big brands, but this one is worth getting after. Many seltzers are going with a straight fruit flavor, while a handful are throwing in some botanicals. This one works wonderfully. The flavors don't taste artificial like someone dissolved candy in your seltzer, the ginger is up front with some spice, and it's still quite refreshing.
This has a pleasant fruit aroma, and the basil is surprising and well-balanced on the finish. Thrillist's Lee Breslouer wrote, "This is masterfully done." There's not much more to add to that high praise.
Brewers are leaning hard into the health angle, with most hard seltzers boasting that they're sugar-free. That can make them taste a little dry. Both White Claw and Lift Bridge have added a touch of sugar to their recipes. It makes for a seltzer that's much more crushable with big flavors. White Claw's flavors are generally straightforward, while Lift Bridge feels more like brewers having fun to build interesting flavor profiles. The Northwoods Juice Box is fruity and refreshing without actually tasting like a juice box.
This one from 3 Daughters doesn't have the sticky-sweet aroma of many seltzers, and the lemon-lime flavor doesn't play up the dryness too heavily. You can throw back a few of these while hanging out on the porch with friends. And that's kind of the point, isn't it?
This seltzer from Michigan's Perrin Brewing hues pretty close to the kind of flavor combinations seltzer enthusiasts expect from LaCroix. Many that are going that route kind of taste like a bubbly Hawaiian Punch. This one from Clear Coast manages to be a little subtler. It's not overly sweet and generally comes across as a little softer.
For the folks behind Salt Lake City's Squatters Craft Beers, Grandeur is a spiked seltzer that does it all. At 80 calories, 1 gram of carbs, and no sugar, it's one of the most appealing from a health standpoint. Even better, it doesn't give up any flavor. It's delicious with a big, not-too-sweet flavor.
Only two of the recommendations above are nationally distributed. So, here are a couple that you'll be able to dig up almost anywhere. As much as Cranberry doesn't seem like a flavor that belongs in the seltzer world, this is surprisingly refreshing. It's getting an entry here with Henry's Passion Fruit as a couple of the lowest calorie seltzers. If that's what you're after in your seltzers, Bon & Viv seltzers tend to arrive with 90 calories and no sugar. Meanwhile, Henry's comes in even lower at 88 calories.
Sign up here for our daily Thrillist email, get Eatmail for more food coverage, and subscribe here for our YouTube channel to get your fix of the best in food/drink/fun.