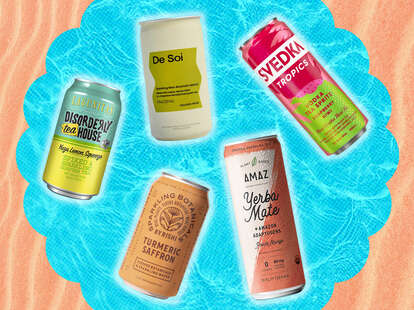 Design by Maitane Romagosa for Thrillist
Design by Maitane Romagosa for Thrillist
We love the coziness and calming effects of tea. But a steaming cup straight from the kettle doesn't exactly go with 90-degree temperatures so, in the summer, we turn to the next best thing: sparkling tea seltzers.
Luckily, the canned drink market is booming with the stuff—both non-alcoholic and hard seltzer versions. We can hardly think of anything more satisfying to pop open poolside or at a cookout than effervescent flavors of peach mango, turmeric saffron, yuzu lemon, or raspberry kiwi. Here are some of our favorite tea seltzers to get you through this heat wave.
We have to admit: this was our gateway sparkling tea. Once we sipped on our first Trader Joe's Sparkling White Tea—which comes in flavors like pomegranate, peach, and pineapple—we were converts for life. The fruit profiles are subtle, just a hint, and the mini 8.5-ounce cans are easy to transport in a cooler or lunchbox.
Beloved Cali brewery Lagunitas has gotten in on the trend with its Disorderly Teahouse line brewed with real guayusa tea leaves. This herbal tea is native to the Amazon rainforest, a natural energizer, and tastes less bitter than a traditional green or black tea. Try it in the Mixed-Up Berries and Yuzu Lemon Squeeze flavors, each clocking in at 5% ABV and just 100 calories.
These botanical teas feature rare ingredients like quince, schisandra berry, and maqui but don't let this unfamiliarity intimidate you. Without any added sugars, these canned teas pop with strong flavors yet ultimately finish light and airy for a refreshing summer sparkler. What's more, many ingredients have healing, detox properties—ideal for a hot (or hungover?) day.
With notes of organic tea, herbs, and flowers, Sound offers fruit-forward and aromatic options in a variety of caffeine levels. These unsweetened drinks come in flavors like Lemon Thyme & White Tea, Blueberry Cinnamon & Hibiscus, Grapefruit Lavender & Ginger, Tangerine Lemongrass & Green Tea, and Blood Orange & Vanilla.
This past spring, mega vodka brand Svedka launched a line of spirits-based hard seltzers that combine vodka, tea, sparkling water, and fruit flavoring. Each tall, skinny can clocks in at 5% ABV and drinkers can choose from three flavors: Pineapple Guava, Raspberry Kiwi, and Orange Mango. Think of it as your favorite pre-mixed Ice Pick cocktail.
The non-alcoholic aperitif market is ever-expanding and we are suckers for this Katy Perry-backed brand. Not only is the packaging chic, but we love the use of adaptogen ingredients like maple syrup, passion flower, and maca. These lightly carbonated drinks contain ingredients you can actually pronounce, using date syrup as a sweetener and green tea extract for an energy boost.
If you're a fan of the Bravoverse, you might (abashedly) know that Summer House star Kyle Cooke founded a drink company called Loverboy. These 90-calorie, sugar-free drinks combine organic tea, gluten-free alcohol, botanicals, juices, and monk fruit to make flavors like Strawberry Lemonade, Lemon Iced Tea, and Hibiscus Lime. At a mere 4.2% ABV, these are ideal for a long day at the beach or on the boat.
These Amaz sparkling teas are made from adaptogens and super plants (like yanomami mushrooms and acerola cherry) that help boost immunity and mental focus. The calorie- and sugar-free drinks come in three flavors: Lemon Ginger, Peach Mango, and Açai Blueberry each with a hint of fizz. Most importantly, a percentage of all Amaz sales go to the Xingu Seeds Network, a nonprofit that promotes reforestation in the Brazilian Amazon.