12 strong-ass beers you need to drink this December
Brandon Underwood is one of the beer experts behind the bar at Charleston's The Ordinary, one of our favorite spots in the country. In October (the 10th month), he picked you 10 beers around 10% ABV. In November (the 11th month!), he came back with 11 beers around 11% ABV. Now that it's December... well, you can probably figure it out: 12 beers. All at or around 12% ABV. Let's get to it:
Stone Double Bastard (Bourbon Barrel)
American strong ale, 11.5%
Escondido, CA
According to Brandon, "Double Bastard is right in line with Stone's long list of intense beers. The barrel-aging mellows out the harsh, sharp bitterness that you might expect from this 'lacerative muther of an ale' [sic], lending oak, vanilla, and bourbon character." Pounce on the barreled stuff if you see it -- it's been in high demand ever since Stone stopped brewing it. Can't find it? Their still-in-rotation Double Bastard is still potent enough to tackle December chills at 11.2% ABV.
Hof ten Dormaal Barrel-Aged Project (any)
Belgian strong ale, 12%
Tildonk, Flemish Brabant, Belgium
"This barrel-aged project was started with the US drinker in mind," explains Brandon. According to the brewery (which, by the way, is a farm that self-sustainably produces its ingredients), the aging program incorporates all sorts of liquor-soaked barrels: jenever, grappa, Scotch, etc. Brandon likes the Madeira. "They took their blonde ale and aged it in Madeira casks. It's very low in carbonation & deceivingly light, and the Madeira appears in the finish to add tremendous complexity." The agings vary year to year, so you're not always going to be able to grab his favorite varietal, but no matter which is released, it clocks in at 12%, and Dormaal "guarantees all the flavors in the beers only come from the barrels". In other words, no matter which you get your hands on, it'll be a December treat to remember.
(Note: shown here is Dormaal's Donker, because the barrel-aged stuff is just that hard to find.)
Dogfish Head Palo Santo Marron
American brown ale, 12%
Milton, DE
"Palo Santo is this tree that's used to make wine barrels in South America. Dogfish Head imported [the wood] from Paraguay, built a super-barrel with it, and ages this beer in there. It's malty and roasty with lots of dark fruit flavor." Wondering what constitutes a super-barrel? "The one barrel holds 10,000 gallons", exclaims Brandon, and Dogfish Head claims it's the largest wooden brewing vessel built in America since Prohibition. So to answer your question, yes: it's very super.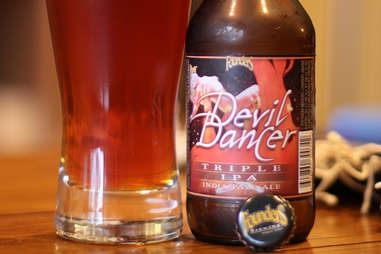 Weissbierbrauerei G. Schneider & Sohn Aventinus Weizen-Eisbock
Eisbock, 12%
Kelheim, Bavaria, Germany
"This ice beer is one of the finest beers in the world," claims Brandon. "It's sweet, boozy, and fruity like spiced banana rum. Extremely comforting and complex." He recommends it with cheese, dessert, or on its own as a digestif.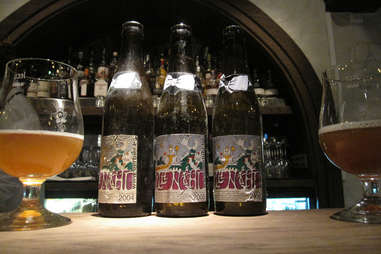 De Dolle Brouwers Stille Nacht
Belgian strong ale, 12%
Esen, West Flanders, Belgium
"The name means 'Silent Night'," explains Brandon. "It's their Christmas beer. They say that when you open this beer and take a sip, everything around you will become calm." Brewed with Polar Express-esque ingredients (white candi sugar, Nugget hops...), it's a world-class beer. Plus it's got a festive-as-hell label to help you ring in the season.
Evil Twin Molotov Cocktail
Imperial IPA, 13%
Gypsy/Stratford, CT
We know, we know -- it's not a twelver. But why are you complaining?! "Ring in the new year by bumping up that ABV just one more notch," implores Brandon. "This IPA stands on its own feet and is delicious, tropical, and rich. This beer will make you feel strong and fancy" headed into 2015. And strong & fancy, you guys, is a very nice way to feel.
Brandon Underwood is an ace bartender at The Ordinary, one of our favorite spots in Charleston. Follow him on Instagram, or stop in and get a drink.
Dave Infante is a senior writer for Thrillist Food & Drink, and is not leaving the beer store 'til spring. Follow @dinfontay on Twitter, Instagram, and Snapchat.