The 10 best 10% ABV beers to drink before October's over
October is almost over, and so too has your tolerance for pumpkin beer come & gone. But the glory of high-ABV beers lives on all season long, so to honor the 10th month -- with its early sunsets, blustery winds, and extremely tasteful Halloween costumes -- we had our barkeeping buddy Brandon Underwood from The Ordinary pick 10 of his favorite brews that clock in between 9.5-10.5% ABV.
We know, we know -- it's a bit late. But lighten up, 'cause these large-format heavy hitters pack the booze content to keep you toasty as the nights grow even longer. Get after it below, and be sure to tell us which 10-percenters you love in the comments!
Westmalle Tripel (9.5%)
Brouwerij der Trappisten van Westmalle
Belgium
"Golden and spicy. This beer sets the standard for tripel because they were the first to do it and created the style. It's dry and aromatic with a crisp hop finish."
Bracia rich dark ale (10%)
Thornbridge Brewery
England
"This strong ale is made with lots of chestnut honey sourced from Italy, and it pours out dark & sexy. [It's] elegant, smooth, and bursting with chocolate, nuts, and dark fruits. The perfect bittersweet beer."
Maharaja imperial IPA (10.2%)
Avery Brewing Company
Colorado
"For all of the citrus hop-bomb lovers, Maharaja will set you straight. Grapefruit and pineapple aromas are jumping out of this beer. [It's] big and sticky but hides its alcohol."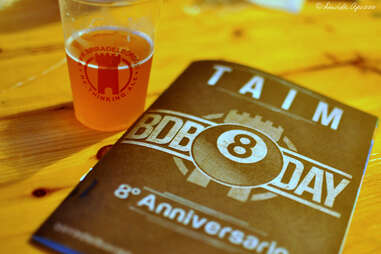 Etrusca ancient ale (9.3%)
Birra del Borgo
Italy
"This beer doesn't break 9.5% but deserves to be recognized, because it's freakin' delicious. It pulls from old-school beer ingredients -- including hazelnuts & raisins -- and is fermented in big clay pots. The alcohol is hidden by nuts and acidity. It is the most delicious beer of my year. Buy this stuff if you see it!"

Avec les Bons Voeux tripel (9.5%)
Brasserie Dupont
Belgium
Dupont is "known for its Saison, [and] brewed this beer as a gift to its best customers in the '70s. Its high carbonation fights plates of cheese & meats. The booze is effective after 2-3 sips."
Three Philosophers quadrupel (9.7%)
Brewery Ommegang
New York
"This beer is bubbly, [and basically] comfort food by itself. Dark fruits & sweet malt dominate."
Ten FIDY imperial stout (10.5%)
Oskar Blues Brewery
Colorado/North Carolina
"This is the only canned beer on this list. It looks like motor oil being poured into the glass... so brooding with blackness and low carbonation. Every time I pour one I hear the growling of a metal band's lead singer 'BREEEEEEEEE!' [Ed. note: no idea.] The beer is deep coffee, fruits, and chocolate. It'll smooth out the edges."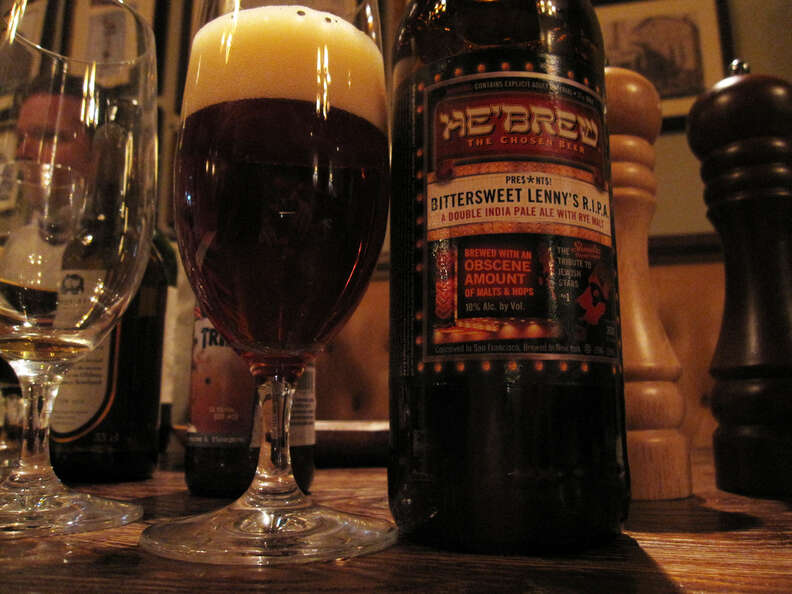 Bittersweet Lenny's R.I.P.A. (10%)
Shmaltz Brewing Company
New York
"This beer is brewed in honor of Lenny Bruce! That should be enough reason to buy/drink one. This beer is rye-spicy as hell and beautifully bitter. It's rich and goes down slow."
Abt 12 quadrupel (10%)
Brouwerij St. Bernardus
Belgium
"Fact: the damned Belgians and their monks make great strong beers. This one is a bit sweeter than others on this list, but has tons of malty flavor & spice to lift any of the richness. The aroma is crazy complex and changes as the beer is open."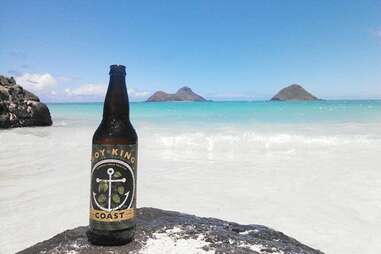 Boy King imperial IPA (9.7%)
COAST Brewing Company
South Carolina
"A very small brewery in Charleston makes this well-balanced imperial IPA a few times a year. It goes to very few places in Charleston, and the rest can be enjoyed at the brewery. The aroma & flavor is so fresh and vibrant. [It's] a perfect sweet spot of resinous, malty, and clean."
Dave Infante is a senior writer for Thrillist Food & Drink, and wishes he was smart enough to bring a 10% ABV beer to the beach. Follow @dinfontay on Twitter, Instagram, and Snapchat.