Brew Your Own Damn Beer With These 9 Great Starter Kits
Cole Saladino/Thrillist
Cole Saladino/Thrillist
Everybody knows booze is the perfect present. Nothing makes holiday conversations more bearable or washes down Aunt Fran's rock-hard fruitcake better than a stiff double IPA -- and you can quote us on that (sorry Fran…). So what's better than a bottle with a bow on it? The means to keep your loved one knee-deep in beautiful, beautiful beer all year long.
Give the gift that keeps on giving (and giving, and giving) by tossing aside the ready-made sixer and springing instead for one of these nine badass homebrewing kits.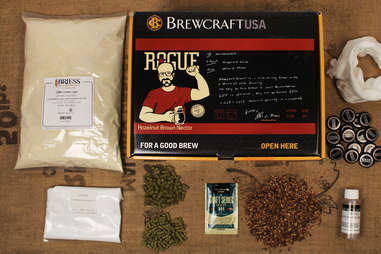 Price: $53
Who in their right mind doesn't love them some Rogue? And with these homebrew kits, now your favorite craft beer nut can live out his dream without investing $500,000+ big ones in a Rogue-sized brewery. There are four different flavors to choose from -- Hazelnut Brown Nectar, Dead Guy Ale, Shakespeare Stout, and Brutal IPA -- and, done right, they're preeeetty close to what you'd get in a sixer. The kits are packed with all the basics for a five-gallon, all-grain batch, including dry malt and wheat extract, grains, hops, priming sugar, and hops and grain bags. And while some annoying shipping constraints puts a hold on sending yeast through the mail, a trip to your local homebrew shop should resolve that issue pretty quickly.
Price: $39.99
If you're in the market for something small but totally complete, this one-gallon package is a nice fit. It's an all-grain recipe (i.e., no cutting corners with sugar syrup) and even comes with a sturdy glass jug -- called a "carboy" in the biz -- to make things cleaner and easier. The instructions are crystal clear and tailored to train up a novice in no time, and the vacuum-sealed fresh hops take your brew above and beyond the regular pellet-spiked stuff. A packet of premium brewers yeast is also included.
Price: $79
Housed in a streamlined, compartmentalized rustic pine box, Box Brew's "Taster" is by far the prettiest kit on this list. Inside you'll find enough top-of-the-line supplies to aid you in your quest to cook up 10 fine bottles of brew (about one gallon), plus step-by-step instructions and a recipe book stacked with 25 different homebrew ideas. The best part? You're also getting a brand-new brewer's log for all your important notes AND a set of adorable 4.5oz sampler glasses with their own little coasters (you can even get them monogrammed!). The actual ingredients are sold as an add-on ($20 for your pick of a few different ales), but all this beautiful brewing swag makes the extra cash well worth it.
Price: $44.95
Ah, Mr. Beer -- every ambitious dad's favorite brown plastic barrel-turned-toolshed paperweight. But despite its humble reputation, Mr. Beer's actually been adding a whole slew of new, modernized kits to its ample lineup. This two-gallon starter jam comes with that classic plastic fermenter and spigot for maximum drinkage, yeast, sanitation powder -- not to mention your pop'' cheap beer-swigging admiration. Oh, and you also get a very straightforward, foolproof manual to help you keep the suds flowing far beyond your holiday visit home.
Price: $75
Brooklyn Brew Shop has been peddling its beer-in-a-box kits for some time now, and with the one-gallon homebrew kits now popping up everywhere from bottle shops to Whole Foods, the husband-wife team is officially killing the game. The no-frills setup contains a curated bundle of brewing goods like whole grains, hops, and yeast, and the whole shebang is specifically designed to to fit neatly into a tiny apartment kitchen, making it the perfect gift for the hipster who loves DIY projects and is sick of tallboys.
Price: $72
Don't let the devilish name fool you -- this kit is anything but scary. The fully outfitted "Kit Plus" comes stocked with all the regular gadgets and gizmos, but sets itself apart with a small-batch conical fermenter that transforms your standard homebrew setup into a pint-sized pro brewhouse. Caps and bottles are also included, which is a very, very nice perk -- you know, if you're planning on reaping the fruits of your labor.
Price: $44.95
You know craft beer's gotten huge when a shop as mom-centric as Williams-Sonoma throws its bonnet into the ring, and the basic one-gallon kit is a solid choice for the discerning hobbyist. There are tons of flavors to choose from, including -- get this -- a 100% gluten-free option. Aside from the ingredients, W-S adds all the standard brewing gear, plus a helpful instructional guide to the mix. And if the brand is any indication, it's bound to fit right in with your snazzy standup mixer and matching spiralizer.
Price: $45
What's better than brewing beer? Brewing beer with a stiff pint of Kentucky bourbon, that's what. Have your booze and drink it too with this liquored-up one-gallon homebrew kit. The brew gear's all accounted for, but he coolest ingredient is a handful of medium-toasted oak chips meant to be soaked in tasty, tasty bourbon then transferred into a vat of bubbling brew for the ultimate in smoky, vanilla-tinged greatness. There's no whiskey in the box, unfortunately, so you're going to have to get some elsewhere (as if you don't already have a bottle or two laying around…).
Price: $69.99
Northern Brewer is one of the homebrewing world's most trusted suppliers, and its small-batch, one-gallon intro kit is the perfect way for the brew-curious to test the waters without selling the farm. The instructions are thorough -- we're talking brew-along-DVD thorough -- and each piece of equipment and ingredient is professional brewer-approved. Northern also throws in 12 bottles with cardboard carriers, two branded pint glasses, a spill-proof Little Big Mouth Bubbler for containing feisty fermentations, and 20 caps along with a plastic capping contraption called -- wait for it! -- a capper. And since Northern specializes in all sorts of brewing gear, this kit is super-customizable and can be easily expanded while the strength of your homebrewing skills catches up to that 12% ABV barleywine you're sipping.
Sign up here for our daily Thrillist email, and get your fix of the best in food/drink/fun.
Meredith Heil is a former staff writer for Thrillist. Looking at her watch, that brew shoulda' been home. Today she regrets the night she put that kettle on. Follow her @mereditto.