Cole Saladino/Thrillist
Cole Saladino/Thrillist
There is but one truism about summer: as the outdoor temperature rises, the temperature of what's in your coffee cup must fall. Who the hell wants to drink a coffee heated to 135 degrees in 135-degree weather? And because there are seemingly millions of cold drinks on the market at our nation's coffee chains, we sampled the offerings of everywhere from Starbucks to Peet's to find the best cold drink at every major coffee chain.
Editor's Note: We focused on drinks that are only served cold. If you can order a drink hot or cold, that's great, but this story is not about singling out coffee brewed hot and poured over ice. That's boring. Some chains have very few cold-only options, but on the whole, we focused on smoothies, frozen drinks, and drinks packed with a ton of ice. And while we love tiny regional chains, we kept this to the biggest. Sorry, Biggby. We still love you.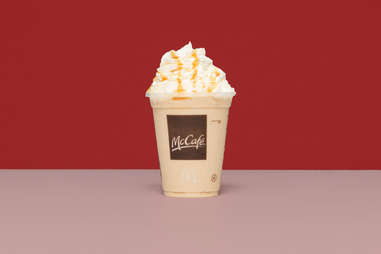 Yeah, it's not a coffee chain. But it wants to be, so we're gonna throw a bone to this little mom-and-pop organization. The Frappe -- excuse me, the McCafé Frappé -- is Mickey D's Starbucks Frappuccino ripoff for a fraction of the cost, and while cheap knockoffs of anything usually mean you'll be disappointed shortly after purchase, this caramel drink could stand proudly next to the 'Bucks. The iced coffees are serviceable, but they lack a little something something. Enter the Frappé. McDonald's has nailed what makes these types of drinks so addictive, and it's that you get your daily java fix along with a healthy amount of chopped-up ice to chew on in this blended drink. Typically caramel drinks at coffee chains are disgustingly sweet, but the caramel here isn't overpowering -- it blends in nicely with the coffee flavors.
In the Pacific Northwest, there seems to be a drive-up Dutch Brothers kiosk on every other street corner (and a bikini barista on the ones with no Dutch occupation), and for a region known for its coffee snobs, people sure do love them. The menu's ginormous on its own, and even bigger when you factor in a secret menu that's deeper than In-N-Out's. If we were going off that, the minty Ninja Turtle shake would win. But dammit, we set our rules, and we're going with the Mocha Dutch Freeze, a blended espresso bomb you can get in all kinds of flavors, though, come on, you're at a place named for the Dutch. So get chocolate. And if you don't want coffee but for some reason are at a coffee kiosk without any bikinis, go for the Dutch Frost, the shake version of the same thing, sans the beans. Or get the Ninja Turtle. Just don't say we told you that. There are rules...
Macchiatos (the American kind, not the real kind) are not my thing -- too much milk and too little coffee. So it was a surprise to be completely enchanted by a Pistachio Swirl drink, of all things. But this sucker is rich in all the right ways, like a millionaire uncle who gifts you a sports car for no reason. Unlike most of Dunkin's overly sweetened and milk-laden iced drinks, the pistachio flavor isn't overpowering, and the macchiato somehow feels like it has a better balance of milk and coffee than an iced coffee. This might be because Dunkin' doesn't skimp on milk in its iced coffees. Honorary second place goes to anything in it with a Cookie Dough Swirl, because normally you have to pay $5-$6 for that sort of flavoring at any other coffee chain.
Real talk: if you're at a coffee shop and not wanting to drink something that tastes like coffee, you're either a tea drinker, on a first date, a hipster, or don't possess adult taste buds. The latter's just fine. But if you're in the mood for an icy, creamy sugar bomb that snaps you out of slumber, well, just go for it. Don't lie to yourself and get it with matcha or chai. Get it with chocolate and caramel. Be honest with yourself. You'll be way happier -- and a lot more energized -- when you get a big-ass, blended cup of coffee candy topped with enough whipped cream to top a banana split. Speaking of which, that would be a pretty good flavor here...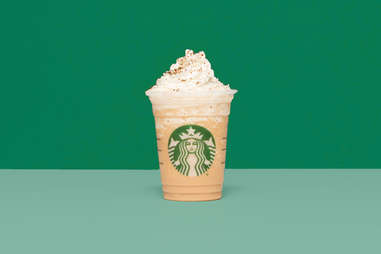 While the summertime limited-edition S'mores Frappuccino is worth a try, and the orange mango smoothie is way better than I ever expected it to be (it actually has whey in it, too!), there's nothing at Starbucks that comes close to the Coffee Frappuccino. It changed the blended coffee drink game, and remains a customer favorite. And it's probably because of its simplicity: coffee, milk, ice, and a whole bunch of sugar. It'll keep you caffeinated and awake for those hot, muggy Monday morning commutes when the last thing you want to do is go to work. It's a pick-me-up in a plastic cup, and it shows that the simplest drink is sometimes the best.
The Frozen Capp -- which is like the Canadian Frappuccino, in that it's not as good but extremely polite and good at hunting -- seems like the logical choice here, and it's not a bad one. But that would mean overlooking the frozen lemonade, which is essentially a Slurpee, but one that tastes like actual fruit and not corn syrup that's been circulating for several days on end. It's perfect for any occasion, whether you're in a traffic jam in the Midwest or braving the sweltering deserts of Manitoba. Which... those are a thing, right?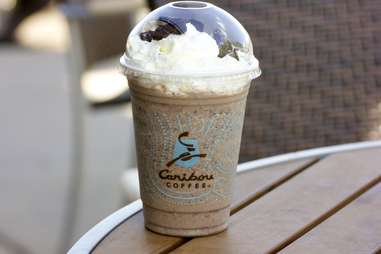 Drinking this is like sipping an Oreo dipped in 2% milk. It says "SNWDRF Oreo" on the receipt, but not on the menu. Why would Caribou hide its partnership with Oreo? This is like me saying I'm playing basketball with friends, but I don't tell you my friends are Steph Curry and Kevin Durant. I'm a huge fan of Oreo, and this satisfies my Oreo jones and provides me with a glass of milk to pair with my favorite cookie. It's somehow not overly sugary, either. I mean, in the ingredients, yes, there are, umm, 72g of sugar in a small, but not with regards to how it tastes. Caribou's Mint Condition Mocha comes in a close, close second. There's some smooth mint flavor that pairs well with its espresso, and there's a refreshing peppermint finish.
I'm not a huge fan of maraschino cherries -- I haven't had a Shirley Temple since I was 13 and it was the cool thing to drink at bar mitzvahs because you weren't old enough to order a screwdriver like the adults. But this Black Forest Ice Blended Drink has a whole mess of 'em inside, and it doesn't seem to ruin the drink. In fact, it just adds layers of flavor to the proceedings, which include the aforementioned cherries, a scoop of coffee + chocolate powder, and chocolate-covered espresso beans for even more chocolate and caffeine. All the Ice Blended Drinks are solid, but the Black Forest's flavor profile makes it less of a one-trick pony than the caramel, hazelnut, or vanilla versions.
Oregon Chai is one of my favorite chai brands, and not surprisingly, other than Starbucks, this is the first chai that truly sets itself apart as something that doesn't taste like a potpourri factory exploded in my mouth. For the record, that's a bad thing. The mochas are also surprisingly decent at Einstein, and hold up to the standard Starbucks set with the Frappuccino (albeit, this is at a lower price point in my area), but the fact that the company partnered with a legit chai brand pushes this into first place. And you don't have to be an Einstein to realize that. (Sorry.)
You probably know this if you go to Panera in the summertime: its drinks are a cut above the rest. The iced caffe mocha is in the top tier of mocha drinks in the coffee-chain space. But the mango smoothie is the best cold drink, and that's something I'm not sure I would've written prior to gorging myself on iced drinks before melting on the sidewalk into a puddle of ice and coffee. This isn't a boring smoothie with mango and milk. Panera's offering includes orange juice, banana, vanilla yogurt, and ice. You can get coffee drinks anywhere, but a smoothie this good is much more difficult to find at any coffee chain.
Sign up here for our daily Thrillist email, and get your fix of the best in food/drink/fun.