Design by Maitane Romagosa for Thrillist
"IPAs are so hot right now!" That sentence is so 1996. And 2019. And probably 2030, if we make it that far. As long as craft beer has been a thing, IPAs have dominated, bringing drinkers in flocks to their favorite beer bars, turning naysayers into beer snobs, and sending rabid collectors across state lines.
That makes picking the best IPAs quite a task, especially in the summer: The best at any given time can be mainstays, one-offs, and everything in between. To keep our bead on this ever-moving target, we've assembled beer experts to name what they deem to be the most attention-worthy IPAs at this very moment. We will revisit the list in the months to come to add new beers and subtract the ones lost to time, so that you always have your finger on the proverbial IPA pulse. Raise a glass. It's a good time to be an IPA lover. It always is.
7% ABV
Inglewood, California
With an entrepreneurial journey that screams for a documentary down the line, the enterprising duo Beny Ashburn and Teo Hunter—owners of the Inglewood, California-based Crowns & Hops Brewing Company—continue to blaze trails. After numerous collaborations with breweries (J. Wakefield, Three Weavers, Beer Zombies, Full Circle) alongside its own revered creations with a mission to empower underserved communities of color and encourage inclusion, the brewery went the lupulin-forward route to honor Historically Black Colleges and Universities. As proud alumni (Beny reps Spelman College and Teo is a Howard Bison), hop heads can't get enough of the well-balanced, double-dry-hopped "HBCU" Hazy IPA using Motueka, El Dorado, and Idaho 7 bursting with tropical fruit and finishing with a pillowy mouthfeel. It's only right to pay homage to their home state, so the "HBCU" West Coast IPA uses the same hop trio, but stays true to style by making the citrus more accentuated along with the body crisp and effervescent with a cleaner finish. Both are not only solid, but the can designs are extra dope with some direct influence from celebrated Morehouse graduate Spike Lee's classic School Daze to seal the deal. Get you some.
8% ABV
Athens, Georgia
Celebrating year seven in the beer industry with their revered Tropicalia IPA leading the way—and in the hand of Thor during Avengers: Endgame—Creature decided to make its second most popular hop-forward brew called Cosmik Debris graduate to year-round status. And rightfully so. Providing a bigger bang for the buck at 8%, this double IPA does a masterful job of fusing the tasting and olfactory notes of both east and west coasts, boasting the sweetness of melon and grapefruit in the front, coupled with dank and pine on the backend. Avoiding some of the syrupy textures and overdone hopping often found in its style, Cosmik gives hop-lovers an emphatic high five with Mosaic, Strata, Simcoe, Cascade, and Chinook seamlessly sharing the spotlight. Soon, Los Angeles will have direct access to Cosmik, Trop, and more of Creature's liquid mastery when they open their new taproom and brewery there within a year. Until then, get your beer trading on. This one is a beast.
7.1% ABV
Milton, Delaware
Just when you thought coming up with an all-new delicious, newsworthy IPA variation would be almost impossible, Sam Calagione and the Dogfish squad simply said, "Hold my beer!" and dropped a smooth hazy rendition the lactose intolerant can toast. By teaming with plant-based milk producer Elmhurst 1925, Dogfish uses oats rolled, malted, naked and, yes, in milk form, producing the desired tongue-lacing mouthfeel hazies are revered for accompanied with a subtle sweetness reminiscent of the milk left after the final scoop of your favorite cereal. Instead of drinking from the bowl however, this tasty brew goes great in a Teku glass with just enough hop presence of mandarin orange, pineapple and mango to legitimize the "IPA" designation at 45 IBUs. Oh yeah, they also have an ice cream version now that's lactose-free with a little kick at 5%. Always pushing the boundaries, leave it to Dogfish to continue finding innovation in the most populated craft beer style in America.
7.3% ABV
Brooklyn, New York
We've known for decades that milk may be a bad choice in hot weather. Milkshake IPAs, on the other hand, seem to be a perfect beverage for the season. Brewed as a collaboration between New York's Finback and Virginia's Crooked Run Brewing, Yellow Cake is as hazy as grapefruit juice in the glass, made with vanilla, lemon, and lactose. Fans of the style already know that the addition of milk sugar helps round out the bitterness found in IPAs, and in this case, it really does help all the flavors come together like a refreshing slice of lemon cake. It manages to simultaneously hug the palate while still maintaining a bright levity, making it a fantastic option for an after dinner drink or as a pairing with foods like grilled fish or tacos with fresh salsa.
7% ABV
Salem, Connecticut
While it might feel like there are few corners of New England left for pleasant beer surprises to spring from, Connecticut is proving to be one such place. The state that most people forget is even tied to the region is steadily increasing their profile on the national beer scene thanks to breweries such as Fox Farm. Brewmasters here roll out everything from barrel-aged farmhouse ales to obscure lagers made with locally sourced ingredients, but their everyday appeal shines when it comes to flagship IPA, Burst. The well-balanced NEIPA pours hazy, but maintains an incredibly well balanced flavor profile of citrus fruit, pineapple, and floral hops with a nice medium-bodied mouthfeel. That combined with the relatively reined-in ABV makes it an absurdly drinkable juicy option to quench your thirst in the warmer months.
8.5% ABV
Middletown, New York
The numbers haven't been officially crunched on this, but collaborations are arguably the only thing in the beer world as ubiquitous as IPAs. But when one of New York's most beloved breweries joins forces with one of the most popular beer makers in Massachusetts, the odds are good that the results will still likely make a splash on the already crowded scene. Such is the case with Sea Science, a joint effort DIPA from Equilibrium and Vitamin Sea. Built on a sturdy base of oat and wheat in the mashbill, this hazy beer shines with bright flavors of citrus, passion fruit, and mango over a velvety smooth body, capped off with gorgeous aromas from a smattering of Southern Hemisphere hops used in dry hopping. And like most standout IPAs of this caliber, it's deceptively drinkable for its alcohol content.
7.5% ABV
Albuquerque, New Mexico
The highest-rated IPA coming out of New Mexico according to Beer Advocate is La Cumbre Brewing Project Dank. The only thing is that the recipe changes with each iteration, making it an ever-evolving hop project that showcases different hops and hopping techniques. It's essentially a brewers' experiment, a tool for hop education, and a surprise of hop insanity for the drinkers.
7.3% ABV
Astoria, Oregon
Perhaps because it is located in a quiet, older-skewing seaside town best known as the setting for some scenes in The Goonies, Fort George Brewery pre-games summer hard. This June, it released the latest three-way collaboration, a not-erotic-at-all rubbing of the hops together with Varietal and Moonraker. The result is a bright citrusy blend with notes of berry, white grape, and a hint of grapefruit.
7% ABV
Brooklyn, New York
Brewing in New York City is becoming increasingly crowded territory these days. It's especially crowded if you're trying to create a widely popular IPA that fits with modern tastes, is widely appealing, and doesn't require waiting nine hours in line to get your hands on. Despite these odds, Threes seems to have succeeded with Logical Conclusion: Hopped with Simcoe, Mosaic, and Citra, with juicy flavors of orange pith, ripe peach, and (according to the brewery's own tasting notes) Gushers, this beer has become the talk of the town in a town with a lot to talk about. Whether it's a can pickup from your local bottle shop or a pour from a fresh keg at your local, this beer has become a hometown hero.
8% ABV
Decorah, Iowa
If you've love PsuedoSue, you can imagine the appeal of her all-grown-up big brother, a wallop of a double IPA packing a massive Citra hop punch. All of the Citra calling cards—mango, orange, lime, pineapple—are there, with a beefed-up ABV and double the IBUs. Fans in Rhode Island and Massachusetts are in luck, as the Iowa-based Toppling Goliath chose those two states in its steady distribution expansion.
6.2% ABV
Big Lake, Minnesota
This juicy little number took the Twin Cities by storm. When it hit draft lines at one popular beer bar in Minneapolis, the bar's owner told us every customer's reaction was: "Who? What? Give me more of that!" Six hops—Citra, Mosaic, Simcoe, Amarillo, Mandarina Bavaria, and El Dorado—are woven together in a way that's complex but not muddled, making Hooey a something-for-everyone crowd pleaser. It's only been canned since June 2017, and sees distribution mostly around Minneapolis and Duluth. Or, if you can't find it, get it straight from the source at Lupulin's Big Lake, Minnesota taproom.
8.1% ABV
Hattiesburg, Mississippi
While Mississippi lawmakers continue loosening the reins on all the archaic laws that have been suppressing the state's craft beer scene, SoPro has no issue carrying a significant load of representation with their stellar brewing. This hazy, dry-hopped IPA is simply awesome. Pouring a rich golden color, this liquid fruit cup is loaded with essences of mango, pineapple, tangerine, and peach. Brewers can overdo the dry hopping and Lupulin powder, which can often lead to a burning, acidic finish in the throat, but Paradise Lost graciously defies the odds and puts our palates on an island getaway with no plans of coming back.
7% ABV
Freeport, Maine
It's not often the case that your state's namesake brewery also happens to churn out some of the best stuff within your borders, but in the case of Maine, it certainly is. Lunch has risen as a star among stars in a place very crowded with widely adored beers. We're pretty sure the brewery's devotion to using the best ingredients and tightly controlling shipping and freshness of their products make this balanced, bright, citrusy IPA like running into a friend you're only lucky to see just often enough. The brewery's commitment to the environment is just a sweet bonus.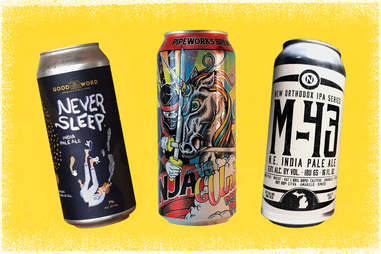 7% ABV
Duluth, Georgia
Seasoned from the years working at the world-famous Brick Store Pub in Decatur, Good Word Brewing's owners Todd DiMatteo and Ryan Skinner—backed by their talented team—are only in its fifth year representing the rapidly developing Duluth municipality with stellar results. Finally The Never Sleep New England IPA reflects their tireless efforts and acumen of what a gangster IPA is. Packed with Citra and Vic Secret hops that take us to the tropics, Good Word mellowed things out with flaked oats and English pale malt finishing with a texture smoother than Billy Dee Williams on ice skates. Evidently, no one is sleeping on this one after receiving Homebrewers Association's prestigious honor of being Georgia's pick as one of the "51 Craft Beer Clone Recipes 2019."
8% ABV
Chicago, Illinois
In between collaborating with Run the Jewels, cranking out crazy-ass marshmallow/baklava/mint truffle stouts, and designing some of the raddest can art in the Midwest, Chicago-based Pipeworks steadily brews up this craveable unfiltered DIPA. The light body shoves the trio of Citra, Simcoe, and Columbus hops to the fore, letting the oily orange skin and dank white onion notes steamroll over the surrendering malts. Unlike some of the other beers on this list, Ninja vs. Unicorn sees regular releases and can be found on shelves—for a few minutes before it's snapped up.
6.8% ABV
Williamston, Michigan
It's not hyperbolic to call this beer a game-changer for Williamston, Michigan's Old Nation Brewing. Prior to the debut of this pillowy-soft, tropical haze bomb in April 2017, the brewery at times struggled to find a fan base. But thanks to M-43, its brewers can hardly keep up with demand. A quartet of Calypso, Simcoe, Citra, and Amarillo hops lend tropical appeal to this year-round release, which credits malted oats for its memorably soft mouthfeel.
7.2% ABV
Charlotte, North Carolina
There are a handful of beers throughout the country that craft drinkers consider must-haves to purchase in freight capacities, and NoDa's Hop, Drop 'N Roll IPA is undoubtedly one of them. Hop lovers will appreciate the amount of cone love this brew packs thanks to overzealous amounts of Amarillo, Citra, Warrior, Centennial, and Chinook varieties doused throughout its creation. Marketed with a clever name and captivating 16-ounce can sold throughout Queen City, Hop Drop's the total package. Its expansive new brewery will have numerous other hop-forward selections to try as well, but Drop's World Beer Cup Gold bling in the American-Style IPA category further justifies why it's the breadwinner and, simply put, no joke.
6% ABV
Nashville, Tennessee
If a hop head hits up Music City for a visit and does not make it by Bearded Iris, the trip is simply incomplete. This brewery is doing its best to keep up with the local demand, particularly for its most popular IPA, the single-hopped Homestyle, because, well, it's bordering on world-class status. An impressive balancing act of pine, pepper, biscuit notes, and citrus fruit properties courtesy of the Mosaic hop, this hazy New England-style IPA will hopefully answer the prayers of surrounding Southern imbibers and make its way across state lines soon. And to keep their blossoming legion of fans happy, Iris has rewarded them with a Double Homestyle version at 8.2% ABV, along with six other IPAs currently on tap, a few imperial stouts, and some upcoming sours. Cowboy boots are optional.
7.3% IPA
Flagstaff, Arizona
Continuing in a tradition of Route 66-inspired beers, Mother Road Brewing stops short of calling its Tower Station a NE-style or hazy beer but does drop keywords like "unfiltered" and "pineapple." Brewers back this up with tangerine and orange citrus and a pale body that lets the hops speak loudly. It's a triumphant bridge between west coast and east coast into a midwest package. Making matters even cooler, Tower Station comes in 16-ounce cans that you can "drop the top" on by removing the whole top of the can to simulate drinking out of a glass and getting the full effect of that juicy hop aroma.
8% IPA
Kernville, California
A historic California mining town at the southern entrance to the Sequoia National Forest may not seem like the obvious location for a citrusy all-star IPA maker. But Kern River Brewing struck gold with its Citra IPA, rated a perfect 100 on BeerAdvocate. It helps that Citra is one of the fastest-growing and most popular hop varieties. Kern River seems to have tamed the Citra hop... or perhaps cut it loose, as the IPA has become one of the hottest single-serving bottled IPAs in the state.
7% ABV
Auburn, California
Yojo IPA is named after a small idol featured in Moby Dick, for whom the character Queequeg builds small ceremonial fires. Similarly, beer geeks build small ceremonial bottle shares and conduct black market trades for their own white whale. Queequeg was a cannibal and also spearman for the Perquod in the novel who eventually goes down with the ship. Not sure what Moonraker is saying here, but maybe we are reading too much into it. Yojo IPA is only made three or four times a year in cans, which keeps it special and in high demand. The brewers pack tons of Galaxy, Mosaic, Simcoe, Citra, and CTZ hops into this tropical hazy IPA.
6.7% ABV
Greeley, Colorado
From one of the hottest Colorado breweries comes one of the most buzzed-about New England-style hazy IPAs. Six-year-old Weldwerks Brewing is located outside of Fort Collins in Greeley, Colorado, yet still manages to have beer geeks lining up for can releases of Juicy Bits and the special Double Dry Hopped Juicy Bits. The brewers go so far as to adjust the water chemistry and use higher-protein malts along with the tropical, juicy Mosaic, Citra, and El Dorado hops for a soft, smooth mouthfeel, like your drinking pulpy fresh-squeezed hop juice.
6.8% ABV
Charlton, Massachusetts
There are few breweries anywhere in the country—let alone New England—that have been able to drum up as much hype as Tree House. Thanks to an expansion, it has finally become *that much easier* to get your hands on a few cans of their flagship IPA, Julius. Not that there's not plenty to love in their entire lineup: It's just that this beer has played a huge part in establishing the current haze-craze culture. Expect all those bright flavors of passionfruit, mango, and citrus when you crack a coveted fresh can.
8.1% ABV
Columbus, Indiana
With its hefty dry-hopping, haze-for-days appearance, and Shark Week-appropriate can art, it's no wonder Kiddie Pool turned into a summer banger for 450 North. The brewery's been around since 2012, but began generating serious buzz a bit after that with a lineup of heavily fruited sours and hazy IPAs. Kiddie Pool was an instant success when it was released in cans this summer, thanks in no small part to the double dry-hop siren song of Mosaic, Idaho 7, and Vic Secret.
6.8% ABV
Garnerville, New York
For anyone who has followed his brewing career from Ithaca through Peekskill and up through current day, beer fans know that Jeff O'Neil (or "Chief") knows a thing or two about putting out a truly show-stopping IPA. Of course, now that he's been running his own brewery at Industrial Arts for years, it's no surprise that his IPA is taking the Hudson Valley by. Wrench is everything you want it to be: Unbelievably bright, tropical nose with lychee, mango, papaya, and guava that slights right into the palate, super balanced and smooth while finishing with a subtle dryness that makes it thirst quenching. What's even better is the brewery's tight release schedule, which makes practically every drop you find even outside of the brewery supremely fresh.
7.2% ABV
Orono, Maine
There are exciting things happening in the perennially exciting beer state of Maine. What has always been fertile ground for influential craft breweries seems to be in the midst of ushering through a new class of young upstarts with great ambitions backed by legitimate talent. Orono Brewing is one such brewery. It's named for the small town (and home of the University of Maine) just outside of Bangor and a full two hours north of the "bustle" of Portland. Head brewer Asa Marsh-Sachs has developed an impressively broad portfolio of impressive beers, but the flagship Tubular IPA helped to put them on the map. Bright citrus and grassy notes are balanced by flavors of ripe red berries and stone fruit with just enough perceived bitterness to create a smooth experience beginning to end. (The can's Saved By the Bell design doesn't hurt, either).
6.8% ABV
St. Petersburg, Florida
Florida has really made it a priority to let the nation know that they can brew some legit IPAs too, and the Sunshine City perfectly sheds light on their brewing talent. Double dry-hopped with a trio of hops known to deliver the fruity dominance you would yearn for while chilling in the Sunshine State—Azacca, Citra, and Mosaic—this IPA hits the refresh button with every pour.
8% ABV
Bridgman, Michigan
The sleepy lake town of Bridgman, Michigan, is ground zero for one of the Midwest's best-loved IPAs, a hazy-juicy double IPA packed with passionfruit and sweet tangerine flavors. It's definitely a departure from Transient's early reputation as a brewery focused on oak-aged and wild-fermented beers. But hopheads are making the road trip from Chicago to pick up fresh cans, proving they don't mind the shift in focus one bit.
6.8% ABV
Kansas City, Missouri
When BKS Artisan Ales opened, the brewery planned to focus on barrel-aged sours. Then, Counter Culture happened. "It's still our biggest seller, still everybody who comes in wants to see it on tap," says cofounder Brian Rooney. He'd tweaked the recipe for Counter Culture several times since the brewery opened, switching up the hop ratios, trying new malts, experimenting with new yeast strains. But BKS has settled on a standardized recipe using a relatively uncommon English ale yeast and a trio of everyone's favorite hops: Simcoe, Citra, and Mosaic. Rooney calls them "The Holy Trinity."
7.2% ABV
Ann Arbor, Michigan
Homes head brewer Nick Panchame almost doesn't want to talk about Same Same Different: "If I mention it, then people come in and ask for it, and sometimes we don't have it." But it's undeniably the brewery's most popular IPA among a lineup of popular IPAs, a well-loved trio of Simcoe, Citra, and Mosaic headlining the soft but full-textured beer. Try to catch it on draft in the brewery, but if you happen to miss it, fear not: The brewery has plenty of other IPAs in that same vein. "Our IPAs overall are pretty soft, with low bitterness," Panchame says. "We usually concentrate on using really fruity hop varieties and really bright tropical notes."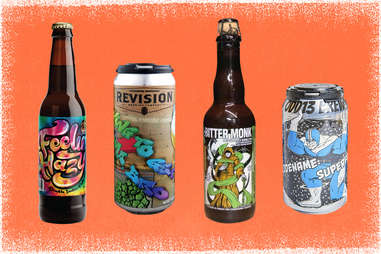 9% ABV
Midvale, Utah
2 Row Brewing helped usher in Utah's modern craft brewery boom in 2015, a handful of years behind the renaissance of 2010-11 in many other states. Perhaps because the recent repeal of Utah's restrictive alcohol laws limiting ABV on beers sold at grocery stores, 2 Row Brewing was able to enter the scene as a full-strength brewery that recognized IPAs were taking over the market. Since going from a homebrewer to a probrewer, co-founder/brewer Brian Coleman has made IPAs his thing, and his Feelin' Hazy Double IPA has become one of the most sought-after hazies in liquor stores throughout the state.
7% ABV
Sparks, Nevada
Ever since walking away from the award-winning brewery he helped create in California (Knee Deep), Jeremy Warren has put his yellow lupulin-stained thumb on the pulse of the industry, making IPA after IPA in a variety of sub-styles, many better than the next and with psychedelic labels that seemed inspired by both Reno's outdoors and dance clubs. Where once he specialized in giant triple West Coast-style IPAs, Warren has now mastered the juicy IPA, and when he tries to get that mouth watering fruity hop aroma like he does with this beer, all the boys (and girls) come to the yard.
9% ABV
Anchorage, Alaska
You don't usually think about monks as being bitter people. They do live in a monastery where they don't have to travel to work or fret about how to pay for the groceries and gas for the hummer. On second thought, they probably don't get to blow things up on the Fourth of July or ever experience an In-n-Out burger and the boss is probably an asshole. At least they get awesome beers like Citra Bitter Monk. I don't think the monks ever had double IPAs like this one, let alone dank and citrusy dry-hopping. Anchorage Brewing ferments all their beers in oak, too, and this one sat in Chardonnay barrels, so it has complex notes of oak, grape, and buttery tannins contrasting with funky brett yeast and citrusy hops.
6.5% ABV
Lafayette, Colorado
Odd 13 Codename Superfan sounds more like a children's cartoon series than a juicy hazy IPA. But just like kids clutching their milk and juice boxes while catching up on the latest mind-numbing entertainment, grown kid beer geeks are clutching their milky-looking and juicy-tasting bottles of Codename Superfan.
Kate Bernot is the former editor at Draft Magazine and former managing editor for The Takeout. She is a BJCP-certified beer judge and you can follow her on @kbernot
.
Ezra Johnson-Greenough is the founder of Portland Beer Week and The New School beer blog. You can follow him @SamuraiArtist.
Zach Mack is the owner of Alphabet City Beer Co. and Governors Island Beer Co. in NYC, a Certified Cicerone®, and absolutely nothing else. Follow him @zmack.

Ale Sharpton is an award-winning journalist, blogger, photographer, and beer authority based in Atlanta. Follow him @AleSharpton.