Despite being almost intrinsically linked to beer, it's almost tragic that Ireland isn't better known for its burgeoning brew scene. Thanks to government-enacted legislative changes and direct government support for upstart craft brewers, the number of breweries on the Emerald Isle has skyrocketed in the past decade to over 60, and while consumption of beer overall in the country was slightly down, craft beer consumption was up 12.7%. That means a demand for Irish beers beyond the ones associated with the "perfect pour." Start with these prime Irish beers, all of which are available in the US and represent a wide array of styles that go well beyond the traditional stout or whatever dyed-green adjunct lager your favorite bar calls Irish on St. Patrick's Day.
Stout, 5.2%
Sligo
Beer geeks in the Northeast are probably no stranger to Lough Gill, which has been available in the US market for close to two years. The broadly satisfying portfolio includes everything from Berliner Weisses to Irish Barleywines, and they've even done an "oyster gose" collab with Industrial Arts and Thin Man Brewing. But even coming from a country that is all but synonymous with stouts, they've managed to go above and beyond with Round the Clock, a well-balanced "breakfast stout" made with Irish oats sourced from Flavahan's. The rich flavors of freshly brewed coffee are up front and center over the medium-full body whose creamy texture never comes close to overwhelming the palate.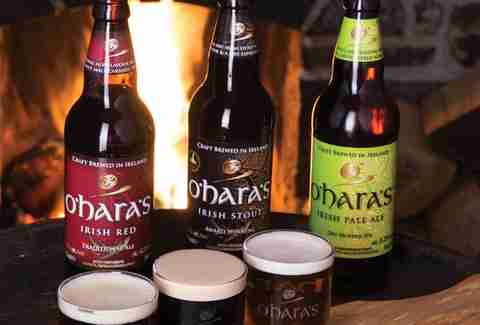 Irish red ale, 4.3%
Carlow
Unlike most of the other young upstarts on this list, Carlow (better known as O'Hara's) can actually trace its history way back to Ireland's first craft beer boom in 1996. But even for a beer that's been available stateside for much of its existence, there are few breweries anywhere in the world who have avoided the temptation of trend chasing as well as Carlow. Take their Irish Red, for example, a style that has been as bastardized and lost to the sands of market forces perhaps more than any other. In the hands of many, it's an overly sweet, unbalanced toffee bomb. In the case of O'Hara's, it is a true-to-style, honest-to-goodness take with a refreshingly light body, a caramel-kissed toasty maltiness that soothes the palate, and a crisp, smooth finish that avoids the cloying profile of other beers supposedly made in this style. You owe it to yourself to revisit this done the right way.
Dry stout, 5.2%
Dublin
If you were to ask anyone from Ireland to name the first craft brewery in their country that comes to mind, there's a very good chance their answer will be Porterhouse. Despite the fact that they're a small brand operating pubs around Dublin and exporting beer to the US, they still enjoy a "David and Goliath" relationship with the macrobreweries that dominate their homeland's beer landscape. They say it best themselves: "We're not joking when we say that we're the largest Irish-owned brewery. We are. But we're still refreshingly small." Their oyster stout serves as proof of this commitment to quality, providing a roasty, medium-bodied beer with ever-so-subtle brininess that is as easy to drink with food as it is without. At the very least, this brew reminds you that even in the great global surge of craft beer, there are some classic styles that have yet to be topped outside of their country of origin. And take notice: If you live near New York City or plan on visiting, you can stop by the venerable Fraunces Tavern, the brewery's American homebase, for a lineup of their beers that almost rivals the experience of drinking in their home pub in Dublin.
Irish red ale, 8.2%
Sligo
After opening their doors in 2013 as the first brewery in Sligo in 50 years, the brewers at White Hag wasted no time in developing a diverse stable of beers that is as steeped in history as it is forward-looking in its inventiveness. But instead of interpreting "Irish beer history" to mean a stout or red ale, they took it further back in time to a point in time when the ingredients used were simply what was available to them (think heather or herbs in place hops). In the case of the Meabh Rua, it's the use of slightly smoked malts that sets the tone, creating a Scotch-like peatiness with a touch of toffee over a medium-full body and a solid malt backbone. Don't be confused: This is far from an overpowering rauchbier, embracing balance over shock value and making it a fantastic pairing with any meat dish.
Saison, 4.3%
Belfast
Since establishing themselves since 2014, Boundary Brewing Cooperative has operated through the financial support of its members. While they're not the first brewery to use the model and this alone isn't enough to make them stand out, the quality of their beers surely is. Taking an esoteric approach of "modern American beers meets classic Belgian/French styles," their output has been as impressive as it has been varied. What's most important is that they've recently took the plunge and begun exporting to the American market, which means that beers like their Légalité (known as d'Etre back across the pond), a delicious saison brewed with blackberries, are now available stateside for your enjoyment.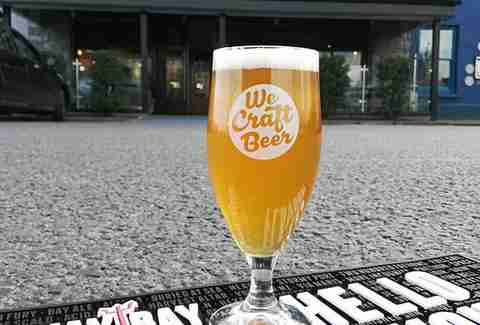 IPA, 8.5%
Galway
As the renegade craft-brewery operators of a dozen successful pubs across the country, Galway Bay Brewing established a reputation for themselves early out of the gate. Their releases list among some of the most popular in the country, including collabs with American heavy hitters like Cigar City. Of Foam and Fury stands as one of their most reliably popular beers, with as resinous and tropical an aroma and flavor profile as in anything you'll find stateside. This beer manages to carry the heft of its 8.5% ABV along with a balanced bitter finish that makes it's deceptively drinkable. If you're hoping to see more of them stateside, stay tuned: They've recently hired an American brewmaster and are hoping to ramp up production in the near future.
Cider, 5%
Cork
We know what you're thinking: Irish cider?! On a beer list?! But if you're thinking this has no relevance to Irish culture or history, you'd be dead wrong! Historical evidence suggests that cider has been made in Ireland since before the Middle Ages, coming into common production in the 17th and 18th centuries. Both World Wars and Ireland's own civil war took a toll on the industry, and while larger producers may have dominated the market since, the resurgence of well made craft versions have been popping up across the country. O'Callaghan's is produced by the Longueville House estate, and serves as a perfect starting point for anyone looking to discover (or rediscover) Irish cider. It's an incredibly far cry from the cloyingly sweet versions you've probably drank over ice, made with Michelin and Dabinett apples and fermented for two to six months to produce a refreshingly dry, clean beverage that tastes the way it was always meant to.
Sign up here for our daily Thrillist email, get Eatmail for more food coverage, and subscribe here for our YouTube channel to get your fix of the best in food/drink/fun.