K-Cups are practically inescapable these days. They've invaded every office, every lazy human's kitchen counter, and half of the aisle space at all suburban Bed Bath & Beyond locations. Hell, even staunch environmentalists desperate for caffeine have compromised their morals and used a K-Cup at some point.
And nearly every brand is making a single-serving coffee pod these days. Starbucks? Check. Dunkin' Donuts? You betcha. Even Cinnabon, the maker of mall food court cinnamon rolls, makes K-Cups. But with hundreds of coffee K-Cups out there -- and at least a few dozen in your office pantry -- which one's really worth the (minimal) time?
We asked Josh Taves, a 12-year coffee industry vet (who has spent time working as a barista as well as training them) and the director of business development for Denver's Novo Coffee -- one of the finest coffee shops in the country -- for help. He did a blind tasting of 20 of the most popular K-Cups like a true (and highly caffeinated) hero. In the end, one brand stood out above all else, snagging three of the top four spots, while a few proved to be not worth drinking, no matter how badly you need a caffeine kick.
Recommended Video
The Mexican-Style Grasshopper Tacos You Have to Try When You're in South Beach
"It tastes like 90% dark chocolate -- or baker's chocolate. Most dark chocolate is only 65 -70%, so this is much more bitter. The coffee also tastes old, and a little fishy."
"Unfortunately, this was not an enjoyable experience. It tastes chemically, tarry, and pungent."
"It tastes a little like curry or móle. It's very gamey and overwhelmingly roasted in flavor."
"This one has some peanut and cashew flavors to it. While it has a medium body [and doesn't taste too heavy], it does taste old."
"It tastes like sugar-free flavoring."
"This one tastes like caramel without milk, I don't mind it. The coffee also has some vegetal flavors like that of sugar snap peas."
"This one is very light-bodied and has a little nuttiness to it, but overall there is barely any taste to this."
"This one is pretty light, but has some interesting green, vegetal notes -- like unroasted peanuts. But that's not necessarily a good thing. There's something very raw about it. It tastes like if you cracked the shell and ate the walnut straight out of the shell. It's that green, raw flavor."
"This tastes like hotel coffee. It's less offensive than some other ones I tried, but only because it's so weak. It's like brown water."
"It tastes like a low-quality coffee, as there's not a lot going on flavor-wise. Even though there is a little bit of cinnamon sweetness in the finish, overall it's weak and old when you drink it."
"This tastes like straight char. It's a good dark roast in that it has a nice body to it and it's not weak. But it only tastes like char."
"This doesn't taste like coffee at all. Instead it tastes like a hazelnut milkshake. If you put hazelnut syrup in water and heated it up, this is what you'd get. It's not bad, but it's also not coffee."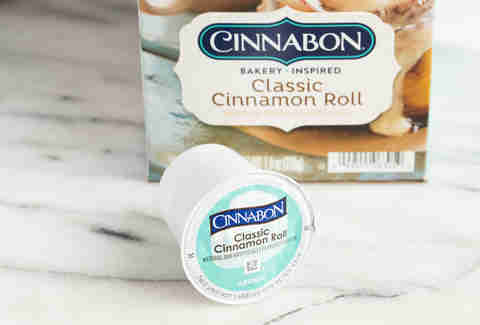 "It tastes like a cinnamon roll! There's still a little bit of coffee flavor, however, unlike the [aforementioned] hazelnut coffee. But still, it's mostly flavoring."
"It has a nice body to it and it's nutty and chocolaty."
"There were very few negatives to this coffee. It started with good flavors and it didn't taste old."
"I'm getting some sweetness and caramel. Compared to the other K-Cup coffees I've tried, this has a heavier body, which is a good thing."
"It's very clean in flavor. It lacks bitterness and astringency in the finish, which is nice. I wouldn't be upset drinking a cup of this, but I would be upset paying for it."
"There's a little bit of acidity and a nice sweetness to the K-Cup, but it slightly tastes like rancid coffee oils."
"It's not bad! It has some moderate sweetness and it has some acidity that pops. I can see an importer sending us this coffee [to try to get us to sell it], and us saying, 'It's OK, but no.'"
"It has a good sweetness and acidity to it. The finish tastes a little stale, but up front, it's very nice. I wouldn't be surprised if a specialty roaster put this in front of me."
Sign up here for our daily Thrillist email, and get your fix of the best in food/drink/fun.