The Best Karaoke Songs For Horrible Singers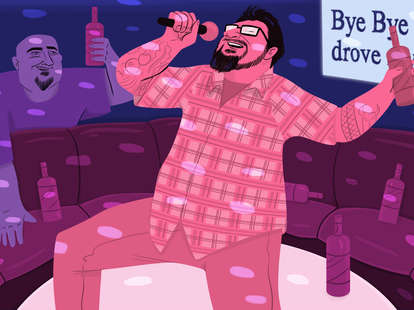 I spent 10 years of my life in karaoke bars -- first as a patron, and later as a paid karaoke host, where my job wasn't just to keep the audience's energy up, but to try to figure out from clues like song choice, vibe, and confidence level whether a performer would win the crowd over or completely lose the room. You may be surprised to learn that that doesn't mean I'd try to figure out whether they were going to be a good singer, but rather whether they'd be good at karaoke -- a completely different metric.
On any given night, a trained singer could get up and belt out a Celine Dion song and bore everyone to death, while a terrible singer who was great at karaoke (that is to say: kept the audience engaged, had a sense of humor about themselves, and was fun to watch) could win over the night.
With that in mind, here's a list of 10 standby songs for any terrible singers wanting to stretch into karaoke territory. Some of them require actual singing. Others are mainly instrumental. But the key element to all of them is that they allow the performer to have fun without worrying about whether or not he or she or they are hitting the right notes 100% of the time. That's not -- and has never -- been the point of doing great karaoke.
Oh, and one more note: regardless of whether you're a good or bad singer, "American Pie" is the worst karaoke song of all time. It's 5 whole minutes longer than you think it is, you don't know all the lyrics, and if you sign up for it I'll glare at you all night and push you down the list as far as I can. Don't.
"Tom's Diner" by Suzanne Vega
This stream-of-consciousness hit for Suzanne Vega is literally talk-singing; it's sort of hypnotic and exudes cool, plus the "do-do-do-da-do-do" section is sing-alongable. It may not be a party starter like some of the others below, but it's still a reasonable choice if you're worried about your voice.
"Summer Nights" by John Travolta and Olivia Newton John
This one seems counterintuitive, but was often the song I'd convince tentative singers to sing -- and they'd always crush it. Why? Well, first-off, everyone knows every lyric by osmosis, so no need to look at the TVs. Your audience will always do the call-and-response, turning it into a bar-wide party, and you need to do it with a partner, which means if there's a guy or girl you've been checking out, it's a killer icebreaker to get them to sing with you (ask the host to facilitate this if you're extra-shy, and extra-points for gender-bending or same-gendering this one, for sure.) Also? This song is actually BETTER if it's sung off-key; get everyone to sing the final "niiii-iiight" terribly together with you as well and you'll be a karaoke hero, all night. Trust me.
Anything from Tom Petty's Greatest Hits
One of Tom Petty's biggest strengths as a songwriter was writing songs that had multiple melodic hooks that fall right into most people's mid-ranges, full of easily-memorable lyrics that sound best sung by large groups of people. Whether you go for "American Girl" ("Oh-yeah, alright, take it easy baby, make it last all night") or "Won't Back Down" ("Heeeey, baby, there ain't no easy way out") or "Free Fallin'" ("Ventura Boulevard") there are audience-response sections that give way to full-crowd participation -- exactly what you're looking for as a bad singer.
"I Love Rock And Roll" by Joan Jett
There's a reason Britney Spears chose to cover this song (and, speaking of Brit-Brit, "Toxic" and "Hit Me Baby (One More Time)" are both decent choices for the non-singer as well): it requires grit, and attitude, and energy… and not much range. Jett's a legend, and this is one of those songs that no one hates; it's an easy choice, and has a powerful, sing-along chorus.
"Sweet Caroline" by Neil Diamond
This classic is one some may say is one of the best karaoke songs, period. It's also great if you can't really sing: everyone knows or at least can slur along with every word, it's in most people's middle range, and the chorus is a party.
"Friends in Low Places" by Garth Brooks
You've gotta wait 'til towards the the end of the night to bust this one out, but even if you're not a country fan, and you have no pitch, by the time you get to the chorus it won't matter.
"Teenage Dirtbag" by Wheatus
I have a female friend who insists that even though this is a dude-sung-song that it's perfect for women who don't have a ton of range. Initially I poo-poohed it, until I listened back; it's right in the spot most women can hit, plus you can gender-bender the lyrics to the verses in any way you damn choose. Great choice. Also, the longevity of this song's popularity -- it came out in 2000 on the soundtrack to a Jason Biggs movie -- is one of the great mysteries of modern music.
"Tequila" by The Champs
There will never be a more brilliant bad-singing performance at karaoke than the one above: a man stands on stage, stone-faced, waiting for his moment. Breathlessly, it comes. He leans in. "Tequila," he says, off-key. He then waits for his next moment to pounce. It's a completely genius bit, and can be replicated at any karaoke bar, anywhere in the country, for maximum laughs. Hilarious, and requires literally no talent whatsoever.
"Detachable Penis" by King Missile
This '90s hit (yes, it was a hit!) is a talk-sung anthem that also has one of the silliest choruses of all time. An added bonus is that if you don't follow the lyrics along exactly, and you shouldn't, you can make up literally any story that you want about cutting someone's penis off; in our #metoo moment, that shouldn't be too hard to do.
"These Boots Are Made For Walking" by Nancy Sinatra
Not just a great choice in terms of an easy-to-sing song, but possibly the absolute best post-breakup karaoke-bender song of all time that's not "I Will Survive."
Sign up here for our daily Thrillist email and subscribe here for our YouTube channel to get your fix of the best in food/drink/fun.
Jeff Miller's go-to songs are Digital Underground's "The Humpty Dance," Bel Biv Devoe's "Poison," and Christina Aguilera's "Beautiful." He's at @jeffmillerla on Instagram.