American Craft Lager Revolution: 10 Beers Refreshing the Industry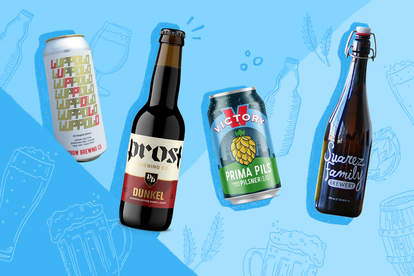 Emily Carpenter/Thrillist
The most exciting trend in craft beer isn't murky hazy IPA or pastry beers that taste like desserts, it's the resurgence of the once and future king of beers: lager.
Ever since German immigrants brought the first lager yeast to America in the 1840s, lagers have been a permanent fixture of our drinking culture. What makes a lager a lager and not an ale is the specific types of yeast used, which prefer long, slow, and cool ferments resulting in a generally cleaner and clearer flavor and appearance.
But they've had a few struggles over the years. The lack of low protein barley in the early 20th century, the advent of Prohibition in 1920, and the continued industrialization of beer caused a perfect storm that resulted in the often disappointing product that larger companies pass off as lager today. While good, even great beer can be made with corn and rice, the mass production and cheapening of the ingredients has left a bad taste in consumers' mouths from flavorless beer.
But owing in large part to the highly-developed palates of consumers brought up on microbrews, brewers, and beer fans have rediscovered classic European-style lagers--and are sprinkling in a little bit of American craft beer flavor into the style. Craft beer has officially reclaimed lagers from the frosted mugs of macro lite beer delivered by spokesmodels on bullet trains. Beer nerds have lovingly reappropriated the Bud Lite term "Crispy Boys" for the Instagram generation (#crispyboiz), and brewers have flooded local taps with exceptional craft #crushers. For the first time since pre-Prohibition, craft lagers are sometimes outselling ales and, in some cases, even IPAs.
Pale lager was invented in Pilzen, Czech Republic in 1842, but not all lagers are light and yellow. Germans have been cold-fermenting below ground with lager yeast for hundreds of years, and the styles and flavors have varied wildly. Earlier examples were darker, sometimes smokier and even hoppier than the lagers most of us know today. Craft brewers in America are slowly working to rejuvenate the spectrum of classic German and Czech styles of lager, while putting their own spin on them by dry-hopping and even oak aging.
Here are some of the best lagers you can taste now. Read on to get a clearer idea of all a lager can be.
When every brewer you know makes a mandatory stop in Denver for a Slow Pour Pils, you know it's a beer not to miss. Slow Pour is a true-to-style German Pils aptly named for the time intensive nature of the 30-hour-long decoction brew day and the heady pour that requires a slow and steady hand.
Go straight to hell boy, you won't regret it when you try this heavenly award-winning lager that exemplifies the malt-driven light pale lager. Two-and-a-half-year-old Wayfinder Beer's signature style is a classic German Helles inspired by the authentic, but smaller, European craft breweries that bump the IBUs up by a hop petal or two while maintaining a beautiful malt body and crispness.
Courtesy of Firestone Walker Brewing
Brewmaster Matt Brynildson reinvigorated craft lagers with Pivo Pils in 2013 and went on to win an astounding 3 gold medals in a row at the Great American Beer Festival. Inspired by Italy's Tipopils, Brynildson adds dry-hopping with an aromatic burst of citrusy tangerine flavor from Saphir hops that inspired the Italian-style Pilsner trend.
Washington's craft lager pioneers have been at it for more than a decade now, and owners Will and Mari Kemper had a long and storied career even before that. Vienna Lager is a biscuity, amber style of beer with a signature toasty flavor and dryness. Chuckanut ditches the traditional decoction mash but keeps the German noble hops and malts for this mostly accurate rendition of a classic.
Death & Taxes are a sure thing in Northern California, where Moonlight Brewing has been crafting small batch lagers since 1992. Death & Taxes is an updated Bay-Area take on a Schwarzbier, a black beer that looks like a stout but drinks like a blend of malty Vienna lager and black coffee.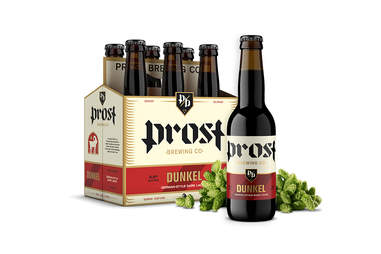 Courtesy of Prost Brewing
Altfränkische is brewed in the old school decoction mashing method that has mostly fallen by the wayside in America along with the overlooked Dunkel-style of beer. Dunkel literally means "dark" in German; it's exemplified by its amber-brown color, full flavored malty body of caramel and light chocolate flavors with a balanced sweetness.
A fresh pint of Prima Pils might be the closest thing in America to sipping off the brite tanks in Germany; floral, resinous, oily lupulin bursts out of the glass with a spicy and grassy bouquet. But it may be the malts that steal the show in Prima Pils, light bready and lemony flavors like a fresh baked scone leave just a touch of sweetness on the palate. Prima Pils has been brewed since 1996, and that makes it a forefather of the craft lager movement and an inspiration for hundreds of brewers that came after.
Courtesy of Suarez Family Brewery
Not all rice is white and not all lagers are yellow, as proven by New York's small but prestigious Suarez Family Brewers' take on Schwarzbier. As light tasting as sunshine and as black as night, Bones Shirt is a beer for light beer drinkers who want to play goth for the evening.
Possibly the most interesting trend in lagers right now is the so-called Italian-style Pilsner that began with Tipopils and made it to America with Pivo Pils. Oxbow is a farmhouse brewery in Maine that makes dope lagers like Luppolo, an all German hop and malt pilsner left unfiltered with an earthy hop stink on it that will make you reassess the Pils.
Courtesy of The ABGB
Though American adjunct-heavy lite beer is what helped give lager a bad name in the first place, the pre-prohibition style of corn heavy pilsner is increasingly making a flavorful comeback. Unlike the macro light lagers that use corn syrup, Pre-Pro Pils use flaked corn that contributes a slight haze, creamy fuller body, and comforting notes of fresh baked cornbread and tortillas.
Sign up here for our daily Thrillist email, get Eatmail for more food coverage, and subscribe here for our YouTube channel to get your fix of the best in food/drink/fun.