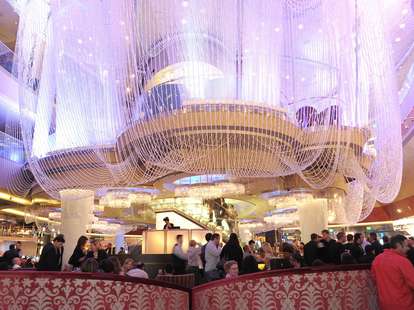 The Chandelier Bar

| Denise Truscello
The Chandelier Bar

| Denise Truscello
If you're even thinking of being in Vegas, check out the rest of our DestiNATION: Vegas guide. It's stacked with expert advice from locals on what to eat, where to drink, and what to do.
Las Vegas is the world capital of amateur hour. It's where even the most seasoned professionals go too far and end up getting lost inside the Venetian for two hours and/or deciding to walk home down the Strip (5 miles) at some "nothing-good-happens-after" hour. This is a place that truly never sleeps, and not just for the tourists -- nope, all the folks who serve those tourists need to get their after-work drink on too, which might mean 2am or 7am or 10am or whatever. Bars on and off the Strip are open 24 hours and at any hour of the day or night -- although especially at night -- you are likely to witness some sloppy behavior... or partake in it yourself.
Vegas locals like to laugh and roll their eyes at bumble-stumble tourists. But the truth is we get more publicly sloppy than even the most eager of Hangover-recreating tourists because that kind of behavior has become completely normalized for us and also sometimes Tuesdays happen.
The innumerable great places to get your drink on in Vegas offer absurd, crass, and absurdly opulent experiences to suit any tastes. The bars on this list are the most Vegas-y of all Vegas bars, for their own respective reasons, but mainly because you are pretty much guaranteed to go home with some real-life "Only in Vegas" stories if you spend some time in any one of them.
Paradise
The 24-hour punk bar famous for its "ass juice": Vegas has more dive bars than busted straights, but the Double Down is by far the most famous -- a 24/7/365 punk rock bar with live music and entertainment almost nightly (and no cover charge, a rarity). With some of the most amazing bathroom art you've ever seen and very strict rules on vomiting ("You puke, you clean"), Double Down is a Vegas must. And so is its signature mixed drink, the "Ass Juice," a fruity concoction served in a toilet bowl-shaped shot glass. Just don't order the bacon martini unless you do actually want to test those house rules.
The Strip
The finest mermaids in the desert: This lounge inside the Silverton Casino, a more "locals" casino located about 3 miles south of "The Strip" on the Strip, is made to look like an undersea grotto, surrounded by a 117,000-gallon saltwater aquarium that houses 4,000 tropical fish, including a jellyfish habitat above the bar. Also, yes, swimming, dancing mermaids (though call first if you have your heart set on seeing them, since performances are only during certain hours). Where else can you watch "real live" mermaids swim around next to a Bass Pro Shop as you play video poker and eat chicken nachos? Vegas, baby.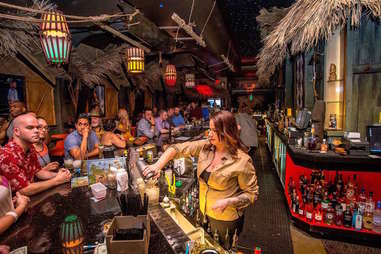 Chinatown
The finest rockabilly Tiki bar in Chinatown: Vegas has a couple of very fine specimens: First, there's Frankie's Tiki Room, a 24-hour dive Tiki bar that is basically the Double Down in Tiki form (which makes sense because both are owned by the same dude). However, Frankie's is known for being quite a bit off the beaten path of downtown and is kind of pro-level Vegas drinking. For the novice, as well as those looking for something closer to the Strip and newer/trendier/shinier, there's the Golden Tiki, a new-ish spot in Vegas's Chinatown just minutes from the Strip offering all the best in Tiki cocktails and Tiki culture. There is a definite burlesque-y/rockabilly-y leaning to the place, so if that's your scene then welcome home. This place is also a total locals' hotspot, so if you want to go "where the locals hang out," look no further.
The Strip
Plush, colorful, and immune to daylight: Every Vegas tourist knows the legend that is the Peppermill Restaurant, or at least they should. "As Vegas as Vegas gets" is the tagline, and there really is no better way to put it. Up front is a neon-soaked 24-hour diner, but tucked away in the back is a whole different also neon-soaked world where time ceases to exist: the Fireside Lounge. Filled with circular fire pits ensconced in fountains and surrounded by plush lounge seating that begs to be disco-napped on, Fireside is decorated and lit in a palette of exclusively pinks, purples, and blues, sans windows. This is a place where good decisions go to die, as you order their signature 64oz Scorpion drink and wonder why god WHY is it already daylight WHY when you stumble out of there at holy shit, is it seriously 8am already?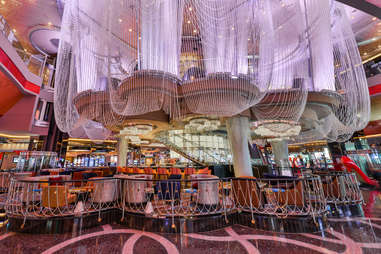 The Strip
An opulent three-story bar draped in 2 million crystals: Over-the-top ostentatiousness is Vegas' MO, so naturally we have a three-story crystal chandelier comprising 2 million crystal beads in the middle of the trendiest hotel in the heart of the Strip. The Chandelier Bar at The Cosmopolitan became an icon almost immediately upon opening its crystal curtains in 2010, and has remained, in a city that stakes its reputation on all things glitz and glamor, THE glitziest and THE glamoriest bar of all. Each floor of the three-level bar offers a bit of a different experience, but the beating heart of this 65ft-tall crystalline structure is the ground-floor 24-hour center bar, the end-all, be-all of casino center bars where you can post up for excellent celeb-spotting and people-watching -- prostitutes on the make, garden-variety tourist shit-shows, it's all here, opulently.
The Strip
Quality views from nosebleed heights: Skyfall is a great spot for a view of the Strip from the south end facing north. (Ditto the Foundation Room and Mandarin Bar.) But there is only one true Top of the World Vegas view, and that is at the 360-degree 107 SkyLounge located, yes, 107 floors above the Strip. Come for the two-for-one cocktails during happy hour 4-7pm and late-night happy hour 1-4am.
Downtown
The best beer bar in Vegas: Atomic Liquors is the oldest free-standing bar in Vegas where people once watched nuclear test blasts from the roof because the 1950s was a fucked-up time in American history. Atomic is now an East Fremont staple, a popular dive with an extensive craft beer selection that hosts beer festivals (including the very awesome Sour Saturday held in November), tap takeovers, bottle swaps, and other beer-y events. When The Kitchen at Atomic opens later in 2017, this will easily become the best little beer bar in Vegas.
Downtown
A hipster romper room: Signifying a turning point in the evolution of Downtown, the Gold Spike is like a romper room for semi-grown-ass adults, with games like cornhole, Skee-Ball, giant chess, giant beer pong, shuffleboard, and soccer pool. It has an enormous backyard -- called, if you can handle it, "The Backyard" -- that hosts live bands and DJs and events like Down & Derby Roller Disco. Now there's also an art deco hipster chic boutique hotel attached called the Oasis with 24-hour poolside cocktails and vintage Huffys for rent that can serve as your Downtown crash pad when you partied too hard in The Backyard. The whole place is a riot.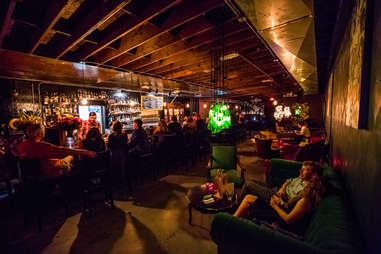 Downtown
Where locals do their Downtown drinking: Downtown Vegas has several excellent cocktail bars, including the Downtown Cocktail Room, Commonwealth, and the Wayfarer Bar. But the Velveteen Rabbit is more than just a kick-ass cocktail and beer bar -- and it IS a kick-ass cocktail and beer bar, with a cocktail menu that changes seasonally and 12 rotating specialty beers on tap. Further, it's the epicenter of Downtown Las Vegas culture, with live music and DJs playing the spacious back patio that serves as a beacon for hipsters and Zaptistas (aka, Zappos employees, aka the company that is pretty much responsible for making Downtown Vegas happen).
The Strip
A bucket-list Vegas experience since 1962: This beloved den of debauchery for locals and tourists alike sits on the Strip right next to the Strat. A dive bar extraordinaire known for its karaoke and for some of the best entertainment -- of both the intentional and unintentional variety -- in Vegas.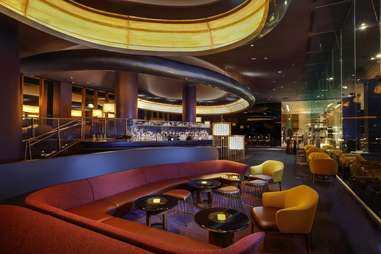 The Strip
A place to get your martini-sipping, custom-suited international spy on: High atop the Delano hotel sits the Skyfall Lounge, attached to the Alain Ducasse restaurant Rivea. Skyfall is Ducasse's nightlife concept, and as far as expensive cocktail bars perched high atop a Strip resort tower with incredible views of the Strip go, this one is first among peers (see also: Mandalay Bay proper's Foundation Room, the Mandarin Bar at the Mandarin Oriental). Scope its unobstructed 180-degree view of the Strip below, theater-style seating facing out towards the windows and ample outdoor patio seating for an even better perch. It also helps that this place has one of the best cocktail programs in a city that still elevates Grey Goose above all others.
Downtown
Where tourists do their Downtown drinking: Located on East Fremont, this actually-sort-of-elegant stone-faced bar with two circular stone fireplaces in the center and blood red leather booths throughout has one of the most eclectic jukeboxes in Vegas -- not the sort of stuff that appeals to the club crowds of the Strip -- and is very affectionately known for its bartenders' heavy hands. Whether your night begins or ends here, rest assured this is where it takes a left turn.
Sign up here for our daily Thrillist email, and get your fix of the best in food/drink/fun.
Nicole Rupersburg is a freelance journalist whose years living in Vegas have done permanent damage to her sense of "normal." She likes to 'Gram things at @eatsdrinksandleaves but it's mostly pictures of mountains and beer because that's her #VegasLife.