Design by Maitane Romagosa for Thrillist
Design by Maitane Romagosa for Thrillist
There are a lot of misconceptions surrounding mezcal. First, stop in your tracks if you read anything calling the agave-distilled spirit "the smokier cousin of tequila." Nothing could be further from the truth—mezcal is an incredibly broad category and its cultivation, production, distillation, and ultimate flavor profiles differ wildly depending on the region in Mexico where it originated.
Plus, many of the most popular mezcal brands on the market have shied away from traditional methods in recent years. There are some great primers out there about what to look for when shopping for a mezcal that does honor these traditions. But the bottom line is that it's right on the label: categories "ancestral" or "artisanal" mean you're headed in the right direction.
"The more information on the bottle, the better the mezcal you have in your hands," advises Jose Maria Donde, the beverage director at Oaxacan restaurant Claro in Brooklyn. "The first things to look for are the name of the agave, name of the producer, information about the distillation process, and information about the crushing of the agave, which needs to be smashed by hand or with a tahona [stone wheel] in order to be ancestral."
Artisanal mezcals are labeled in a very similar way, but there is instead metal used in the production, like a copper still or maceración with electric milling. If any bottle just says "mezcal," assume that indicates it was made with an industrial process and a bottle you want to avoid.
"The more information on the bottle, the better the mezcal you have in your hands."
Another aspect to pay attention to is the alcohol by volume (ABV) on a bottle of mezcal, which usually sets apart complex spirits from the rest.
"Regular drinkers, afficianods, mezcaliers, researchers, producers, we are going to look for mezcals that are at least 45-50% alcohol," says Andrea Villela, co-owner of La Fiera Mezcal in Guerrero, Mexico. "That's usually the range where you have the most defined, most complex notes in the spirit. Try to not buy anything that's below 40%. It's going to be a mild mezcal, which may be easier to drink, but those tend to be way smoky with no other flavor notes."
Lastly, many experts will advise that the best way to enjoy mezcal is simply neat. "'El Mezcal se toma a besos' or 'with mezcal you kiss it,'" says Donde, though he does occasionally enjoy a Mezcal Negroni with a great vermouth.
For Villela, she enjoys drinking her mezcal straight with snacks on the side, like cheese, pumpkin seeds, strawberries, or pineapple. "I always drink it with a glass of sparkling water while I sip it," she says. "I continuously smell, smell, smell as I go. You'll have a very good idea of flavor by the end."
With all this in mind, it's time to do some mezcal tasting of your own. We got brand recommendations from a panel of experts: Donde, Villela, Lane Harlan of Oaxacan restaurant and mezcaleria Clavel in Baltimore, and Shad Kvetko of mezcaleria Las Almas Rotas in Dallas. These are some of the best and most traditional mezcal brands available in the U.S. right now.
This mezcal is a representation of Matatlan, Oaxaca, considered the capital of mezcal and the agave that grows around that terroir. The brand is a co-creation of Chef TJ Steele (of Claro) and maestro mezcalero Octavio Jiménez. "This agave is one of the wildest agaves and takes the most time to bloom, around 25-30 years," Donde says. "The all mighty tepeztate tastes like everything that it's growing around next to it: flowers, fruits, herbs, stone fruits, and mild chiles."
When it comes to her own mezcal company, which she co-owns with her sister Mariana, Villela prefers the Papalote De Don Publio. "This has fermented notes, a mild sweetness, and a complex fruit profile as well," she says. "It almost makes me feel like I'm eating a sweet, buttery cookie." Villela explains that agave tends to be harvested from the center region of Guerrero before the rain starts the first week of June, when the air is hot and dry and the agave is concentrated with fructose and starches. "That bacteria gets really happy," she says. "And that's where the complexity of flavor comes from."
From the state of San Luis Potosí, this mezcal is the first official U.S. release from Erick Rodriguez, who is known as the "Indiana Jones of mezcal." "Erick Rodríguez curates this amazing line of destilados from all over Mexico and specializes in traditional and obscure producers," Kvetko explains. "He is an evangelist for these producers and is passionate about protecting traditional agave spirits production in a rapidly modernizing and homogenizing market." The Salmiana agave variety, in particular, is distilled in copper by Maestro Patricio Hernandez. "Everything about this mezcal feels ripe and green," Harlan says. "Poblano chile cornbread with a concentrated lactic component."
Starting in Oaxaca, this distillery is now also working in Durango, which is a state that has a growing mezcal presence. According to Kvetko, this mezcal is "produced mostly on the El Ojo cattle ranch in rural Durango and combines Oaxacan and Durango style production techniques and a mutual respect for one another's heritage." Villela's preferred variety is the Cenizo. "The Cenizo is particularly tasty and it reminds me of pulque a bit," she says. "It's a little floral, a little fermented, and has a mild sweetness to it. But it's never going to be like tequila sweetness."
Started by Luis Loya, Lamata showcases distilled spirits from various regions of Mexico, but all produced in small batches with ancestral techniques. "The agave lamparillo is from the state of Durango," Donde says. "It has a lot of chili and funk on the nose and tastes like stuffed chilies with cheese."
Oaxaca-based Lalocura's mezcal is distilled in clay pots and has remained a favorite among chefs and connoisseurs in the industry. Maestro Mezcalero Eduardo "Lalo" Ángeles is a fourth-generation master distiller and earned a degree in agricultural engineering. Harlan describes the San Martinero variety as "resinous, herbaceous, epazote on the nose, concord grape, and dusty tannins on the palette."
Widely considered one of the best mezcal producers in Oaxaca, Leo Hernández considers Grulani his personal project. "His flavors are very defined, easy for the palette to pick up right away," Villela says. "My favorite is the Tepeztate, which reminds me of agave from Guerrero with its complex, savory, and earthy notes. You can almost taste the soil."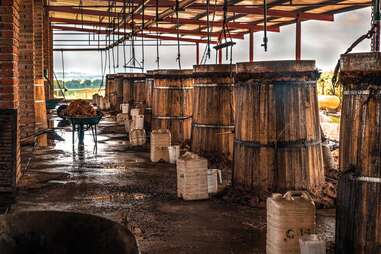 This mezcal is fairly new to the U.S. market and honors the work the Perez Escot family has been doing in Villa Madero since 1910. "They use traditional Tarascan stills to produce artesanal mezcales from agaves endemic to the region," Kvetko says. "The Bruto expression is beautiful and the tequilana is interesting, as it shows how differently such a familiar agave can taste when produced in a traditional way."
Niki Nakazawa is the co-founder of Neta Spirits, a broker for 12 small mezcal producers in Miahuatlán, Oaxaca. "There are beautiful mezcales coming out of there, especially the ones that Maestro Candido García makes for this brand," says Donde, adding that the Agave Bicuixe is a particular favorite for its "grassy nose, citrus zest, and peppery notes."
This mezcal is made in the town of Zapotitlán de Vadillo in Jalisco, run by a fifth-generation Don Macario Patida. "While dominated by Tequila, Jalisco has a large biodiversity of agaves and a long history of agave spirits production," Kvetko says. "The Partida family has been cultivating rhodacantha and 14 subspecies of angustifolia for generations." The Ixtero Verde is a subvention of the agave angustifolia and imparts "a lot of white and tropical fruit notes," Donde says. "They allow their agaves to rest in the field after being cut to stop blooming and allow the agave to reach a higher level of starch."
This collective brand of mezcal makers comes from the mountainous region of Guerrero, representing the towns of Chilapa de Álvarez, Zitlala, Ahuacuotzingo, and Tixtla. Each bottle tells the story of its master mezcalero—including their name, town of origin, and harvest and batch number. The brand is very committed to the surrounding environment, growing plants in nurseries and creating a reforestation program. "They've been working very hard since the '90s, and recently started exporting in the United States," Villela says. "To pay respect for the effort they have done, they are very worthy to mention."
This is the first certified mezcal to come from the Mexican state of Michoacán. "The Vieyra family has been producing mezcal in the sierras of Michoacán for generations," Kvetko
explains. "All of their expressions are distilled in a traditional Tarascan still that uses oyamel wood for the montera of the still." Emilio Vieyra took over the family business after his father, Don Emilio, passed away a few years ago. "Their mezcal de pechuga recipe comes from his mother's family recipe," Kvetko adds. "It includes a mixture of venison, turkey, and rabbit meat suspended in the still along with fruits, spices, and other seasonal ingredients added to the mezcal itself from a third distillation."
The Angeles family has been committed to agave preservation since 1898, working to cultivate agave and starting a seed bank to preserve it in their native Santa Catarina Minas, Oaxaca. "Here, mezcal is distilled in clay pots, which is an ancestral technique traditional to this region," Donde says. "The Agave Largo is one of my personal favorites…it gives a lot of earthy and mineral flavors on top of grassy, herbal, and citrus zest."
From the Michoacan state of Mexico, this variety of mezcal is produced by Maestro Jorge Pérez using the Filipino style of distillation, which involves a copper saucepan and oyamel wood. The result, as Harlan puts it, "makes me feel like riding a horse through a cool, shadowy pine forest" and tasting notes include "high-altitude lactic notes of blue cheese with a delightfully oily mouthfeel."
Jess Mayhugh
is the editorial director of Food & Drink for Thrillist, who is grateful to these mezcal experts and WhatsApp for making this story possible. Follow her on
Twitter
and
Instagram
.