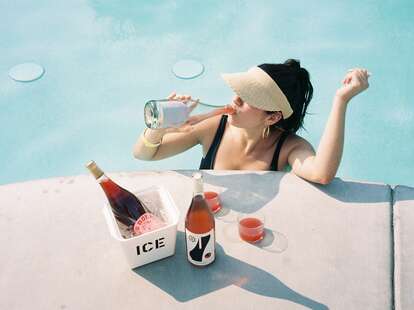 Pop open a bottle of tingly pét-nat that you can glug by the pool.

| Photo Courtesy of Mas Vino Please
Pop open a bottle of tingly pét-nat that you can glug by the pool.

| Photo Courtesy of Mas Vino Please
As the sun's rays begin to make their warm return, so too do the drinks of summertime. Hard seltzers are a popular go-to. Lighter beers, too—why reinvent the sudsy wheel? But it's the increasingly beloved natural wine that people like Andrea Jaramillo are pouring year-round.
Jaramillo is a self-described non-somm, as in a not formally trained sommelier, whose curiosity and passion for the natural stuff has birthed Mas Vino Please on TikTok with nearly 30,000 followers, a freshly minted Mas Vino Please podcast, and a newsletter of the same name.
"Over the last two years, I just taught myself everything I wanted to know about it," she says, and it took off from there. "I feel like people felt disconnected because they thought they needed some kind of class or education or certification. No, you don't need any of that. You just need a love for it." (If you want a smart, but conversational explainer on what orange, or skin contact, wine is, exactly, then Jaramillo's Mas Vino Please is your go-to!)
The California native grew up in a wine-loving family, so when she moved back to LA in 2018, a time that felt like natural wine's second wave, Jaramillo wanted to dig into what terms like "natural" and "biodynamic" really meant. That she had a background in environmental justice and public health nonprofit work spurred her on curiosity.
"Ways we can be more sustainable, ways we can build healthier communities—for me, that's the ethos behind natural wine, I think, as a movement," says Jaramillo. Producers who are paying labor fairly, who are treating the land well, and overall making something that's not loaded with a bunch of additives are among the things she takes into consideration when sharing wine intel with her followers. Still, Jaramillo concedes, natural wine is just plain fun.
"Even though they have a beautiful story, at the end of the day, it's really just grape juice," she laughs.
With fun adult grape juice in mind, Jaramillo shares some natural wine recommendations that are made for sunny weather. She has a pick for almost any summer occasion, from camping trips to pool sessions to just simply hanging out with a porch pounder—industry speak for a light-bodied wine that's sometimes large format, often affordable, and always approachable.
The backyard barbecue wine
For something you can sip while you stand around the grill waiting for hot dogs, pop open Wonderwerk's Free Your Mind. The carignan-riesling blend is a chillable red-orange hybrid that's ideal for "casual backyard boogie vibes," says Jaramillo. "Just chuggable. You get a good chill on it. Super easy to pour, super easy to drink. You don't really need it with food, but it can totally pair with some easy food like hot dogs or whatever you're throwing on the grill." Basically, it's a gently funky chameleon drink that goes with anything.
For a poolside wine, get bubbly
Bubbles! Pét-nats for all! City Pop by Swick Wine is a classic favorite of Jaramillo's. "For pool, I honestly like any kind of pét-nat bubbly: fun, really light, not serious wine." Swick's blush blend hails from Oregon, where it's bottled during initial fermentation, allowing those bubbles to naturally occur in a pétillant naturel (think champagne's wilder cousin).
Be the alfresco dinner party hero
Weird Parties by Say When is a carbonic, skin-contact grenache blanc from LA-based husband and wife vintners Rachel and Michel DeAscentiis. Jaramillo says to bring this to any casual and/or elegant shindig. You'll be the wine hero of the day. "It's for that alfresco dinner party moment where it's a little more serious, but also you're having a good time and it's casual…it would pair really well with a nice meal, but you can sit around the table, you don't need food with it." This carbonic orange wine, meaning it's made using a technique that ferments whole bunches of grapes with carbon dioxide, as Jaramillo explains in her newsletter, is, in a word, chuggable.
Pull out this wine at your next picnic
Think fresh, green, and grassy with Meyer lemon and white tea as you quaff a glass of Christina's Gruener Vetliner. This Austrian wine comes to Jaramillo's mind when she thinks of laying out a blanket on the grass, but any fresh and effervescent wines would do: a Portuguese vinho verde or a txakoli from Spain.
Drink something earthy by the campfire
"A classic Beaujolais (gamay) is great to share around the campfire with its fruity, juicy red notes and hints of earthy soil," says Jaramillo, who also loves a pinot from the Pacific Northwest for an extra earthy touch. Gamay Sans Frontier is "something a little cozier."
Bring Greek wine to the beach
Jaramillo is determined to sing the praises of Greek varieties like assyrtiko and malagouzia. "which can transport you to a rocky, Mediterranean beach in just one sip," she says. "I especially love ones that are bright and high acid, with a little salinity. These pair perfectly with seafood or a summer salad." Assyrtiko, says Jaramillo, is sauvignon blanc-adjacent, but salty. Whereas the malagouzia is light with some stone fruit personality.
Rosin Saez is the senior editor of Food & Drink at Thrillist.