Our Favorite Non-Alcoholic Canned Cocktails
Enjoy amaro, mules, and margaritas without the hangover.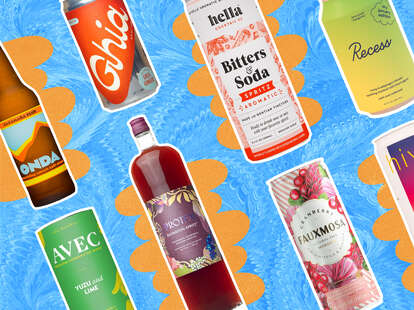 Design by Maitane Romagosa for Thrillist
Design by Maitane Romagosa for Thrillist
At the end of a seemingly never ending work day, you want to sip a delicious cocktail—but not necessarily get a buzz. While there are plenty of great non-alcoholic spirits on the market that can be shaken or stirred into a zero-proof drink, there's also something to be said about the added convenience of ready-to-drink (RTD) beverages that are as simple as popping a top.
Thanks to the rapidly growing non-alcoholic beverage industry, there's been a boom of boozeless RTD beverages that emulate canned cocktails, beer, and wine. Some have a focus on wellness with ingredients like adaptogens and CBD, and some are just straight up delicious. All of the convenience and none of the hangover, what's not to love?
You don't have to participate in Dry January to enjoy these concoctions. Keep them on hand for gatherings (at least one of your guests will appreciate the delicious booze-free option, we promise) or for your own casual enjoyment. Here are the must-try non-alcoholic RTD beverages you can sip right now.
Ghia first won us over with its vibrant red botanical aperitif-style drink that lends itself nicely to spritzes. Ghia went ahead and made our lives a little easier, though, by canning a spritz for us (Ghia, sparkling water, and citrus) and now there's a ginger option, too. It's an ideal happy hour companion or a great beach sipper when those warm days come back around.
Crisp & Crude's non-alcoholic canned cocktails are refreshing—Paloma Daydream especially hearkens to long summer days—and they might lift your mood, too. That's because the company uses botanical terpenes, compounds found in plant oils and extracts with mood benefits (though your mileage may vary, of course). There are two collections to choose from: botanical terpenes and botanical terpenes with hemp extract. Both categories have three flavors that play on familiar cocktails: Mellow Mule, Paloma Daydream, and Gold Fashioned.
Delightfully citrusy and slightly bitter is how the sparkling water made with hemp, ginseng, and lemon balm tastes. Serve it in a salted margarita glass for the full experience—but hurry, these are a Dry January special (their other sparkling water flavors like Pomegranate Hibiscus are great any time of year).
What's a leisure soda? It's like an amaro spritz without the amaro. Instead, there are flavors like Como, made with sparkling water, lemon juice, orange blossom honey, chamomile and other herbs. The sodas come in both bottles and cans and each flavor comes with serving suggestions (Negroni-like Alta, for example, is a great pairing with pepperoni pizza).
Rightside was dreamt up when founder Emree Woods was pregnant, but anyone would be glad to drink this well-executed non-alcoholic beer. Using reverse osmosis filtration, Rightside is brewed like a traditional beer and then the alcohol is filtered out. This means that the body and flavor is pretty similar to beer, just no alcohol (though there is about .5 percent left, just FYI). They currently have an IPA and citrus wheat.
If you like the taste of beer, but wish it sat lighter on the stomach (and also don't want the alcohol), this is the drink for you. It's a zero-calorie, zero-carb sparkling water and yet still peppy with plenty of beer "flavor"—thanks to Citra, Equinox, and Centennial hops. It's packaged in a beer bottle so you still get the classic party experience (go ahead and dust off that koozie).
The Rivington Spritz is a bubbly concoction that's a little bit fruity, a little bit bitter, and totally delicious. Presented in an eye-catching bottle, the crimson drink is brunch ready thanks to strawberries and champagne vinegar. Proteau is the brainchild of cocktail author (and Thrillist contributor) John deBary, who wanted to make balanced non-alcoholic drink options with the help of herbs, botanicals, and delicious vinegars. While the company is not currently active, we're relieved that Proteau is still available on third-party sites. Try to snag a bottle while you can.
Cranberry and ginger are two ingredients that make winter seem a little brighter (and warmer) and Fauxmosa brings them together in this sparkling drink. Fauxmosa specializes in zero-proof versions of everyone's favorite brunch drink (don't deny it), using California grapes, fruit juice, and spices. Other flavors include Orange Turmeric, and Grapefruit with raspberry and basil.
Avec specializes in mixers that are low in sugar but full of flavor. While these drinks are intended to mingle with spirits, they actually taste great on their own. The standout of the bunch is the hibiscus and pomegranate which is the right balance of floral and sweet. Other flavors include Ginger (blended with pineapple juice), Yuzu Lime, and Grapefruit and Pomelo, which combines citrus with a tinge of black pepper and vanilla.
Before we had all these delicious RTD options, bitters & soda was our classic sober bar order that both soothed tummies and tasted great. Now, Hella Bitters & Soda has you covered with combinations like Ginger Turmeric, Lemon Lime, and Grapefruit. Serve in a tall glass with ice and a citrus slice garnish and you'll be good to go.
After college buddies Evan Quinn and George Youmans both watched people close to them become hospitalized for alcohol addiction, they both vowed to go sober. Not only that, but they founded Hiyo, which makes non-alcoholic, gluten-free seltzers that are 25 calories with only 5 grams of sugar. The flavors of Peach Mango, Watermelon Lime, and Blackberry Lemon would be particularly refreshing in the summertime and include dreamy label art to boot.
Lia Picard
is an Atlanta-based journalist writing about food, travel, and a variety of other topics. Her work appears in The New York Times, The Washington Post, Wine Enthusiast, and CNN Travel.