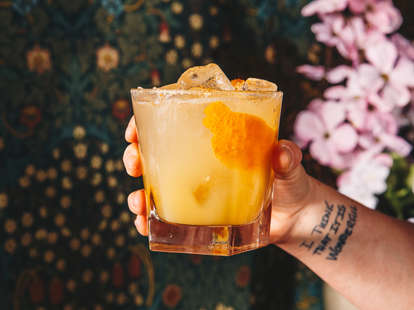 Cole Saladino / Thrillist
Cole Saladino / Thrillist
Just because you're taking a break from the booze, doesn't mean you have to resort to cranberry juice and club soda. As more and more drinkers look for tasty but dry alternatives to cocktails, more and more bars (and even some distilleries) are coming up with creative options. Here, the best non-alcoholic drinks to satisfy your grown-up cravings.
Shrubs
Shrubs are syrups made with vinegar combined with fresh fruits or herbs. While delicious in cocktails, shrubs were originally sipped as non-alcoholic refreshers and medicinal tonics. As early as 15th century Persia, drinking vinegars were commonly used as cures. For an incredible at-home sipper, mix up a strawberry shrub with fresh or frozen strawberries, then add lemon juice and distilled water. It's a strawberry lemonade with a vinegar kick. Or make a grapefruit shrub (with a pinch of smoked salt), top with seltzer and a sprig of rosemary for a booze-free highball. You can also buy drinking vinegars online or at your local grocery store. Pok Pok, the much lauded Thai restaurant mini-empire from chef Andy Richter, has a full line of craft drinking vinegars with flavors like Thai basil, turmeric, and Buddha's hand. Many craft cocktail bars also make their own shrubs in-house, so ask your local bartender for a non-alcoholic shrub-based drink if you're out on the town during your dry spell.
Non-alcoholic cocktails
A good non-alcoholic cocktail mimics the flavors and look of a cocktail, and it's made with just as much thought and skill as your favorite boozy beverage. While essentially any cocktail recipe can be converted into a dry drink (simply leave out the alcohol and add more of everything else), some drinks just don't work. A Screwdriver, for example, would just be a glass of OJ if you left out the vodka, and drinks like the Manhattan, well, just wouldn't exist because it's made of 100 percent alcohol. Some classic cocktails that make for great mocktails include Planter's Punch, Strawberry Daiquiris and Piña Coladas. Most craft cocktail bars have mocktails on their menus these days, but if your local bar doesn't, all you have to do is ask.
Bitters and soda
Bitters and soda is the quintessential drink to have in your non-alcoholic beverage arsenal. Any bar can make you one—no matter how divey. All it takes is a soda gun (or a can of Seagram's) and a few hefty dashes of Angosturabitters. You'll look like you're drinking a cocktail, so no one at the bar will bother to question your booze-free motives (there's nothing worse than the million questions you get when you take a break from drinking), and each drink won't cost you more than the price of a seltzer. If you really want to go crazy, you can switch up the bitters (try orange or celery, or opt for something wild like apricot or cardamom). Or you can add fresh citrus or tropical fruit juices. One of our favorite combos is soda water with a splash of pineapple juice and a few hefty dashes of Peychaud's bitters.
Seedlip is the world's first non-alcoholic spirit. Made almost like gin, Seedlip starts with botanicals—like hay and fresh herbs—that are macerated in neutral spirits and water. Unlike gin, however, after distillation, the alcohol is removed. Seedlip offers three different expressions: the Garden 108, which is herbal, vivacious and grassy, Spice 94, a robust drink that has notes of allspice, earth and citrus, and Grove 42, a citrus-forward blend. All three offerings were designed to be used in a new breed of non-alcoholic cocktails. Instead of building a drink around juices, sodas and herbs, Seedlip acts as the core ingredient. The spirit has enough depth and flavor that it can be used as a substitute for alcohol. With the advent of products like Seedlip, we're not far off from being able to sip on a completely non-alcoholic Martini or Boulevardier. The "spirit" is currently available in select bars in the U.S. and all three expressions are available online.
Kombucha
To be fair, kombucha does have traces of alcohol in each bottle thanks to its fermentation process. That being said, a typical bottle kombucha has less than .05% of alcohol in each bottle and therefore is labeled as non-alcoholic. Kombucha is a good replacement if you're craving a sour or fruit beer, thanks to its acidic and vinegar-forward flavor. The fermented drink can also be made with a range of fruits and herbs; Better Booch has an incredibly bright grapefruit and sage flavor as well as a unique take on horchata. GT's Living Foods -- which is available at both Trader Joe's and Whole Foods -- offers kombuchas made with mangoes, guava, lavender, pink lady apple, and more. The added bonus is that kombucha is a probiotic, and therefore supports good gut health.
Non-alcoholic beer
Breweries across America are providing their own versions of non-alcoholic beer that still taste like the IPAs you know and love sans the fuzzy hangover the next day. Take Athletic Brewing, for example: Bill Shufelt, Athletic's co-founder, decided to create a beer for athletes after realizing that "it was time for [him] to grow up." He cut alcohol from his life, focused on his weekend recreational activities, and introduced the world to his love of craft beer in a less boozy way. He's not the only one. Brooklyn Brewery also has their own non-alcoholic beer called Special Effects. Like a regular beer, the brew is still fermented and contains the hoppy and aromatic flavors one expects from a cold one. Unlike regular beer, you can enjoy several rounds of these and still be okay to drive home.
Sign up here for our daily Thrillist email and subscribe here for our YouTube channel to get your fix of the best in food/drink/fun.
Dillon Mafit is a former editor at Thrillist and after years behind a bar, on his feet for hours at a time, is glad to finally get paid to sit around all day. Before his days as a bartender, he worked in distilleries and wineries across the country and overseas. His love for making drinks came from a stint at Fort Defiance, where he learned the true art of Tiki. He claims his life wouldn't be the same if it weren't for rum, tacos and a good Hawaiian shirt.