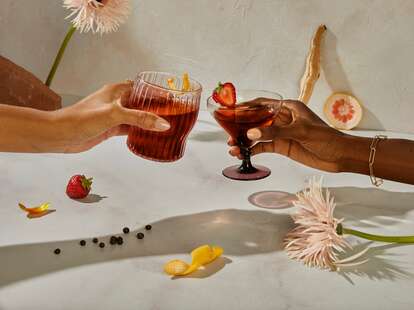 Photo courtesy of De Soi
Photo courtesy of De Soi
Once upon a time, I tossed back consequence-free tequila shots and stayed out till the wee hours of the morning. If you thought I was going to end that sentence with but then I grew up, you're mistaken. "Once upon a time" was last week, but those tequila shots are no longer so consequence-free.
As we age, so do our hangovers. The greasy BEC from my corner bodega isn't quite as effective as when I was 22, and the negative effects of alcohol can take on all sorts of forms. Even if your intake is completely under control, booze can affect your mental (anxiety!) and physical health (poor sleep!).
In the last few years, the so-called sober curious movement has risen among people who want to be more thoughtful about how they consume alcohol, and non-alcoholic drinks culture as a whole has evolved enormously. These developments don't curtail anyone's freedom to drink what they want, of course; they merely encourage us to reevaluate the ways many of us have been taught by society to mindlessly fill up our glasses once the clock strikes 5 pm.
Sober October—a month much like the more mainstream Dry January—is in the same vein. For some, it's a chance to take a closer look at their relationship with alcohol, while for others it's merely a reset. One the CDC says we really need. The agency defines "moderate drinking" as two or fewer drinks in a day for men, and one or fewer drinks for women.
And so, this year, I've decided to embrace Sober October and forego booze for the month. But, as someone who spends much of her days writing about alcohol, I wanted a substitute. Something to keep the social experience alive. Enter: mocktails, alcohol-removed wine, NA IPAs, and aperitifs.
Here's everything we're drinking this Sober October
Ghia
Immediately recognizable by its splashy label and bright red color, this spirit-free aperitif is more than its branding—though, yes, it will look good on your bar cart. It's made with lemon balm, elderflower, ginger, and Gentian root extracts, plus yuzu and other juices, giving it a bold, herbaceous flavor. Its sweet-tart flavors have just the right hint of bitterness, making it ideal for a spritz. Opt for a full bottle or try the pre-canned Ghia Le Spritz, which comes in three flavors: Lime & Salt, Ghia Ginger, and Ghia Soda.
Fre Rosé
I'm a sucker for a good rosé, even after Labor Day. I knew that the success of my Sober October journey would need a great rosé, preferably something dry and with a pretty label because I'm vain.
Fre Rosé delivers. It's a delicate, crisp non-alcoholic (NA) wine with notes of strawberry and citrus. It's also more affordable than many alcoholic wines—I spotted it for $7.99 at Total Wines.
Kin Euphorics
It's no secret half of Hollywood has adopted pet projects in the liquor industry, some to great success—looking at you, Ryan Reynolds.
Bella Hadid, on the other hand, stepped away from alcohol and toward the sober curious movement. Her brand, Kin Euphorics, includes two made-to-mix bottles: Dream Light and High Rhode. The former promises a "quiet mind," while the latter is about "releasing contagious energy," and both are made with ingredients like adaptogens and nootropics. Kin's line also includes a canned Kin Spritz, Kin Bloom, and Lightwave.
Ritual Gin Alternative
Sometime in mid-September, I found myself on a Gin & Tonic kick. Fortunately, I don't actually have to give up gin for Sober October. Ritual Zero Proof, whose portfolio includes several bar cart alternatives like non-alcoholic whiskey and tequila—is maybe most beloved for its spirit-free gin. Good news for me! This NA gin is crisp and offers a similar bite to the alcoholic booze, only without the actual alcohol or fewer calories. G+Ts all around?
Amethyst Lemon Cucumber Serrano
If, like me, you also love spicy cucumber cocktails, botanical spirit Amethyst Lemon Cucumber Serrano has you covered. The non-alcoholic spirit has crisp, refreshing notes from the cucumber plus a heated kick (there's the serrano!). The flavors balance each other and create an optimal mocktail experience. The brand's Blueberry Ginger Mint is a close second.
Body Vodka
While Body Vodka has a low-ABV, it's not alcohol-free, so I won't be partaking in it this month. However, it's a great option for anyone looking to drink less alcohol. Body Vodka has 25% less alcohol than the standard 80 proof vodka, making it a low-proof option for "high res memories," as the brand writes on its website.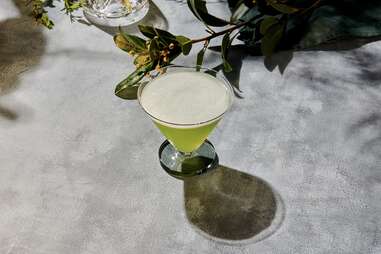 Optimist Botanicals
From Downtown LA comes Optimist Botanicals, a line of non-alcoholic spirits with a cool kid vibe (I told you, I'm superficial and judge a drink by its label) and complex flavors to back up its appealing branding. Optimist Botanicals offers three flavors of non-alcoholic spirits: Smokey, Bright, and Fresh.
Need inspiration for some non-alcoholic cocktails? Optimist has even created a roster of mocktail recipes to get you started.
Samuel Adams Just the Haze
My favorite, tried-and-true beer choice is a hazy IPA. NA iterations can be a bit tricky—I've tried a few duds in my day—but, thankfully, legacy brewer Samuel Adams has got it down pat. With less than 0.5% ABV and 98 calories, Just the Haze is made with Citra and Mosaic hops, among others, and has the familiar, hazy, hoppy qualities of a world-class IPA.
De Soi
Katy Perry's non-alcoholic aperitif was "inspired by the French ethos of pleasure with restraint," Perry told Vogue in January 2022. Created by Perry and business partner Morgan McLachlan, De Soi has a similar vibe to Kin—it aims to calm the mind, but without the negative side effects of alcohol. "It ultimately comes back to being able to have the mood and feeling of a drink, but getting adaptogens instead of alcohol and high sugar content," Perry said.
The aperitif comes in full bottles and cans. The Purple Lune is crafted with ashwagandha and tart cherry, while Champignon features reishi mushroom and passion flowers.
Jalisco 55 Spiritless Tequila
Jalisco 55 Spiritless Tequila, a non-alcoholic product that uses reverse distillation to dealcoholize, is so convincingly similar to an alcoholic tequila that I thought I accidentally broke the Sober October pact. I had to check the label!
Spiritless has herbaceous undertones of a reposado, but without the alcohol burn (which in my opinion, is not a bad thing). The elegant, balanced flavors also feature agave, citrus, and vanilla.
Betty Buzz
While Ryan Reynolds has become somewhat of a legend for his billion-dollar Aviation Gin business, his other half, Blake Lively, doesn't partake in booze at all. She saw a need in the market for mocktail mixers and Betty Buzz was born. While, of course, you can pair the Tonic with Reynolds' gin, it's also a great way to elevate your mocktail experience. Pro-tip: pair your Betty Buzz with the Ritual Alternative for a non-alcoholic G&T that everyone can enjoy.